Auctions are significant events for various organizations, being a beneficial means of raising money to fund their activities. They traditionally feature an auctioneer who would call each item for sale and then identify each bidding call before settling on the winning bid. A departure from this trend, silent bid auctions offer a more demure method of bringing potential buyers in contact with what they might want.
With a particular focus on orderliness, buyer anonymity, and the eponymous silent bidding, silent auctions are extremely popular with various organizations. Employed most prominently at functions for charities and non-profit organizations, they encourage a more subtle spirit of competition, giving potential sponsors the chance to support a cause they believe in without being put in the spotlight.
Silent Auction Bid Sheet Templates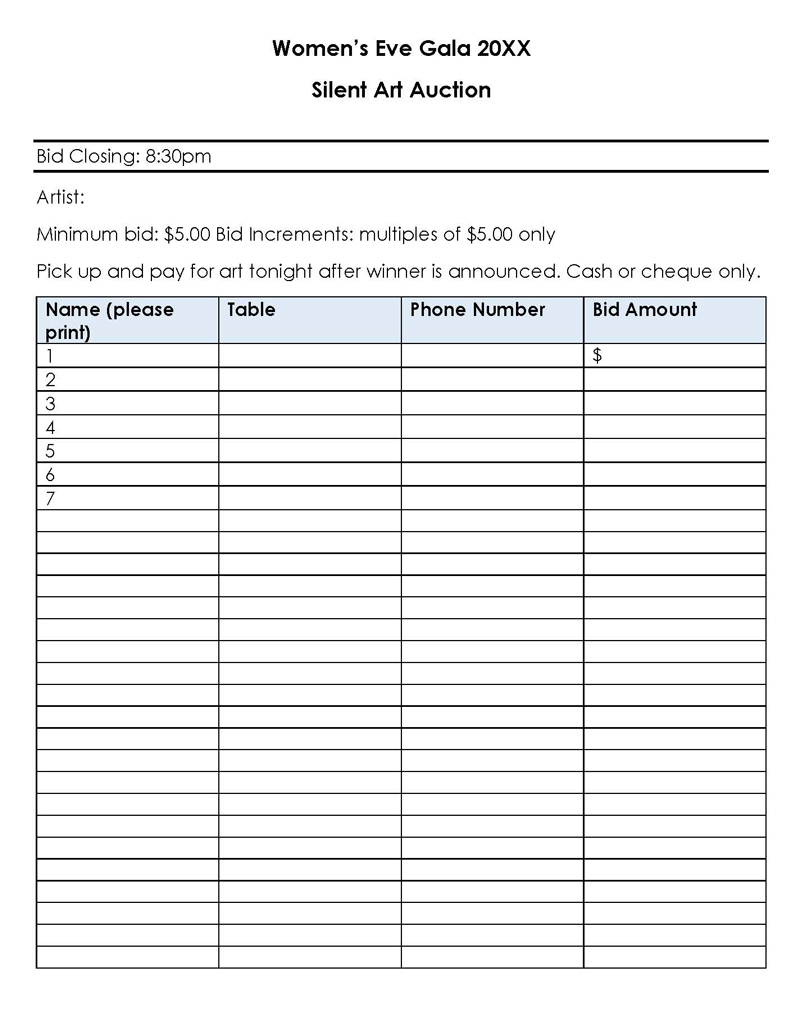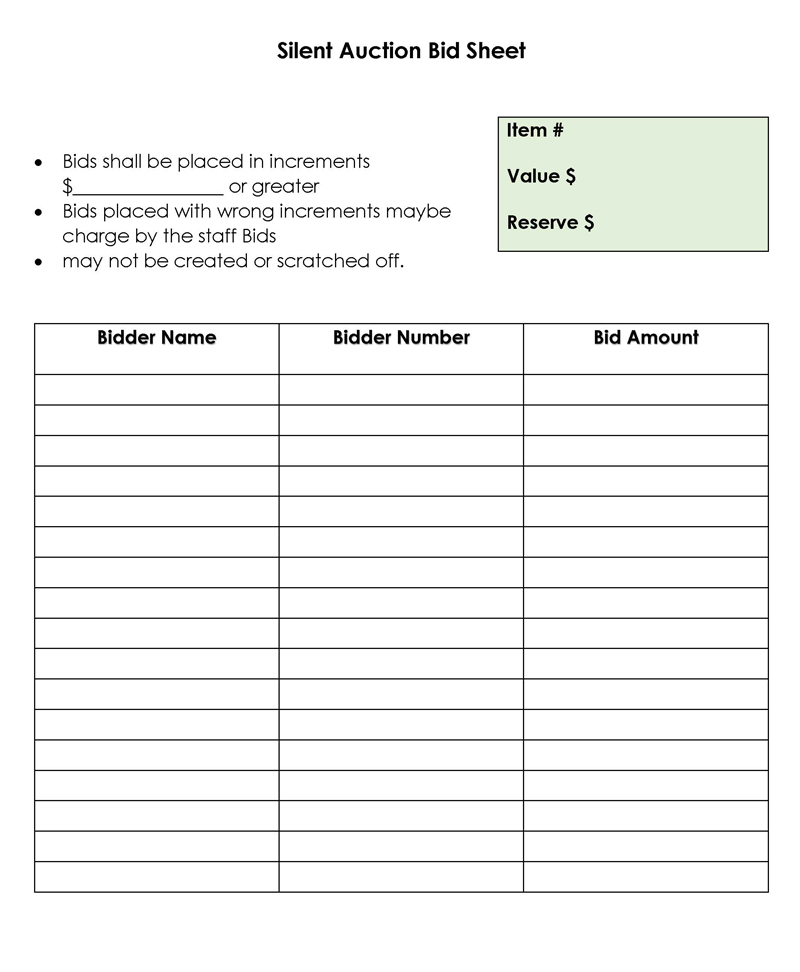 Silent Auction Bid Sheet
A silent auction bid sheet is one of the defining features of any silent bid auction, being the means of facilitating the actual silent aspect of the auction. The silent auction bid sheet is a document, typically a piece of paper, stating all the necessary information and how bidders can indicate their interest in items they want.
The silent auction bid sheet is often situated right next to the item it is purposed to serve, and in the proper fashion of silent bid auctions, allows bidders to place bids without any word being uttered. Interested bidders can then move to the bid sheet during the auction event and write down what they are willing to offer for a particular item.
Silent Auction
A silent auction is a variant of traditional auctions. In a silent auction, items up for auction are displayed where potential buyers can observe them and decide which to purchase. As expected of an auction, buyers place bids to indicate what they wish to pay for the item. Buyers place bids by writing down purchase offers for items they want, all without any discourse or an auctioneer. Each bid is penned down on a bid sheet without any open calls or names being used, preserving bidder anonymity and maintaining decorum.
How does it work?
At a silent auction, items to be sold are exhibited in displays with a bid sheet placed in front of each. Attendees at the auction event move among the displays and appraise each item that interests them. Each attendee is assigned a bidding number, through which each bid made by that attendee can be identified.
Each bid sheet states the minimum price for which the item can be sold, and all bids on that item are expected to be at least that price or more. A minimum price increment by which each successive bid must exceed the last is also indicated.
During the event, each attendee can place anonymous bids on items they want by writing on the bid sheet in front of it, and after a specified time, the bid sheets will be collected, and the winner of each bid announced. Each winner can then proceed to a checkout location to secure their purchase and pay it.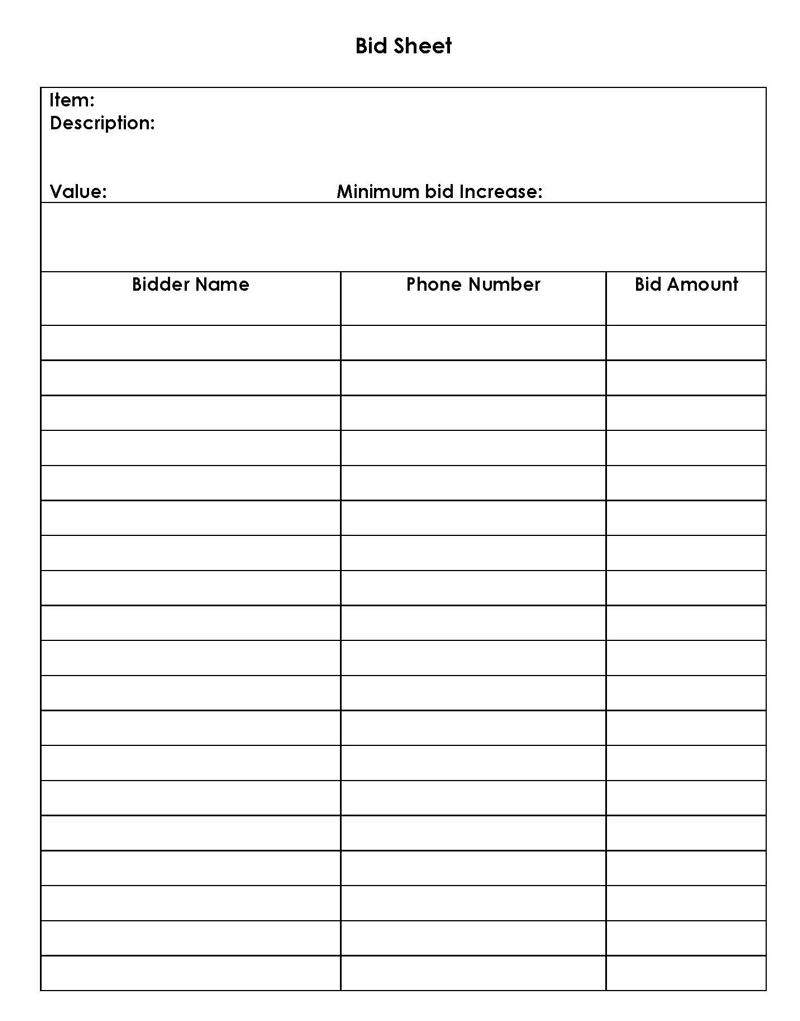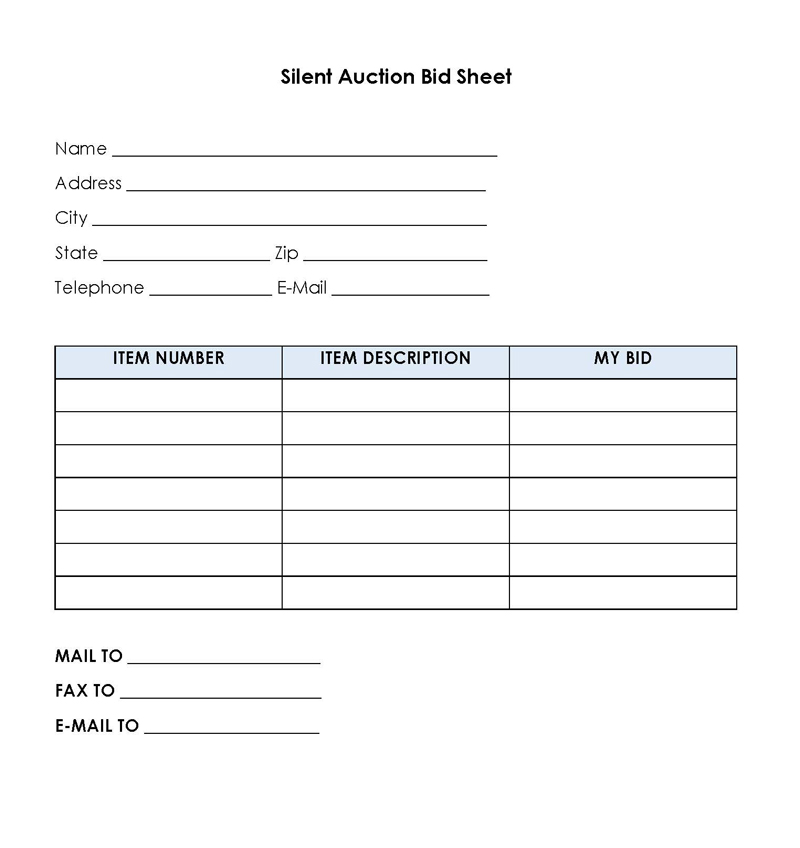 Silent auctions are usually meant to be quiet, orderly affairs, and rules are usually laid down to enforce this. While there is no specific set of rules applied across the board, silent auctions often have specific standard rules for each one as follows:
Specify a closing time
Very few things serve to stoke excitement more than a sense of closing opportunity. Therefore, there should be a specified period within which bids can be placed on each item. In this manner, items receive interest which will gradually rise and peak towards the end of the bidding.
An appropriate number of items
The number of items on display should depend on the size of the event and the attendees. A careful balance between quantity and quality should be struck to reduce the number of times guests spend wandering among lower-value items before reaching higher-value exhibits.
Sitting arrangement
Accessibility of the exhibits should be a prime concern at any event, as guests can only buy what they can get to within the available time. The sitting arrangement of guests should reflect this and be optimized for foot traffic. In addition, there should be adequate spacing and room to encourage easy movement between each exhibit.
Placement of items strategically
The accessibility of items should be heavily complemented with visibility. Every item on display should be visible from almost every corner of the room. Furthermore, the most expensive items which generate the most interest should inversely be made less conspicuous to raise interest in the less expensive items and encourage bidding on them.
How to Run a Silent Auction Event?
Hosting a silent event auction can be daunting, as it is expected that each item at the event sells itself. The following aspects are what to consider to run a successful silent auction:
Promotion
When hosting a silent bid auction, generating excitement and interest in the event should be the first thing to consider. Information about the event can be disseminated to the target audience through social media and email blasts. Even consider leaking minor information about some items up for auction.
Venue selection
The location of the event will play a defining role in its success. One of the primary objectives of any silent auction bid is to acquaint the guests with as many pieces on display as possible by easing movement. Therefore, the venue for the event should be spacious enough to accommodate the exhibits, sitting arrangement, foot traffic, and other functional areas.
Item selection
Each event should have a target audience, a group representing the bulk of the turnout for the event. Source the items for the event tailored to this audience to provide as much appeal as possible to encourage purchases.
Item display
An impressive display can vastly increase the desirability of an item. Highlight every item on stands, pedestals, or stages, with perhaps illumination to bring them to life.
Item description
Providing information about an item is a primary means of getting buyers excited about it and raising the chances for a sale. Include a note on the display of each item to provide details on the item. The name of the item, a short backstory (if one exists), and the item's significance are typical details to include on such a note.
Related: Free Bid Sheet Templates (Silent Auction) – Word, Excel, PDF
Registration
Registering attendees is an excellent way of keeping track of everyone who attended the event. Each attendee will be assigned a unique identifier called the bidding number to bid with during registration. The registration information will serve as a reference to know who won what.
Bid sheets
Bid sheets are instrumental in every silent bid auction, being the means for attendees to submit bids anonymously. Bid sheets set up beside each item on display allow guests to quickly identify where each bid is to be placed without any consultation.
Volunteers
Having a few extra helping hands available at any silent bid auction is always handy. Engage volunteers to help set up, register, manage bid sheets, tend the checkout area, and serve guests if required.
Auction monitors
Silent auctions are usually a smooth, orderly affair, but only when all the stipulated rules are followed. Participants are often expected to regulate themselves, which can affect the order of the program if instructions are not duly followed. Station a few auctions monitors throughout the event to ensure that all instructions are obeyed and keep an eye on each bid.
Checkout area
Designate a marked area as the point of transaction wherein winning bidders can claim the items purchased and make payment for them. Include multiple easily accessible areas if the auction is large to minimize lengthy lines.
Must-have Components of a Bid Sheet Template
The bid sheet template is central to every silent bid auction, and as such, should be as comprehensive and easy to use as possible. Every bid sheet template at any event you host should have the following components to enable its full functionality:
Bidder name/number
A big part of silent bid auctions is bidder anonymity. Participants can place bids without having to identify themselves. In most silent auctions, this is accomplished using an alias called a bidding name/number, a unique identifier issued to each participant. Every bid sheet template should include a section where bidders can write down their bidding number next to their bid on each item. This section should be long enough to take numerous bidding numbers.
Item number
Every item on exhibit for the auction should be designated with a series of alphanumerical characters that uniquely identifies it. In addition, the corresponding bid sheet template for that item should have a prominent number of the item it is meant for. This will enable bidders to quickly identify where to place bids for items they want.
Title and description of the item
An appropriate title and accompanying description should appear at the top of each bid sheet template. In this section, the item's information can be made available to the bidders. This section should be catchy to incite desire in the potential buyers. While exaggeration is not advisable, the description should be stimulating and engaging.
Starting bid
Every item for sale at the auction event will have a particular inherent value. Therefore, to avoid incurring losses, it is essential to ensure that each item does not sell below its actual retail value. Indicate the minimum bid placed on each item in a prominent section of the bid sheet template. Any bid on the item must either equal to or exceed the specified item.
Item value
Include the actual worth of an item up for auction on its bid sheet template. While this may seem like showing your hand and biasing the opinion of your bidders, this can also serve to stoke excitement for the item. Bidders will be more excited to place bids on items they perceive to be of very high value.
Minimum raise
Every bid on an item should quickly proceed towards a destination you prefer. Silly practices such as bidding a dollar more than the previous bid should be heartily discouraged to avoid cluttering up space on the bid sheet. An amount should be indicated on the bid sheet template by which each successive bid must exceed the previous bid. This can severely raise the stakes and potential return from each bid.
Buy-it-now price
A means should be provided for a bidder who desires an item to pick up and end the bidding immediately. This is referred to as a winning price, usually about double the item's actual price. When written by any bidder immediately ends bidding and makes that bidder the item's winner.
How to Bid on a Bid Sheet?
The bid sheets are the sole means of interaction between the fundraisers and the bidders at a silent auction event. However, each party's aspect of the conversation is vastly different.
How do bidders use bid sheets?
Bidders use bid sheets to communicate their desire for a particular item. It provides a means of attempting to obtain a particular item and competes with others for that exact item.
The interaction of bidders with the bid sheets is usually limited to the following:
Obtaining information about the laid down rules of the auction such as the minimum bid price, the minimum price increase, and the buy-it-now price
Reading up information about each item based on the description given
Writing down bids accompanied with their unique bidder numbers
Raise bids on desired items using the minimum bid increments
Observe the growing bids on items they have an interest in
Repeat bids as needed
Wait for notifications about the winning bid on an item
How do fundraisers use it?
Fundraisers use bid sheets to communicate instructions to bidders and regulate the bidding process. The fundraisers are usually the first and the last to interact with the bid sheet at every event.
The fundraisers use the bid sheet to:
Specify the rules of the auction event
Provide information on each item through titles and descriptions
Serve as a means of receiving the bid of participants on each item displayed
Monitor the bidding process
Identify the winner of each bid
Prepare the receipt for each winning bidder at checkout
How to Conduct a Silent Bid Online
The steady transition of the world to the digital realm has also influenced silent bid auctions. Introducing a new means of bringing potential buyers in contact with items they want, online silent bids can be held without the need for any physical interactions during the bidding process.
Instead, bidders can access a silent bid through their phones or computers to place bids while maintaining anonymity and silence. In addition, silent bid auctions can be held online at a physical location where guests can intermingle while bidding virtually or without any physical engagement.
The primary features of an online silent bid auction include the lack of restriction on movement; there are no stations at which to wait to make bids. The easy means of sharing information also allows for easy notification of a bidder whenever they are outbid; using this means participants can easily keep abreast of the process.
In addition, online bids usually feature a countdown which signifies when bidding will end and the winner will be announced. The entire bidding process also remains firmly in the control of the hosts, who can easily control how the bidding process progresses without interacting with the participants bidding remotely.
You must carefully regulate your silent bid auctions to promote the desired result by specifying rules and controlling what happens.
The participants in your auction are to be brought in as much contact as possible with the items on display by manipulating the event environment.
The bid sheets for your silent auction should only serve to make it highly convenient for bidders to manifest their interest in items they want.