A Job Proposal is an official document used by job seekers to communicate to potential employers that their company is facing an issue or challenge, and the job seeker has a solution of how they can solve the problem with their qualifications.
The job proposal can be pitching the establishment of a new position or suggest how the job seeker intends to carry out existing duties and responsibilities better than they are being carried out.
A job proposal is a good opportunity for job seekers, job candidates, interns, and freelancers to show initiative and determination in securing employment within a company. It plays a crucial role in helping you stand out, especially in freelancing. The job seeker should state exactly what they can do for the specific client, employer, or company – not generic – by providing meaningful solutions to their needs.
A job proposal template is a fillable form that outlines the different items that should appear in a job proposal. The templates differ from one type of job to the other. Templates are time-saving tools essential for creating effective job proposals.
Coming up with a distinguishable job proposal should be a priority for job seekers intending to use it to secure a job. While it may take time to craft an exemplary proposal, it is certainly worth it.
Always conduct thorough research to get enough and accurate details to craft the proposal. The actual writing can be done using a job proposal template. Any supporting documents such as research report findings should be kept in mind when creating the proposal.
The following steps show the process of writing a job proposal:
Introduce yourself
Start with an introductory paragraph that lets the reader know who you are and captures their attention. Provide basic introduction details such as name and field of expertise. Also, specify the company you are applying to, as this ensures the job proposal doesn't seem generic.
An introduction is necessary because chances are the reader does not know who you are. However, if there have been previous interactions, such as a meeting or interview, ensure the reader knows this.
State the purpose of the proposal
After the introduction, state the objective of the proposal; to propose a new position or idea on how to tackle an existing pain of the potential employer. Be direct such that the reader knows exactly what is being proposed.
Outline a company challenge
Highlight the specific issue/problem or challenge within the company that will be resolved by implementing the proposal or idea. Get into details and show how the issue negatively impacts the company's activities, results, goals, and mission. Use quantifiable data to support any claims because giving measurable impacts helps in increasing the value of the proposal.
Define your goals and objectives
Next, explain what you intend to do, short-term and long-term, if the proposal was to be approved. Highlight actionable initiatives associated with the proposal. This can also be done by indicating the duties and responsibilities you will undertake in the company.
Explain how the company will benefit
Afterward, show how the potential employer will benefit if the mentioned goals and objectives were to be actualized. Use quantified statics to show benefits. Talk of both direct and indirect benefits the company will gain.
Clarify the position duties
Provide a list of all the duties and responsibilities that will be undertaken in the proposed job position. Research on which position is responsible for the proposed duties and compare the duties of the new position with other positions within the company. Ensure there are no overlapping duties and even more so duties that devalue the bosses' position.
Describe the value of the proposed position
Explain how the value of the highlighted duties of the new position. Talk of how jobs will be done more efficiently, more clients will be reached, associated cost savings, improvements to the company's brand, etc. Use measurable data to show value where necessary.
Detail your qualifications
Once the value of the proposed position has been ascertained, sell yourself as the most suited person for the position in terms of qualifications, academic and professional. Outline any academic and professional accomplishments that show your capability in the proposed position
Showcase your skills
Next, provide examples of how your skills, qualifications, and traits have been used before and produced desirable results. This is a chance for you to stand out. Outline any experience you've had in the particular field.
Be specific in highlighting skills and traits.
For example:
A web designer will talk about their computing skills, coding training, etc.
Include your special skill sets that can be beneficial to the company. Try to be unique when giving new ideas or processes to do things.
Budget and funding
A budget can then be provided depending on the situation. Job proposals for new business ventures and freelancers will more than likely require a basic budget to be provided. This can be done in brief without going into the specifics. Allocate funds to the main aspects of the proposal; this greatly influences the company's decision to adopt the proposal.
Describe your history with the company
If you've had previous interactions with the company, talk about the nature of the interaction. The history can be based on a previous contractual job, interview, etc. State the achievements made during the interaction. Also, highlight your familiarity with company procedures and policies to let the potential employer know you will be able to fit in seamlessly.
Request a follow-up
Next, suggest ways to proceed should the company be interested in your proposal. State that you are available for an in-person meeting or interview. You can also provide a preferred day when further discussions can be held. Provide your contact details.
Thank the employer
Indicate that you appreciate the potential employer for taking the time to review the job proposal. Reaffirm that you are interested in actualizing the proposal and are looking forward to hearing from them through a call to action. Request the reader to take specific steps such as issue a response, reach out, or request a sit-down after reviewing your proposal.
A call to action lets the reader know you are serious about the proposal and gives them a starting point if they are interested in what you proposed. Also, ensure to notify them that you will be following up. Specify the follow-up date and means; this could be through a phone call or email. This helps them prepare for the follow-up.
Close the proposal
Lastly, finalize the proposal by providing a complimentary close such as "Yours Faithfully" followed by your signature and name.
Tips for Writing a Job Proposal
Learning how to craft an exemplary job proposal letter is a skill that may take time to perfect. However, we shall outline tips job seekers should consider when writing proposal letters.
They include:
Identify the problem
Look for issues within the company and list them down. Narrow down to the issues you are best equipped to solve. Create a draft for how the problem(s) can be solved to guide the writing process.
Do your research
Research on the issue and collect enough information needed to propose a definitive solution to the issue. Be detailed when giving reasons why the new position is necessary. Presenting facts is a good way of persuading the potential employer.
Study project objectives
Identify and define the objectives of the proposal. It is always good to have a clear pathway of how the actions or activities associated with the new position will lead to the company's success.
Keep it brief
Keep the letter at most one page. Ensure you grab the reader's attention immediately while providing enough information on the proposal. Where possible, use bullet points instead of long paragraphs to outline key details. Brief letters indicate you respect the reader's time which is a desirable trait in any job seeker.
Be professional
Maintain a high level of professionalism in terms of format and language. A job proposal may have to be reviewed by multiple senior officers, a professionally written is easier to forward for consideration. It also indicates your professional ethics.
Include samples
Use real-life accomplishments and examples to prove your capability to undertake duties associated with the new position.
Use bold text
The title, subheadings, and bullet points should be bold to make it easy and fast to pick out. This can come in handy when the reader has to skim through the letter.
Job Proposal Template
[Your name]
[Company name (if applicable)]
[Your address]
[Date]
[Recipient's name]
[Recipient's company name]
[Recipient's mailing address]
[Salutation]
I want to propose the formation of [position] within your company to address [issues/challenges] being observed through [impacts of the issues].
The [issue/problem] has been studied to influence sales proportionally. This can be proved by the dwindling sales since 2017. I propose that the position be established to deal with the short-term and long-term effects of [issue/problem]. Also, I would like to be at the forefront of this transition where my duties will be;
• Duty 1
• Duty 2
• Duty 3, etc.
Under my supervision, I intend to [proposed benefit such as increased sales] with a margin of 50%. The company's market share is also projected to increase by 30% in 2 years.
I have been a practicing [name of profession] for 5 years, and I'm a master's in [degree] holder. My most notable skills are;
• Skill 1
• Skill 2
• Skill 3, etc
I believe the [position] under my leadership will prove a very valuable addition to the company. I am available for an interview or a meeting to further discuss the specifics. Kindly contact me at [email protected]
Thank you.
[Complimentary Close such as Yours Sincerely]
[Signature]
[Your Name]
Job proposal templates vary from one field to the other.
As a result, there are several types of job proposal templates, namely:
Following are some free downloadable standard job proposal templates for you:
Job proposal standard templates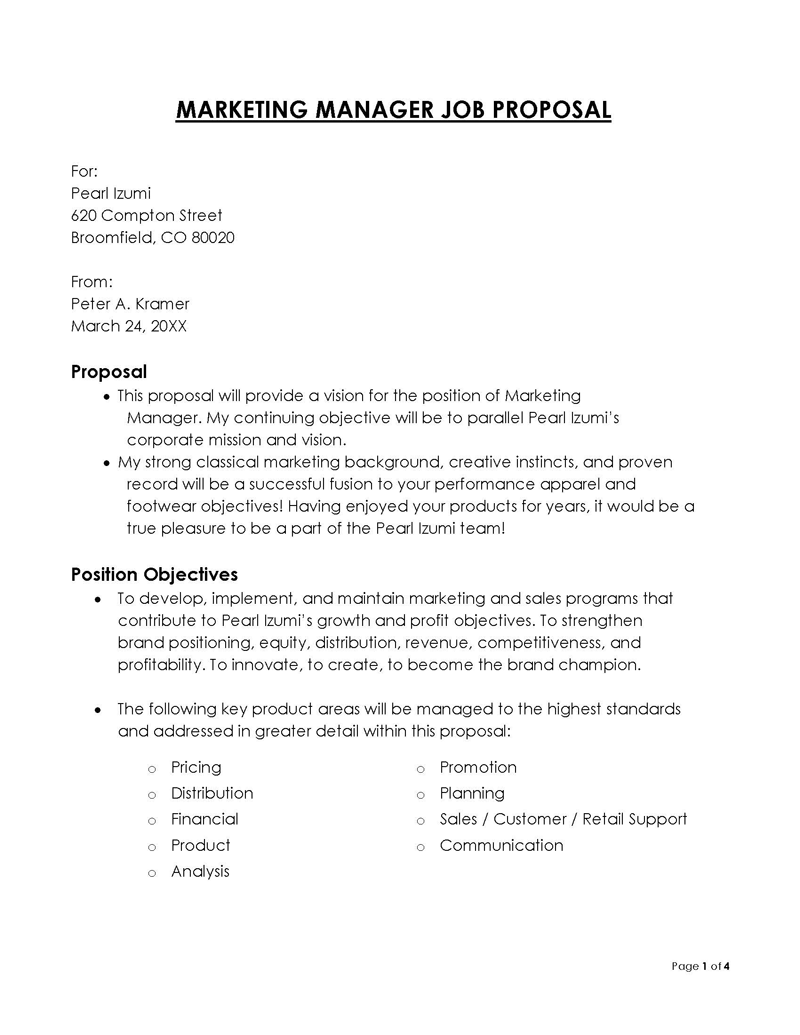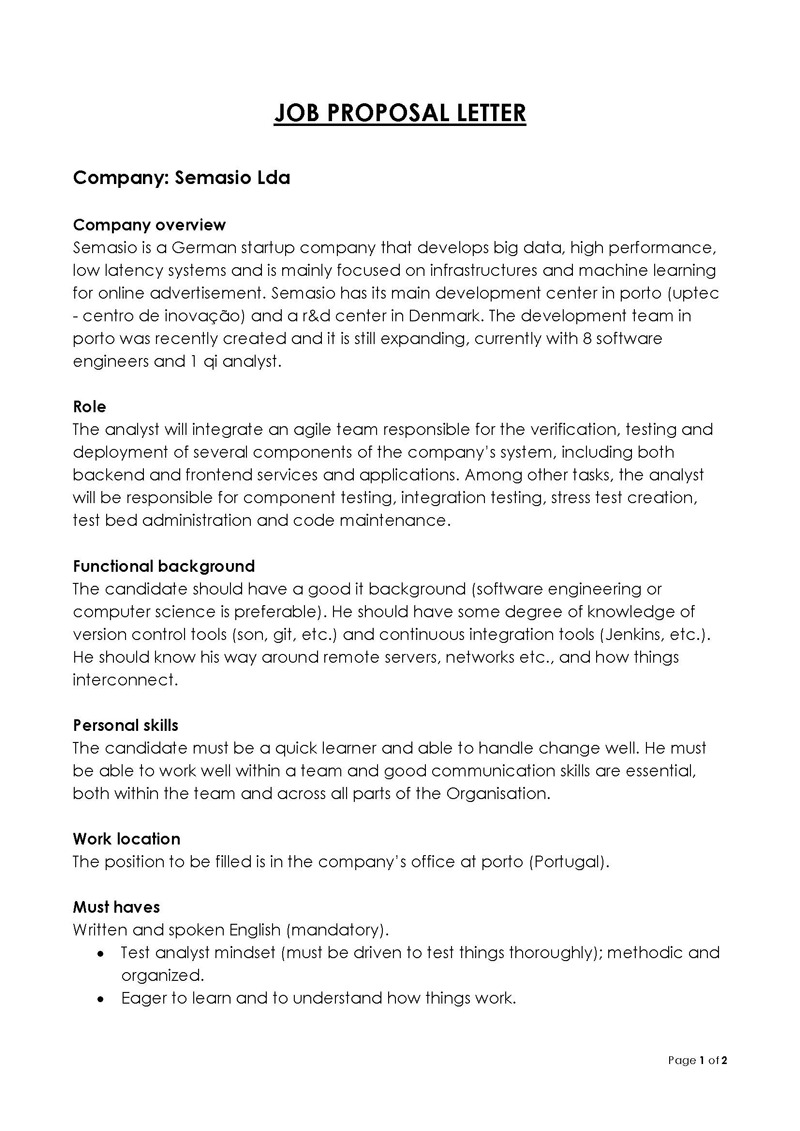 Frequently Asked Questions
When do you use proposal letters?
When suggesting a new idea or initiative to a company, use a job proposal letter – for example, when proposing a new marketing strategy, software, position, etc. A proposal letter can be a simple or a detailed document depending on its utilization.
Why is the proposal important?
A job proposal letter is important because it makes the first impression to the potential employer, shows what you can do for them, and helps you secure a job even in situations where an opening was non-existent.