The Flight Attendant Cover Letter is a standard document that federal government departments, private companies, and other organizations will use to determine whether or not you are suitable for employment as a flight attendant.
To be successful in this industry, it is crucial that you successfully demonstrate your skills and qualifications to the hiring manager or executive. If you cannot prepare the cover letter adequately and convincingly with your current qualifications, it would be best to do further research on the company's website to aid in your application process before submitting the application.
The median salary of a flight attendant is $18.3 per hour, thus making it a career worth following for most people. Consequently, this makes flight attendant jobs competitive, and it is thus crucial to market yourself appropriately to secure such jobs. Some of the states known to have high employment levels for flight attendants are California, Florida, Illinois, New York, and Texas. Additionally, flight attendants are hired in large numbers in the following metropolitan areas – Miami, San Francisco, Los Angeles, Chicago, and New York City.
This article will discuss the common elements of a flight attendant cover letter that should be addressed in it to be effective and provide samples to guide you when writing it document.
Template and Samples
Format of a Standard Cover Letter
A flight attendant cover, an official document, should be neatly formatted on professional letterhead and organized appropriately. Following are a few basic formatting tips:
Its contents should have a margin of one to one and a half-inch on the top, bottom, and sides.
The body of the letter should be typed in either average or 12-point font size. 1.15 spacing should be used, and the cover letter should be left-aligned.
The letter should be written in 250-400 words. All letter headings and signatures must be in black ink, and the document should have no missing pages or portions.
Be sure to paginate your application (with appropriate page numbers) neatly.
The cover letter for the flight attendant position should be submitted as a PDF to prevent further modifications by the software being used to review it.
1. Start with a persuasive introduction
An introduction is required for all official cover letters, and a flight attendant cover letter should be crafted in such a way to capture the interest of the hiring manager and executive.
The following are examples of possible topics to address in the introduction:
1.1. Reason for applying
The introduction should be written such that it briefly defines your target job. For example, you can start it with a statement like this
"I am writing an application for a flight attendant position at XYZ Airlines."
1.2. Show that you are a perfect fit for this job
In the introduction, it is essential to state that you have the qualifications for the job. For example, you can state,
"I am a perfect fit for this job at XYZ Airlines. I have four years of experience as a flight attendant, having flown as cabin crew in several airlines such as American, Southwest, and JetBlue."
You can do so by briefly highlighting your career background. or you can also give your academic details that would help establish your credibility and skill set to perform the job correctly.
2. Highlight your flight attendant skills
The body of the letter should demonstrate your ability to handle the duties. This can be achieved by drawing attention to your skills and qualifications. Make sure to highlight both soft and hard skills. Also, pick keywords and consider candidate requirements from the job description" in your flight attendant cover letter. These will aid the employer in determining whether or not you are qualified for the job.
A statement like,
"I provide excellent customer service and provide information on the flight schedule and updates to the crew on any changes that may occur."
This can be used to highlight your proficiency in the job.
Examples of hard skills flight attendants should possess include comfortable dealing with security/customs officials, aware of in-flight safety issues, preparing meals, CPR and first aid, Federal Aviation procedures, plane evacuation procedures, and knowledge of airplane PA systems, etc.
For example, you can use the following statement to demonstrate your hard skills;
"I am experienced in giving demonstrations on the use of emergency equipment such as oxygen masks, life vests, and flashlights to passengers."
Examples of soft skills required in flight attendants include taking charge, dressing professionally, being articulate, naturally friendly, punctual, collaborative, critical thinking, problem-solving skills, etc. For example, you can use the following statement to demonstrate your soft skills;
"I am a quick learner, friendly and articulate in providing information to customers and colleagues. In addition, I am a team player and always strive to do my best."
You can also include personal attributes that will help the hiring manager determine whether or not you are suitable for the job.
Note: Individualize your cover letter for each job posting. It is vital to read application instructions carefully before applying for a job and align your cover letter to the job posting. This is helpful to avoid sending the same letter for many jobs.
3. Include your achievements
Be sure to highlight your main achievements and a few of your interns from the companies you've worked with. This will reveal to them that you are a reliable and efficient worker. Also, mention any memorable incidents or problems you faced in your current or previous job. This can show the hiring manager your work ethics and dedication towards the job.
A sample statement to demonstrate your achievements can be written as follows:
"During my internship at XYZ Airlines, I was asked to prepare for a presentation about emergency procedures for a rookie class of 20 flight attendants. I effectively handled the emergency like an experienced flight attendant. This is evidenced by being awarded by employer's Outstanding Flight Attendant Achievement Award."
The body of your cover letter should also state any awards and certifications that you may have acquired.
4. Make an offer
The cover letter should go to the point of making an offer. It should be convincing enough so that the hiring manager hires you for the position. You can be more convincing by stating in your cover letter that you are willing to work hard and make a positive difference in the company. This can be done by highlighting your willingness to learn additional skills and make a meaningful change in an industry or organization you operate within. Illustrate the value you will bring to the employer if hired and ask for an interview.
For example, you can use this statement to demonstrate your value:
"I can adapt quickly and embrace challenges at any time. I am willing to learn new skills and apply myself to learning entry-level flight attendant tasks. I am looking forward to an interview with your company to demonstrate my suitability for this position further. I'm confident that I can make a positive difference in XYZ Airlines as a company employee."
5. End with a closing statement
The closing statement should be dynamic and stress your desire to work for the employer and how you are committed to getting the position.
Consider structuring the closing as follows:
5.1. Show excitement
Be enthusiastic about applying for the job and show that you are excited about joining the company. You can be assertive but not to the point of sounding pushy or too demanding. The hiring manager can tell whether or not you are serious about the job by reading your closing statement. In addition, you can talk about your passion for traveling, ability to withstand the pressure of traveling now and then and interacting with multi-cultural individuals.
5.2. Align your talents with the job
It would be best to show the correlation between your skills and qualifications and the job description. This is done by highlighting what you are offering and what is needed for the job.
5.3. Thank the manager
You should express gratitude to the hiring manager or employer for reading your cover letter. Provide a final statement that you are sure they will make the right decision by hiring you for the position.
5.4. Include CTA
Include a call-to-action (CTA) that recruits the hiring manager's attention. This can be done by asking them to call you or send an email so that you can discuss the job further. Don't forget to provide a relevant telephone number or email address.
Flight Attendant Cover Letter Template
[Your name]
[Mailing address]
[City, State, ZIP Code]
[Date]
[Recipient's name]
[Title]
[Company
[Address]
[City, State, ZIP Code]
Dear Mr/Mrs/Ms. Name of hiring manager]
It is an absolute pleasure to write you about my interest in working with your company [insert the name of employer]. I want to pursue [insert the name of job position] at your organization. I enjoyed working for [insert the name of employer] last year, and it is my professional opinion that working for your company is a great opportunity.
Your company is one of the leading airlines in the travel industry, and I would be happy to work under your supervision.
I am a [college] graduate in [insert your degree]. During my tenure at XYZ Airlines, I took up several roles and responsibilities in flight attendant training. This enabled me to gain experience in handling emergencies on board as a flight attendant. I'm also a first-class flight attendant, VIP hostess, and flight attendant assistant.
I intend to apply my extensive skills and experiences to ensure that you get the best flight attendant service. I will be responsible for looking after the passengers and conducting a wide range of duties within your organization.
Thank you for reviewing my application. In my desire to be a part of your team, I will be available for an interview [indicate the Date and time]. I can be contacted via phone at [insert phone number], or email at [insert email address].
[Signature] (physical copy)
[Your name] (digital copy)
Flight Attendant Cover Letter Samples
Sample 01
John Doe
123 Main Street
Anytown, Any state, USA 12345
June 28, 2022
Vice President of Operations|
International Airline
Presidential Towers
12th Floor, Suite 1201A
Atlanta, GA 30344-2534
Dear Vice President,
I am on the hunt for a position as a flight attendant at International Airlines. I have four years of working experience in the travel industry, and I am eager to continue my career in the aviation industry. I have held several personnel and recruitment coordinator, passenger service representative, customer service representative, and corporate communications.
My experience in front-line customer service and coordination is vital because I can assist travellers by handling various problems such as luggage issues, reservation questions, and assistance with other escorted travellers.
My communication skills are excellent, and I can utilize my skills to communicate with people from different cultures and backgrounds. I am willing to relocate anywhere in the world if you allow me to work at International Airlines. I look forward to working for your company in the future.
I understand that your company is one of the top agencies worldwide, and I can assure you that I will put my best effort into every task assigned to me. Therefore, don't hesitate to contact me via email or phone for an interview at (123) 456-7890 or via email at jdoe@email.com. Thank you.
Sincerely,
John Doe
Sample 02
Ashley Mooney
123 Main Street
Louisville, Louisiana 12345
May 17, 2022
Mary Smith
Flight attendant recruiter
Sky Airline Inc.
100 Pine Street
New York, NY 10022
Dear Hiring Manager,
I am writing this cover letter to express my interest in applying for the flight attendant position at Sky Airlines as advertised on your website on March 3, 2022. I have over five years of experience in the travel business, and I would like to utilize my skills working for you. With my experience and qualifications, I believe I'm the perfect fit for the position.
In my previous employment as a reservation clerk and reservations executive, I was responsible for allocating space to passengers, checking tickets, and assisting customers with connecting flights. In addition, I handled baggage claims and other related tasks involving logistics.
My skills include customer service, time management, and working without supervision. I am also proficient in multi-tasking, conflict resolution, and handling stressful situations with passengers.
I believe that your company is looking for an enthusiastic, creative, hardworking, and resourceful individual who can inspire your staff with their excellent interpersonal skills. I am confident that I can meet these requirements of your business and contribute positively to the overall performance of Sky Airlines Inc. Therefore, I have attached a copy of my resume for your kind review. To further discuss my application, please contact me via telephone or email at (123) 456-7890 or email at ashmooney@email.com.
I look forward to hearing from you soon.
Best regards,
Yours truly,
Ashley Mooney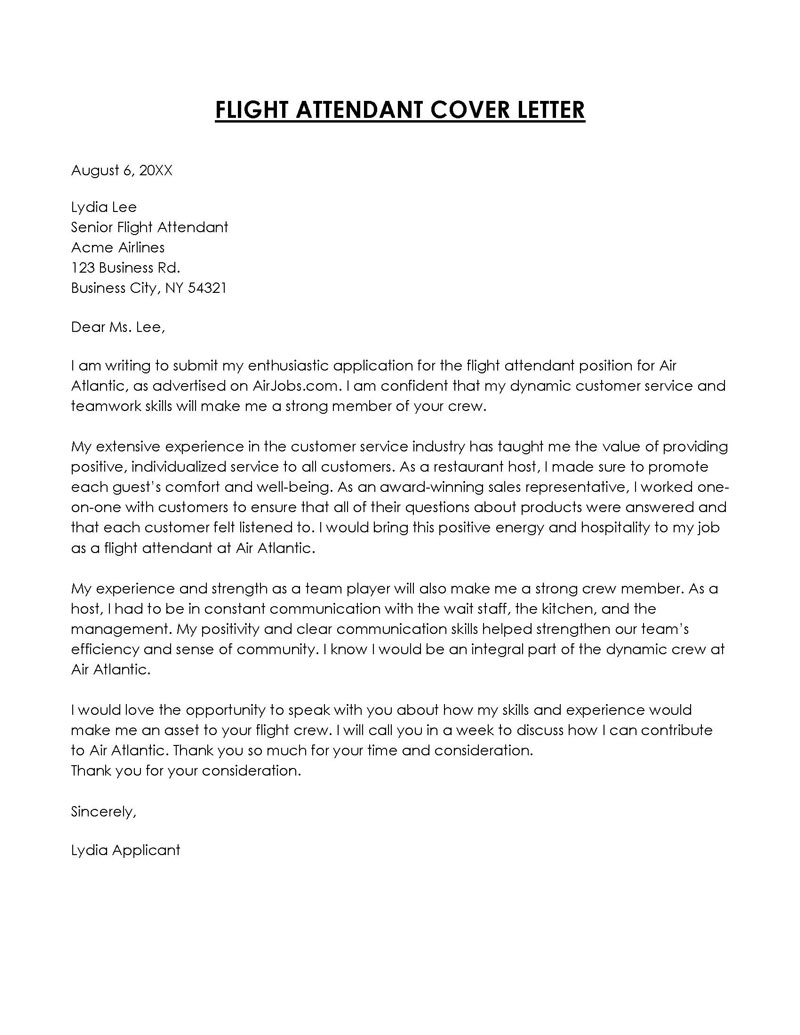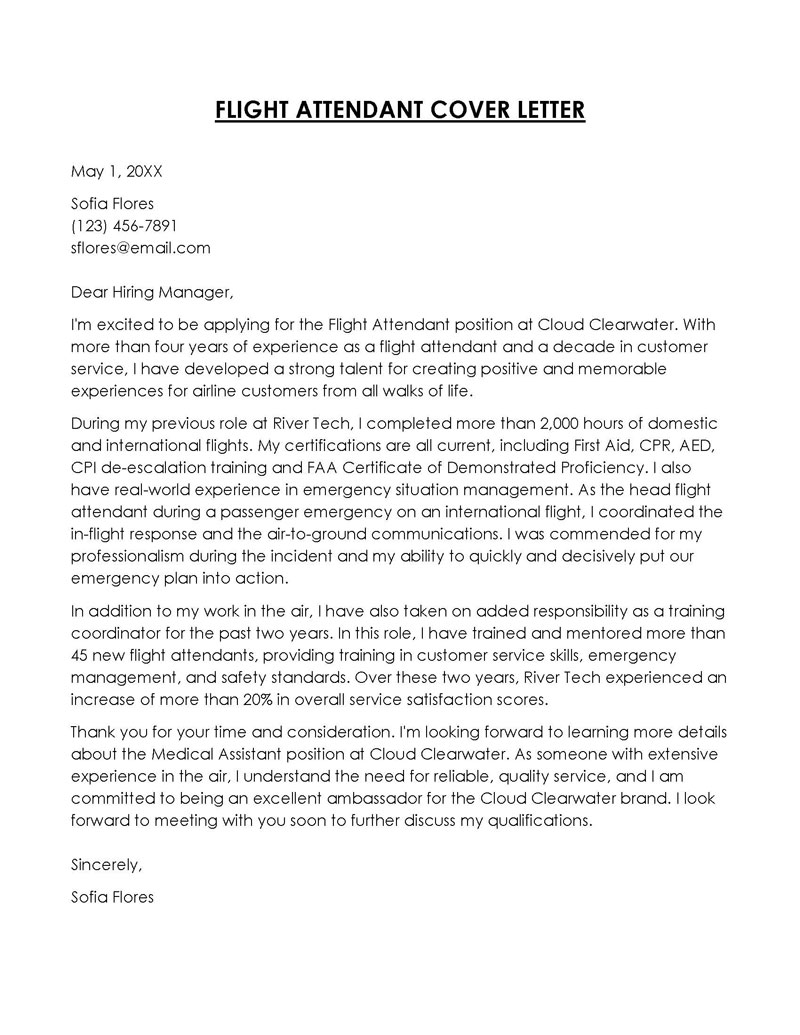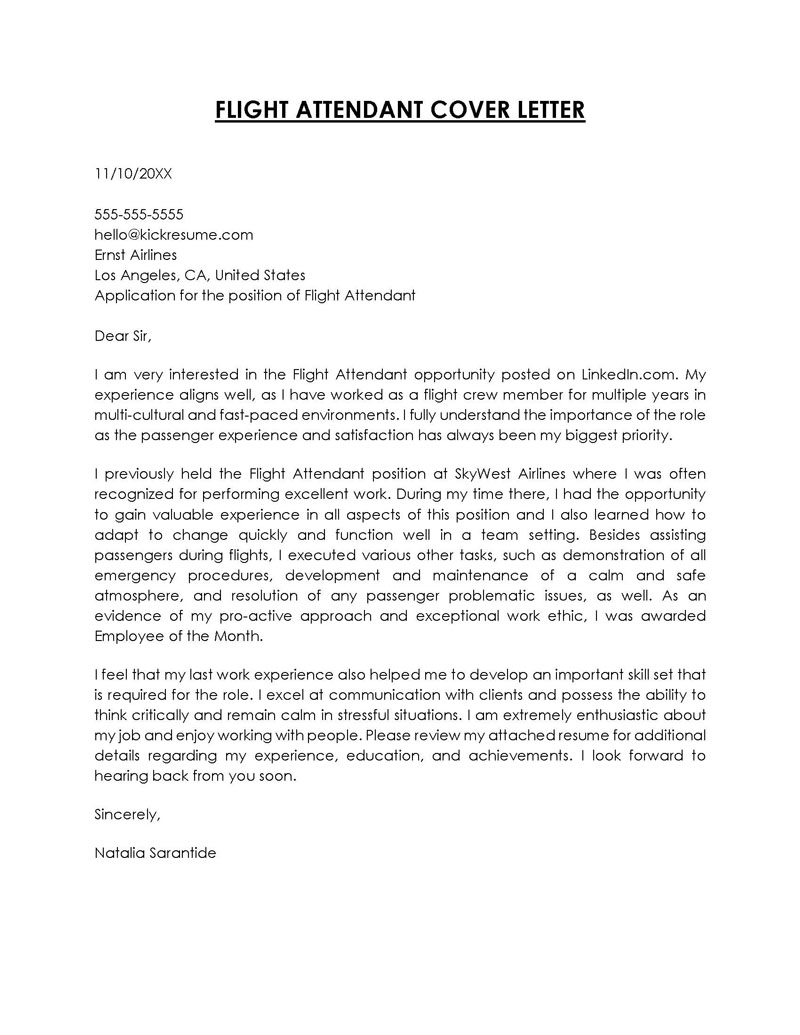 Note: Follow up if you don't hear from the hiring manager
If the hiring manager doesn't reach out to you, take a moment to check your email. If you do not see a reply or email from the hiring manager, send them a follow-up email a week or two after submitting your flight attendant cover letter. However, if the employer has specifically asked you not to follow up on applications, refrain from doing so.
Remember, job seekers; flight attendants have a tough time finding work. It's essential to approach the whole process in the right way. Spending some time on your flight attendant cover letter is the best way to make sure you get the opportunity. It's up to you to make an impression. Take the time and effort, and you're sure to land a job.

The cover letter should represent you. Don't send the same cover letter for different jobs. Every employer is different, and each job search is different, so you need a cover letter that will appeal to each company's specific needs.

As with any job application, your goal is to express your enthusiasm for a particular job and convince an employer that you would be the right person. Therefore, a cover letter should never be like a resume; it should be an essay on why you are the best candidate for a job.

Remember, the cover letter is your opportunity to sell your skills and expertise to an employer. If you don't sell yourself, then at least go out of your way to look good in the eyes of potential employers. The more positive thoughts you convey about yourself, the more likely that employers will notice you and see you as an eligible candidate for a potential position. Create a clear, concise cover letter that persuades an employer to contact you for an interview for a flight attendant job.