As you advance in your career, you interact and meet many people who can help grow your career. Having an excellent professional introduction ready gives you a competitive edge when you meet people like interviewers, managers, supervisors, or even a newly established connection. It is essential to create a near-perfect image of yourself in people's minds such that they feel comfortable while interacting with you.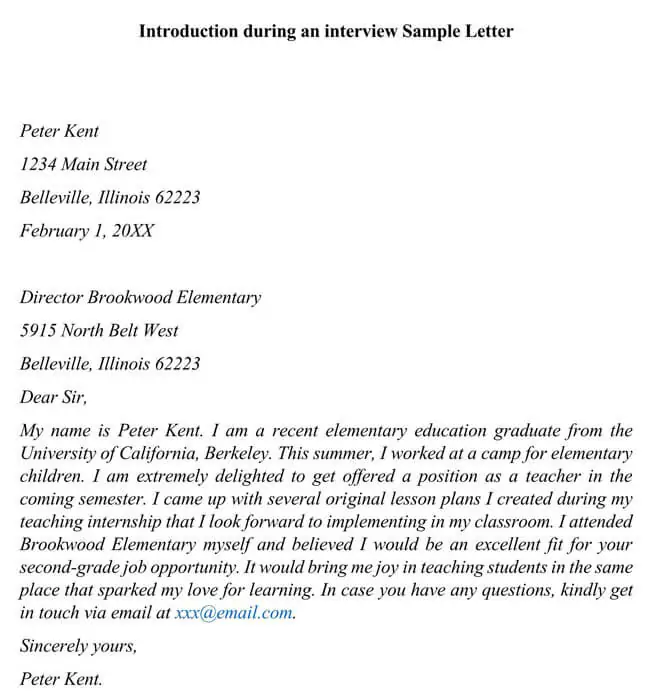 Importance of an Appealing Self Introduction
A good introduction is vital to how people will perceive you for the following interactions that take place. When you have a good introduction, you can convey essential details about yourself clearly and directly to the intended person. Knowing how to introduce yourself professionally helps you get perceived as capable, thus establishing a positive reputation with your acquaintances. With a compelling opening, your conversation becomes more engaging, whether your goal is to gain employment, drive sales, acquire a mentor or make a new professional connection. This article outlines why professional introductions are essential and give you instructions that help you learn how to develop a solid professional introduction that contains all the necessary information needed.
How to Write a Self Introduction
A self-introduction highlights who you are, what you do, and what others need to know about you. People must introduce themselves or provide self-introduction whenever they meet someone new if they don't have a third party to introduce them on their behalf. It is helpful to draft a sample in advance of what you plan to say, regardless of whether you plan to deliver your self-introduction verbally or in written form. This helps solidify your critical points in your mind and helps you not leave out or forget any detail.
The following are the guidelines for writing a self introduction :
Start with your professional status
When writing a self-introduction, the first things to include should be your name, job title, or experience you have acquired over time. If you have just finished school and haven't gained any work experience or are unemployed and seeking a job, consider mentioning your educational level, degree, and certificates acquired or current place in your job search.

Examples:

"My name is Carl Peters, and I'm a recent graduate from Oxford University."

"My name is Claire Isa, and I'm seeking an entry-level chef job where I can showcase my baking cooking and baking skills."
Present your professional skills
Elaborate on your professional skills, experience, and achievements, highlighting the details most relevant to the person you speak or write to. When in a job interview, discuss your professional skills, experiences, and accomplishments.
Pro Tip: When introducing yourself to a potential client, make sure to state your products or services.
This helps to capture the attention of the interviewers. If you are giving a presentation, share information that supports your authority in the area you are speaking on.
Conclude with call to action
When concluding your self-introduction, complete it by leading into what you would like to happen next, keeping in mind to keep your introduction brief. A self-introduction at all times should end with a call to action, whether it is a self-introduction to a new potential client, interviewer, or colleague.
For example, in a presentation, you usually would summarize what you plan to discuss. You can also conclude by mentioning why you are the best person for the job in an interview situation.
Professional Self Introduction Sample Letter
Dear Mr. Arnold,
 My name is Peet Kent. I'm a salesperson at Lord's Fashion House. I have three years' experience in sales and marketing. I've helped generate a lot of apparel sales that intern contributed to our fashion store's growth. I see myself as a relentless problem-solver who doesn't shy away from a new challenge. I'm getting in touch with you because I've developed a high interest in your company S&M Apparel and I've heard great things about how your sales department operates. Given my experience in sales, I'm confident I can be a great asset to your company.
I'd love to arrange a meeting with you to discuss your needs in the sales and marketing area and determine whether you'd be interested in bringing me in as a new sales member of your team. You can reach me via email at example@email.com in case of any questions.
  Thanks for your time. I look forward to hearing from you.
Kind regards,
Kent.   
Types of Self Introductions
There are many different types of professional self-introduction that you will be required to deliver at the various stages of your career. Outlined below are the various kinds of self-introduction stated and explained in detail:
How to Self Introduce During an Interview
Creating a great first impression during an interview is very crucial. In an interview process, there may be a couple of times when you would be required to introduce yourself: at the reception area, to a recruiter, to the hiring manager, and additional interviewers. To help you navigate the process, you can follow guidelines to identify best practices when introducing yourself during an interview. They include;
Before entering the building where the interview will be conducted, you need to first check-in with the receptionist or secretary. Step forward and introduce yourself by stating your full name, time of the interview, and the job title you are interviewing.
Once you have checked in, you might be requested to wait before meeting the recruiter or a Human Resource representative. Be patient and avoid using your phone to pass the time while waiting. When sited, your body posture should be upright, with your arms on the armrest or in your lap.
When the recruiter arrives to meet you, with a smile, stand to greet him or her, confidently introduce yourself, mentioning your full names. When the recruiter introduces himself respond with, "It's nice to meet you…" followed by repeating their name out loud. If you have already contacted the recruiter via phone or email, you can start by saying, "It's nice to meet you in person…" followed by their name. When you're conversing, make sure to smile and maintain eye contact. From there, the recruiter might offer to give you a tour of the premises or guide you to the interview room. Make sure to thank them at the end.
During the interview, the recruiter might ask you to have a seat as you wait for the interviewer to come to meet you. Consider using this time to take out your pen and paper for notes, drink some water, and deep breaths to get your body relaxed. When the interviewer enters the room, please stand up and greet them confidently by extending your hand to shake theirs with a smile on your face and stating your full names. It's highly likely the interviewer already knows the job role you are applying for and has had a look at your resume. However, it would help if you came up with a short statement to make sure the interviewer knows who you are and what job role you are applying for.
After the introduction, you can proceed to give the interviewer a hard copy of your resume. You will likely exchange a few pleasantries before moving to the interview questions. If the interviewer begins the conversation, allow him or her to take the lead. A typical interview question you may be asked at the start is, "Tell me about yourself." If you have a written outline, avoid reading it directly to keep things conversational. Please answer the question by relating it to your background and why it makes you most qualified for the job.
Preparing ahead of an interview helps calm your nerves and also helps you remain relaxed, so consider researching the company you're applying for a job to and, if possible, also research the person interviewing you. This will significantly help guide your conversation and even help you answer questions intelligently. Presenting yourself as intelligent and confident makes the interviewer perceive you as the right person for the opportunity.
Pro Tip: As the conversation progresses, write down notes. You can refer to the notes to ask questions at the end of the interview. As you're answering questions and preparing to ask your own, it is essential to be yourself and let your personality show.
Remember to breathe and take the conversation step by step. Finish by explaining how your experience will make you successful in the job role and how the job you're applying for aligns with your career goals. After the interview is over, follow your interviewer's lead, stand when they stand, shake their hand again, and then thank them for their time with a smile.

Example: Self Introduction During an Interview
Peter Kent
1234 Main Street
Belleville, Illinois 62223
February 1, 2021
 Director Brookwood Elementary
5915 North Belt West
Belleville, Illinois 62223
Dear Sir,
My name is Peter Kent. I'm a recent elementary education graduate from the University of California, Berkeley. This summer, I worked at a camp for elementary children. I'm extremely delighted to get offered a position as a teacher in the coming semester. I came up with several original lesson plans I created during my teaching internship that I look forward to implementing in my classroom. I attended Brookwood Elementary myself and believed I would be an excellent fit for your second-grade job opportunity. It would bring me joy in teaching students in the same place that sparked my love for learning. In case you have any questions, kindly get in touch via email at example@email.com
Peter Kent.
How to Self Introduce Through Email
When sending an email message to introduce yourself, you should convey your professionalism, engage the recipient, and clearly state why you are writing. Highlighted below are tips on how to introduce yourself professionally through email:
Start by writing a good subject line that encourages the reader to open the email. Pay attention to what you include in your subject line so that your email gets the recipient's full attention. Make your subject line short and specific so that the recipient can see, at a glance, what your message is all about.
Address your message to a person. If you can find a person you can directly write to rather than a generic email address, you will be able to connect instantly with individuals you intend your email to reach. This makes it easier for you to introduce yourself without being ignored.
Start with your introduction whereby you use the first paragraph to introduce yourself, then second indicate your request. The third is to thank the recipient for his or her time and consideration.
Use an appropriate greeting if you're writing with a specific request to someone you don't know. Suppose it's formal use a formal business greeting like Mr. or Ms; if you have a connection with the person or write on a more casual basis, you can consider using first names.
Make sure you use a simple font such as Times New Roman and a font size that is easy to read. For example, an 11 or 12 point font size is easily readable without straining your eyes.
Pick a professional closing since your closing is equally as important as your introduction. End your email with a short professional conclusion that leaves the reader with a positive feeling about you and the introductory letter you have written. Examples of letter closings appropriate for business and employment include: Sincerely, Regards, Yours truly, and Yours sincerely.
Include a signature, which makes it easy for the person you're emailing to get back to you. Include a signature with your full names, email address, and contact number. You can also include your LinkedIn URL, which helps to enhance your signature.
Finish by proofreading and doing a spell-check before sending it to make sure they are no notable errors. Send the letter to yourself to be sure it is perfect and free of errors.
Example: Self Introduction Through Email
Jones,
AAA Limited.
February 1, 2021
Mr. PQR,
North Avenue,
Dear Mr. PQR,
If I may introduce myself, I am John Price, and I would like to introduce our car company, Auto Earth Limited. Auto Earth Limited. We will take care of all your car needs.
At Auto Earth Limited, we offer various services, from sales down to repair of automobiles and purchasing second-hand cars. We have our friendly staff to help you look for the vehicle that best fits your needs. Please contact us by calling our telephone number 0000-555-555 and ask for the Auto Earth outlet nearest you.
We hope you will get the chance to visit us and buy a car that fits your needs from us. Looking forward to more production deals with you.
 Best Regards,
XYZ,
Director.
How to Self Introduce as a New Employee
A good introduction of yourself as a new employee can smoothen your transition into a new work environment.It helps you build good relationships with people who can help guide you during your first days at work. Below is a guideline on how to make a great first impression on your new coworkers.
Base your introduction on your environment by considering your new workplace culture and environment and determine whether you should introduce yourself casually or formally. You should always include your name and job title, regardless of whether the workplace environment is formal or relaxed.
For example, in a casual workplace environment, you can introduce yourself like this, "Nice to meet you. My name is Peter. I'm a new HR assistant. I previously worked at the Shell oil company for five years before joining this company. Outside work, I enjoy watching football, going to the gym, and cooking." In a formal work environment, you can introduce yourself like this, "Hi, Peter here. I am a new HR assistant."
Take advantage of your company's orientation program; if the organization has an orientation program, take advantage of the chance to introduce yourself to as many coworkers as possible. Most of the time, a senior employee will most likely help with the introduction, so you might not be required to introduce yourself. However, when you meet a coworker during orientation, you can use the speech you prepared to introduce yourself.
Ask for a team introduction if the person conducting the orientation fails to introduce you to the team members. Make it your initiative to ask for an opportunity to meet them. Make it your priority to let the person conducting the orientation know you are keen to get to know everyone in your team or department.
After your introduction, ask questions. When you ask your new coworkers questions, you create a two-way conversation to establish a connection with them. That intern helps build a positive relationship in the future. When talking to your new coworkers for the first time, it is more appropriate to ask work-related questions. Get your company's organization chart to help in determining which coworker you should get to know first. By going through the organization chart, you can quickly identify your coworkers and determine where each team or department is located.
Send follow-up emails to the colleagues you have just met; it helps strengthen your relationship with them. Your emails should be brief and concise, thanking the recipient for offering their help in guiding you and providing you with information about the company.
Example: Self Introduction as a New Employee
Hey Sales and Marketing team,
I hope you're all having a great day!
I'm Peter Kent, and I'm the new assistant sales manager here. Since I understand that we'll be working together on quite a few different projects, and I wanted to reach out and introduce myself.
I am very excited to work with you all, and I'm looking forward to meeting you personally during our upcoming meeting on February 15, 2021.
See you soon,
Peter Kent
How to Self Introduce for a Presentation
It is essential to create an engaging introduction to capture your audience's attention and interest while presenting. A good presentation introduction should convey you as a capable professional that makes the audience interested in learning more about your topic. Below are tips that will help to keep your audience engaged:
Tell your audience who you are by first introducing yourself, stating your full name, and then telling them why they should listen to you.
For example, "Good morning. My name is Peter Kent, and I'm here today to talk to you about how OraQuick is changing the way HIV is being tested."
Let the audience know why what you're presenting is essential and why they need to pay attention. Consider pulling in data or statistics to help deliver the importance of your message.
For example, "Did you know that OraQuick can be purchased by anyone above the age of 17 over-the-counter at any major retail stores."
Before proceeding on to the slide presentation, consider telling a brief story relevant to the topic of discussion, as it can help build a rapport with your audience. For example, you might have experienced something personal relating to the main point of your presentation. You can consider letting your audience in on that experience.
Consider asking your audience to participate by asking open-ended questions that require them to either raise a hand or stand up to answer. This tactic works best when the audience is of a small number. If you are unsure of what attention-grabbing tactics to use, consider using a family member, friend, or coworker to practice with and share feedback on things like your body language, dress code, and mainly what tactic works best presentation's main idea.
Example: Self Introduction for a Presentation
Hey everybody,
I hope this day is going on well for everyone!
My name is Carl Peters, and I'm the VP of Administration and Finance at Anjira Holdings. I've always had a passion for finding smart and easy ways of saving cash. I firmly believe in adopting strategies to manage money as early as you can is essential to secure your future.
I used these strategies myself during my time as a college student; it has helped me accumulate over $10 million in retirement funds. The amount keeps on growing each day, and I'm here to teach you how to set up an account like that too.
How to Self Introduce During Networking
Networking is meeting new people to gain business contacts and build relationships that may be helpful to your career goals. When introducing yourself during networking, arrive prepared with a brief statement that includes your full name, company or target industry, and critical detail about yourself. This could be your experience or skills. Your introduction should be brief and concise. Below is a detailed explanation of how to introduce yourself successfully during networking.
When introducing yourself during networking, to make a positive impression nonverbally, you should make eye contact, smile, and reach out to shake your hand with your new contact. When you do this, you indicate openness and interest in making a connection with a new person.
As you introduce yourself to a new connection, focus on things you have in common with your further contact that you can use to begin a connection. After establishing a connection, you can proceed to ask a question. A question can help start up a conversation that leads you to learn more about each other, which can help create a lasting impression.
You should have your business card ready and place it where you can easily reach your right pocket, or outside pocket of your purse, so you won't need to search or fumble before extending it to your new contact. Consider using a unique business card that is appealing, and that can leave a positive impression.
Example: Self Introduction During Networking
Hey,
I hope you are all enjoying this day!
My name is Emery Williams, and I'm the marketing director at Kuza Tech. My team and I have developed innovative ways to market campaign designs to keep new clients engaged right in the heart of Bloomington streets. I've been locating local businesses that want to get involved in these activities and later recruiting them.
I enjoy conversing with residents around the area and learning more about what they're looking for from their smart devices. If any question or clarification is needed, here is my business card containing all the ways you can reach out to me.
Best Practices for Self Introduction
Whenever you are introducing yourself, be aware of the social context in order for you to introduce yourself in the right way. For instance, if you're at a networking event, you might start by shaking a new connection's hand and sharing your full names. Afterward, you can begin a conversation by asking and answering questions about their background and your own.
You should not talk too much; instead, you should keep your acquaintance engaged by also allowing them a chance to openly express themselves and share their various ideas and perspectives.
Controlling your body language matters. It would help if you controlled your body language to stay poised and professional in a new introduction. This helps the other party understand that you are engaged and attentive in your interactions.
Listen and show that you are mentally present whenever the other party puts across a point. You can do this by simply maintaining eye contact and asking and answering questions asked by the other party.
A good introduction does not have to be too long or too short, neither does it have to be a crammed speech. Also, your opening doesn't have to be entirely technical or professional. So how is a good introduction supposed to be? How do you introduce yourself professionally, in the right capacity, or otherwise? How do you keep people engaged in your interactions, so they listen and pay attention to what you're saying? To answer these questions, let's dive right into the ways and tips of introducing yourself professionally:
Do: When introducing yourself professionally, make your professional introduction relevant to the job that you are applying for or your current job.
For example, you may be a basketball lover. Still, unless you play basketball or take part in a basketball camp, it would feel random having this in your professional introduction if it's not relevant to the job you're currently doing or applying for.
Don't: During a professional interview, do not add irrelevant stuff as it will leave an unprofessional impact.
State your purpose in your introduction. Although many people introduce themselves by first stating their name and job title, it is advisable to add information that your acquaintance can find on your business card.
Do: Have a summary of who you are and why you are there when you interview for a job. Since the interviewer already knows the position you are applying for, mention your purpose briefly in your professional introduction keeping in mind not to deviate from the context.
Your body language is critical in an interview and speaks a lot about your confidence and who you are. Your body language and words can significantly impact your first impression and how you get perceived. Make sure to control your body language, as it is essential to stay poised and professional during an introduction.
Examples of appealing body language include: maintaining eye contact, offering greetings, relaxed shoulders with open arms by your side. Doing this shows the other party that you are fully engaged and not distracted in your interactions.
Don't: Do not panic during an interview as it can have a negative impression and shows a lack of self-confidence.
Be authentic when introducing yourself; it's better when you are original than merely imitating or pretentious. Consider writing down details about yourself and develop your viewpoints. Go through them one after the other so that they can stick in your mind. Always support your position with reasoning and examples taken from your experiences and observations when introducing yourself professionally, regardless of whether it's via letter or verbal interactions.
Your professional introduction should show your uniqueness in terms of abilities, skills and experience, and your contribution to their organization. How will you help solve their problems? This will help you increase your competitive advantage compared to other candidates, thus increasing your chances of recognition. For example, during an interview introduction, you should let your interviewer know the value and contribution you would bring to the team if given a chance. In a situation where you've been in one profession for a long time, it may be challenging to say something more than your typical "I'm a human resource manager," "I'm a teacher." Here is where you involve your friends and family by asking them to help you figure out your real contribution.
Do: Research about the organization first before going for an interview for you to understand their culture
. For example, before introducing a beverage company, consider visiting their website and social platforms to understand the culture clearly.
Don't: Never make fun of the culture as one can mind it.
If you find out a company is casual after researching, you can include humor in your professional introduction; however, be mindful when coming up with funny ways to introduce yourself. What you consider funny might not resonate well with your acquaintance. When introducing yourself to an international audience, make sure not to offend anybody. You should make sure that you are always aware of the attitudes and feelings of others.
How confidence affects the person who is doing a self-introduction?
When you confidently introduce yourself, you can create a positive first impression that helps you capture your listener's attention.
How long should a Self-Introduction Email be?
It will help if you keep your message brief, with at least two or three paragraphs. Include a few sentences in each section.
How much should personal information be included in a professional self-introduction?
When introducing yourself professionally, include your name and job title or occupation and critical facts that will help you leave a great first impression on the person you're speaking to.
A good introduction with anybody will help you build reliable connections and acquaintances. It will help you provide the necessary details while ensuring it doesn't sound like a speech, regardless of whether it is a written intro or spoken. Knowing how to introduce yourself professionally makes you get perceived as being self-assured and capable. A useful professional introduction can make your interactions more engaging and friendly, creating opportunities for you throughout your career. With a good introduction, your chances of being considered are high since you can leave a positive impression of yourself to the other party, making it possible for them to remember who you are the next time they come across you.