A job application form is a formal document containing company-specific questions that employers use to gather information from job applicants.
Employers impose the document on applicants with an aim to get substantial information pertaining to their educational heights, skills, personal attributes, career achievements, and experience in their fields. The forms can unearth things of interest that some candidates may have omitted in their cover letters, resumes, and other submittable documents. These insights help to determine the suitability of every candidate.
Ideal for big companies which receive huge amounts of applications, a job application form gives the hiring team an easier time when it comes to discovering the most deserving candidates. As a result, the hiring team can proceed to the next steps of the screening processes with a more manageable number of candidates. Another reason employers choose to work with job application forms is to eliminate the bias and discrimination that comes with the submitting of other uncontrolled documents. Other than facilitating fairness and consistency, the application form falls in line with federal regulations governing the hiring process for companies.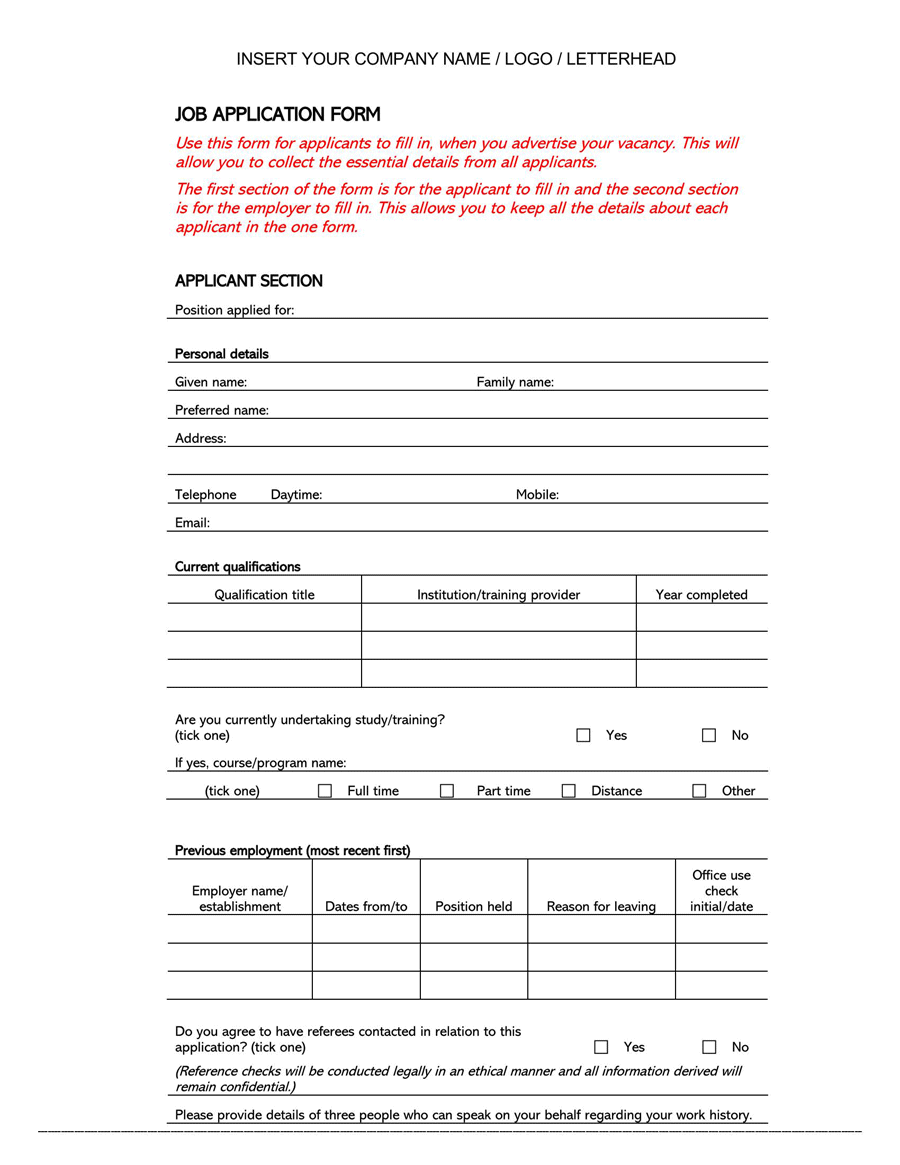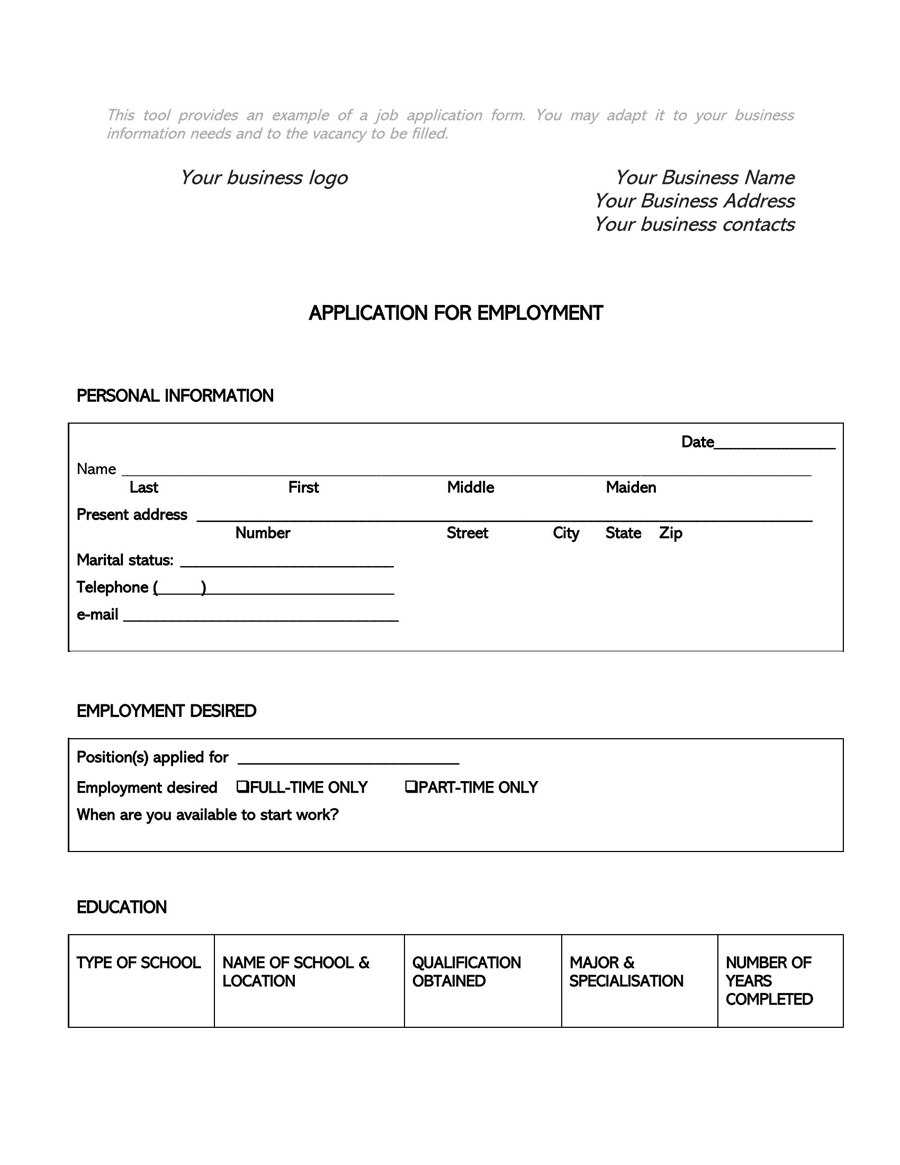 It is your work, as an employer, to prepare a sophisticated job application form depending on the type of your company and the nature of the position in question. Keep in mind that one of the key reasons for crafting an application form is to level the ground as you give yourself an easier time sorting out job applications.
In this context, here are the items that should make up your job application form:
Personal information
Start by asking the applicant to give their full names and address to let you know who you are evaluating. The applicant should provide the residential address in full (street, state, city, zip code) to streamline her work when conducting the background check. Going on, the applicant should give their contact details (email address and mobile number) for easier communication should you need to call them.
They should submit their social security number to act as proof of citizenship and recognition by the government. If you plan to conduct a physical interview session, ask the applicant to provide a preferred date. Lastly, the interested person should give the preferred payment rate and whether they want to be employed full-time or part-time.
Academic information
To facilitate a sound educational background check, the applicant should list the high school and college attended alongside their addresses. Capturing the dates attended will give you an easier time if you want to call the schools as part of the background check. The job application form should feature functionality to check if the candidate finished school or not so as to accommodate every applicant.
Leave space for the applicant to indicate if they attended any other additional educational facility and have them provide the address, program pursued, and the corresponding dates. Collecting educational background is vital as it will help you discover how education has prepared the candidate for the role at hand. It may also help gain insights on a person's commitment and passion to their career.
Employment eligibility
This section of the job application form is to determine if the potential employee satisfies appropriate employment conditions. The applicant should indicate if they are legally permissible to live and work in the United States without any need for sponsorship. Also, they should add whether or not they have worked for you in the past and provide more information if the answer is affirmative.
Another check for eligibility should be the criminal background. In this light, the applicant ought to indicate if they have been in conflict with the law, and go ahead to describe the felony, if any. The crime details must include both the crime committed and the consequences.
Employment history
Advise the applicant to provide details pertaining to their previous employments to gain insights on their level of experience and indulgence in their career. Let them deliberate on the following:
Employer (company worked for) and their contact information
Payment details from when they started to the time of leaving the company
Job title(s) held in their time at the company
The powers and duties assigned during the past employment
The dates of employment from start to end
The reasons behind exit from the company
Note that the candidate should provide the above employment details for all former workplaces if applicable.
Availability
Ask the applicant to state a convenient date on the job application form when they can start working if hired. This is an important piece of information because the best candidate to fill your vacancy may be bound by another contractual agreement requiring them to continue working for their current company, sometimes holding them for weeks or months.
References details
The applicant should provide about 3 references and their referees' complete information, including their full name, relationship, company, title, and contact details, so you can easily reach them to validate the information.
Additional information
There should be a section for any other information and disclaimers. These could hold important items such as confirming allegiance to company policies and employment terms. Also, enable a section to add a sign indicating that the applicant has provided correct information to the best of their knowledge.
Has the applicant ever served in the military? If the applicant has served in the military, they should provide details like their veteran status, branch and service rank, induction and dismissal dates, and the reason why they left the army.
Background and criminal check consent
Now that the applicant has provided you with all the information you need to inspect their eligibility for the position, they should grant or deny your authority to conduct a background check on them. Naturally, any employer will give you permission because they know that denying you the same could make you suspicious.
Disclaimer
The applicant should end with adding their signature, the date when they completed the form, and their name in print form.
Types Of Job Application Forms
Depending on the kind of employer you are, you can choose any of the following main types of job application forms.
Online application
Online job application forms are basically forms filled and submitted over the web. You can register your job application form with popular job platforms and wait for interested applicants to fill the form. Alternatively, you can avail yourself of a job application form on your company website as long as you have a database sizeable enough to hold all the data fed by candidates.
Email application
Popular with remote positions, you can give applicants a chance to prove their suitability by email, whereby applicants fill out forms and answer your questions through emails.
Physical paper job application form
You may provide applicants with hardcopy, company-prepared application forms for them to fill and submit to the hiring committee. You can go ahead to modernize the experience by providing printable forms from your website so that the applicant will print and visit your offices. This is a good option if you want to meet with the candidates right from the start.
The following are tips to help you craft an effective job application form:
Consider using different types of forms
After crafting your role-specific job application form, consider making it available in different methods. For instance, applicants should be able to download and send via email, fill through your website or submit physically. This way you can reach more applicants and boost your chances of landing a more qualified employee.
Use job posting sites
Job posting sites give more exposure to your job advertisement because they receive many interested visitors. If you decide to utilize these sites, give the applicants an easy time by letting them send everything online either through the job platform or via email.
Ensure that applicants satisfy what you are looking for
In the end, the goal is to hire the most qualified candidate for the job. You can achieve this by contrasting answers against the job description when it comes to skills and experience.
Don't waste time
Go through applications as fast as you can to weed out those that do not meet your standards. This way, you can spend more time arranging and conducting the next screening process for the most deserving candidates.
Discover your favorite candidates
After listing all the best-qualified applicants, check them in more detail and compare their answers closely in order to choose an ideal number to call in for interviews.
File the best applications
Keep all the impressive job application forms so that you can reconsider them the next time you want to hire.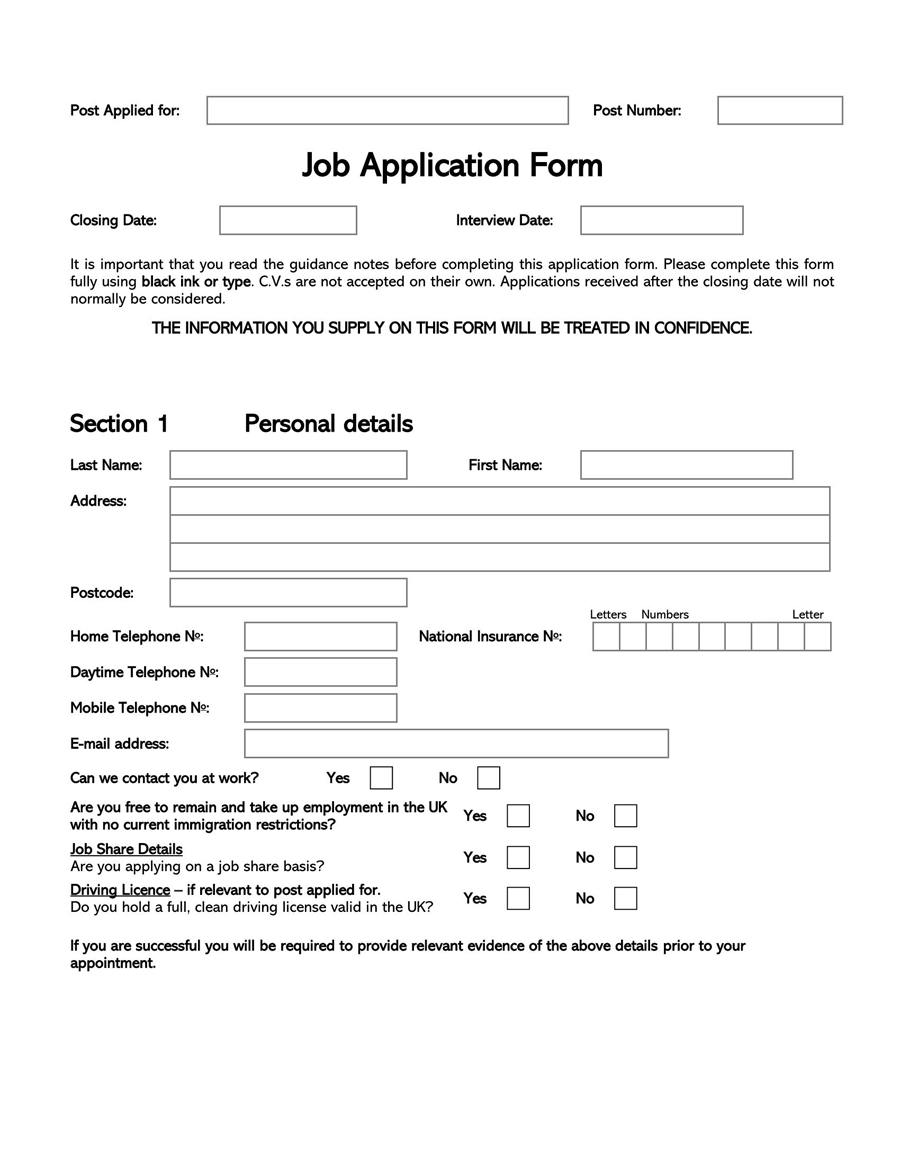 Frequently Asked Questions
Do employers need to use job application forms when hiring?
Sometimes collecting resumes, cover letters, and CVs can be enough, but application forms are an even better way to level the ground and judge everyone from a common point of view.
Is it appropriate to use a general job application with management hires?
You can still use only resumes and CVs to make your decision, but a form will always facilitate the process as you only get to see what you want. Also, a manager's position is a sensitive area for your business that requires an equally sensitive hiring process.
What types of questions are on a job application form?
There are no specific rules dictating what you should include in your application form. However, it should capture personal information so that you are able to conduct a background check. Other areas include skills, qualifications, and experience pertinent to the position in question. You can even ask for hobbies as it may lead you to discover hidden talents and skills that could prove beneficial.