The policies and procedures are a company's protocol or action plan, which helps guide company decisions and set goals.
Although employees originally know their responsibilities in the workplace, a company policy helps to ensure accountability. On the other hand, a procedure is a stage-by-stage manner or actual steps involved in executing or enforcing a policy. It focuses on the precise parties concerned and their roles.
An organization, professional body, or government agency can only guarantee the security of all the parties (i.e., the employee's and the employer's interest) involved by running its affairs under standard policies and procedures. New organizations require a policy and procedure template that they would operate by, and old organizations must not fail to constantly update their existing policies and procedures to meet the evolving workplace ethics.
This provides an insight into the company's values and emphasizes the responsibilities of the executives to the employees and that of the employees to the executives. Furthermore, it guarantees transparency and accountability which are binding by local, state, and federal laws. For example, cases of employee dismissals or suspensions due to workplace offenses are quite common.
As much as the reason for dismissal or suspension is justified, such dismissal or suspension must follow the company policy and be executed via the proper procedure. A company policy covers employee termination protocol, including the grounds for dismissal, employee termination notice period, entitlements, and others.
Other aspects of company policies cover attendance conduct, recruitment, pay and benefits, safety, diversity, and others. In this article, we are going to clear up the differences between policy and procedure, why and where they matter, how to create them, types, and best practices.
Downloadable Policy Templates
Making a policy is not just about writing down information; it takes a lot of brainstorming, research, and time investment. This is why you need a template. Using a template gives the whole process a head start and directs focus on what is more important.
The policy and procedure template offers guidelines and a laid down format that already includes all needed sections that have to be in the document. Therefore, we have provided templates that will give you a better understanding of the whole idea. These templates are available to download for free from below.
Difference Between Policy and Procedure
A policy and a procedure are two different concepts that work together to define and guide the affairs of a company. In the explanation below, we are going to delve into each of them, go over how they work together, and the essence of combining a policy with a related procedure.
Policy
A policy is a directive or rule under which all entities in an organization are accountable. Policies provide detail that reflects the organization's ethics, core culture, values, and decision-making process.
Examples of what a policy will entail are:
Employees should anticipate rewards (monetary, non-monetary, extrinsic, intrinsic, and performance-based rewards) for their services.
The consequences/punishments (e.g., employee termination, employee suspension) are in place for offenses at the workplace.
What presuppositions consumers or clients should have before or during business practices
The obligations of employees and third parties to the company include non-disclosure, confidentiality agreements, code of conduct, and so on.
Creating a policy is not a one-size-fits-all process because the aims and objectives of organizations vary. Therefore, you must have in-depth knowledge of a company to tailor a perfect policy for the company successfully. A good policy must communicate the company's goals (action plan), work ethic, and values and guarantee the security of each employee. It should be clear and concise.
Procedure
While a policy focuses on the 'what', a procedure focuses on the 'how' and 'who'. The procedure is the official series of steps, manner, and order specific to achieving a set goal or implementing a rule. A procedure will provide details on measures that should be used in carrying out a line of action and specify all the parties involved, including their specific responsibilities.
Examples of what a procedure entails are:
What series of steps are to be taken to achieve a goal or implement a rule
What order must these steps be in
Who is responsible for what and to be held accountable
Who the parties involved are supposed to answer to
A policy is not the same as a procedure, but they are meant to jointly achieve a goal (organization's goal). To achieve the organization's goal, you must combine a policy with an appropriate and related procedure, i.e., a procedure that properly details the implementation of all the directives in a policy. This will make understanding and referencing easy. A clear-cut policy complementing the right procedure will guarantee a structured workplace, promote a healthy work environment, and drive productivity.
Why do Policies and Procedures Matter, and Where?
Policies and procedures are documents that function as communication tools between the company and employees, which outline day-to-day office operations. Policies and procedures matter because they uphold the principles of the organization, maintain order, and drive productivity based on set goals. They sustain a healthy relationship between the company, employees, and third parties.
For instance, in an organization with an NDA (Non-Disclosure Agreement) policy, a complementary procedure would be in place to enforce the policy if an employee fails to abide by the rule. The procedure will point out the authority that is supposed to take action on probing the matter and describe how the termination process will begin.
Policies and procedures are used in manufacturing companies, service provider companies, governmental institutions, academic institutions, financial institutions, and so on. It protects them from avoidable lawsuits fine and gives the audit team insight into whether the company is operating on the right terms.
Creating a Perfect Policy
Anyone who wants to write a policy and procedure must have comprehensive knowledge of the company's goal and understand that it gives no room for error. The policy owner must know that a policy is binding by local, state, and federal law.
The following are clear details of each step involved in creating policy and procedure:
Step 1: Develop a policy charter or mandate
Get on track with the policy team and the appropriate authority to get a clear understanding and gather data. For a clear picture, create an easy-to-digest analysis of everything that matters concerning the policy you'll be working on and recognize your exact duties as the policy owner.
Step 2: Use a standard policy and procedure template
This is a process that requires so much attention to detail, investment of practical knowledge, and time. A standard policy and procedure template provide a line of action that makes the whole process easier. It is important to have a focus and work around it.
Step 3: Write an initial draft
This draft will be a preliminary version of the final result, which will create an avenue for further revision and vetting. It is wise to get the perspectives of third parties, stakeholders, and the opinions of some coworkers who will serve as representatives of the entire employees. This is to guarantee that a policy and procedure is inclusive of all the members of staff.
The major sections detailed in the draft are the Document Header, Authority Approval, Purpose, Policy Statements, Responsibilities, Definitions, Policy and Procedures, Scope, and Table of Contents.
Other sections aside from the abovementioned ones that should be included in your policy and procedure are:
Dress Code
Reporting
Cell Phone
Computer and Internet
Safety
Diagrams and Drawing
Recording Management
Public Non-Discrimination Statement
Financial
References, and so on.
The effort put into the draft matters. The sections you include in a policy and procedure must reflect everything the company represents regarding culture and objectives.
Step 4: Send draft out for review
During the review process, you can seek the counsel of a professional if you're not one yourself. A professional touch will guarantee a perfect result. Share your knowledge about the goals of the organization with the expert and let them guide you.
Step 5: Choose a policy management technology
Do proper research for the best policy management software programs – the right software makes the whole process a better experience. With it, you can easily get your team on the same page, give access to employees who want to work along with you on the process, and track every activity on the documents.
Step 6: Obtain final approval/sign off
This is the stage where the document gets acknowledged as a reliable and valid document. The approval comes from authorities such as executives, shareholders, and the board of directors. These parties get directly accountable if the company finds itself at the receiving end of any crisis, so their final sign-off makes sense of the whole policy.
Step 7: Form a policy management team
A proper policy management team will include representatives from every department so that everyone under the management of the company will feel heard and represented. This will also give room for the opportunity to identify the rudiments and concerns of all the departments in the company.
To ensure that the policy complies with the legal rules, the management team should include a representative who has adequate knowledge about local, state, and federal laws.
Step 8: Implement new policies and procedures
Implementing new policies and procedures involves how the document would be distributed, the training plan, and establishing a proper review cycle. The abovementioned measures are important for the success of the policy.
Each implementation process is fully explained below:
Distribute the new policies
The distribution process entails the method that will be used to communicate the policy to all staff members. It can be distributed via mail or be published on the company's website. For easier evaluation, using policy management software is recommended. It provides access to monitor how every staff engages with the policy,
Create a training plan
Training is the best approach to communicate the intricacies of the new policy to the employees. Training them on how to meet the company's expectations will provide a further understanding of their rights and responsibilities. There are online training management tools that can be used for training and assessing the staff's understanding of the policy. This will help to recognize if there is a need for changes.
Establish a review cycle
A policy must continue adjusting to the latest workplace changes and ever-changing local, state, and federal laws. Policy review is a continuous process. For example, after one year of creating the policy, a policy review might be necessary to cover a recent development regarding the company's services or salary structure.
On the other hand, the review could otherwise follow a constant pattern or cycle, such as a yearly or quarterly review process.
Step 9: Review and update
Get the executives to review and approve the latest adjustment. It will go through a similar process to a new policy, except that you're not writing a whole new policy in this case. Instead, you are just updating a review.
Numerous use-case-specific policy and procedure templates are available to simplify your documentation process. We'll be providing excerpts to elucidate on some of these use-case-specific templates below:
IT policy and procedure template
The information technology (IT) policy and procedure template covers employees' responsibilities concerning the company's digital operations (for example, password policy) and provides security against privacy and data breaches.
Peradventure there is a security breach crisis, the procedure will provide instructions on measures required to recover data and resecure the company's privacy.
Education administration policy and procedure template
This is a policy and procedure template tailored to suit the objectives of academic institutions. It sets the expectations concerning the teaching quality of the academic staff (lecturers), office duties of non-academic staff (for example administrators), students' conduct, and the rules that visitors must abide by during their stay on the school premises.
Basic policy and procedure template
This is a general policy and procedure template that you can easily modify to suit the paradigm of your own organization. Simply add any content of interest to the document – it will automatically update the latest changes to the table of the content section.
Change management policy template
Change is inevitable in any organization – it will be experienced at some point. A change management policy will report this change, its feature and function, and its criticality to the goal of the organization.
Data governance policy template
The data governance policy template is essential to the management of the company's data. It allows you to keep track of activities concerning data, the parties who have access to it, how it gets transferred and implemented, and protective measures.
Key remote access policy elements template
Organizations with remote/off-site employees require different employee management structures than the in-person workplace. This policy template addresses concerns such as network location, work device specification, workspace setup requirements, and so on.
Onboarding process template
A new employee is like a new member of a group. This template focuses on getting a new hire ready for their new position. The onboarding process is an orientation process that welcomes the new employee into the organization and educates them on the company expectations in the job description, company goals, company ethics, and culture.
Small business policy and procedure template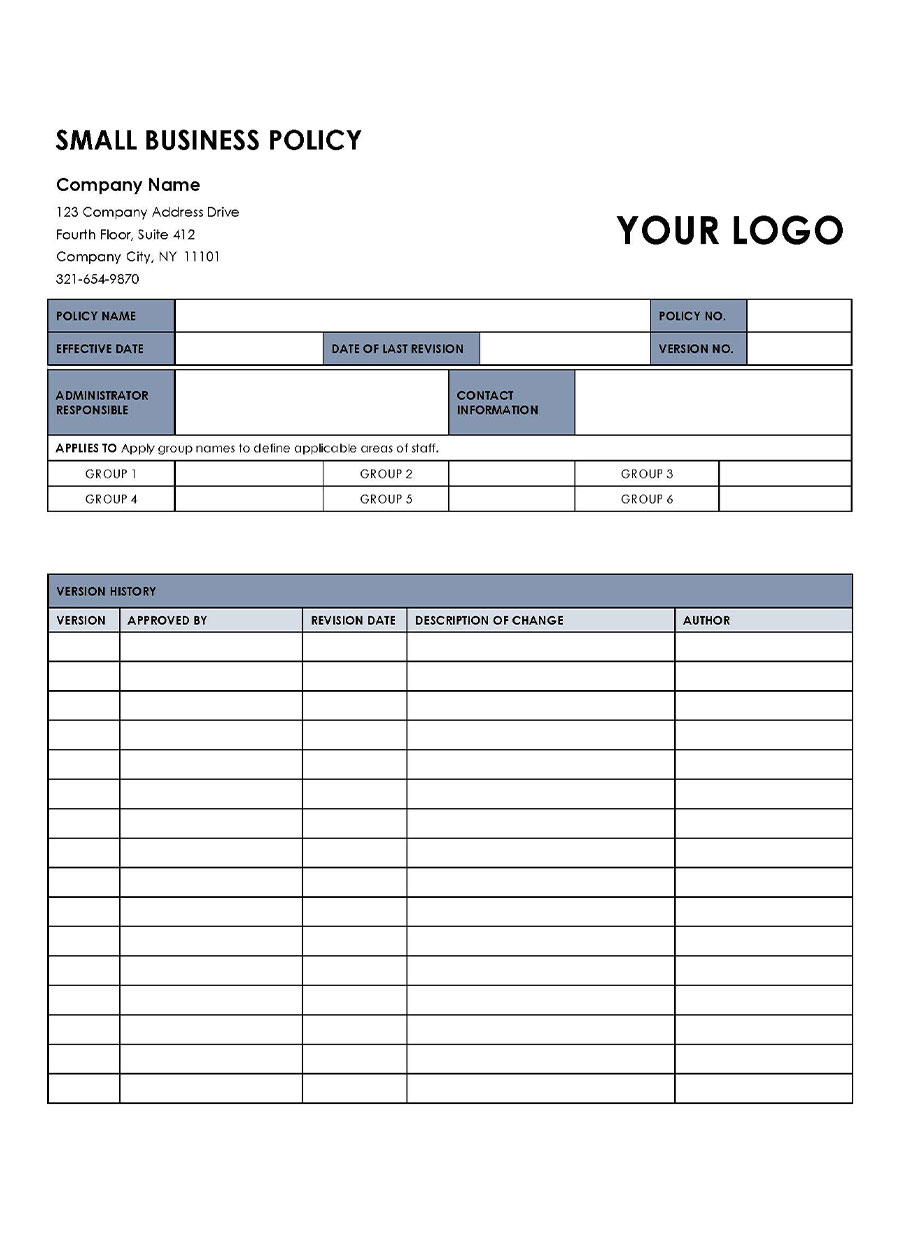 Small businesses are not left out in terms of maintaining structure and order. Any gathering that involves more than one person is predisposed to interpersonal conflicts. Just like big organizations, it can include policies on workplace harassment, salary structure, etc.
Construction policy and procedure template
This is peculiar to construction companies as it provides measures to uphold workplace safety. Employees must pass through proper training on the usage of tools, hazard management, and safety compliance. This will guarantee the safety of every worker on-site and save the company from unnecessary lawsuit fines due to workplace hazards.
Best Practices to Make it Stand Out
Some of the best practices for writing an effective policy and procedure document are discussed below:
Language, tone, and writing style
The manner in which you word the content in the document matters. The content shouldn't sound impolite, unserious, or disjointed. Study the audience and communicate in a way that is inclusive of all parties involved.
The points should be clear and concise with the usage of appropriate terms. Follow a standardized writing format and style – all sections and subsections should be well structured.
Hyperlink external references
Hyperlinks are useful to give the audience access to external resources that will further help their understanding. The hyperlinks are also for speedy browsing of more related information.
Use headings, numbers, and bullets
A long-form document such as a policy and procedure document will look like jargon without detailed headings, using bullets when listing points or numbering where necessary. Appropriately using headings, numbers and bullets gives the content a presentable look and enhances understanding of the content in the document.
Keep the end goal in mind
It is important to look out for consistency continuously. It is very easy to lose track of the actual goal of the policy and procedure document. The policy management team should have a clear picture of the whole process and follow a standard guide to maintain the momentum that will lead to the success of the writing process.
Conduct thorough research
The best way to figure out the underlying problem that necessitates a new policy and procedure and come up with the right approach during review is through thorough research. This approach will give you a further understanding of the employees' day-to-day responsibilities, the current procedures, and the reason for the policy review.
Research can be carried out by conducting interviews among employees, going through the current policy yourself, and carefully analyzing the regulations, subject matters, and other aspects.
Validate the procedures
A validation process is particularly crucial to procedures. This is how you can get feedback on the effectiveness of the procedures you have introduced. It involves observing the employees perform the procedures while going about their day-to-day work duties.
Easy to access
Employees' easy access to the policy and procedure is very crucial. Any information that is not accessible is as good as nonexistent information. Something as simple as a general link available on the website or in their respective e-mail will be easy to access in any situation.
Make sure it is legally binding
As an organization, there are local, state, and federal laws that your organization must comply with, or else there might be future court case crises. The employees, executives, and other parties directly involved with the organization must feel protected under the company policy.
A company policy passes as a legal agreement between the employee and the employer – it is crucial to apply caution and professionalism (seek the assistance of a policy expert if you are not well informed).
Keep it short
An extremely long policy will burn out the interest of the reader and end up not achieving the purpose it is targeted to achieve. Make it clear and concise.
Frequently Asked Questions
What is a process?
A process is a line of action taken to achieve a certain goal. This can be in the form of the production of goods or the rendering a service.
What is a guideline?
A guideline is a set of instructions that provides direction. It is not compulsory but an ordinary informal recommendation.
What is the difference between a mission and a policy statement?
A mission statement is a brief simplification of the purpose and intent behind the establishment of the organization. Employees can relate to the organization's vision through the mission statement. In contrast, a policy statement is a clear expression of the organization's guiding principles. It influences actions that are significant to achieving the company's goal.
What are the responsibilities of a policy owner?
The policy owner wields a powerful position that is fundamental to the progress of any organization. This is the reason why they must be diligent at what they do.
As a policy owner, your responsibilities include:

● The continuous cycle of reviewing policies when necessary.
● Ensuring the policy aligns with the organization's goal, reducing mistakes, and preventing crises.
● Ensuring that the interest of those that will be affected by a new policy or review of an old policy is protected.
● Coming up with an effective training plan.
● Delegating the appropriate representatives to be in the policy management team.