A Kentucky Power of Attorney is a legal document that allows a person to transfer authority to a representative to act on their behalf in transacting and managing specific affairs.
The principal is the actor who transfers the powers, and the representative is the agent whom the transferred powers are being vested upon.
Kentucky has again enacted changes to its laws guiding powers of attorney on the 18th of July 2020 in the Uniform Power of Attorney Act.
These documents are filled out so that in any event where the principal is incapacitated, unavailable, or someone else has to take care of their transactions on their behalf, for the medical, financial, business affairs, etc. Interests will be very well taken care of by a reliable representative. The importance of having someone you trust, such as a spouse, relative, or close friend, as your representative cannot be overemphasized.
For example, you could find yourself in a situation where you are on a business trip, and you can't be available to sign some very important document, or perhaps you are incapacitated as a result of a health condition. A power of attorney can ensure your best interest is implemented in such situations.
Statutory Forms
Kentucky laws also make a statutory form with a list available so that you can easily tick out the powers you would want to be conferred on your representative. This helps greatly in easing the process and also in reducing the risks of exploitation and confusion that could arise if everyone were allowed to write the terms of a power of attorney however they please. Every provision in the form is expressly defined by statute so that principals will fully understand the implication of whatever item on the list they decide to transfer to an agent.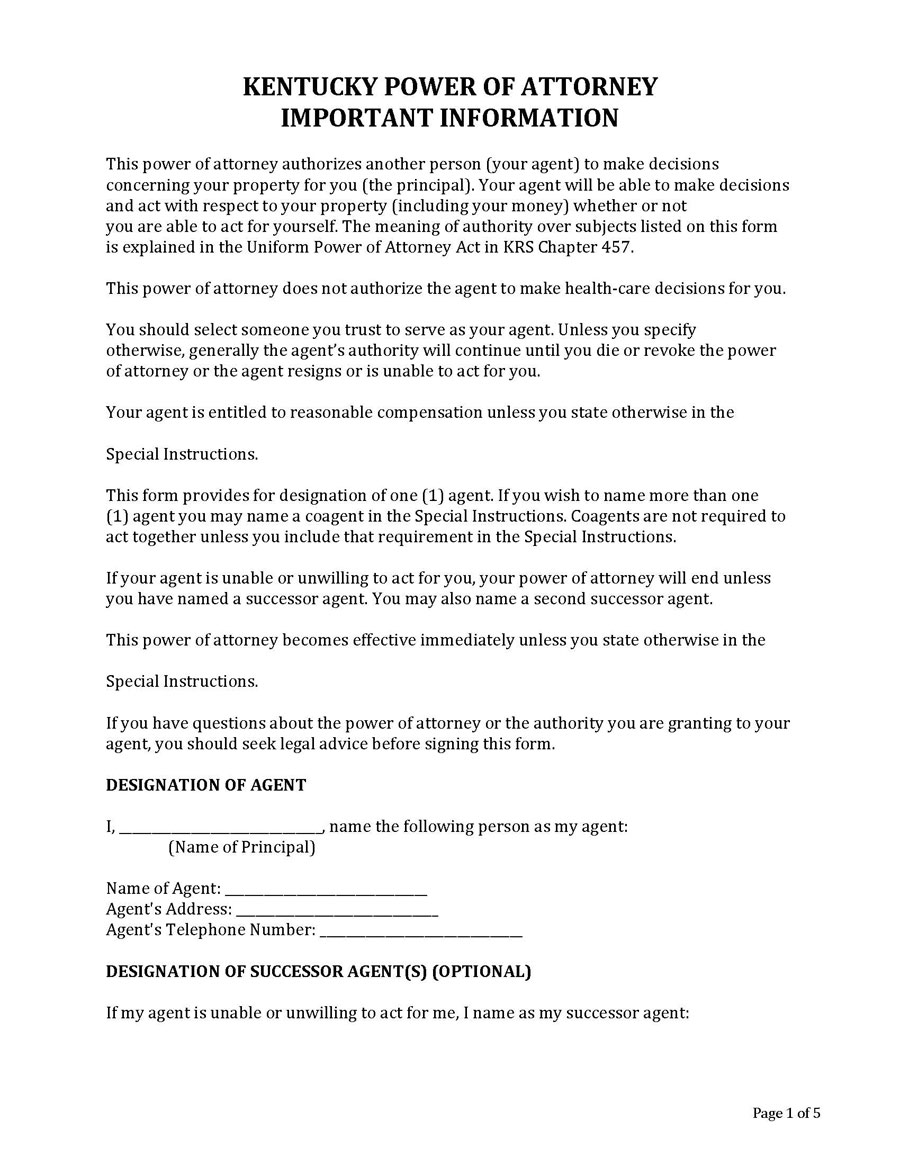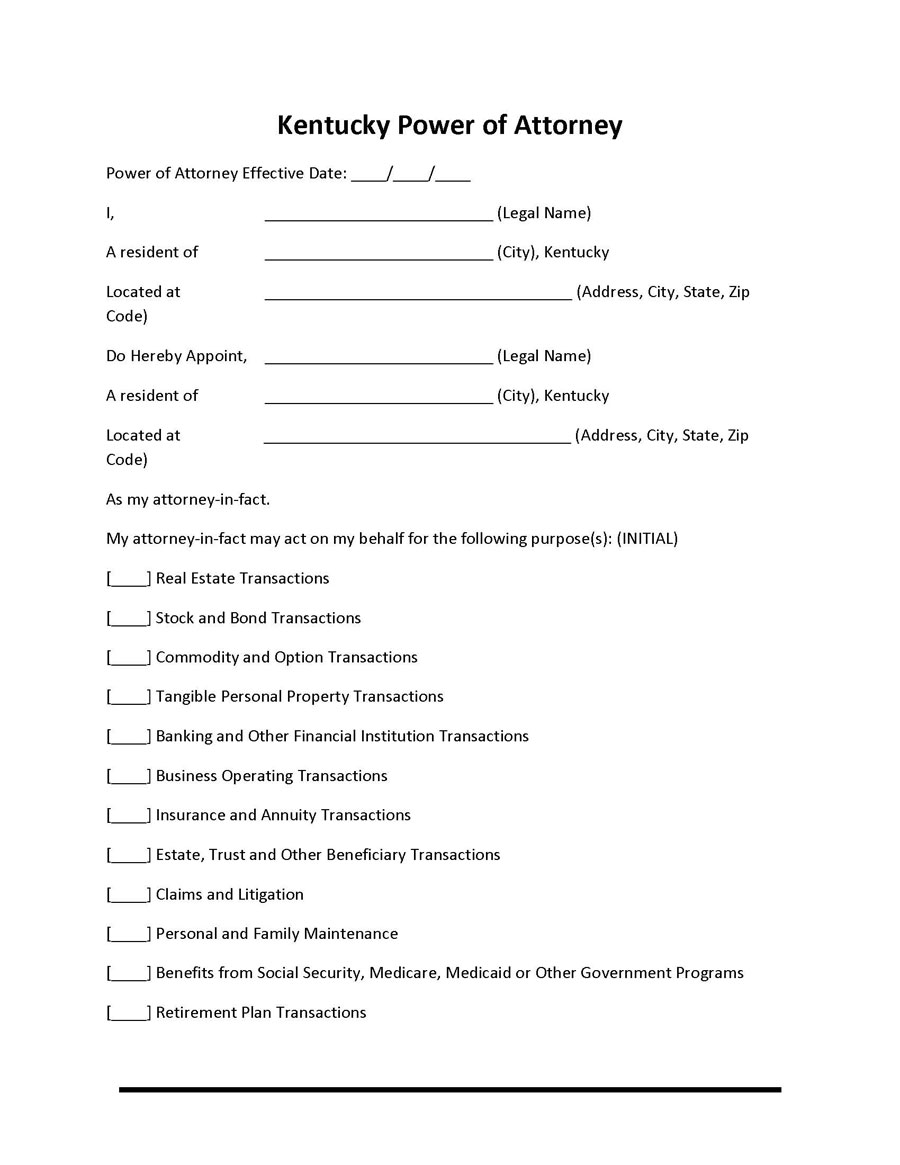 The following is a well-detailed list of Kentucky power of attorney forms by types:
The law governing the powers of attorney in Kentucky is the Kentucky Revised Statutes Chapter 457 (Uniform Power of Attorney Act).
Some of its new provisions include the following:
A POA is now required to be signed before a notary public and two disinterested witnesses.
All POAs are to be considered durable except when stated otherwise.
All agents are now statutorily entitled to reasonable compensation.
Another governing statute is Kentucky Revised Statutes Chapter 311, Sections .621 to .643 – Kentucky Living Will Directive Act which describes the following:
Powers of agents and life-prolonging acts: An agent can make decisions for the principal when they are incapacitated, provided such decisions are empowered to them in the POA. These decisions are instances where death is imminent, nutrition can't be physically administered, or withdrawing nutrition or hydration when the principal is permanently unconscious.
Revocation of power of attorney: An advanced health directive can be revoked like any other POA.
Legal requirements for durable power of attorney: A health care POA can be created by an adult possessing the ability to make decisions, a signed and dated written document by the creator, one or two designated surrogates being present, and two disinterested witnesses and a notary public.
If a physician is unwilling to follow the POA: If a doctor is unwilling to comply with the POA to transfer the duty to a doctor, should inform the patient and guardian of the family. Doctors can't be criminally liable for withdrawing life support in line with a valid POA.
Validity of directives from other states: Health care providers can comply with agents created by POAs in other states as long as the provisions of such POAs are in line with accepted medical practice.
Kentucky Power of Attorney Requirements
For a power of attorney to be valid, it must have:
The principal's full contact details and signature
The name and contact details of the agent
It must be dated
The powers granted to the agent must be explicitly stated
Under the new law, the principal must now sign the form in the presence of a notary public if a power of attorney is to be regarded as valid in Kentucky. Previously, the presence of two disinterested witnesses was sufficient.
Express Vs. General Grant of Authority
The latest legislation differentiates express grants of authority from general grants of authority in the statutory form. Express grants of authority are limited by the provision of specific actions that can be taken under general grants of authority in subsections of the statute. KRS 457,420 states nine possible ways through which an agent could act under a general grant of authority about a principal's real property.
A general grant of authority is achieved by choosing the power on the statutory form. However, in the case of an express grant of authority, the principal must state in specific words that the agent has the power to conduct certain actions within a power of attorney.
How to Get Power of Attorney in Kentucky?
To get the form, the principal and their agents will have to fill it and become signatories to a power of attorney in Kentucky. The Kentucky revised statutes at chapter 457, also known as the Uniform Power of Attorney Act, is the statute that gives and governs power of attorney in Kentucky.
It would help if you had an agent you could trust, but more importantly, that person should be at least knowledgeable in the area where you need the Kentucky power of attorney form. This will help your agent make the best decisions for you, whether medical, financial, tax-related, or vehicle affairs.