The Medical Records Release Authorization is the disclosure of the members of the family or next of kin to whom a person would wish to have access to his medical records.
Medical records are very confidential pieces of documents that are kept off the public limelight ordinarily. In 1996, a federal law was specifically passed to safeguard these records from arbitrary public access. This was the Health Insurance Portability and Accountability Act of 1996 (HIPAA). It, alongside a host of state laws, bind healthcare providers from disclosing medical records arbitrarily without the patient signing any forms to authorize the same.
It also stipulates some rights for the patients concerned to understand how the information regarding their health shall most likely be used later. Its major goal is the proper protection of the health records of individuals and other third parties.
This form goes by several other names. Below are but a few of them:
Medical Record Release Form
Medical Release Form
HIPAA form
Medical Authorization Form
As per the act, only those who have been expressly mentioned can access the medical records contained in the authorization form. They have to reveal themselves first and foremost before being granted access to medical records. Closely related to this is the extent to which they might access the prevailing records. The patient has the prerogative to limit each named person to specific portions of the information. For instance, a parent might gain more information compared to distant kin.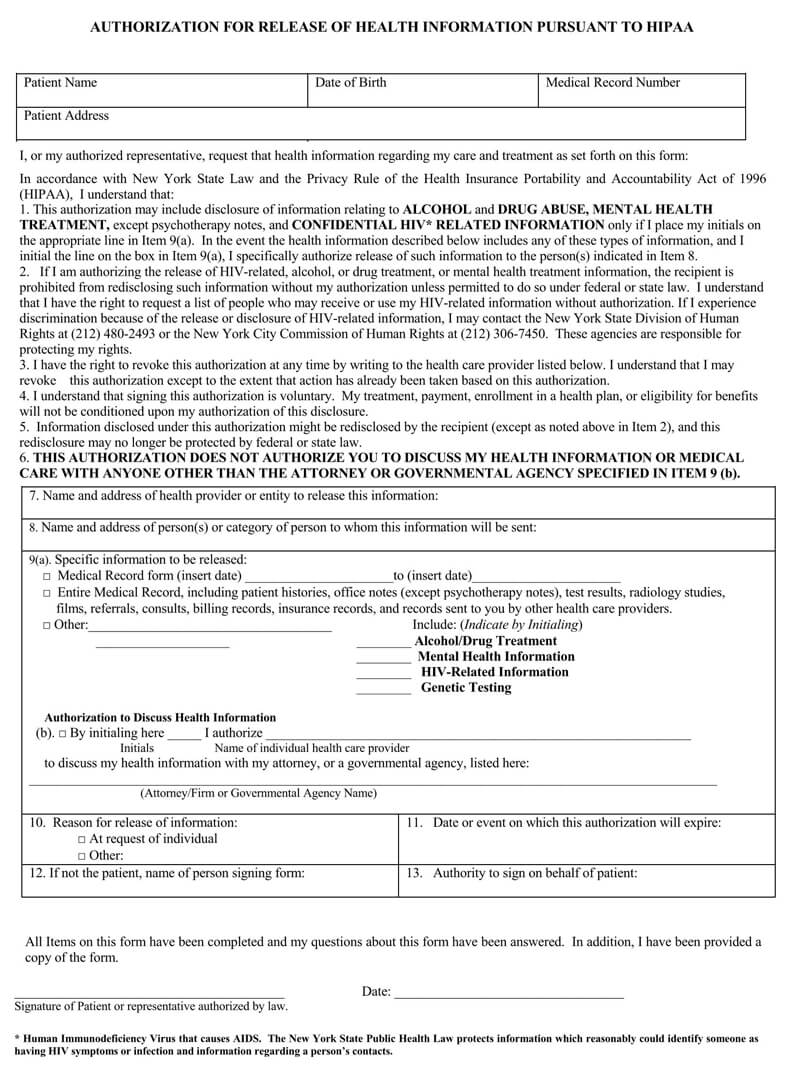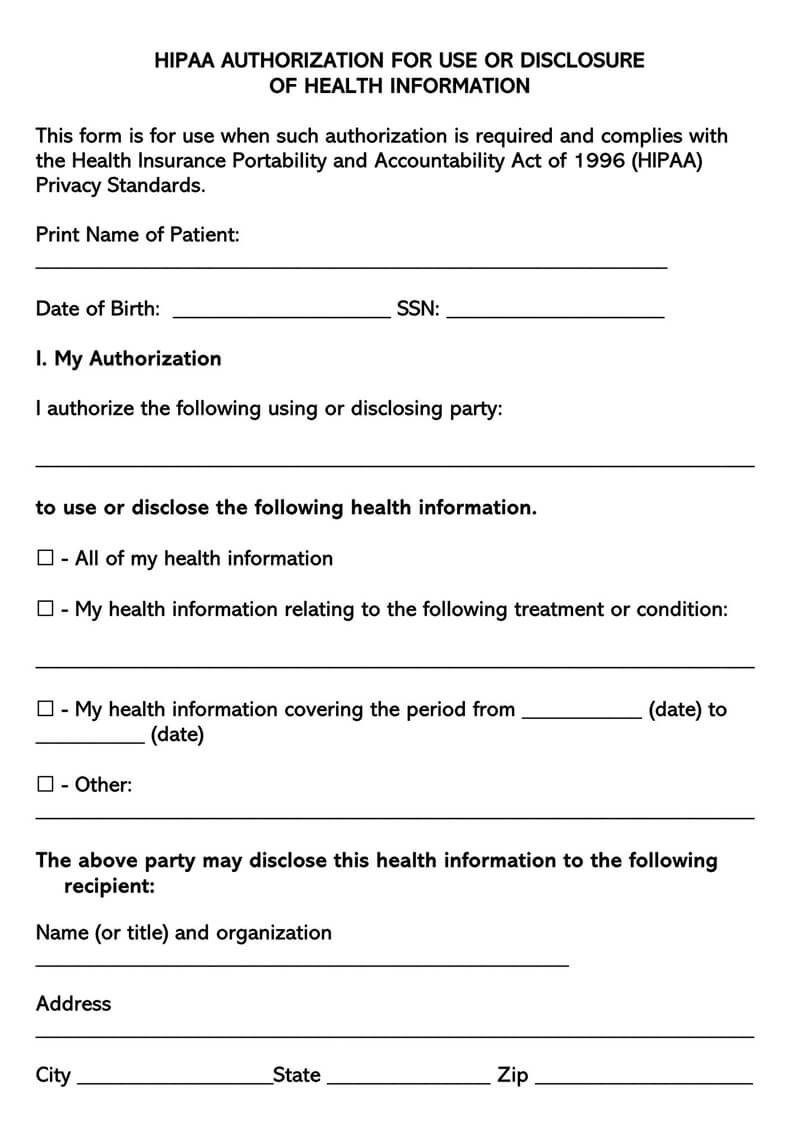 There are several types of HIPAA forms that one can download and use for different cases. Here are some different types of HIPAA forms:
Dental (ADA) HIPAA form– It is used to authorize a dental practitioner to release a patient's records while working within the legal boundaries of HIPAA compliance.
Chiropractic HIPAA form– It is used to authorize a chiropractor to determine the most appropriate and helpful chiropractic treatment.
Medicare HIPAA (CSM 10106)– It is used to advise Medicare of the individual(s) one has chosen to have access to their personal health information
Medical Release HIPAA form– It is used to allow an appointed person or party to share specific health information with another group or person.
Health Care Coverage and Payment Request Form– It is used to authorize the release of any information to aid in processing a claim and certifies that the information provided is true, accurate, and complete.
Common Situations to Use this Form
Some situations warrant the use of HIPAA forms- situations that require the disclosure of an individual's personal information. Such situations include:
Insurance: Insurance companies usually use the information to determine whether an individual is eligible for life and health insurance policies or not. They also use the information to pay bodily injury claims that their insured files and pay workers' compensation claims.
Research: There are instances when a patient's personal health information may be required for research purposes. For the information to be released for research purposes, it is essential for the health care provider or the person in charge of the patient's information to remain HIPAA compliant to avoid any litigations.
Medical marijuana: In states, when medical marijuana is approved, a health worker such as a doctor, nurse, caregiver, or any other person with authority may be required to share a patient's personal information with a third party for them to be approved to use medical marijuana. Therefore, to ensure that one remains HIPAA compliant, it is vital to have the patient fill out a HIPAA form for proper authorization.
Litigation: The records may be ordered for access by a court of law. They may be used for furnishing evidence of the health status of the accused or as a supporting document on any argument within a court of law. Also, the records may serve as an alibi in the case of mistaken identity.
Settlement of heath fees: If seeking support from an insurance provider to the settlement of health fees, the records may yet again come in to aid in determining how much to pay and how to pay them. That is because they provide a breakdown of the costs involved in mitigating specific health conditions and how much they accrue collectively.
Employers: Employers may also require the forms if they want proof that their employers were indeed out of work deservingly. If the employer runs a health scheme for the employees, it may rely on these forms to prove that the employee was indeed hospitalized. This also determines how much to pay and whom to pay.
Basic Requirements of HIPAA
In order for the medical records release authorization form to be deemed valid as per the HIPAA standards, it has to contain some bare minimum set of information. The following are the core pieces of information it has to provide:
Patient's full name
Date of birth of the patient
Medical record number assigned to him by the healthcare facility
Address – Both postal and physical address. These addresses are for the residences rather than the workplaces of the patients
Phone number of the patient
List of all those who are authorized to access the medical records of the patients concerned
Note: As per the HIPAA rules, this form shall be deemed incomplete not unless it contains all the information stipulated above. This might call for any amendments until the bare minimum threshold is finally attained.
Patient records and other related health records are usually very crucial. This is why it is essential always to use HIPAA form to prevent disclosing such information to third parties.
Here are some of the things that must be included in the medical records release authorization form:
Authorized Request – The names and identities of the persons who are authorized to seek access to the health records.
Recipient – Identities of the other persons who may have a right to access the information.
Specific Information – A description of the specific piece of information to be disclosed to or used by a person.
Risk of Disclosure – The potential harm, damage, or danger that the disclosure is more likely to inflict.
Expiration – An ultimatum or deadline within which the authorization may be effective.
Revocation – A written statement by the patient himself authorizing the surrender of his rights.
Purpose – Descriptions of the exact purposes of the disclosure itself.
Refusal to sign – The form should outline whether the treatment, enrollment, payment, or eligibility of benefits can be based on the approval and also consequences of refusing to sign the release.
Date and Signature – Date when the authorization was made and the signature vouching for such an authorization.
Free HIPPA Forms : By State
Explore our collection of free HIPAA Forms categorized by state! Ensuring compliance with state-specific regulations, our templates provide a convenient solution for healthcare providers, organizations, and individuals in need of HIPAA-compliant forms.
There are legal considerations that must be factored in when preparing or filling HIPAA forms. These considerations are important as they help govern the release of personal health information to a third party. These legal considerations include:
Who Can Use Medical Authorization Letters?
The overarching consequence of not using the medical records release form is that the healthcare provider will not release the information requested. Some everyday situations that may call for the use of such forms include:
Requesting for yourself
Even though the medical records are yours, health providers may not authorize you to access or transfer your medical records without proper authorization. For you to be allowed to access or transfer your medical records, you must send a letter to the relevant authorities within 30 days. If not authorized to transfer or access the information, article 45 CFR 164.524 requires that a letter be sent to you explaining why such records have not been made accessible to you.
Requesting for someone else
There are other instances where one may be unable to request their own health information and have other people do it on their behalf. 45 CFR § 164.502(g) states that any person may obtain health records on behalf of someone else. People authorized to act on behalf of the patient may include:
Personal representatives
An individual granted power of attorney, an agent mentioned in the medical power of attorney, usually has the power to obtain the person's personal information if they incapacitated or unavailable to share such information directly because the POA establishes that they are acting in the patient's best interest.
In other situations, the court may opt to appoint a guardian, caregiver, or any other person to obtain or release a person's information. In such cases, such orders or decrees must be attached to the HIPAA form for them to be given access to the patient's personal information.
Adult or legal guardian
The second instance is when an adult or legal guardian is looking to access or transfer an individual's health information. Under federal law, an adult or legal guardian is legally authorized to obtain a minor's health information. However, the state law requires that if such records are to be used to offer the minor health care services, the minor must consent to such care-based services.
Administrator of estate
Another person that may be allowed to request someone else's medical records is an administrator, executor, or any other authorized individual with authority to act on a deceased person's estate. In the event that the medical records of a deceased person are required for whatever reason, the person appointed in the Last Will and Testament (if the person left one) or appointed by the court may be able to request/use or disclose such information as long as their actions are in the best interest of the deceased.
How to Request Authorization
Health information is usually very crucial and should be handled with utmost care. To be given access to health information, they should consider using a medical records release authorization form. Here is how to properly request authorization:
Request the medical records
Write a medical records release authorization letter to the relevant office requesting the release, access, or transfer of health information. It is essential to follow the state's guidelines on how to craft the medical records release authorization form to ensure that all essential elements are properly captured to avoid inconveniences.
Send the letter to the medical facility
After drafting the authorization form and making sure that the information captured is correct, send the authorization form to the medical facility. It is recommended to send the letter early enough, usually, 30 days, to compile, document, release, or transfer such records.
Receive the medical reports
After sending the medical records release authorization form, the medical facility will determine if the information transfer, release, or access is approved. If your request is not approved, the medical facility under article 45 CFR 164.524 is required to send a letter to you explaining why such records have not been made accessible to you.
Before an individual, their representative, or agent can be allowed by a medical facility to access or transfer a person's health information, the medical facility will require that a medical records release form be written and signed to protect its confidentiality. It is essential to understand that medical facilities operate within specific regulations; when requesting health information, whether yours or another person's, make sure to follow all their guidelines regarding the same and write an authorization form to avoid any inconveniences.