Offering membership to loyal customers or continuously active members of a group, organization, or club is common among organizations and clubs. Membership status awards the individual certain privileges and benefits within an organization over other non-members. To award membership, organizations have to review the applications and write a membership offer letter for the aspiring members stating that they are offering them membership in the organization, club, or group. The membership offer letter is an official communication from the organization to the customer, letting them know they have been approved as members of the specified membership program.
A membership offer letter is a formal letter written by an organization or club to an individual applying to be enrolled in the organization's membership program, offering them the opportunity to join the program. The letter is issued once it has been verified that the applicant has met the organization's requirements for an individual's qualification to the membership program.
Enrolling new members in a membership program has its benefits to the organization. First, it helps in fostering loyalty among paying and active customers. These two aspects then benefit the organization in the following ways:
Continuous earning
The new member is often required to pay a subscription fee that they are commonly required to pay every year. The periodic fees, often annual, charged from customers create a continuous revenue stream from the members. Another benefit of membership programs is they ensure revenues keep coming even during low seasons as they know they are eligible for better deals and prices.
Referrals create more revenue
Enrolled members make promising marketing avenues through referrals. They can share the benefits of using the organization's or club's products and services with friends, family members, and colleagues. Referrals from paying members are easier to convert into paying customers or members since they get to hear the benefits of doing so from first-hand someone they can relate with. In addition, affiliate programs can be created to incentivize and reward members who bring in new paying customers.
Types of membership letter
There are different types of memberships an organization can offer to its members. Qualifications for the different membership programs are dependent on organizational or club guidelines in place.
Below are the three common types of membership letters an organization can offer to its aspiring members:
Gym Membership Offer Letter
This letter informs the potential member that they can be eligible for a membership. In addition, this letter should inform the recipient of the critical conditions of membership as well as the perks that they will experience by becoming a patron of your gym.
In addition, gym memberships generally include ongoing payments. Therefore, an offer letter should briefly outline these payments so that the member will not get any unpleasant surprises when signing their contract.
Club membership offer letter
A club is an association of members with the same interests and who want to come together for a common purpose. Clubs will have predefined qualifications that members must fulfill to be considered for the club. A club membership letter will indicate that the applicant's qualifications, interests, and goals align with the club's. Examples of clubs are a sports club, book club, sailing club, etc.
Shopping membership offer letter
A shopping membership is offered to paying customers who want better deals and bulk pricing. Shopping memberships can be awarded to retailers or individual customers. A shopping membership offer letter should list the different levels, status, or type of shopping membership being offered to the applicant, the membership status the applicant qualifies for based on the shopping points they have accumulated, and the perks (discounts and promos) that come with the shopping membership status/level.
Writng a Membership Offer Letter
A membership offer letter is an excellent opportunity to let aspiring members know they are eligible for membership in the organization or club. It also communicates how the individual will benefit from joining the club's or organization membership program.
Below are steps to employ when creating a membership offer for your aspiring applicants:
Header
The first section of the letter is the header. The header should communicate when the letter was written and to whom. The following items should appear in the header:
Date: The exact date when the letter was written to offer the applicant the membership should be indicated. The day, month, and year should be adequately provided; the US date format is mm-dd-yyyy.
Write the letter's subject: Beneath the member's name, skip a line and write down the letter's subject. For example, "Endorsement for membership" or "Appointment as a member of the XYZ Club."
Address the member: You should skip a line and formally address the member after the date. Address the member as "Dear Mr/Ms/Mrs" followed by their full name.
Introduction
After the subject line, skip a line and provide a comprehensive and concise introduction. A membership offer letter is a formal letter, so it is advisable to be as direct as possible. For example, you can mention the following details in the introduction:
State the reason for writing: Start by notifying the member why you are sending them the letter. For example, if they receive the endorsement because they had applied for the membership program, reiterate if the letter is being sent as an incentive to join the membership program and state why they are eligible. This could be because they have been customers for a long time, shopping regularly at your company, etc.
Thank them for choosing you: Also, thank them for choosing to use your products or services and apply for the membership, if that is the case.
Body
The next section of the membership offer letter is the body of the letter. This section should give the member further insight into the membership program and membership status offered. The body can highlight the following:
State the benefits of your organization: Start the section on a high note by outlining the benefits the member will be entitled to with their membership status. Indicate as many perks as available. Note that the member will have to pay a subscription fee, and as such, they will want to feel it is a good investment, and they are getting value for their money. Also, incorporate some of the general selling points of your organization, such as quality assurance and other valuable aspects of the company or club. This includes discounts, better prices, superior priority, better deals, etc
Write some offered activities: Next, indicate any support (buying) or recreational activities offered by the organization or club. This includes annual trips, events, conferences, free access to specific sections within the organization, etc.
Conclude by thanking them once again: To conclude the body of the letter, thank the member for joining the organization or club. Include a call to action encouraging the new members to visit the office to sign membership documents and pick their membership cards or welcome pack. Also, provide the member with a point of contact – the person they can contact if they have any questions.
Conclusion
The membership offer letter has to be signed off like any other formal documentation to finalize the letter. In conclusion, the following items should be provided.
Signoff: The letter should be finalized with a formal complimentary close like "Yours Sincerely."
Name and contact information of your organization: As the last item, provide the person's name awarding the membership. This can be the club chairman, company CEO, managing director, or any other authorized party. In addition, their name and operating capacity should be given. Signatures should be provided for physical letters only.
Membership Offer Letter
Template
[Date]
RE: [subject of the letter]
Dear [Mr/Ms/Mrs member name]
On behalf of [organization/club name], I'm delighted to inform you that after reviewing your application, we would like to sign you up for our membership program as you have satisfied all our qualification criteria. This letter shall serve as formal communication to this effect. Thank you for choosing [name of company/club] to partner in your journey as [capacity of the member, for example, professional athlete].
As a team member of our valued community, you shall be entitled to [list applicable benefits]. We are an organization/club that focuses on [core values or aspects of the club/organization]. Therefore, you shall be allowed to access and utilize our facilities such as gym, child care centers, recreation parks, [any other] at the following centers – [list of centers] – at subsidized prices, updated monthly. 
This membership allows you to sign up and participate in our annual retreats at a small fee other than the membership subscription fee. This will provide you with an opportunity to network with a wide range of professionals.
Thank you for choosing to join [name of membership program]. Kindly visit our offices to collect your membership card. Congratulations [name of member]. We're happy to have you on board.
Yours Sincerely,
[Name of authorizing party]
[Title/Position]
Sample
13th November 20xx
Subject: Membership Offer Letter for the Braveheart Tennis Club.
 Dear Harry Smith,
I'm delighted to inform you that you were endorsed for the Braveheart Tennis club membership. The club committee reviewed your application and is satisfied with your qualifications. Congratulations, Mr. Smith, and thank you for choosing Bravehaert Resort as your destination for sport and recreation.
You can now use a majority of the Braveheart facilities at Villa Park for half the charges. This includes;
·         The gym
·         Tennis court
·         Swimming pool
·         Spa
You can also join other Braveheart Club members in their weekly tennis tournaments. The tournaments are meant to allow our members to interact and enjoy the game of tennis. You will be obliged to pay the annual subscription fee before receiving your membership card. So kindly visit us and collect it and your welcome package and customized merchandise.
Again, congratulations Mr. Smith, and thank you for your continued support. We aim to meet your expectations through our services and products. Contact our customer relations officer at +4420 – 7430 5087 if you have any questions.
Yours sincerely
Ms. Zoey Hayes,
Manager
Download fre sample letters from our site: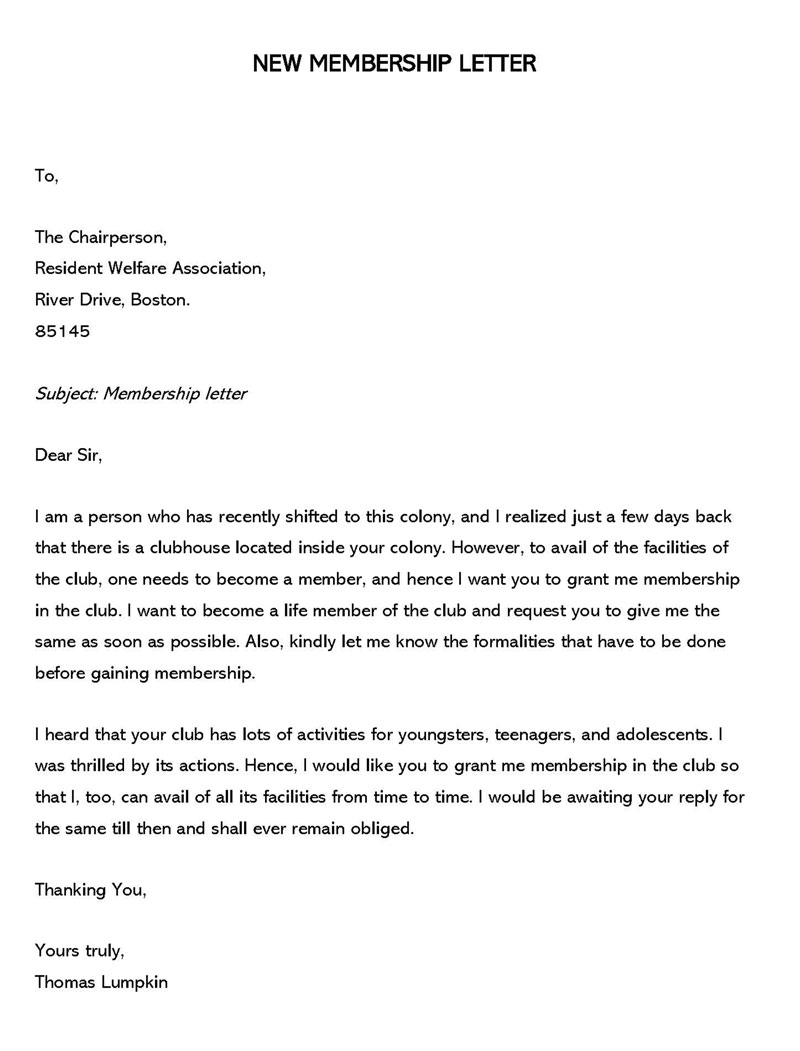 Letter Writing Tips
To enable you to write a membership offer letter that connects with your members, you can use several writing tips. They include:
You should keep the letter cheerful and polite. Use a warm tone that shows the organization's or club's enthusiasm for having a new member.
The letter should remain professional throughout. Avoid using colloquial language even when congratulating them.
You must give detail when explaining why they need the membership and how they tend to benefit from the program. Mention the pluses, conditions, and general organization or club information.
You should ensure the letter is grammatical or structural error-free. Let the new member see the level of professionalism of your club or organization.
Be direct and objective. Avoid straying from the main subject – offering membership – even if the letter presents an excellent opportunity to market the organization or club.
When endorsing or inviting an individual to become an honorary member of an organization or club, it is best to do it formally through a membership offer letter. The letter should inform the new member of their benefits after joining the organization. Having members join an organization is a mutually beneficial initiative since the organization will have a continuous revenue stream and grow its market share through referrals from the members. However, the membership offer letter should focus on the new member, communicate that they are eligible for membership, and explain why their enrollment is beneficial.