A military letter of recommendation is a special letter that is intended to increase the likelihood that a person may be accepted into any military installation. Examples of these include special programs and military academies. The letter may also be drafted to request a medal or a military award.
When is the "Military Letter of Recommendation" used?
Military Academies
As noted above, these letters come in to vouch for a candidate's suitability for joining and undertaking some military training. For this reason, the letter is used extensively by military academies to understand the qualifications of a candidate in greater detail.
Award Panelists
To be able to arrive at a more favorable verdict, the award panelists will rely heavily on the letters of recommendation alongside other qualifications. These letters are mostly used to break ties when the candidates have almost all the qualifications in common.
Military Units
The various military units will also find this letter quite suited for their use. Examples of these units are the navy, marines, the army, and the air force. They rely on these letters to ascertain whether the applicant is indeed suited for and has what it takes to perform well in these units.
In many cases, this letter finds applicability in the following areas and circumstances:
Seeking Promotion
In case you are seeking for promotion in a military installation, army unit, or training academy, this letter will usually come to your rescue. It spells out your own strengths and why you deserve such consideration. The admissions committee mainly uses it to break ties.
Applying for Military Award
Some military awards and medals require that you apply and express interest before the award is granted. Yet again, this letter comes in to showcase your own suitability for the same awards and medals. It gives those who know you and are familiar with your achievements an opportunity to reveal the same.
Intending to Join a Military Rank
Intending to join a military rank? Yet again, this letter will help you do so. Such ranks are ordinarily cramped up. That is because they attract a vast number of applicants. The only way to choose one over the other is to seek additional testimonials typically by way of letters of recommendation.
Applying for Consideration by a Military Academy
Lastly, the letter also plays a supportive role for anyone who applies to be considered for entry into a military academy. Before being granted such permission, the academy in question will want to know more about the background of the applicant concerned. The letter contributes to this information.
What purpose a "Military Letter of Recommendation" served?
Strengthens and Applicant's Position
All factors considered, the letter strengthens the position and the likelihood that the applicant will be eligible for consideration to the positions applied for. That is because it furnishes more information regarding the applicant's past successes and overall suitability for the position applied for.
Tie Breaker
Then, it also serves as a tie-breaker in that it helps the admissions committee in making up their minds and setting one candidate from the rest. Given the huge volumes of equally qualified applicants at any given time, this letter is a crucial one.
What to include in the "Military Letter of Recommendation"?
Salutation
You have to open the letter with an appropriate salutation. This is basically a clause that shows who exactly you are addressing in this letter. The salutation may take the forms of "Dear Admissions Committee," "Dear Sir/Madam," or "To Whom It May Concern," and so on.
Relations with the Applicant
This one simply refers to how you are known to and by the applicant. Could you have taught him before? Have you served with him in the military? For how long have you known each other? What specific thing makes him stand out from the crowd?
Suitability of the Applicant
How is the applicant qualified for the venture or undertaking he is applying for? What else does he possess over and above the bare minimum set of qualifications? Is there a significant act of bravery he was involved in? If yes, what makes you conclude that this will make him perform better and outshine other candidates?
Contact Details
Lastly, you also want to leave your contact details. This is to not only prove that you are serious but also provide a way for the admissions committee to gain extra information if and when they have to. It is usually in the form of a telephone or e-mail address.
Military Letter of Recommendation (Email Example)
Email Example (Text Version)
September 9, 20XX
MEMORANDUM FOR: Lt. Col. Gary Jemison, Chief, Military Awards Branch
FROM: Maj. Robert Hubert, 19th Infantry Division
SUBJECT: Letter of recommendation for Captain Nasser Keel, 19th Infantry Division
I draft this letter in the defense of Captain Nasser Keel's suitability for the award of the Distinguished Service Cross medal honor.
I have had the pleasure of working alongside him for the past six and a half years. Our last deployment was in the war-torn Iraq where we not only fought off the rebels but also established a Security Partnering Team.
At such a time, one of the rebels threw a grenade at us. The rest of us cowed away while the captain fearlessly took the rebels head-on. He even went ahead to detonate the grenade and neutralize its capacity to harm us. This act of bravery saved our lives.
It is because of this that I would like that Captain Nasser Keel to be conferred with the Distinguished Service Cross medal honor. I am also certain that you too find this act of bravery worthwhile.
Sincerely,
[Signature]
Maj. Robert Hubert
(253) 591-6507
Sample Military Letter of Recommendation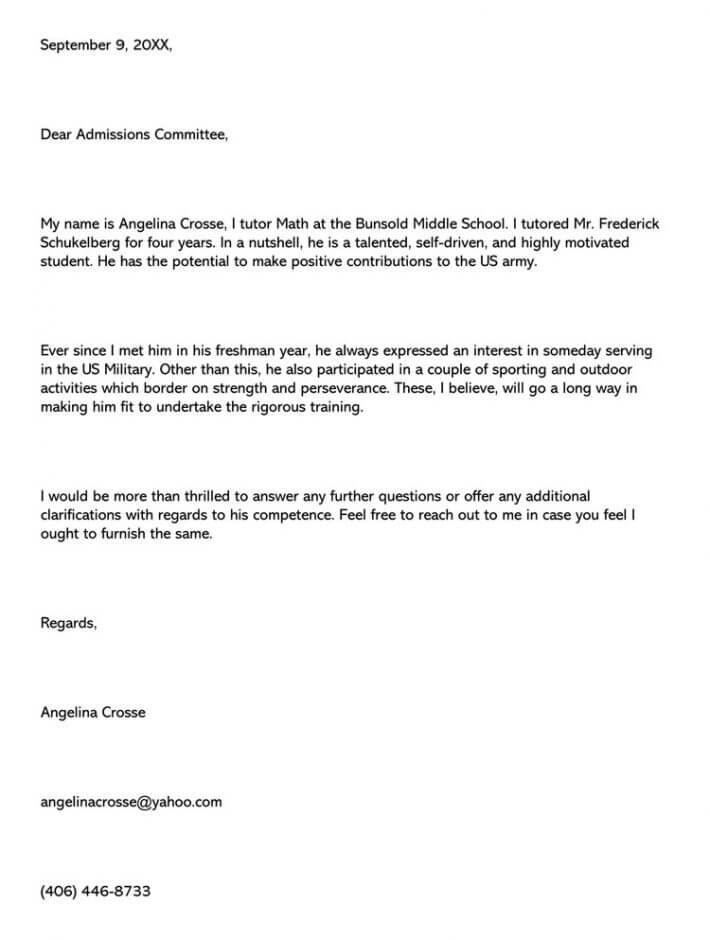 Sample Letter (Text Version)
September 9, 20XX,
Dear Admissions Committee,
My name is Angelina Crosse, I tutor Math at the Bunsold Middle School. I tutored Mr. Frederick Schukelberg for four years. In a nutshell, he is a talented, self-driven, and highly motivated student. He has the potential to make positive contributions to the US army.
Ever since I met him in his freshman year, he always expressed an interest in someday serving in the US Military. Other than this, he also participated in a couple of sporting and outdoor activities which border on strength and perseverance. These, I believe, will go a long way in making him fit to undertake the rigorous training.
I would be more than thrilled to answer any further questions or offer any additional clarifications with regards to his competence. Feel free to reach out to me in case you feel I ought to furnish the same.
Regards,
Angelina Crosse
(406) 446-8733