A nursing note is a medical or health record that is made by a nurse that shows an accurate documentation of nursing assessments, changes in patient's conditions, care provided, and related information to support the clinical team to deliver excellent care.
Standard Format of a Nursing Note:
First thing that goes on the nursing note is the patient's information. This includes the patient's name, arrival time, and departure time. Next is the patient's vitals. This includes:
| | |
| --- | --- |
| Temperature: | Universal Precautions Followed: |
| Respiration: | Hand washing, gloves worn, sharps disposal, alcohol, gel/hand cleanser, other: |
| Apical Pulse: | Homebound Status: |
| Radial Pulse: | Coordination of care: RN, LVN, therapist: |
| Next is Physical Assessment: | HHA, MSW Discussion: |
| Respiratory: | Physician contact: N/A, Yes, Discussion: |
| Gastro Intestinal: | Discharge Planning: |
| Neurological information: | 5 Day Discharge notice given to patient/physician: |
| Ears/Eyes/Nose/Throat: | LVN/HHA Supervision: |
| Musculoskeletal: | Patient/caregiver satisfied with care: |
| Circulatory: | Change in ADL needs assessment: |
| Skin Conditions: | Care provided according to assignment: |
| Gu Status: | Employee courteous, respectful: |
| Under that is the Pain Assessment Notes: | Continue Frequency at: |
| Pain or No Pain: | Supervisory visit onsite: |
| Location, Duration: | Employee Name: |
| Intensity on a scale of 1-10: | LVN, HHA: |
| Under that goes current pain medications: | Instructed in: |
| Glucometer: control | Date: |
| Results: FSBS, RBS | Wound Care: |
| Under that is Skilled Nursing Care Performed: | Signs/symptoms of infection: |
| Additional clinical findings: | Teachings of wound care: |
| Progress Toward Goals on POC: | Dressing Change: |
| New identified problems/goals: | Additional Comments: |
Nursing Note Templates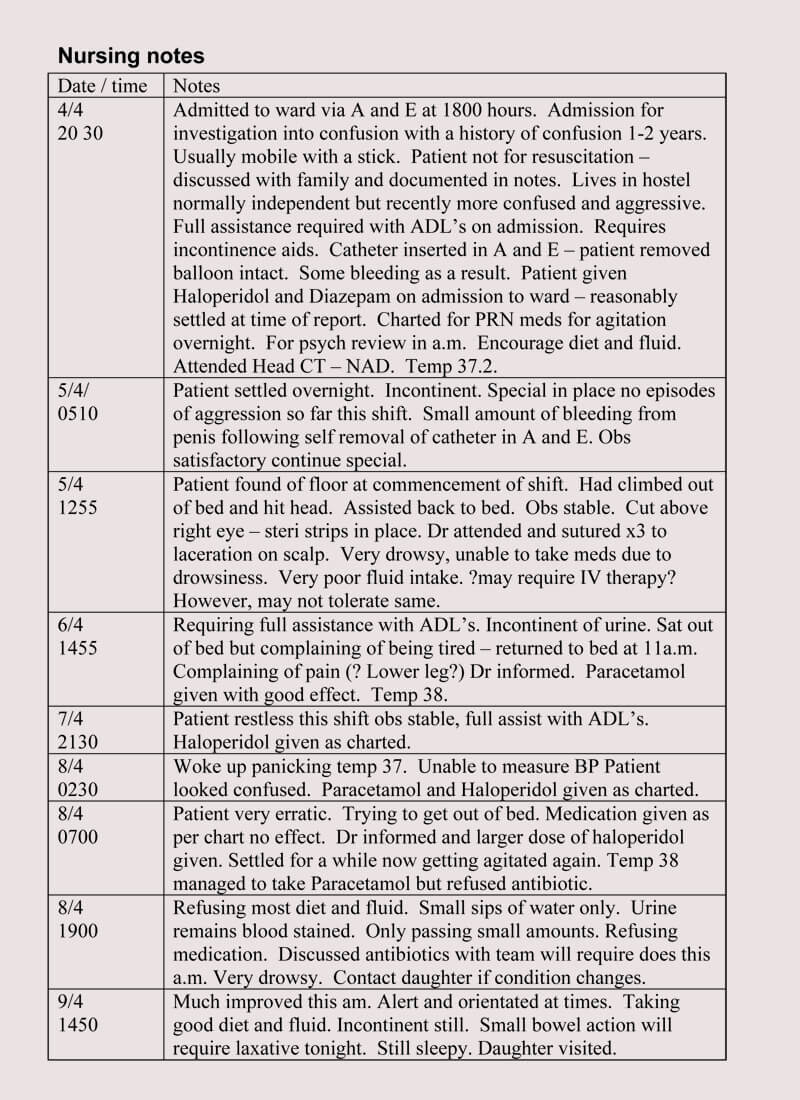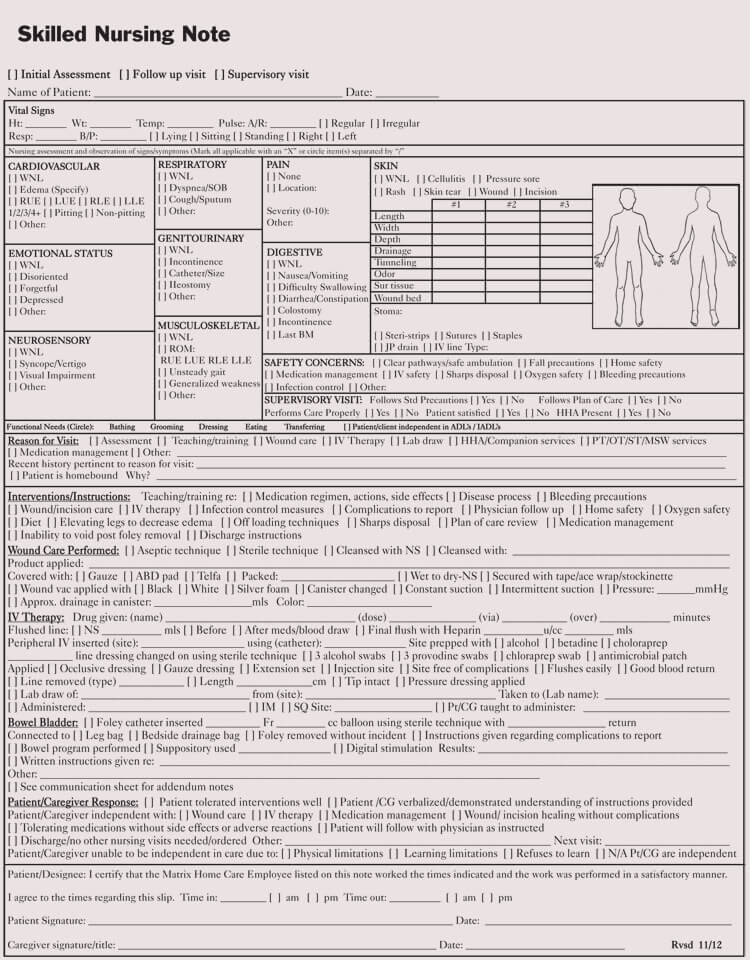 Key Points When Taking a Nursing Note:
Always Use A Consistent Format: Start the record with the patient's ID information. Remember each entry should include your full name, the date, and the time of the report as well.
Keep Your Note Timely: Fill out the notes within 24 hours of supervising the patient's care. It's important for the note to be ready for the next person who is going to be working the shift after you.
Write Neatly: Please write your notes clearly and neatly. If none one can even ready your notes then their basically useless. Take your time when writing down the information.
Keep Your Notes Simple: Don't write down irrelevant information that has nothing to do with the patient's health. Nursing notes are supposed to be designed to to be read quickly. That way the next shift will be caught up on the patient.
Always Write Down All Communication: Write down everything important about the patient's health. Every single discussion you had with the families, doctors, and other medical professionals need to be documented in your nursing notes. Oh and you also need to document the names of the people you had these discussions with.
Please Don't Use Abbreviations: Write everything down fully. Using abbreviations can mean different things in different places.
You Should Write As You Go: As a nurse you're supposed to complete all of your notes as soon as possible. So with that in mind, you should not leave your nursing notes until the end of your shift. Just write as you go. That way all the information from your notes will be fresh in your mind.