The recommendation letter illustrates the habits that you, as an employer, have observed in your employee. Formally,
A recommendation letter is an official document describing someone's skills, work experience, or academic performance.
This might be someone applying for a job in a company where one will need a recommendation letter, a cover letter, and a résumé. Examples are teachers and physician assistants. People looking for an internship might also require a recommendation letter, looking for a leadership position, or a student applying for a school, university, or college.
It is important to remember, the information you are giving must be relevant or related to the field of work your employee is applying for.
Download Free Templates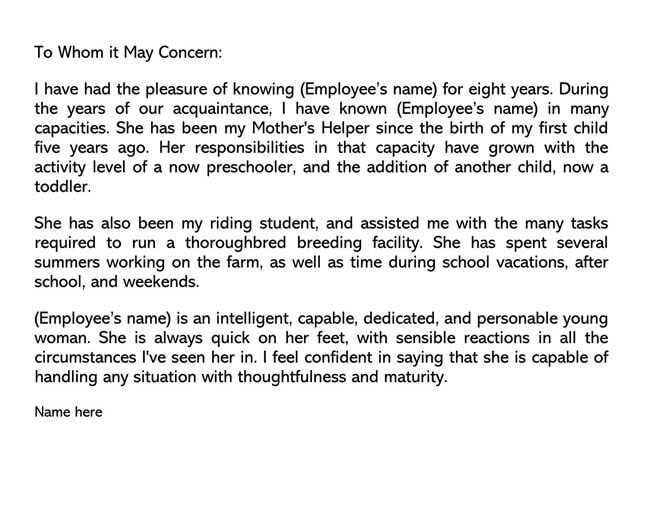 Writing A Recommendation Letter
Recommendation letters should follow the standard business format, and there are key items that must be included when crafting it, including:
Header
A recommendation letter, just like any other letter, has to start with a header. The header will be formatted like any other formal letter. It should have your address at the top, your contact information, or the name of your company. It is then followed by the date. Lastly, you should include the recipient's address, his/her title, the company name, and any other contact information you might know.
An example,
Michael Jinn, Pharmacist
Hollowed Pharmacy,
45 South street,
Cincinnati, 5644
@michael89@gmail.com

6th April 2021

Harry Potter, Hiring Manager
FAROUQ HOSPITAL,
45 Backstreet,
Cincinnati, 6845
Salutation
Salutation is an important part of the letter, and it should be formal. The choice of the right salutation depends if you know the recipient. It is advisable to use 'dear' followed by the recipient's name.
For example,
Dear Harry Potter,
Alternatively, you can use the statement, "To whom it may concern," if you are not familiar with the recipient's name.
Introductory paragraph
Your objective of writing this letter should be stated clearly in the introductory paragraph. In a recommendation letter, start by mentioning your intentions for writing this letter, briefly explaining your current position in your company and the nature of your relationship with the applicant. The goal is to make the recipient understand that this is a recommendation letter.
An example would be,
"I am writing you this letter to recommend Gilbert Holmes for employment in your hospital as the hospital pharmacist. I am the manager at Feel Good Pharmaceuticals, and Gilbert has been my loyal employee for two years."
Body
The body of the letter is where the main idea is presented. This is where you write about the applicant's strengths supporting him/ her being a productive employee. The information you give should relate to the recipient's expectations. You can also add a detailed example where the applicant impacted your company.
For example, if the applicant is in the field of medicine,
"I have worked with Gilbert for two years, and he is quite an impressive young lad. He is smart and does his research thoroughly in that not only does he dispense medicine, but he also prescribes. I remember an instance where Gilbert was able to diagnose tonsillitis in one of my many customers and was able to give a prescription consisting of an antibiotic, an anti-inflammatory, and a pain reliever. This took me by surprise because most doctors opt to give antibiotics only."
You can also include a brief explanation of the reason behind the applicant's departure. This is optional and should only be included in the applicant's reasons for leaving the current job are positive. This can be due to reasons like family relocation, outgrowth, etc.
In the next paragraph, you can write about 2–3 positive personality traits and characteristics, particularly those that would be beneficial to the target company.
For example, if the applicant wants an opportunity in a company where there is frequent contact with people, you can say, "David is a selfless and understanding person who listens before he acts."
Closing
Lastly, when you recommend someone, you want to make sure that the recipient can reach out for any information or further clarification. Please mention that you are more than willing to answer any of their questions. Then end formally and politely like, "Regards" or "Sincerely" For example,
" For further clarification or queries you might have, feel free to email me or write back."
Sincerely,
(Your name)
Sample Recommendation Letters
Here are a few samples for better understanding:
Sample Recommendation Letter 01
Frank Levine,
Head Master, Brooks Elementary School,
Park Street 44,
North Carolina 67856
email@gmail.com
9th April 2021
To Whom it may concern,
I am writing to you to recommend Timm Turner for any customer service position in your company. Timm has worked in HJN Inc. as a customer service representative for four years.
Timm is enthusiastic and is quite impressive. He has perfect communication skills and has confidence that surpasses my expectations.
He is very patient, and his ability to calm angry customers is unparalleled. He is good at multitasking is able to handle a lot of work when given a deadline. He surpassed all monthly call center metrics, and his daily written reports were accurate and thorough.
My supervisor is Timm's team player mindset and ability to work with minimal supervision of particular value to me. I regularly received praise from customers commending his outstanding level of service.
Unfortunately, Timm needs a change, and I am more than happy for him to have a new experience.
Timm would make an exceptional employee. If his performance here is an indication of how he might perform in the company, I believe he will bring a positive impact. If you have any queries, feel free to contact me.
Sincerely,
Frank Levee
Sample Recommendation Letter 02
Dennis Sprit, Manager
Trek Company Ltd
78 Main Street,
Cape town 56382,
788-788-7377
email@gmail.com
7th April 2020
Catherine Boss, Hiring Manager,
Forged Company Ltd,
573 Street St Lauren,
Uruguay 85937
Dear Catherine,
I am writing to recommend Jeff Bazi as your next assistant manager. He has been my loyal employee for three years here at Trek Company. This is a similar position to the one he holds here, and I believe he can overcome the challenges that come with it.
Jeff has shown admirable skills, and his goal-oriented mindset never ceases to amaze me. He possesses a positive attitude and takes on all his tasks with a smile. He is an organized man and is very eloquent, especially during board meetings or communicating with the staff. Jeff has a policy where he tracks every new employee's progress for the first three months and rewards the best performing employees at the end of the year.
Unfortunately, he is relocating to another town, but I am happy to hear of such an opportunity to continue proving his worth and maintain his high profile.
I strongly recommend Jeff for the position of assistant manager at your company. Do not hesitate to reach out for any further clarification.
Sincerely,
Dennis Sprit.
Sample Recommendation Letter 03
Harriet Holmes, Sales Director
Garrison Incorporated,
Mercado 47383
47 South East wing
@gmail.com
August 2020
Jack Frost,
Sales Manager,
BH Industries
69 Main Street
Small town, 37367
Dear Jack,
I am writing to you regarding Max Millville, who is looking for an opportunity in your company as a sales associate. Max has worked for me for two years in the same department here at Garrison Inc.
Max has made a huge impact for the past two years. He made some of the biggest sales we made in 2019. He has been keen on learning about all of our products and their respective prices in that I am comfortable consulting him about our rates. His enthusiasm for his work and his dynamic communication skills made him an instant advantage to the company. Max made time or hauled his work to help his peers to close complex sales. He was also entrusted to our big clients at the beginning of the year till date.
Mark is organized, and his sense of humor made him known by his clients and formed a bond with his colleagues at work.
I believe that Mark has a lot of potentials and would be a perfect fit for the job. I would highly recommend him for your company without any reservations. If you have any questions or would like further clarification, please feel free to contact me.
Regards,
Harriet
Considerable Things for Writing
A manager is a busy person. You might find yourself in a situation where all you know about your employees is their name and their occupation in your institution or company. Before rushing to recommend an applicant, hold a small meeting with him/her and get to know the person.
Consult the employee before writing
Ask the applicant when he/she needs the letter because they might be having a deadline. It would be deplorable for them to miss a job opportunity because of a delay. You also need to conduct some research on the company or institution where your employee is going; this includes the nature of the job and their future employer. You should also ask the applicant whether he/she knows the name of the employer or if they would prefer a more generic letter. Be sure to know about the most important skills in their upcoming job and don't forget to ask about their strongest skill to include it in the letter. Still on skills, make sure you know of the instances if there were any, where they used that skill working in your company. Ask about the applicant's achievements with your company. You should also find out what interests the applicant more about his/her new job and, in addition to that, ask why they think they would be a good fit for the job. Finally, it would be a good idea to ask the applicant if there are any other traits they would wish you to highlight.
Analyze their job record
Write a brief analysis of the applicant's job record while he/she was working for you. This is where you write about his/her good habits and the successes, however small, the applicant achieved. If you were not the direct supervisor, you could ask a co-worker to tell you about the applicant's habits and successes.
Be honest
A manager writing a recommendation letter should be honest. There are situations whereby the applicant was not so kind or was a threat to the company; it's advisable to refrain from writing the recommendation letter. This is because writing negative comments in the letter can land you in court with a defamation lawsuit.
Be professional
Managers are professionals, even by nature; you want to reflect this in the letter, this brings you to the task of bringing close attention to detail. Focus on using a formal tone and be positive and professional by using the tips given to write the letter. Remember, this letter will go to the applicant's records, so you need to write a decent document so that future hiring managers can see the aspect of professionalism.
Use examples
While writing, it is advisable to mention instances when employees benefited your company. Avoid being overly descriptive because the recipient might find it exaggerated. Instead, use examples to show how the employee handled themselves on the job; this would be the best way to show.
Final Thoughts
Writing a recommendation letter makes the applicant way ahead of his/her competition. It also means the applicant trusts you to draft one because the most convincing letters are those that are written by a supervisor. You should make it count. Using the steps given in this article, you will get a simplified approach towards writing the letter.