Recommendation of a business or service refers to the letters written to a business associate or partner in an attempt to recommend a given service provider to work with the firm in question in accomplishing a given business purpose. The letter is more of a request letter and so should be written in a polite tone. At times, the request may be declined since several other service providers have been recommended for the same purpose. Therefore, when writing one, you need to be persuasive enough so that your request can be granted. You know both the need of your firm and the service provider. This means that you can be creative enough to link the two requirements.
A recommendation letter can be given to another company in proposing a given client whose services are extraordinary. An employee can as well write it to his or her boss in recommending a given service provider whom he or she is sharing with regarding experience at a personal level.
Recommending a Service or Business (Letter Samples)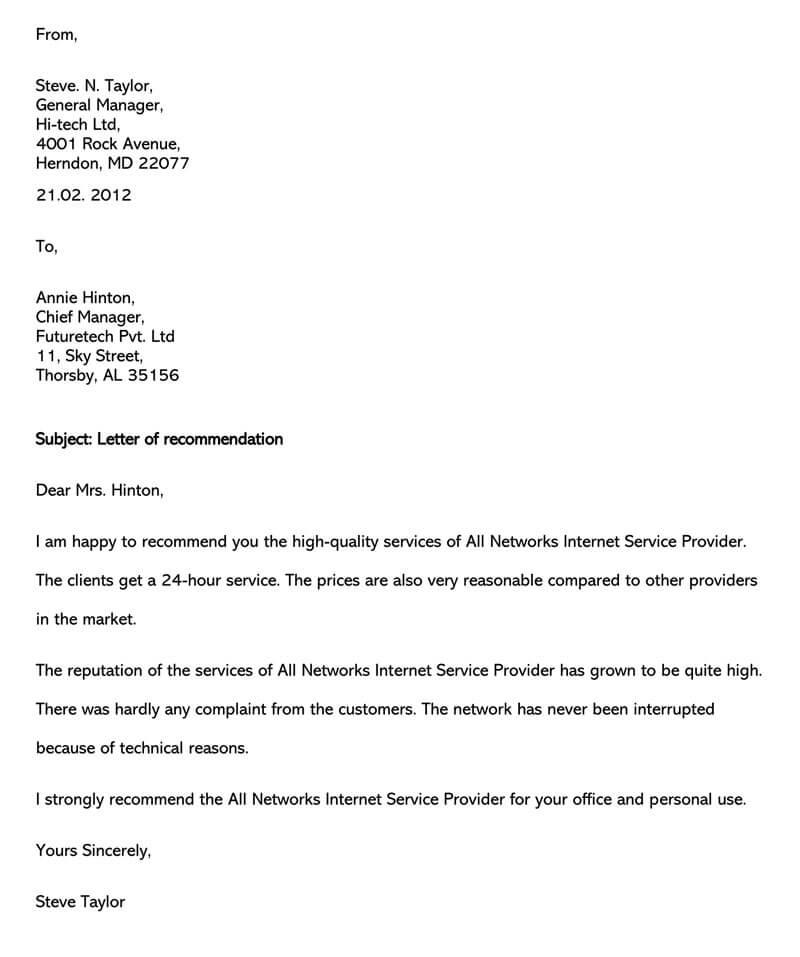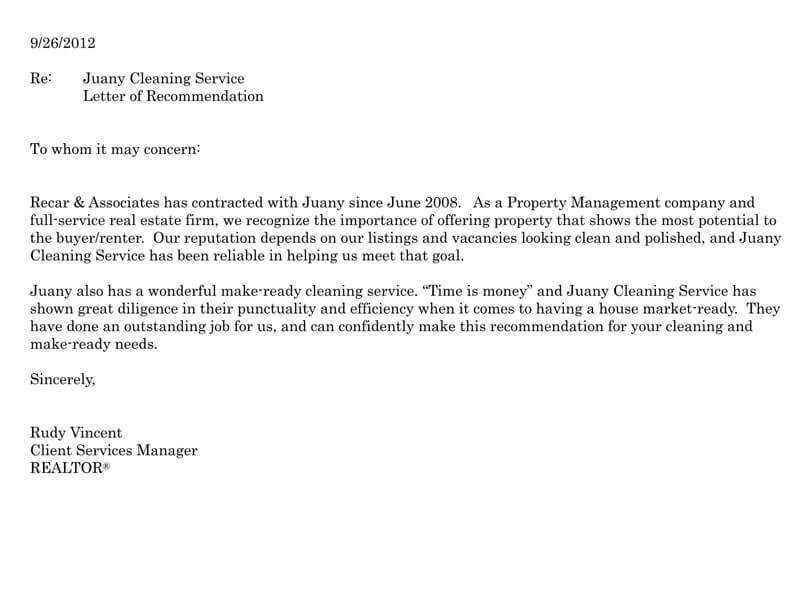 How Do You Write a Recommendation of Business Letter?
When writing a recommendation of a business/service, there are some things you should be keen about. Failure to consider them may lead to the rejection of the request or failure in service delivery once the service provider you recommended is contracted. Here are the things you should do:
Express your knowledge about the person you are suggesting regarding the experience in offering the said service. How long has the person provided the service?
Talk about the level at which you know the person. For instance, talk about you working directly with the person as colleagues, an employer or employee or anything which can show that you have experience with the services.
In the body of the recommendation letter, you should provide a good number of achievements of the person in providing the needed services.
Ensure that the information is accurate because if you give incorrect information, it could lead to poor service provision which will affect the company in question.
You should format the letter in paragraph form as this provided a room for emphasis of each idea you give in the letter.
Do not write an extremely long letter since it may discourage the recipient from reading it to the end. Including too many achievements may also make the letter to appear to be full of unnecessary persuasion rather than facts.
Assure the recipient that the service provider you are recommending can never disappoint in providing the services
Business/Service Recommendation Letter TemplateE
Your Name
Your Address
Your City, State Zip Code
Your Phone Number
Your Email
Date
Name
Title
Organization
Address
City, State Zip Code
Dear Sir? Madam
I am writing to recommend the services of ABC, of XXX firm as an event planner. I have been working with him in the last five years, and he has never disappointed me. He is detailed and is keen to meet all the expectations. His responsiveness to urgent matters makes him one of the best event planner that you should consider having.
Despite the tendency of event planners to change the agreement during the actual time, ABC sticks what you agreed at the beginning to the end.
I am confident in recommending his services. He never disappoints. He is even open to bringing his creative ideas to add onto what you planned for but only if you allow him.
You can contact ABC through his email, ( ). If you need more information about him and his services, feel free to consult me.
Regards,
(Name)
Example of Business Recommendation Letter
Dear Mr. ……………….

I feel privileged to recommend the services of ABC as a public relations officer in your firm. He has been working in my restaurant as a front office customer care officer for the past ten years. During the time he has worked for me, my firm has been able to attract and maintain clients. His open nature makes her one of the best public relations officers.
I am confident that he will never disappoint you. If anything, I am sure that he will add value to your firm.
She is not only smart in keeping customer relations but also is open to new ideas and more roles. He is very flexible to work with.
Feel free to contact me for more information about him is there is need through my email ( ). You can as well contact him directly through his email, ( ).

Thank you
Regards
(Name)
What to Include in a Business Recommendation Letter?
The personal details and contacts of the recommended person
The job title of the person and the company he is currently working for
The experience you had in working with the person who you are recommending
Indicate the period in which you worked with the person and the exact things he did concerning the duty you are endorsing him for
Give your judgment on the level of service delivery you enjoyed in working with the person.
Quote and emphasize the unique skills of the person which makes you feel that he is the best to be hired at that given point.