A Recommendation Letter for Internship, usually written by a teacher or a past employer, is a document that serves as a character reference for a specific student/applicant and is often presented to an organization along with the application letter for the student/applicant to get an internship.
High-level roles require the internship application to be accompanied by a recommendation letter to guarantee that the selected candidate is completely qualified for the post.
Some learning institutions require their students to undergo job internships prior to graduation. At times, internships are not mandatory, but they can offer an added advantage to the student since they offer a platform for gaining job experience. In this regard, it is relevant to use a recommendation letter when seeking an internship for the following reasons:
An internship recommendation letter describes the qualifications of the applicant that correspond to the specified position.
It serves as evidence that the specified student has the knowledge needed for the job.
It demonstrates that the applicant is up to the offered job.
It also supports the applicant for a paid internship or a significant position in the organization.
The best person to write your recommendation letter for an internship should be a previous professor or an employer who can comment on your personality, character, and work ethic. It is far more important to find someone who knows you on a personal level than to focus on a title to prove your suitability for an internship position.
Internship Recommendation Letter Examples
Access a comprehensive selection of meticulously crafted example letters from below, tailored for educators and past employers, aimed at equipping you with the precise guidance needed to draft compelling recommendation letters for internships.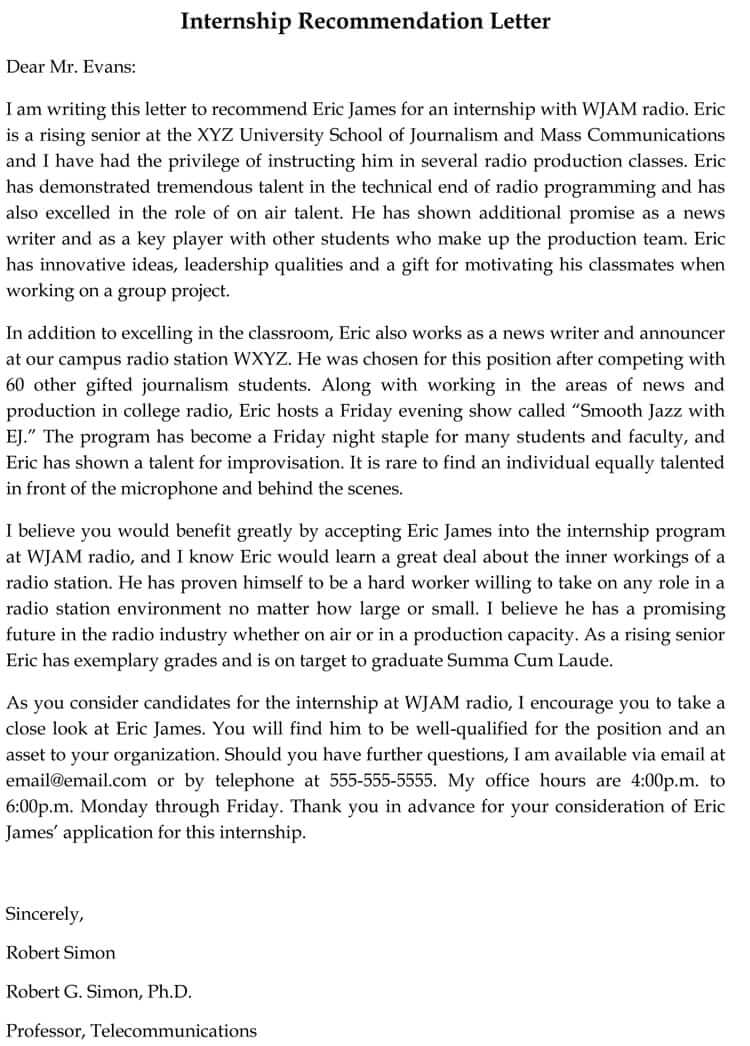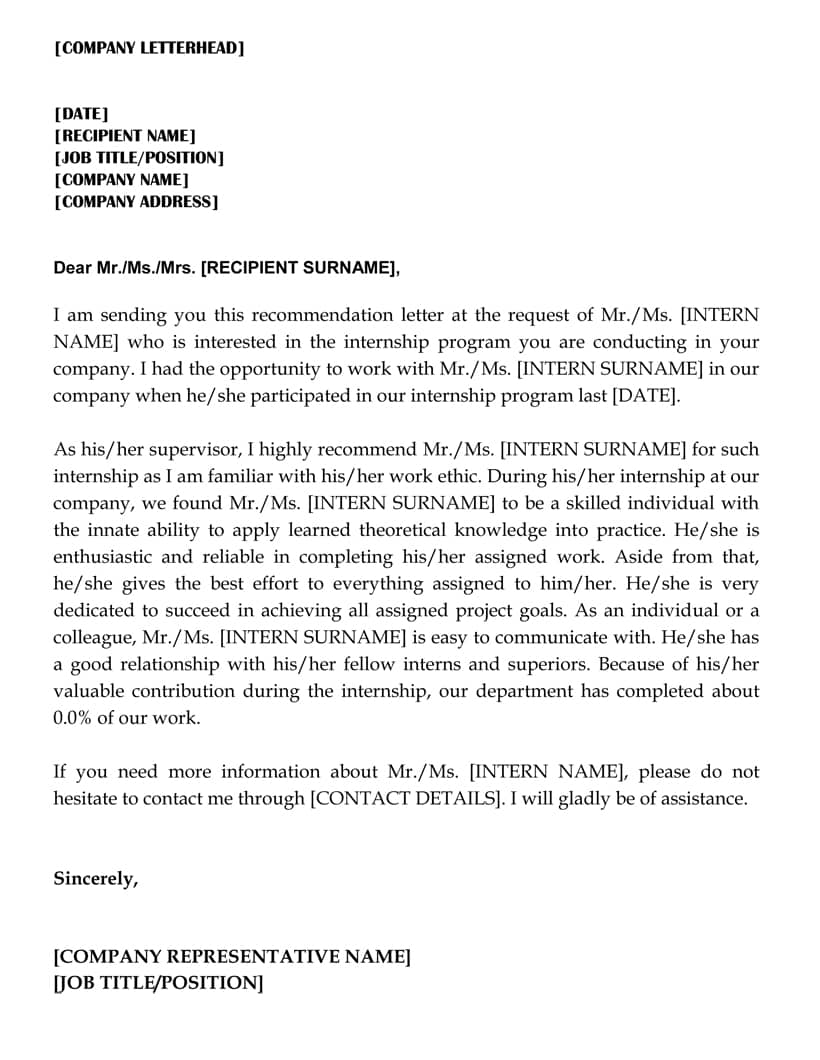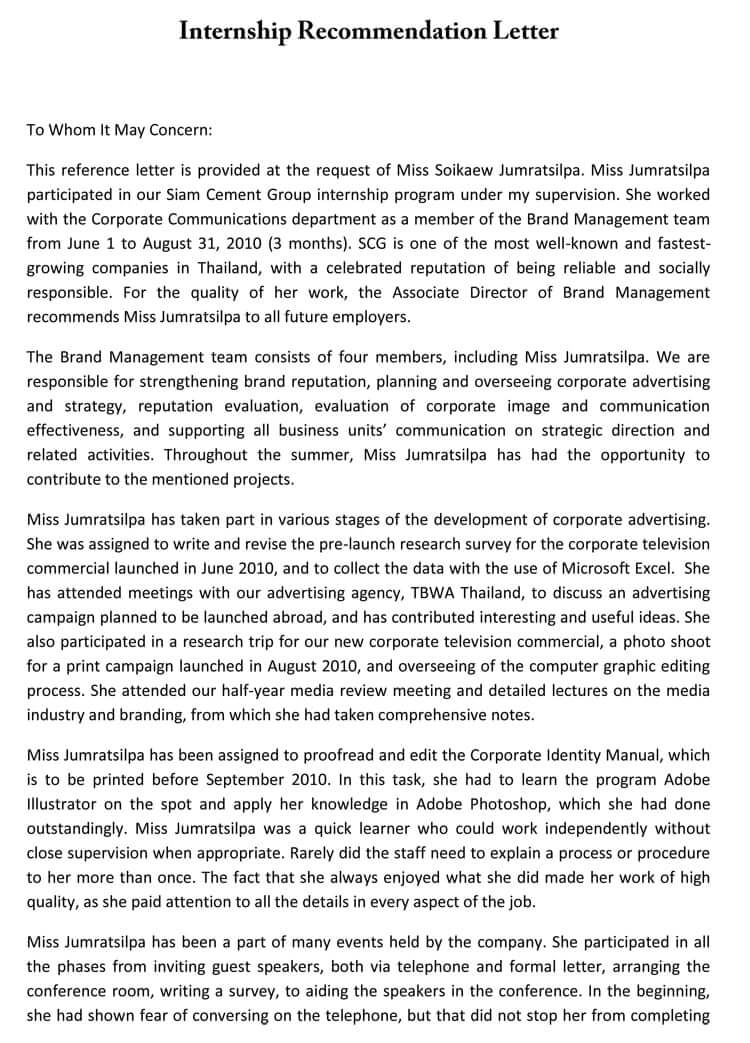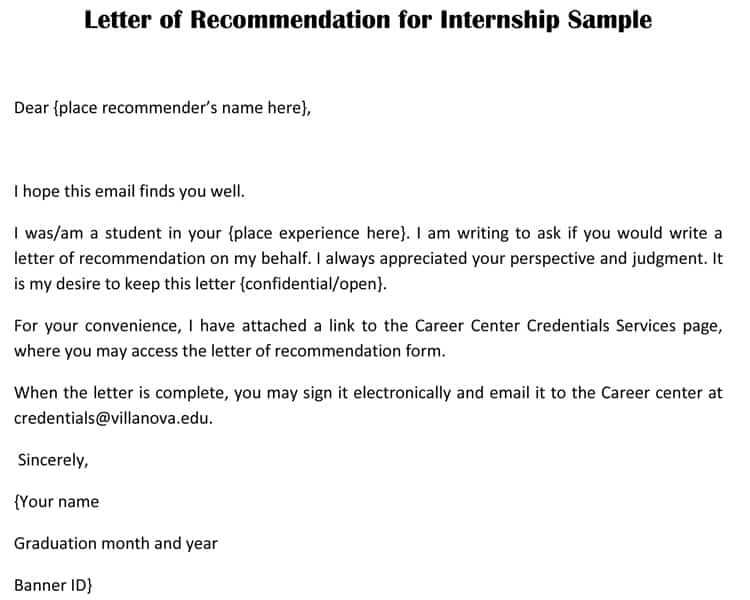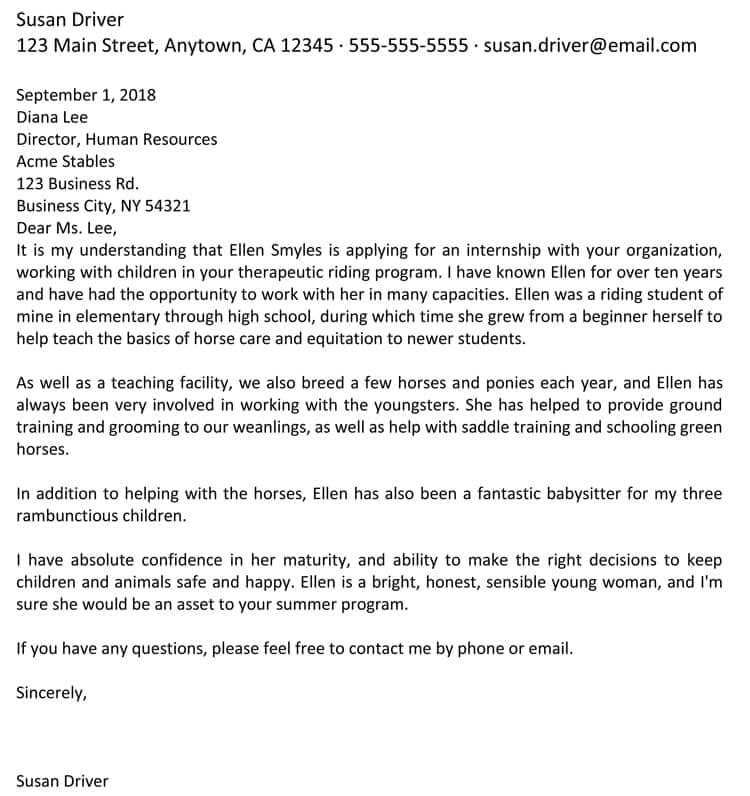 How to Write a Recommendation Letter for Internship
Below is a step-by-step guide that you should follow when writing a recommendation cover letter for a student:
Step 1: Letterhead
It is the first section of a recommendation letter for an internship, usually written before the main contents of the letter.
It covers the following:
Your contact information
This should include your email address, physical address, and phone number. The contact information identifies the recommender and can be used to reach him/ her should there be a need for that.
Subject and date
Briefly state the purpose for writing the recommendation letter. When sending an email recommendation letter for an internship, including the purpose briefly in the subject line of an email. Also, include the actual date of writing the recommendation letter.
Recipient's contact details
This covers the actual contact details of the organization in which the applicant is interested in undertaking their internship. This includes the organization's name, the target department (usually the human resource department), the name of the person to which the letter is addressed (if they are known by name, otherwise address them as human resource officer), and the physical address of the organization.
Salutation
This is usually a gesture or utterance made as a greeting or acknowledgment of the recipient of the recommendation letter.
Step 2: Introduction
You are required to do the following under this section:
Introduce yourself
First, introduce yourself by describing who you are, the organization you work for, and your role in that organization to grab the recipient's attention right from the beginning.
Describe your relationship with the applicant
Describe your relationship with the applicant by giving a brief overview of the applicant. Also, state how you relate with the applicant and how long you have known them.
Step 3: Body
The main message is contained in the body. The overall concept of communication applies here more than anywhere else in the letter. You should convey your message about the applicant clearly and briefly so that the reader understands it correctly and fast.
You should mainly focus on the following:
Elaborate on the applicant's skills, strengths, and experiences
In your letter, discuss the person's job responsibilities, contributions, and successes during your relationship. For example, you might give examples of dedication, honesty, and hard work if you were a workplace supervisor. Also, you can emphasize academic achievements, classroom leadership skills, or other related attributes if you teach the applicant in a high school or a university.
Mention how long you've known the applicant, as well as why you are willing to give a recommendation. It is necessary to ask the individual for whom you are writing the recommendation to explain the position or kind of work they are going for to highlight the credentials and hard and soft abilities, providing examples that will be most useful in grabbing the attention of a recruiter.
Give examples of the applicant's achievements
Discuss why the applicant would be a good fit for the internship and benefit the organization. Include examples of the applicant's expertise and credentials.
Step 4: Conclusion
It is the last section of the recommendation letter for the internship. You do the following:
Restate your recommendation
You should restate your recommendation by saying that you "strongly recommend" the applicant or that you "recommend without reservation". These specific expressions demonstrate that you actually believe in the person you're recommending. Conversely, anything less enthusiastic may appear as if you don't believe in them.
Provide contact details for follow-up
Offer to provide more information if it will be required. To facilitate this, provide your phone number and a valid email address.
Sign off
Close with a professional letter ending and include your name, and work title. Include your signature below your name if you are sending a printed copy of the letter.
NOTE: If you're submitting the recommendation by email, state that it is a recommendation in the subject line, along with the applicant's name. For example, if you're sending an email recommendation for an internship applicant called "James Bond," the subject line should be "Recommendation – James Bond." If you have the recruiting manager's name, put it after your closure, along with your name, professional title, and contact information.
Sample Internship Recommendation Letters
Sample # 1
George Williams
Head of the science department
Maryville high school
Box 8072 California
11 December 2019
To whom it may concern:
With much pleasure, I take this opportunity to write a personal recommendation for my student Bertrand Williams. The student has been a pivotal member of the student council since joining this school in 2016
Williams has been among the top cream students in this school, he is not only useful in leadership skills, but he tops in class as well. Being a student leader, he leads by example, and in the absence of the teacher, Williams assumes the role of peer teacher, and he guides the class, especially in biology research work. He is all rounded student as he is also a star in our school rugby team. Previously he has been awarded as best under 20-rugby champion.
Williams carries his duties with due diligence and enthusiasm,d thus giving out his best. He is very focused and eying to join medical research institution at the tertiary level. He is an outgoing student of good character and a team builder.
I, therefore, recommend him to your institution for an internship. With my knowledge, I know he has the necessary skills and expertise to perform the duties assigned to him timely. I am confident he will apply the same enthusiasm in your institution, thus giving the best. Having William in your institution is more of an asset.
Always feel free to contact me for more information on the above subject.
Sincerely
Hilda Thomas
Sample # 2
Dear Miss Macadam's
It is with great pleasure that I recommend Laura Tinno for an internship in your organization. I have known Laura for two years while in mass communication college as she used to be one of our part-time office assistants.
I have been impressed with the way Miss Laura carries her duties with passion and enthusiasm. During the period she served us, she was a great asset to us due to her quality productivity and timely completion of tasks assigned to her.
Miss Laura has a high capability of following instructions given and articulation of ideas both verbally or in written form. She is a quick learner with self-motivation to carry her duties and perform tasks to perfection. I am confident she will be a significant pillar in your organization.
I, therefore, recommend Miss Laura without reservation, and I know she will be of great input in your organization. I am very confident she will initiate teamwork as she always did within our organization. For more information about Miss Laura, feel free to inquire anytime.
Sincerely
Kelvin Rodriguez
Human Resource Manager
BZ telex communications
Tips for Writing a Great Recommendation Letter
It would be best if you observed the following to come up with an outstanding recommendation letter for internship:
Stay positive
By staying positive, your recommendation letter will highlight the applicant's aptitude and capabilities while also explaining why you feel this person is a good match for the internship position. Any statements that could suggest otherwise should be avoided.
Use a formal business letter format
Like other business letters, a recommendation letter is an official letter, and therefore it should be treated with a high degree of professionalism. Having a professionally written letter of recommendation, regardless of an applicant's chosen area, may highly contribute towards getting an internship. Therefore, if someone asks you to write a recommendation letter, it's worth spending time to produce a top-notch letter by handling it with the professionalism that it requires.
Stay on topic
It is necessary to praise the applicant, but this should be done with limits to the current context. Ensure that you only focus on highlighting the qualities that will help the applicant to secure an internship position. Avoid irrelevant details such as looks' description, humor, etc.
A recommendation letter for an internship should be written professionally and formally. It would be best if you observed etiquette and a formal tone throughout the letter. Your letter should state unequivocally that you believe the applicant deserves the internship position.