A reference/recommendation letter for an employee is a document written by a qualified, trustworthy person that aims to endorse a candidate for a given job position. The letter highlights the employee's skills, desirable attributes, achievements, and any relevant work experiences.
A letter of recommendation for an employee should be written by someone who knows the candidate well enough and can speak positively about the applicant. In addition, he/she must be competent and reliable, meaning that he/she must have an official, recognized role within the field related to the applicant's position. Since the main point of the letter is to make the case that the applicant is a strong candidate and that they will be successful in the prospective position, the best person to write the recommendation letter is usually the employee's current or former employer, supervisor, and team leader.
However, in some cases, the letter can be written by the employee's coworkers. If the applicant is a recent graduate with no relevant work experience, a professor, friend, neighbor, or any other personal contact might be qualified to write the letter.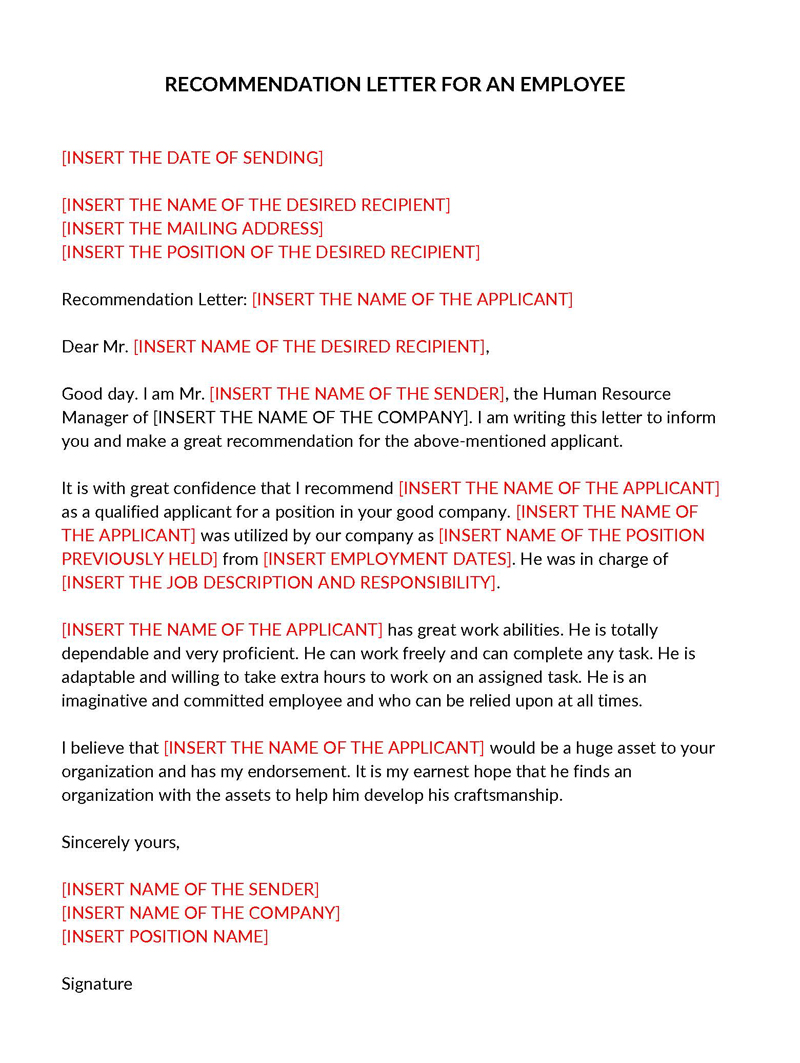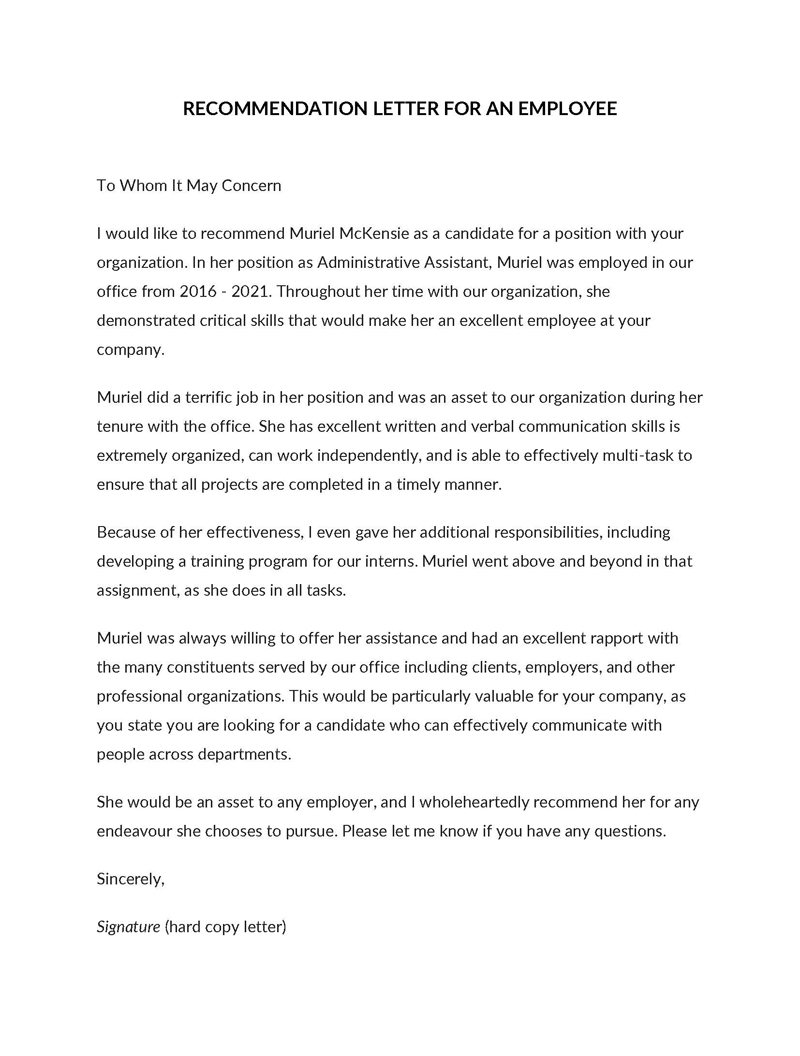 Pre-Writing Considerations
If you are an employer, a supervisor, a team leader, or a coworker, you might be approached by an employee requesting you to write them a recommendation letter to help them get a potential job. Before you agree to write the letter, it is important that you consider the following pre-writing things:
Think carefully before accepting the offer
Before accepting to write an employee recommendation letter, make sure that you can provide a positive and enthusiastic recommendation for the employee. Ask yourself the following questions:
How well do you know the candidate?
Do you have enough specific examples and anecdotes to write in the recommendation letter?
Why are you recommending the employee?
Do you believe in them to vouch for their candidacy?
If you can comfortably answer all these questions, you can accept the offer and write a strong recommendation letter for the employee. However, if you feel you lack enough answers to these questions, you don't know of any positive things to speak about the employee, or if your company has a policy that prohibits providing references for employees, it's best to decline the request politely. Remember that it is better not to write a recommendation at all than to write something less than a strong endorsement of the applicant's candidacy.
Collect information before writing the letter
Next, ask the employee to provide you with enough information about the job they are applying for and request for a copy of their curriculum vitae or resume to highlight their specific work experience and desirable qualities for the job. It is also essential to view the employee's social media profiles such as LinkedIn to gather information and supporting pieces of evidence to help you write a strong recommendation letter.
An effective recommendation letter for an employee should make the applicant stand out from the other highly competitive applicants. To achieve this, you have to inspire reliability and trustworthiness in the hiring team. Here is a step-by-step guide on how to structure your employee letter of recommendation:
Section 1: Letterhead
A recommendation letter for an employee is an official letter. Therefore, it should follow the business letter format of addressing an official letter. As such, at the topmost part of the letter, you should include an address that consists of the following details:
Your contact information
In the sender's address line, write your name, and provide your contact information, including your email and mailing addresses.
Subject line (email reference)
If the employee's recommendation letter is to be submitted online via email, then, in that case, you should follow the business letter format but omit the address paragraphs. You should include a subject line that includes the applicant's name and the title of the position they are applying for. For example:
Subject: Maryann Kimm- Recommendation for Public Relations Manager Job
Note: In the case of an email employee's reference letter, the sender's contact information list is usually provided in the signature section.
Date
After writing your address, write the date on which you are writing the letter. The date should follow the Day/Month/year format.
Recipient's contact details
In the receiver's address paragraphs, write the recipient's name (if known) and provide their contact details, including the company name, email, and mailing address.
Salutation
Begin your employee recommendation letter with a formal salutation and greeting addressed to the letter's receiver if he/she is known, or in cases where you are writing a personal reference letter.
For example:
Dear Mr. Lawrence, Dear Ms. Watkins, etc.
However, if the receiver's name is unknown or in cases where you are writing a general reference letter, a general salutation such as To Whom It May Concern, Dear Hiring Team, To the HR department, etc., may be considered appropriate, alternatively, you can omit the salutation part and start with the introduction of the employee recommendation letter.
Section 2: Introduction
In the introductory paragraph of the letter of recommendation for an employer, briefly introduce yourself and state why you are competent to provide a reference letter for the specific employee. Include your current job title or the position you hold in your company. Afterward, write the name of the employee you are vouching for and describe the nature of your relationship.
For example:
I am delighted and greatly honored to provide this letter of recommendation for Maryann Kimm. As an overall team leader at Medicentre Modern Care Hospital, I have worked with and supervised Maryann Kimm for the past 6 years. In all these years, I have been able to test and appreciate her professional qualities in various circumstances, and I am confident that she will be an invaluable asset to your company.
Section 3: Body
Generally, the body section of the letter of recommendation for an employee will be subdivided into two main body paragraphs that illustrate why the applicant is ideal for the job. This includes:
Elaborate the applicant's skills, strengths, and experience
Use the first body paragraph of your recommendation letter for an employee to evaluate the applicant's work, focusing on their specific skills, strengths, and experience and relating them to the position they are seeking.
For example:
If the applicant is seeking a public relations management position, showcase his/her excellent communication, interpersonal, presentation, creativity, and awareness skills. Make sure to also highlight any relevant, tangible successes that can be quantified to help justify your case.
Give examples of the applicant's achievements
The second body paragraph of your recommendation letter for an employee should highlight specific examples of the applicant's achievements. In 3-5 brief lines, describe how the applicant stood out from the rest of his/her colleagues and use specific examples that prove your case. Whether it is taking the initiative on a particular project or helping solve a major company-wide problem, concrete anecdotes relevant to the applicant's position helps create a lasting impression on the potential employers.
However, if you cannot provide specific examples and anecdotes that demonstrate the applicant's various skills and achievements, you can use the comparison strategy to make them stand out from the pool of other qualified candidates.
For example:
You can state that:

Maryann is among the top 3 best PR officers that I have ever worked with.
Section 4: Conclusion
It is essential that you conclude your letter of recommendation for an employee enthusiastically and professionally such that the employer is convinced to hire the applicant instantly. Here are some tips to help you conclude your letter strongly
Restate your recommendation
Provide a brief summary of the main attributes, strengths, and skills discussed in the body paragraphs and restate why you are recommending the applicant.
Provide your contact details for follow-up
Afterward, provide your contact details, including your email address and phone number, to make it easier for the recipient of the letter to contact you if they need more information. To make your recommendation letter for an employee seem more professional and to influence how the recipient perceives it, it is crucial that you provide your company's official email address than your personal email address.
Sign off
Finally, end your letter with an appropriate sign-off, then include your name and signature.
Tips for Writing an Effective Recommendation Letter
If you are looking to write a strong recommendation letter for an employee, consider the following tips to help you craft a letter that will make the applicant stand out and help them secure the job the potential job.
Focus on the job description
Request the applicant to provide you with a copy of the job description, review it to find the precise skills, qualifications, and experience that the employer is looking for, and tailor your recommendation letter for an employee to meet the criteria specified in the job description.
Stay Positive
A recommendation letter for an employee should emphasize how the employee is a good fit for the position, and therefore the language used throughout the letter should remain positive. This helps the applicant stand out and influences the employer's decision to hire him/her. However, you should be careful not to provide any falsified information as this could be very damaging for both you and the applicant in the future.
Follow the submission guidelines
Aside from information about the applicant and the job they are seeking, you will also need to get accurate details on the submission guidelines. Confirm whom to address the letter to, when the deadline is, if there is a specific format to follow and if the letter is to be submitted online or a hardcopy. Make sure to follow the submission guidelines to the latter to ensure that your recommendation letter for an employee reaches its intended audience.
Following are some templates provided for you:
Template
Review the following template and use it as a reference to write your own letter of recommendation for an employee. Alternatively, you can personalize this template and include the specific information that suits the person you recommend making your letter unique and customized for the job.
[RECOMMENDER'S NAME]
[RECOMMENDER'S POSITION]
[OFFICIAL BUSINESS ADDRESS]
[CURRENT DATE]
[RECEIVER'S NAME]
[COMPANY NAME]
[ADDRESS]
Dear_____________ [receiver's name]/ To Whom it may Concern,
I am delighted to recommend_________ [applicant's name] for_______________ [applicant's target position] at your company. [Applicant's name] has worked with us at____________ [your company's name] as a_____________ [Applicant's former or current job title] for__________ [Mention the duration] and he/she has been reporting to me in my position as the overall department supervisor.
Ever since he/she joined this company, he/she has proved to be an invaluable asset to the organization, and she has played a key role in helping this company achieve most of its key goals. _ [Applicant's name] is an excellent communicator (both verbally and in writing), is extremely organized, and can work under minimum supervision. Beyond that, ___ [applicant's name] is honest, dependable, hardworking, and can take the initiative to complete even the most complex of tasks, and this makes it pleasurable to work around her. Everyone in the company adores how_____________ [applicant's name] is able to draw inspiration from any challenge that he/she faces, rather than being intimidated by them.
At one point, _[applicant's name] professional etiquette and expertise in problem-solving proved to be pivotal in solving a consumer complaint issue for our entire company. Not only did [he/she] put this skillset to work, but [he/she] also led a campaign to help redeem our company's reputation. Moreover, she spearheaded a series of training sessions to educate the rest of the team on handling consumer complaint issues to achieve customer satisfaction. This helped increased our overall sales by 30% and our profit margins by 18%.
Along with ___ [applicant's name] undeniable talent, he/she has always been a great team player, always fostering discipline and positive discussions to help bring the best out of everyone. Given the above-mentioned reasons and countless other reasons, I strongly recommend___________ [applicant's name]to join your company. Frankly stating, I wouldn't have let him/her resign from her current position if my company was able to offer her the career fulfillment goals that he/she is hoping to get from your company. I hope that you consider him/her for the job.
I would be happy to offer any further information that you may need concerning_________ [applicant's name] qualifications. Feel free to contact me at_______________ [Provide your reliable phone number or email address].
Sincerely,
[RECOMMENDER'S NAME AND JOB TITLE]
[SIGNATURE]
Sample Letter
Below is an example of a letter of recommendation.
July 2, 2018
Mr. John Brown
Manager
Trent Electronics Inc.
4321 X Street, CA
Los Angeles, CA 90005
Dear Mr. Brown,
It is with tremendous delight that I recommend Jennifer Atkinson for the position of Sales Manager at Trent Electronics Inc. I have had the pleasure to work with Jennifer for six years at Joe and Sons Company Ltd. as her supervisor. She used her excellent skills and ideas as the Assistant Sales Manager to ensure everything was up and running in her department. I am sure that Jennifer's professional excellence and abilities will positively impact Trent Electronics Inc.
As the Assistant Sales Manager, Jennifer ensured that we always hit our sales targets. She used her leadership skills to aid in managing the sales team. Above all, she was admirably keen on the details regarding monitoring sales representatives.
To top it all up, Jennifer had an extraordinary level of curiosity. The trait enabled her to be productively inquisitive. She was very modest, a characteristic that won us numerous clients. She was also extraordinarily hardworking and focused.
Unfortunately, due to a lack of growth opportunities here at Joe and Sons Company Ltd., we are forced to let go of our most celebrated employee. Jennifer's departure is quite a blow on our end. However, we believe that she has a better place with you at Trent Electronics Inc.
I confidently recommend Jennifer for this role. She will undoubtedly make a positive impact on your company. Please do not hesitate to contact me regarding Jennifer's credibility and previous work.
Sincerely,
M.C.
Michael Cole.
Writing a letter of recommendation for an employee to endorse them for a particular job is a significant undertaking, and recommenders should take their time to fully understand the elements needed to craft an effective one. Whereas the specifics of the letter may vary, strong recommendation letters for an employee tend to share certain common features, such as the general structure of writing and formatting tips. This article has provided you with a detailed guideline for writing an effective reference letter and the essential tips to write an effective letter of recommendation for an employee.