Budgeting is important to survive in the age of modernization and information technology. Everyone should have basic knowledge of finance, which can at least assist him or her in keeping the debts at bay. People spend beyond their limits and end up in debts, which is impossible to pay off if they do not have a budget and planning in mind. Yearly planning for budgets is extremely crucial. Without an appropriate budget, it is hard to know which category requires urgent attention and which can assist in saving the extra amount per year.So, It is easy to plan and summarize all with the yearly budget template.
Personal Yearly Budget Templates
Personal Yearly Budget Templates are available on Excel format and are free to download. It is wise to keep the budgets and plan them accordingly.
Blank Yearly Budget Template (Spreadsheet)
This particular template gives information on income, home expenses, transportation, and utilities. There are sub-categories and space for entering the relevant amount.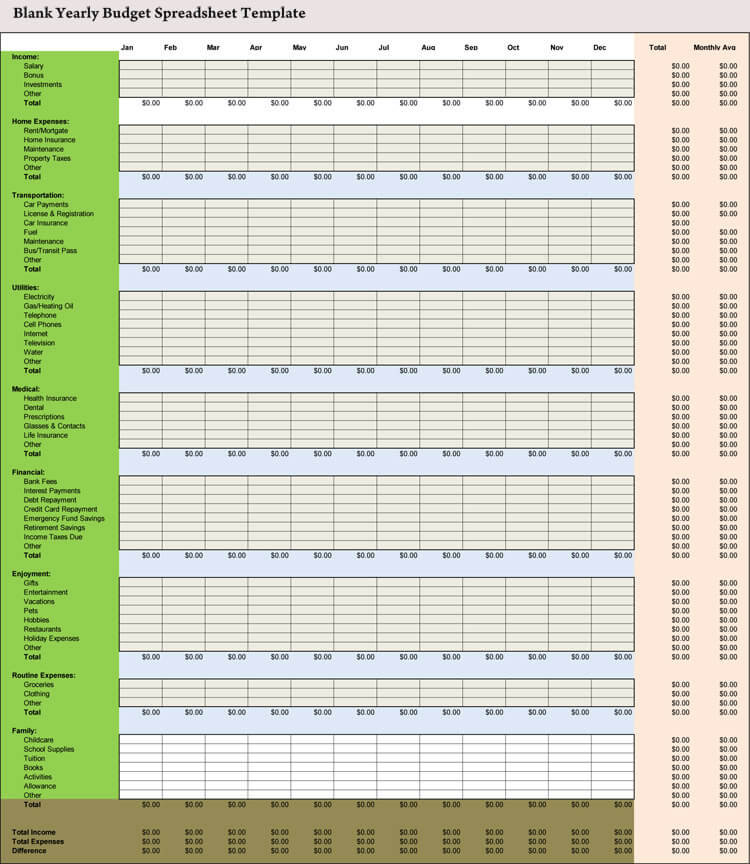 Free Yearly Budget Template
This particular template depict information about starting balance, which states the total income and total expenses. An individual by using this particular sheet would get an idea about the projected end balance. It takes into account categories for income in case if there is more than one earning member in the family. It also provides information on the home expenses as well, which depicts sub-categories and blank spaces against each category to present the financial information.
Sample Yearly Personal Budget Template
This particular template provides information on the income and takes into consideration the savings goals. It takes into account the relevant expenses. It is amazing how some people might have no idea about how finance works but they would still be able to extract the relevant information by inserting the required information in the templates.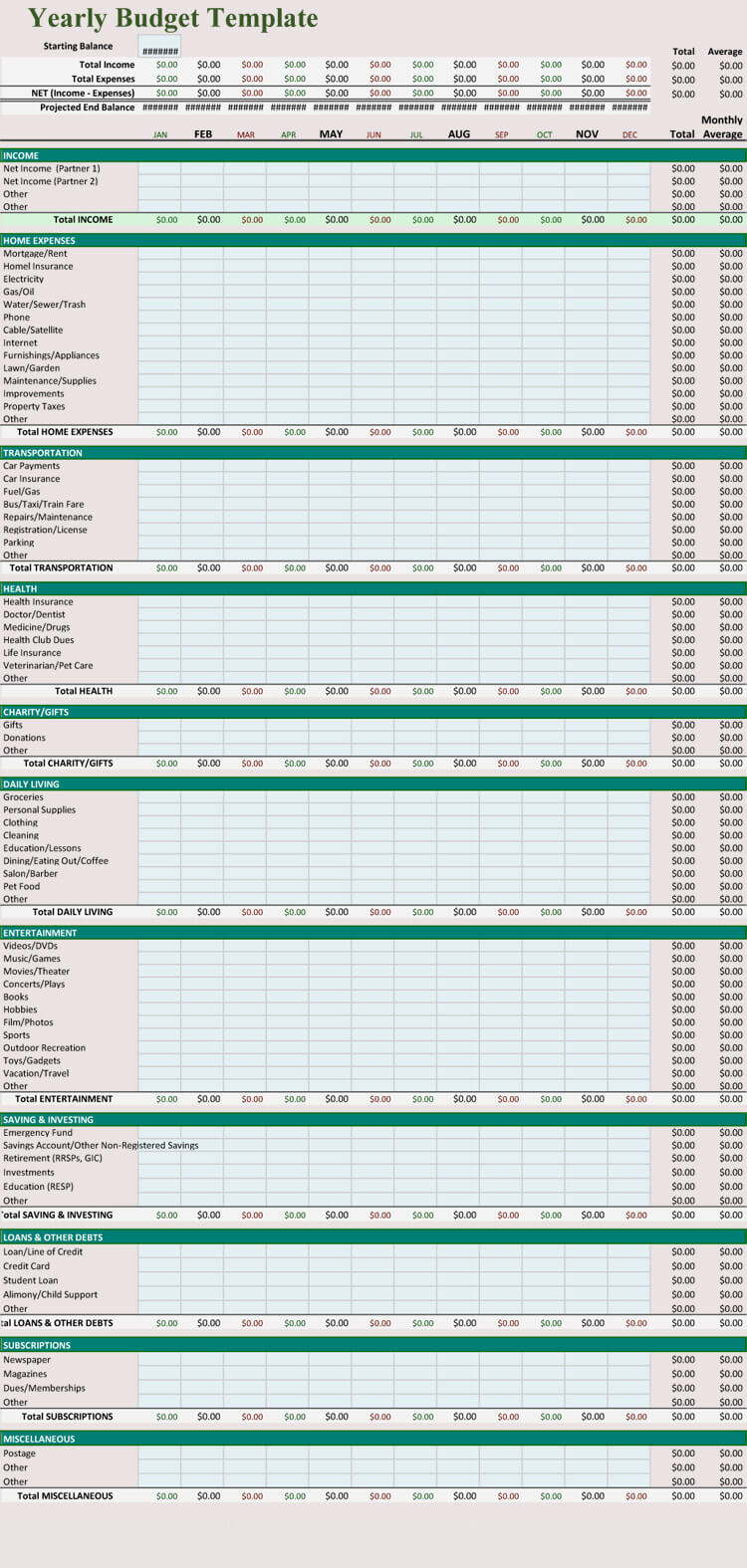 Home Yearly Budget Worksheet Template
This particular takes into account net income, expenses, and the other relevant information. There is interesting information to include like take-home pay, gifts received, and so much more.
Personal Yearly Budget Template
This particular template gives information about income, which includes salary, pension income, state benefits, investment income, other, and a total of these values. It gives information on the household expenses and financial as well.
Reasons to Use Yearly Budget Template
Budget Templates are important because they give information on the financial situation and the overall financial health of a person or a company. All the companies have annual reports and they want to display their financial information. It is wise if people do the same for households as well. They should make budgets at the beginning of the year and compare the estimation with the actual in order to get an idea whether they are able to follow the budgets accordingly or not.
Final Words
Free templates are available to download, which can be of great assistance to anyone who wants to get an idea about the overall financial situation and standing over the years. Always make the budget and find out which areas are avoidable for excess spending in order to maximize the overall savings during the year.