At times in life, you may find you are unable to pay a bill that then goes to a debt collection agency. Once this has happened, you can enter into a payment agreement or offer a lump sum payment to clear the debt. This can be done using a debt settlement offer letter.
This is a form that is used when the debtor and creditor want to agree to new terms in settling the outstanding debt. The letter is usually sent by the debtor to the creditor and may offer a lump sum that is not the full amount, but one that is agreeable to the creditor to accept and release the debtor from the burden of having to pay the full amount of the debt. Once a debt settlement offer letter has been accepted, the debtor and creditor can draw up a written agreement or receipt for their records.
How to Write a Debt Settlement Offer Letter
When you sent a debt settlement offer letter to a creditor, it's important that you explain to them how you plan to settle your debt, along with any payment amounts and scheduled dates. This should be done using a formal tone, and you should also include what you are expecting from your creditor. There are some key details that all debt settlement offer letters should have:
The full name used for the credit account
Your full address
Your account numbers or a reference number from the creditor
This information is what your creditor will need to pull up all of the relevant details of your account with them.
Make sure your letter has:
Header – this should include your full name and address, as well as the date that the letter has been written.
Body – this is where you will explain the details of your settlement offer (amount, dates of payments you will make, and how they will be made) and what you are expecting from your creditor.
Contact – your contact details, including a current phone, mobile, and e-mail address.
Closing – this is where you will sign the letter
Make sure that your creditor has accepted your offer and does so in writing before you make any payments to them. Be sure to keep this confirmation in a safe place because it is your proof of the agreement should a dispute should arise.
Note: Settling a debt early (not paying it in full), will show up on your credit report as a partially settled debt, and not a fully settled one. This can have an impact on your credit score and obtaining credit in the future.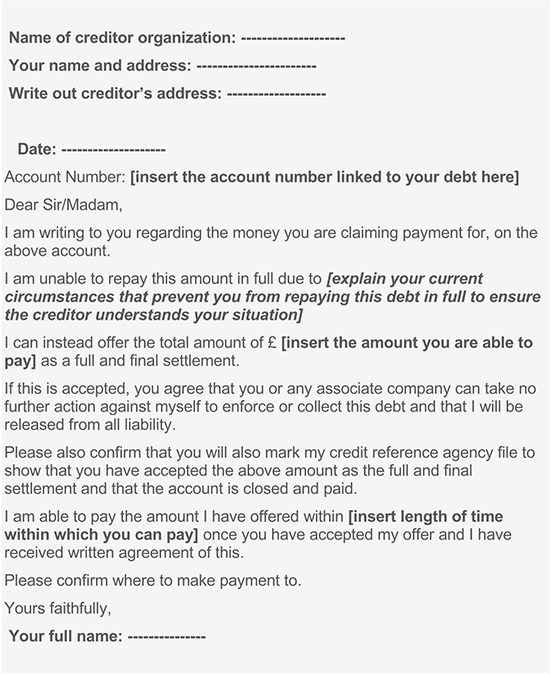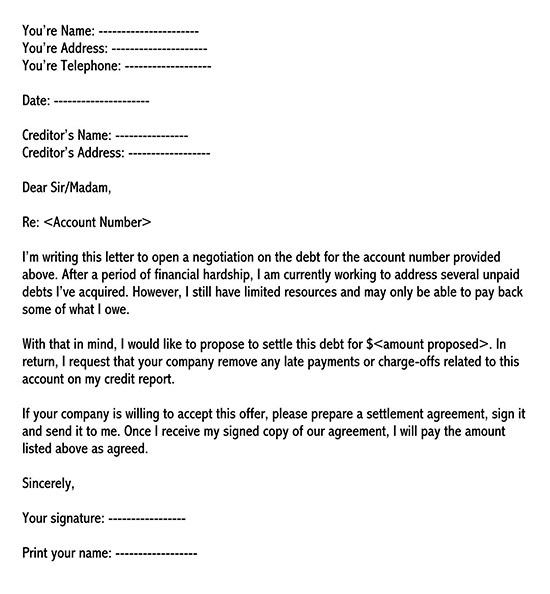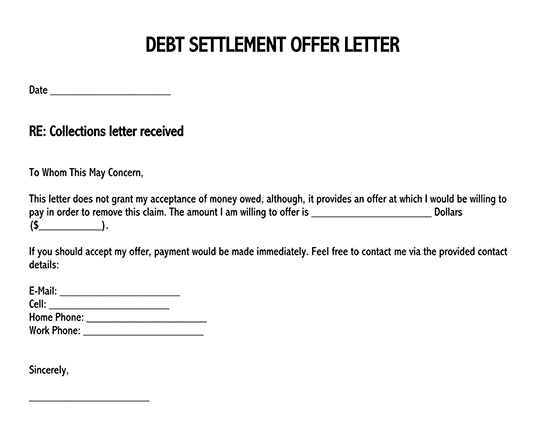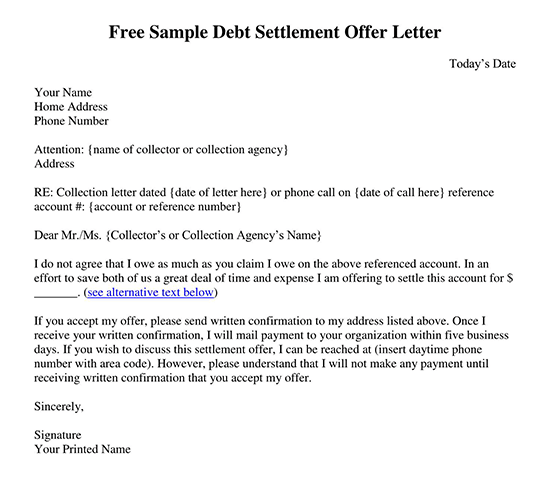 Law Around Debt Settlement Offers
One main question people ask is whether a creditor can try to claim the balance of a debt that was partially paid and accepted as releasing the debtor from the debt. When a creditor agrees to do so, they are considered to be estopped from being able to claim the remainder of the debt. Estoppel occurs when a debtor has relied on the creditor's release agreement, making it unjustified for them to go back on that agreement. This is why it is important to have a written copy of an offer of acceptance from the creditor as proof, to stop them from trying to come back and claim the balance afterward.
Frequently Asked Questions
What is an acceptable payment settlement offer?
Typically, an offer of between 30% of the debts outstanding balance should be made to a creditor for them to even consider it. The cre4ditor will normally come back with a counteroffer of 50%.
How long will a debt settlement stay on my credit report?
Negative marks on your credit report, such as a partial debt settlement, can stay on your report for 7 years.