Construction costs are multi-faceted and calculating accurate outgoings for a construction project is key to keeping the construction costs from blowing out to stratospheric proportions. Whether you are budgeting for a private construction project or a commercial construction project a Construction Budget Template is a simple way to start your project off on the right foot.
Commercial Construction Budget Template
A commercial construction and renovation budget planner spreadsheet provides a framework for details the costs that will be incurred by all of the foreseeable facets of your commercial construction project.
Commercial construction budgeting involves a variety of costs that are not incurred when budgeting for a residential project and your budget needs to reflect that.
A template can help you draw together all the financial factors of a commercial construction project easily.
Commercial construction templates are a great way to professionally present a project budget for an internal audience or as part of a presentation to a third party.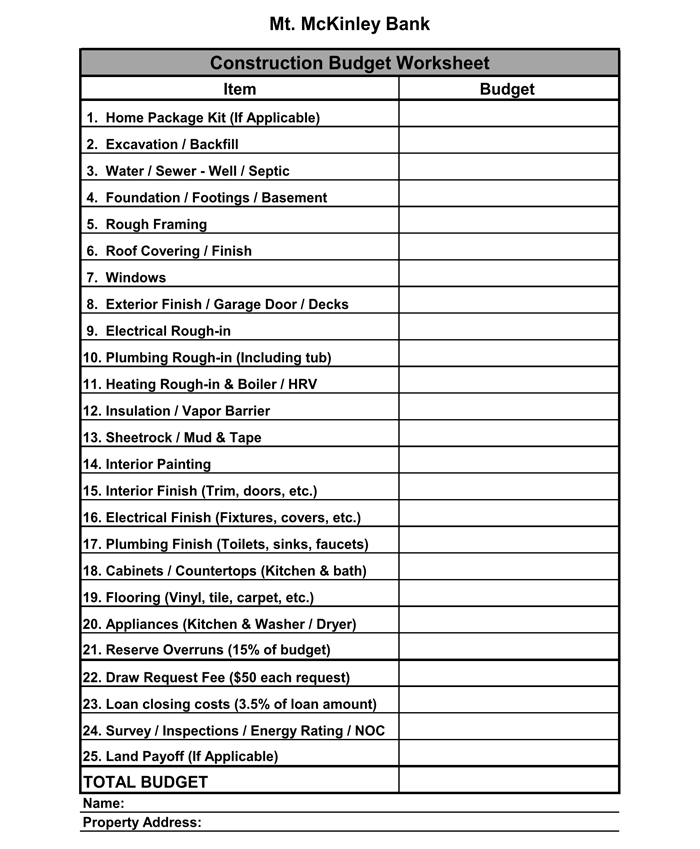 Construction Project Budget Spreadsheet
Residential Construction Budget Spreadsheet
A Residential Construction Cost Estimator Excel Sheet uses formulas and clear formatting to estimate the costs of construction.
Excel is a great resource for budgeting but using the program as a novice can be fraught with difficulty unless you use a well-made template as your guide.
When you are looking for a budgetary format that allows you to quickly input and alter data for your construction you can't go past an excel sheet.
When you are building a new home it's important to use cost effective budgeting tools such as a pre-formatted excel sheet.
New Home Construction Budget Form
Construction Costs Estimates vs Actual Spreadsheet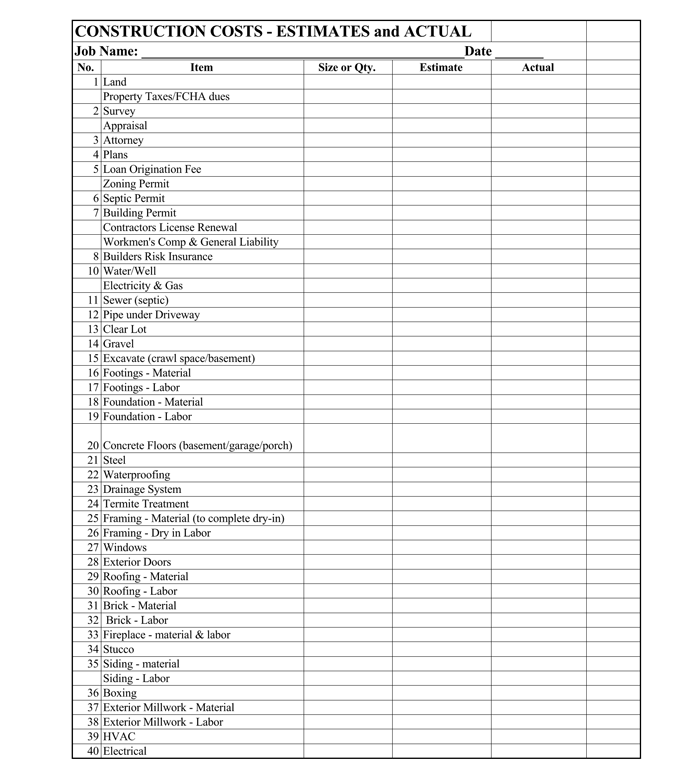 Construction Cost Estimator
Construction estimating spreadsheet template allows those executing a construction project to preemptively estimate a budget.
A spreadsheet template is a powerful tool when coming up with a construction estimation due to its flexibility and functionality.
Inputting the data from the construction quotes you have collected is made simple with a construction estimating spreadsheet template.
Estimating your construction budget can be difficult, but using a spreadsheet to objectively evaluate your construction expenses.
Building Construction Cost Estimator
A Building Construction Estimate Spreadsheet uses your budgetary data to estimate and track your construction costs.
An easily generated and alterable estimate spreadsheet can make the budgeting process simple and effective.
Comparing estimates and actual costs once the project is completed is easy when you use an easily compatible estimator like a spreadsheet.
Building construction costs can blow out quickly without an effective initial estimate that can help you stay on target.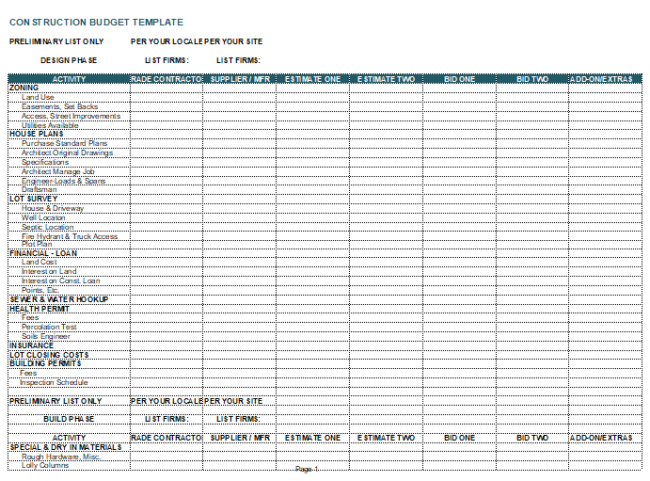 5 Steps to Follow While Budgeting for Construction
Find the Right Design Professional – You might need help if you don't know where to start with your construction and finding the right design professional put together your construction design is crucial. Getting a quote from your design professional is important when budgeting for your construction project.
Plan your Building – Work with your designer to create a great building plan, from there you can begin to estimate other costs associated with the building.
Find the Right Contractor – Getting a quote from your building contractor is another piece of the construction budget puzzle. Finding a great contractor can be fraught with difficulty, so it's important to make sure that you check the reviews and reputation of the contractors you are considering.
Price Your Materials and Permits – There are so many quotes you need to secure for materials and the more suppliers you contact, the better chance you have to get a great price. There will also be building permits you will need to get prices for and other associated council taxes and fees, make sure you factor these into your budget.
Create a Detailed Budget – Using a construction budget template, systematically fill out the budget, ensuring that you include all of the information you have collected, allowing you to tweak the budget to suit your choices and preferences.