A construction budget template is a document that contractors can use to create a construction budget to document a construction project's financial and logistics aspects.
Through a construction budget, contractors can break down the cost implications of each stage of the project cycle.
A construction budget is an important management tool that helps contractors plan and organizes different construction requirements. Construction projects are time and cost-sensitive. Therefore, contractors use a construction budget template as a guide to ensure they meet deadlines and avoid going overboard in terms of costs and schedule.
A construction budget template is also used to define the project's scope; therefore, the contractors and developers can anticipate the total costs associated with the project and ensure the project's benefits outweigh the costs. Developers such as a government body, bank, or private investor are only interested in projects with tangible and/or intangible returns/benefits, and if the profitability cannot be proven, they will more than likely not invest in the project.
Accounting is vital in project management. A construction budget template becomes important in ensuring resources are appropriately distributed and act as proof of allocation to the client or developer.
A construction budget is used in optimizing project execution by outlining the level of skill, type of technology, and equipment required at every phase of the project cycle. This ensures productivity and efficiency are enhanced while the cost estimates remain within limits.
Free Templates
Our professionally designed construction budget templates are available for free download, providing you with a convenient and efficient solution to effectively manage your construction project's finances. These templates offer several technical benefits, such as streamlining the budgeting process, ensuring accurate cost estimation, and facilitating better project control.
Phases in the Construction Project
Completing a construction project is achieved in phases that together make up the construction project life cycle. There are six fundamental phases from the pre-construction stage up to the completion of a project. They include;
Pre-project phase
Planning and design phase
Contractor selection phase
Mobilization phase
Operations phase
Project closeout and termination phase
Categorizing Costs of a Construction Project
In construction, there are different types of costs associated with a construction project. Therefore, when contractors calculate their construction budget estimates, they can adopt either of the following methods of budgeting;
The most common method of estimating the construction budget costs is categorizing costs into hard or soft costs.
Soft costs
Soft costs, also known as "intangible" costs, ordinarily take up 30 percent of the total costs of the construction costs. Softs costs are incurred before and/or after the project. They are used to cover costs that are not directly related to the construction of the project. Such expenses include insurance, legal assistance, permits, design fees, e.g., architect fees, accounting consultants, taxes, and other services needed pre-and post-construction. Post-construction costs include maintenance, insurance, taxes, and security costs. Soft costs are difficult to estimate, unlike hard costs.
Hard costs
Also referred to as "Brick-and-Mortar" costs are expenses of materials, equipment, and labor directly linked to the physical construction of the project, acquisition of the site, and landscaping. They make up to 70 percent of the overall costs. They are used to acquire materials such as metal, wood, lifts and cranes, wages – site excavation, carpentry, landscaping, etc. – mechanical and electrical equipment such as HVAC systems to be installed during the project. Hard costs are tangible as they are attributed to physical items, which will generally be at fixed costs. As a result, hard costs are easier to pre-determine and control. The hard costs of similar projects will vary from one project to the other as they are dependent on regional labor rates and material expenses.
Cost code
Alternatively, contractors can use the cost code method. A cost code method groups different costs based on their function or nature and assigning a "code" to each group of costs. This way, contractors can organize the costs of a project into specific categories that serve a common objective. Construction activities that can be assigned a code are laying sewer pipes, digging trenches, installing connections, and painting. A cost code allows the contractor to accurately determine how much each specific task costs and they can therefore compare it to what was initially allocated to that task. Costs codes can be used in providing accurate decision-making figures during the budgeting process.
What to Include in a Construction Budget Template
Construction projects will vary in size, type, scope, and complexity, and so will the construction budgets associated with the projects. However, a construction budget template will have key cost considerations that are associated with common construction projects. Common components of a construction budget template are as illustrated below;
Property costs
Construction projects require space for construction which comes at a cost. The property costs include the cost of land acquisition, real estate fees, and property taxes. These costs vary depending on the site location, desirability, and the project size and scope. Land value will be higher in some locations than in others; this should be considered to ensure the construction is financially feasible.
Foundation of the project and the property
Creating a solid foundation for the project comes at a cost. The foundation step involves a wide range of activities such as soil analysis to determine soil conditions, excavation, and ground stabilization. Costs associated with this step should be included in the construction budget template.
Material costs
Material costs will often take up a significant portion of the construction project budget. Since they are meant to cover a wide range of items, caution should be taken when estimating values and during calculations because errors in this section can lead to budget inflation which might be difficult to trace. The best way to determine estimates is through consultations with professional estimators and asking for quotations from different suppliers and subcontractors. This way, a contractor can compare prices from different suppliers and select the most affordable quality materials. Material costs effectively implement cost-cutting solutions in the construction budget template through negotiations with suppliers. Material costs are often seen during the mobilization and operations phases.
For example:
Site preparation – In acquiring drains, paving materials, pipes, and landscaping materials such as plants and fertilizer.
Construction – In acquiring exterior materials such as roofing, doors, windows, paint, framing materials, etc., and interior materials such as floor-to-ceiling heights, mechanical systems, insulation (sound and temperature), etc.
Labor costs
Individuals working on the project need to be compensated for their time and effort, and a construction budget template should include the compensation costs associated with this labor. Laborers in a construction site include subcontractors, equipment operators, handypersons, tradespeople, and other employees working directly on the site. Labor costs entail compensation for hours worked, vacation and sick time, payroll expenses, and compensation costs for workers and subcontractors. Non-productive and re-work costs can also be included under labor costs.
Professional fees and services
Inevitably, throughout the project life cycle, a contractor will have to engage different professionals through consultations and services. Professional fees and services will vary depending on the scope of the construction project.
These costs are inclusive of:
Design services – architect fees, engineering design, and approval/stamp fees from structural, mechanical, and electrical engineers.
Costs associated with permits such as building and occupancy permits, land disturbance, environmental permits, department of transportation permits, etc.
Survey fees, including studying and testing fees associated with environmental approvals
Banking, accounting, and real estate fees
Local waste disposal fees
Most professional fees and services usually are incurred pre-construction. However, additional fees may be applicable once construction begins. For example, post-construction accounting fees may be applicable for auditing services under professional fees. The construction budget template should include inspection fees after the project has been completed.
Professional liability insurance and bonds
All construction projects have to be insured, and as a result, any costs associated with liability protection should be included in the construction budget template. Other than the liability insurance costs, some construction projects may be required to pay a deposit or professional bond to guarantee that the developer will undertake the project. Payment and performance bonds are often needed for government projects. Bonds act as security to ensure that all suppliers, subcontractors, and tradespeople will be paid. This way, there are no liens on the construction project on completion. Insurance can be general liability insurance, job-specific or business-specific. Standard policies will cover builder's risk, flood, wind, and fire accidents.
Contingency allowances
The construction budget template should allocate funds for contingency allowances. These are costs associated with unforeseen expenses. By the rule of thumb, a contractor can allocate at least 5% or between 3 to 10 % of the project budget for contingency allowances. With a contingency allowance in place, the project does not have to be delayed due to insufficient funds to address an unprecedented event.
These unexpected costs may be due to:
Adjustments to the initial scope of the budget
Variations in soft costs
Accidents, risks, and natural hindrances such as floods
Malfunctions and breakdowns of equipment and machinery
Any unforeseen event
Equipment and tools costs
Construction requires the utilization of different equipment and tools to serve different purposes in construction, such as concrete mixing, grading, leveling, excavation, demolition, and lifting. Contractors should list the type and number of equipment to complete different tasks. Multi-purpose equipment and tools are desired. Costs associated with equipment and tools are rental fees, delivery fees, operating fees (operator wages), fuel costs, and applicable maintenance and repair costs. If the equipment is to be bought, it should include the purchase; this is often seen with projects that run for a long time where renting will be more costly than purchasing.
Utilities and taxes
Constructions projects will require utilities such as water, gas, sewer, and electrical installations. The construction budget template should include permit and hookup fees associated with the utilities. Also, associated local and state taxes should be factored in the construction budget. Utilities and taxes expenses will depend on the region, type, and scope of the project.
HVAC
Costs associated with heating, ventilation, and air condition ought to be factored in the construction. These costs will vary with type, occupancy, dimensions of the building.
5 Steps to Budgeting for Construction
Mentioned below are five steps that contracts can follow when budgeting for construction:
Find the right design professional
You might need help if you don't know where to start with your construction and finding the right design professional to put together your construction design is crucial. Getting a quote from your design professional is important when budgeting for your construction project.
Plan your building
Work with your designer to create a great building plan, from there you can begin to estimate other costs associated with the building.
Find the right contractor
Getting a quote from your building contractor is another piece of the construction budget puzzle. Finding a great contractor can be fraught with difficulty, so it's important to make sure that you check the reviews and reputation of the contractors you are considering.
Price your materials and permits
There are so many quotes you need to secure for materials and the more suppliers you contact, the better chance you have to get a great price. There will also be building permits you will need to get prices for and other associated council taxes and fees, make sure you factor these into your budget.
Create a detailed budget
Using a construction budget template, systematically fill out the budget, ensuring that you include all of the information you have collected, allowing you to tweak the budget to suit your choices and preferences.
Free Construction Budget Templates
Commercial Construction Budget Template
A commercial construction and renovation budget planner spreadsheet provides a framework for details the costs that will be incurred by all of the foreseeable facets of your commercial construction project. Commercial construction budgeting involves a variety of costs that are not incurred when budgeting for a residential project and your budget needs to reflect that. A template can help you draw together all the financial factors of a commercial construction project easily. Commercial construction templates are a great way to professionally present a project budget for an internal audience or as part of a presentation to a third party.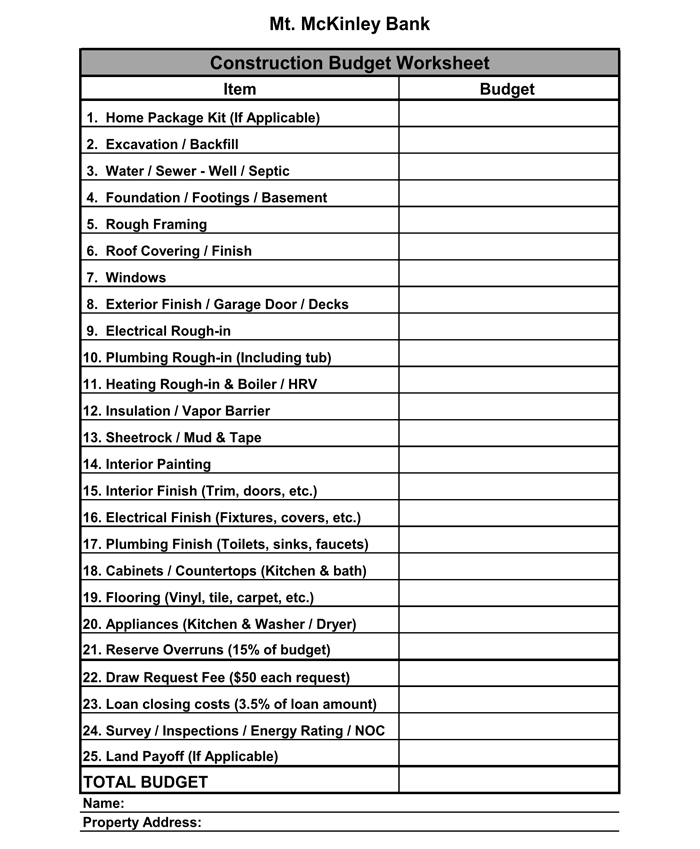 Residential Construction Budget Spreadsheet
A Residential Construction Cost Estimator Excel Sheet uses formulas and clear formatting to estimate the costs of construction. Excel is a great resource for budgeting but using the program as a novice can be fraught with difficulty unless you use a well-made template as your guide. When you are looking for a budgetary format that allows you to quickly input and alter data for your construction you can't go past an excel sheet. When you are building a new home it's important to use cost-effective budgeting tools such as a pre-formatted Excel sheet.
Construction Cost Estimator
Construction estimating spreadsheet template allows those executing a construction project to preemptively estimate a budget. A spreadsheet template is a powerful tool when coming up with a construction estimation due to its flexibility and functionality. Inputting the data from the construction quotes you have collected is made simple with a construction estimating spreadsheet template. Estimating your construction budget can be difficult, but using a spreadsheet to objectively evaluate your construction expenses.
Building Construction Cost Estimator
A Building Construction Estimate Spreadsheet uses your budgetary data to estimate and track your construction costs. An easily generated and alterable estimate spreadsheet can make the budgeting process simple and effective. Comparing estimates and actual costs once the project is completed is easy when you use an easily compatible estimator like a spreadsheet. Building construction costs can blow out quickly without an effective initial estimate that can help you stay on target.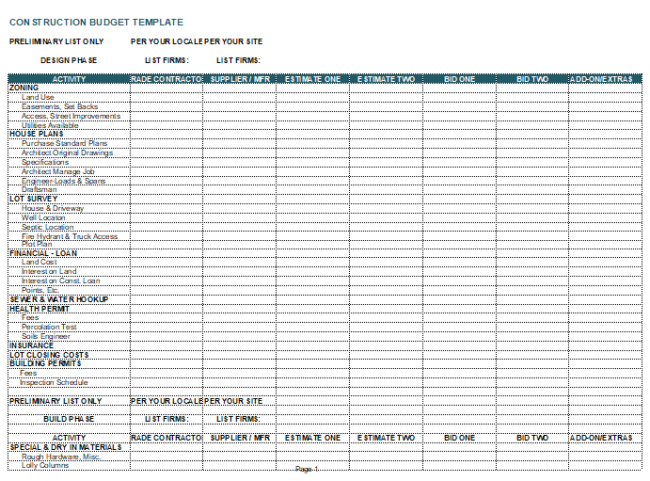 Budgeting is an essential step in the planning and execution of construction projects. A contractor can communicate to the project developers how much money has been allocated towards different activities and materials necessary for completing the project in question through a budget. Contractors can use a construction budget template to break down project expenses. Costs associated with construction projects can be categorized as hard costs and soft costs. Common components of a construction budget are property costs, material costs, labor costs, professional fees and services, professional liability insurance and bonds, contingency allowances, equipment and tools costs, utilities and taxes, HVAC systems installation. A construction budget template should factor in pre-and post-construction costs. Having a construction budget helps the contractor stay on schedule and remain within the constraints of the available funding.