In the past, babysitters had a fairly casual working relationship with their clients, and rarely required contracts to solidify the scope of their job. These days, however, babysitters are required to draft contracts so as to minimize liabilities, define the scope of their responsibilities, and legally safeguard themselves from any potential action being taken against them. Additionally, babysitters may charge per session or may draw up a contract for a number of sessions at a time, depending on the relationship they have with their client. Furthermore, the contract will govern the nature of the job, i.e., the method of transport, the hours for which the babysitter will be needed, emergency contacts and protocol, and any other terms the clients may insist upon.
Babysitter Contract Template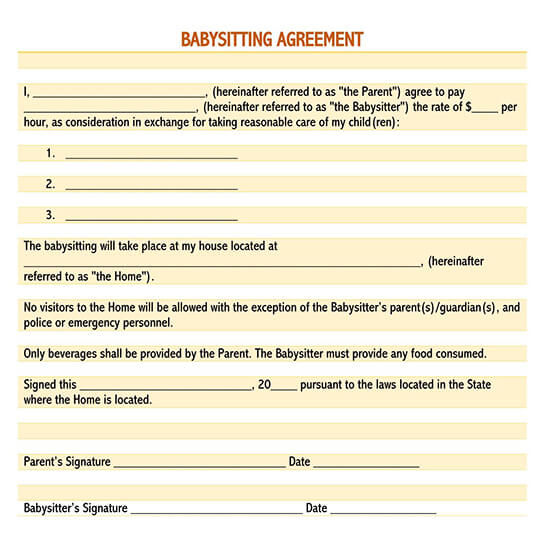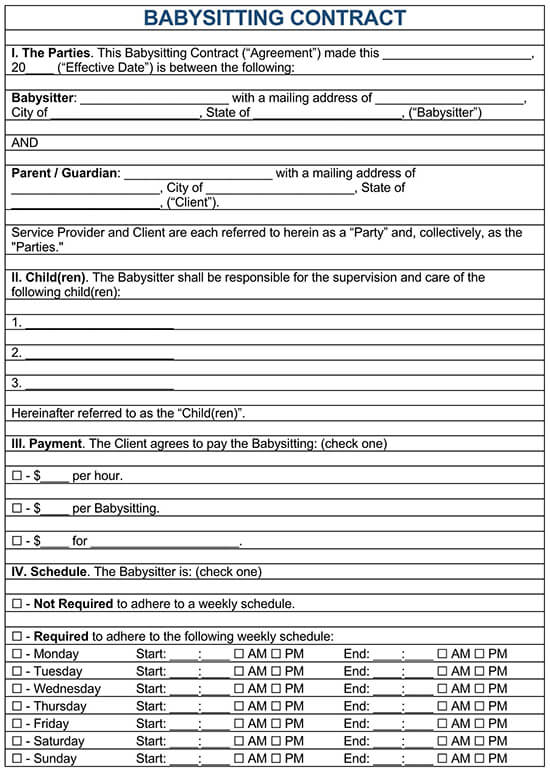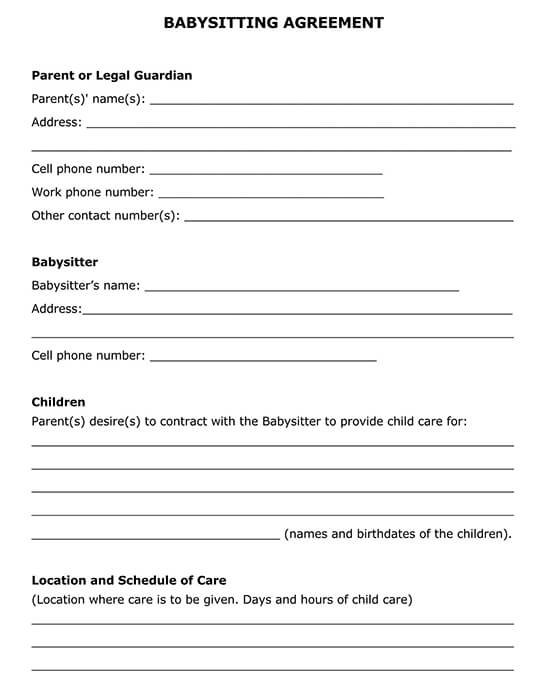 Drafting a Babysitter Contract
When a babysitter offers to work for a client, they act in the scope of an independent contractor. As a result, many of the specifics of the job itself must be negotiated between the client and the babysitter, and are essential to drafting a legally valid babysitter's contract. Here are some tips to get started with drafting your own babysitters' contract;
The Purpose of a Babysitter Contract
The first paragraph requires you to make a formal declaration of the purpose of the agreement itself, along with adding the date on which the contract is signed. Additionally, the parties need to be clearly identified, and the babysitter, as well as the client's full names, should be printed. In some cases, clients may require personal information, such as an address, marital status, phone number, etc., but this isn't technically a legal requirement. Make sure to speak with your client to see what exactly they would need!
The next section will need to establish the relationship between the children and the client – This pertains, primarily, to whether they are the parents or legal guardians of the child. They will need to declare their relationship and print their names and their address(es).
Details Concerning the Children, Babysitter and the Parents
The children that are to be placed in the care of the babysitter will also need to be identified. Additional details, such as age and gender, will also be required. If multiple kids are being taken care of, leave sufficient space to list all their names!
Payment will also need to be sorted out. Typically, babysitters are independent contractors and so charge either per session or per hour. Once you are sure of how you'd like to charge your client, you'll need to add a section that covers the terms of payment and lists your charges.
Many parents/guardians will have babysitters create schedules and make a comprehensive list of responsibilities. In a babysitters contract, you will need to add a section that explicitly describes the babysitter's responsibilities, Many parents will expect a schedule and so, it should be attached in this part of the contract. In case the child in care has special needs and/or the parents/guardians have made special requests be sure to add it into this section of the babysitter's contract.
A disclaimer section is very important and is the final bit that needs to be drafted. This is very important, as it protects babysitters from potential liabilities later down the line. In this section, parents must be asked to list any allergies or health problems the child may have. Failure to do so makes the parents, and not the babysitter, legally vulnerable in case of any potential instance of negligence, misconduct, etc.
Finally, the babysitter should add a timeframe within which the contract will be active. This is as simple as stating a start date and an end date. Make sure to speak with your clients, as any additional clauses will have to be added before this, and the necessity for such clauses often varies on a case-to-case basis.
To formalize the document, each party that is subject to it, i.e., the parents/guardians and the babysitter must print their signatures, along with the date of signing.
We've used the aforementioned tips to draw up a template that can be used as a reference for future babysitter contracts! Be sure to add any pertinent clauses to the template below;
BABYSITTER CONTRACT AGREEMENT
I. The parties, i.e the "Client" and the "babysitter, hereby agree to the following terms and conditions of the babysitting contract. (Some clients may ask for addresses, so be sure to add space for that if required!)
II. For the specifics and purposes of this agreement, the Client, living at ________________________________________________ wishes and agrees to contract the babysitter to fulfill the role of a babysitter, whilst caring for the following wards;
> [Name 1]
> [Name 2]
> [Name 3]
III. For these services, the client agrees to pay the babysitter in one of the following manners;
A fee of $xx per hour YES _ NO_
A fee of $xx per session YES _ NO_
A fee of $xx YES NO__ (this part is used to total up costs, in the case that the babysitter is taking care of multiple children.)
IV. The babysitter and client hereby agree to the following schedule;
_ Monday Start Time _ AM_ PM__ End Time AM PM _ Tuesday Start Time _ AM _ PM__ End Time ___AM PM _
_ Wednesday Start Time AM PM__ End Time _ AM_ PM _ Thursday Start Time AM PM__ End Time _ AM_ PM _ Friday Start Time AM PM__ End Time _ AM_ PM _ Saturday Start Time AM PM__ End Time _ AM_ PM _ Sunday Start Time AM PM__ End Time AM_ PM __
V. The client and the babysitter hereby agree to the scope of the role of babysitter, as per the following responsibilities;
(a) General care and supervision of the children specified according to the timings listed under Section IV.
(b) (Any special requests, such as picking the children up, dropping them off or taking them to classes and/or participate in extracurriculars may be listed here.)
VI. The client, to the best of their knowledge, acknowledge the following pre-existing health conditions;
________________________________________________
(The clients must list any allergies, mental or physical conditions and any special needs the children may have here.)
VII. This agreement is scheduled to commence on _ and subsequently end on
VIII. (Any additional terms and conditions or clauses may be added here. Once again, we recommend speaking to the clients first to see if there will be a need for such additions.)
IX. This agreement hereby represents a Babysitters contract between the aforementioned parties and is a comprehensive understanding between the two parties. Subsequently, it supersedes any prior contractual agreement between the two parties mentioned, i.e., the "client" and the "babysitter."
Client Name Client Signature _
Babysitter Name Babysitter Signature ____
Date Date
Frequently Asked Questions
How much does a babysitter usually cost?
On average, babysitters expect to be paid anywhere between $15-$20, depending on your locality. Expect the price to rise in urban centers and hotspots, with prices typically being lower in rural areas. Keep in mind that it may be slightly cheaper if you are enlisting a babysitter for more than one child, as the median cost typically falls at $26.8/hr for two children.
What are the duties of a babysitter?
Babysitters are expected to supervise, oversee, and take care of children when their parents are away and/or busy. As a result, they typically spend time with the children at the child's residence and engage in the appropriate activities. These, of course, vary from age groups. General Convention also dictates that babysitters engage in extracurricular activities with children to keep them occupied, assist with homework if needed, and in some cases, prepare meals for the children.
How to find a babysitter?
Babysitters, unlike most other industries, have yet to migrate to a digital platform that helps clients find babysitters. It is an intimate job, as the parents/guardians need to be able to trust the sitter with their kid(s), and so, the recommended way would be through word of mouth and/or referrals. Ask around in your locality and amongst your social circle to see if they would happen to know a babysitter in your area!