When you sell or purchase a motor vehicle in the state of Oklahoma, you will need a vehicle bill of sale for Oklahoma.
A Bill of Sale in Oklahoma acts as a receipt and as a legal document that can be used for proof of ownership. It also protects both the seller and the buyer from liability should there be an issue involving the vehicle.
For example, if the vehicle was in an accident after it was purchased, the seller can use the vehicle bill of sale for Oklahoma as proof that they were not in possession or ownership of the vehicle at the time.
A bill of sale for Oklahoma is also needed when the buyer is registering and titling the vehicle in their name.
Customizable Bill of Sale Forms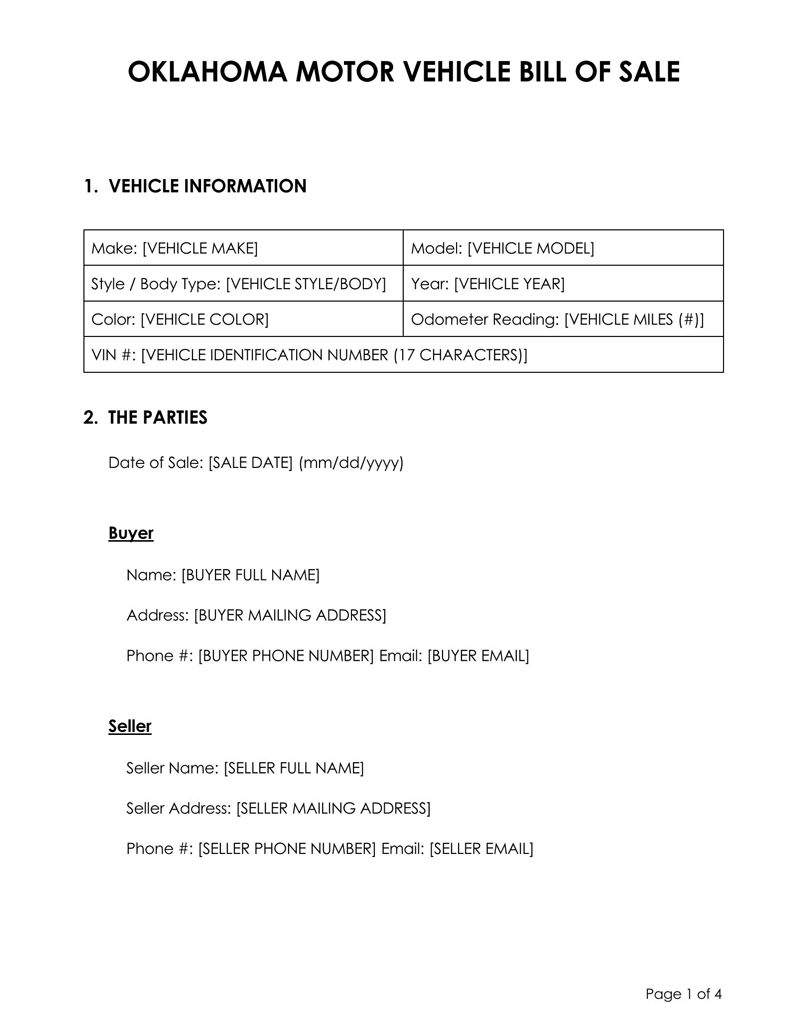 Other Documentation
When selling/buying a vehicle that is under 16,000 pounds in weight or under 10 years of age, you will need to have an Odometer Disclosure (Form-729). Ohio State and Federal law require that this information be disclosed at the time of sale and failure to provide this can have criminal penalties.
If you are registering a vehicle for another, you will need to complete Form BT-129 (Power of Attorney) which gives authorization to an individual to do so.
Creating a Vehicle Bill of Sale in Oklahoma
The state of Oklahoma's motor vehicle department provides Form 722-1 (Declaration of Vehicle Purchase Price). You can also use your own template or create your own bill of sale. The document must have the following required information:
The date that the sale took place
Both the buyer and seller's legal full names
The legal mailing address and contact details of both the buyer and the seller
The amount that the vehicle was sold for
Details about the transaction, including how the vehicle was paid for and the payment type used
Additional conditions, such as an "as-is" paragraph
The signatures of both the buyer and the seller
While the state of Oklahoma doesn't require notarization of a vehicle bill of sale for Oklahoma, it is beneficial to do so.
Registering and Renewing a Vehicle in Oklahoma
Certain rules changed in 2019 regarding allowing the license plate of a vehicle to follow transactions. Now, new owners are required to apply for a title and registration via transfer or purchase of the license plates through the Tax Commission's Motor Vehicle Department.
New owners have 30 days from the date of purchase in which to register and title their vehicle. Vehicle registration is renewed annually.
Where to register
To register a vehicle you will need to visit the Oklahoma Tax Commission, or your local Tag Agents, which can be found throughout the state of Oklahoma.
Where to renew
Renewal of your vehicle's registration can be done online through the OkCars renewal service.
Documents Required for Registration
When registering your vehicle, you are required to have the following documents:
A current and valid Driver's License
A Bill of Sale/Declaration of Vehicle Purchase Price (Form 722-1)
An Application for Certificate of Title (Form 701-6)
Proof of inspection, if the vehicle was purchased outside of the state of Oklahoma. You can have this done at your local Tag Agent facility.
Form 729 (Odometer Disclosure, if applicable)
If there is a lien on the vehicle, you will need Form 797-C (Release of Lien)
Proof of Vehicle Insurance, which must meet the following Minimum Requirements:

Cover of $25,000 for bodily injury (per individual)
Cover of $50,000 for bodily injury (per incident)
Cover of $25,000 for damage to property
Cover of $25,000 for bodily injury for uninsured motorist (per individual)
Cover of $50,000 for bodily injury for uninsured motorist (per incident)

If someone will be registering the vehicle for you, the will need to have a completed Form BT-129 (Vehicle Power of Attorney)
Funds to cover Registration and Title Fees