A billing statement is a printed or electronic information report that is done on monthly basis by credit card companies and offered to the credit card holders. The information therein generally covers the customer's updated transactions, monthly payment information together with other important information. It is usually done at the end of every billing cycle. The billing statement is divided into various sections. One section indicates the previous balance by the customer, another section shows the minimum payment that is due and the due date while the remaining section indicates the current financial information of the card holder. There are readily available templates for the billing statement templates that are provided in the web.
Billing Statement and Your Business Accounting
Credit cards are commonly used nowadays in making all forms of transaction. All these transactions are clearly indicated on the billing statements. It indicates the payments done by the client and the billing to the customer. It acts as a reminder to the customer of all the unpaid credit by the customer. Some of the information that reflects on the billing statement includes
Opening balance
Withdrawal statements
List of purchases done
Fees incurred on late payment
Outstanding charge interest
Amount at the statement day
Required minimum payment
Minimum payment date
Difference Between Billing Statement and Invoice
The billing statement provides all information contained in past invoices of a specified date. On the other hand an invoice contains a list of items purchased, cost per unit and the total of all the items in the list. In other words, the billing statement itemizes all the invoices already paid and all those that have been partially paid. Moreover, Invoices are issued whenever a sale has been completed whereas the billing statement is only issued periodically.
You can get a free well developed billing statement templates in both excel and word format for a comprehensive billing statement.
Sample of Billing Statements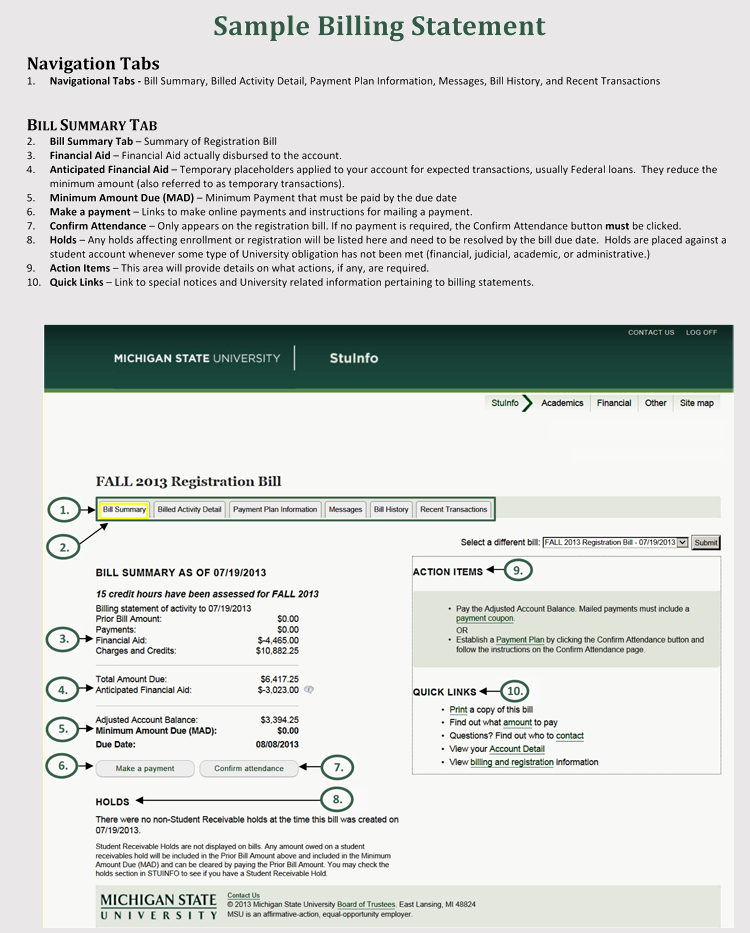 Editable Billing Statement Template
Business / Rental Tax Billing Statement
Example Billing Statement
Sample Attorney's Monthly Billing Statement