A board of directors resignation letter is an official letter written by an individual who wishes to resign, usually a board member. It is a professional letter that must observe a proper format and contain all the required content to make it efficient. In some cases, the board might not accept your resignation letter immediately, especially if you have any pending duties and projects.
This formal letter must be written to address your intention to resign and provide and highlight a way forward for the organization after your departure. Your resignation can either be immediate or after a specified period. Whatever the case, you need to ensure that you write a proper, effective, and polite resignation letter.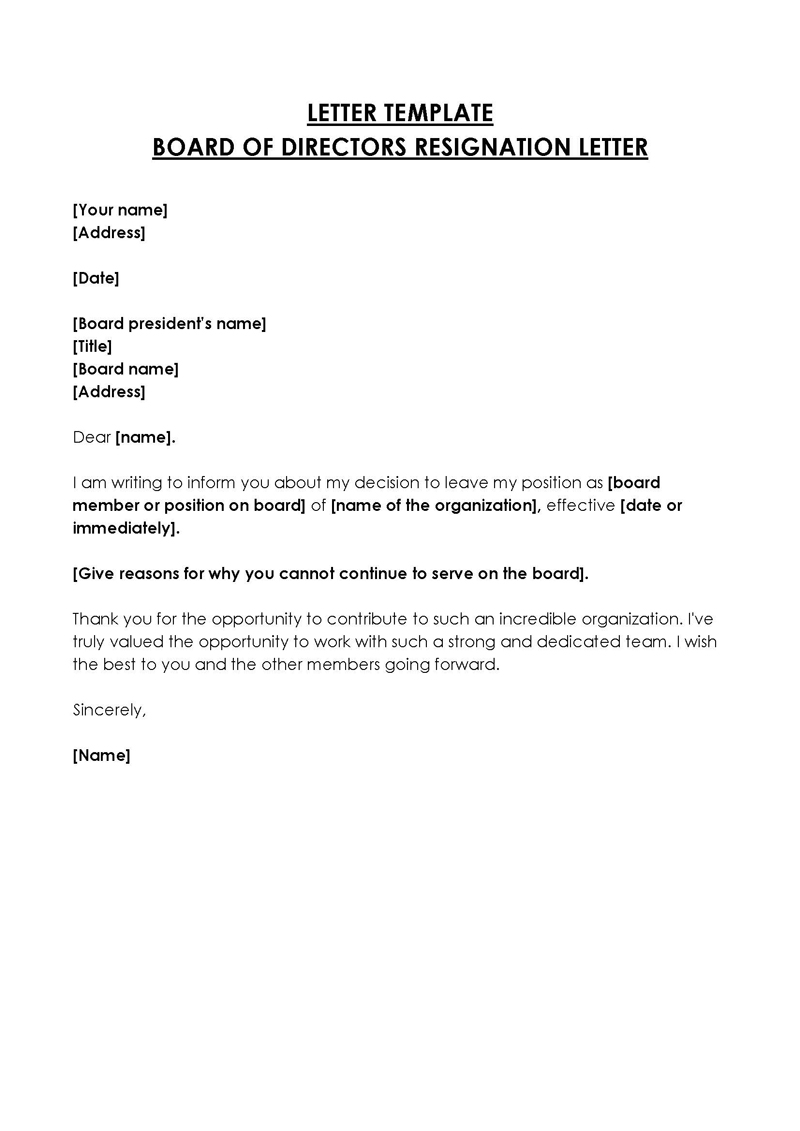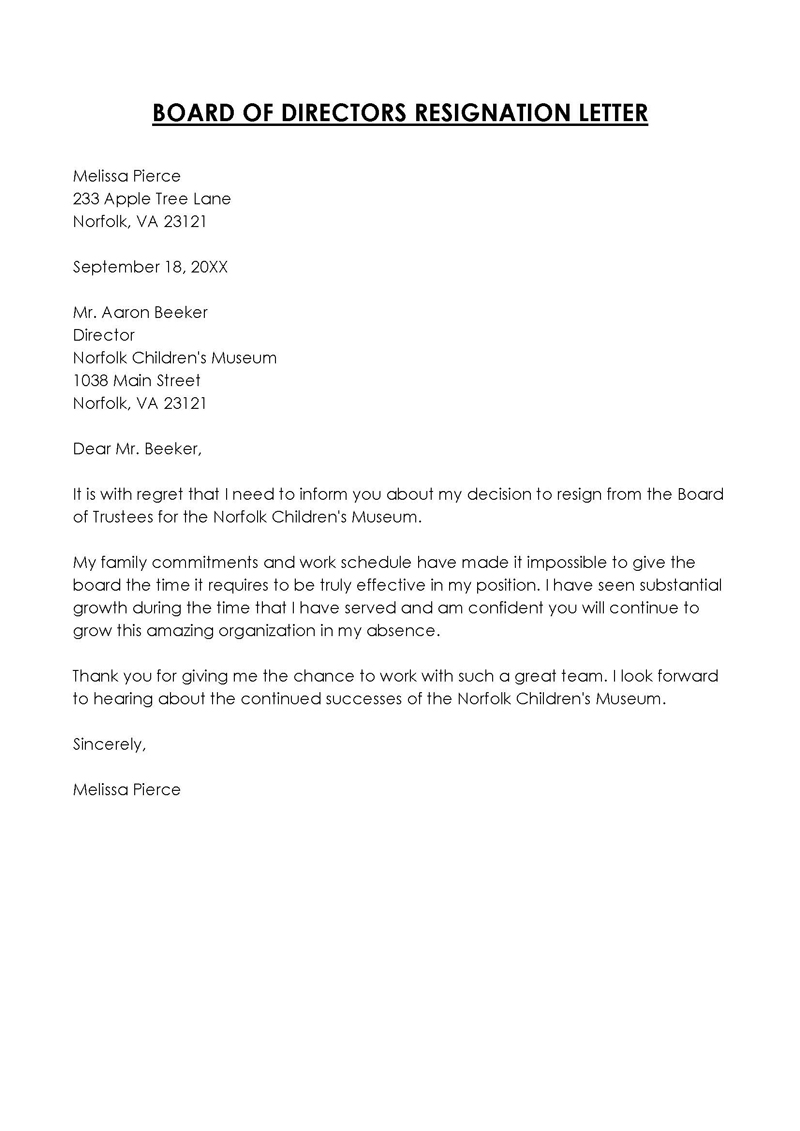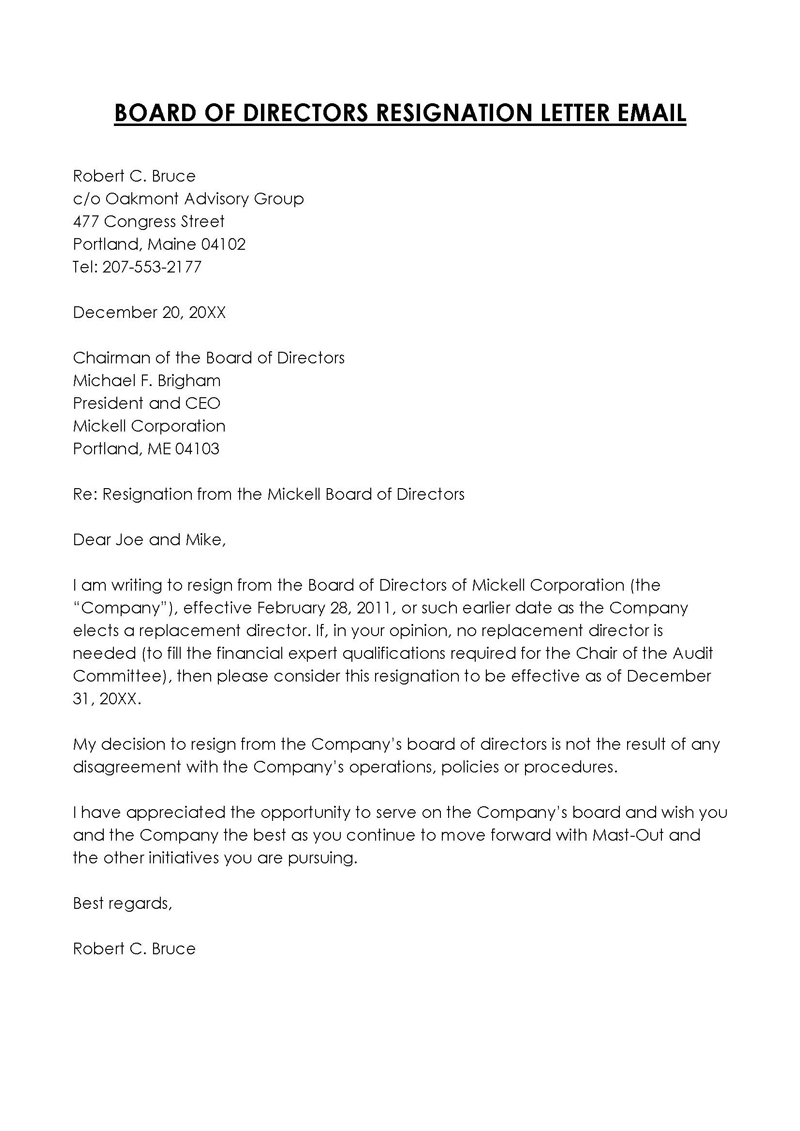 You must send a resignation letter to the board when you want to resign from the board to quickly inform the board chair and the president of your resignation plans with professional courtesy. You will also be able to explain your reason(s) for resigning from the board. The board of directors resignation letter is essential in that you will be able to indicate your resignation date in writing to avoid confusion in the future. With the way forward provided in the letter, you will also give the board members a chance to adjust and make the necessary changes once you have left.
Before you write a resignation letter to the board, it is vital to request a formal meeting with the board members and inform them about your resignation plans. The best way to handle the meeting is to be honest about the reason for your resignation and answer all questions correctly. In addition, ensure that the time you choose for the meeting is best for every party involved, and always be polite while addressing them.
Crafting a Board of Directors Resignation Letter
Since it is crucial to write a resignation letter when you want to resign from the board, you need to know how to write the best one. With the following steps, you will be able to write a proper and effective board of directors resignation letter:
Use proper formatting
You should format your resignation letter using the professional formatting style. Ensure you use the appropriate font type and font size: Times New Roman or Arial with 10- and 12-point size. These font types and sizes make the letter neat and easier to read. Also, the margin around your document should be one-inch all around. Finally, use the block format instead of the indented format when styling your resignation letter for the board of directors.
Provide a professional header
The board of directors resignation letter should also include a professional header. This will include your name, address, and contact details such as email and phone number on the top left corner of the letter. You should then leave space and write the current date. Then, skip another line before including the recipient's details. This may include their name, title, contact information, company name, and address.
It is also professional to include a greeting in your letter. The greeting will depend on your relationship with the recipient, but it should always be formal.
For example:

[Your name]
[Your full address]
[Your phone number]
[Your email address]

[Date]

[Recipient's name]
[Recipient's title]
[Company's name]
[Company's address]

Dear Mr. /Mrs. / Ms. [Recipient's Name],
Express your intention to resign and the effective date
The next part of your letter should express your intention to resign, including the date when your resignation will be effective. This message should be clear and appear as the first section that the recipient will see when reading your resignation letter. If your resignation is immediate, ensure you clarify it in this section.
For example:

I am writing this letter to formally inform you of my resignation from the board of directors of XYZ Company, effective immediately.
Body
For the body paragraphs, ensure that you are detailed but brief. You should first explain the reason(s) you have for resigning from the board. Ensure that you maintain a positive tone and be polite always, no matter the reason(s) for your resignation.
You should first explain the reason(s) you have for resigning from the board. When it comes to stating the reason (s), be brief and avoid unnecessary detail. Some of the reasons you may want to resign include family emergencies, health reasons, or even a new job. After highlighting your reasons, it is important to express gratitude to the board and show appreciation for being able to serve with them. You can also wish them all the best as they continue their company activities.
The final section of the body paragraphs involves offering help with the transition process, depending on whether you have the time. Ensure that you specify the kind of help you want to offer and provide a way to reach out to you if they need your help. You can offer to finish projects, be partially available for board duties, or handle the transition process of replacing you by guiding the new board member in daily activities.
For example:

My resignation from the board is due to my recurring health issues over the past two years. I need to take time off from work to deal with my health. During the time I have spent on this board, I would like to say that I have grown, and I am satisfied with the experience I have gathered working closely with all of you.

I appreciate the opportunity to serve on this board, and I wish you all the best in your future endeavors. I may not be fully available as a board member anymore, but I can offer my assistance when it comes to the transition process and training of the new board member. Once again, thank you very much for the opportunity, knowledge, and experience.
Sign off
The final part of the board of directors resignation letter is the closing or sign off section. You should include a complimentary close, followed by a signature. Formal and proper complimentary closes you can use include sincerely regards, best wishes, or even best regards.
For example:

Sincerely,

[Your signature]
Board of Directors Resignation Letter Example
Sample
Maxwell Philips
65, Nature Highway
999 999 9999
philipsmaxwell@gmail.com
 17th May 20xx
 Jason Richards
President of Truth Board
Truth Limited Co.
456 CA, Everywhere Avenue
Dear Mr. Richards,
 With utter sadness, I would like to submit this letter as my official resignation from my position as a board member of the Truth Board. I have served the board for 15 years, and I am writing to politely inform you of my resignation effective from 12th June 20xx.
 After the years I have served on this board alongside you, I believe it is time for me to apply my knowledge and expertise in my new job. I truly appreciate the opportunity you gave me to serve on this board as you taught and nurtured me while we worked together. It has been an absolute pleasure, and I will always be honoured to work closely with you. I am available for about two weeks before my new job starts. I can offer my assistance wherever needed, especially concerning completing my projects and handling any of my pending duties.
 Thank you very much for the opportunity you gave me as a board member. I appreciate the chance I received to grow and expand my working experience. Please feel free to reach out to me at my email address or phone number if you need help.
 Sincerely,
[Signature]
There are tips that you need to keep in mind to ensure you write an effective resignation letter to the board. Some of these tips include the following:
Be professional
Ensure that you use a formal business letter format when writing your resignation letter. It would be best to remember to include your address, contact information, and signature in this format. This way, you will remain professional even as you resign. If you choose to send your letter via email, ensure that you use a professional email address.
Give copies of the letter to all members
You should have several copies of your board of directors resignation letter and ensure that each copy has been signed by hand. Apart from giving the board chairman your resignation letter, your fellow board members should also receive a copy each. It is best to hand them your resignation letter during your resignation meeting rather than email for a personal touch.
Proofread
Since this is a professional document, ensure that you make and maintain a positive impression. After writing it, always proofread your letter and edit any grammar and spelling mistakes. This will make the letter recipient view you as a professional.
Frequently Asked Questions
How do you get out of a board of directors?
To get out of a board of directors, you will have to first speak with the board of directors about your resignation intention. Ensure you address the board chair before discussing the issue with the whole board. Next, you must confirm that you have observed the terms and conditions before resigning. If that is in order, you can apologize for the resignation. Then, write a resignation letter you will present during your last board meeting.
How can a person resign from a nonprofit board?
To resign from a nonprofit board, you can write a resignation letter that you will read at the end of your last board meeting. This means that you will have to inform the board of your resignation plans. You can also talk to the board leader and explain your resignation plans to them.
What will happen if a nonprofit board resigns?
If a nonprofit resigns and all the necessary procedures have been observed, the board will accept the formal resignation during their last board meeting. Accepting or rejecting the resignation occurs with approval from the board. Also, nominating a new board member requires the board's approval and acceptance of the resignation.