Resignation is pretty common in every sector and profession, nursing included. Therefore, there may come a time when you have to resign from your position as a nurse for one reason or another. The official way of doing this is by discussing with your supervisor about your intention and handing in a nurse resignation letter to this effect.
Besides communicating your intention to resign, a nurse resignation letter is a courtesy and professional gesture to retain any professional networks created with your soon-to-be former employer. The importance of maintaining good relationships in a medical career cannot be stressed enough, as they are precious references.
This article will discuss how a professional nurse resignation letter should be formatted, its components, and its essential points.
A nurse resignation letter is an official notice or declaration of your intention to resign as a nurse from a particular medical facility.
The letter should be submitted with notice; the notice period of 6-8 weeks is typically widely accepted. This gives the management enough time by finding a replacement or reassigning duties to other staff members. The nurse resignation letter should be addressed to the appropriate party, usually the manager or HR.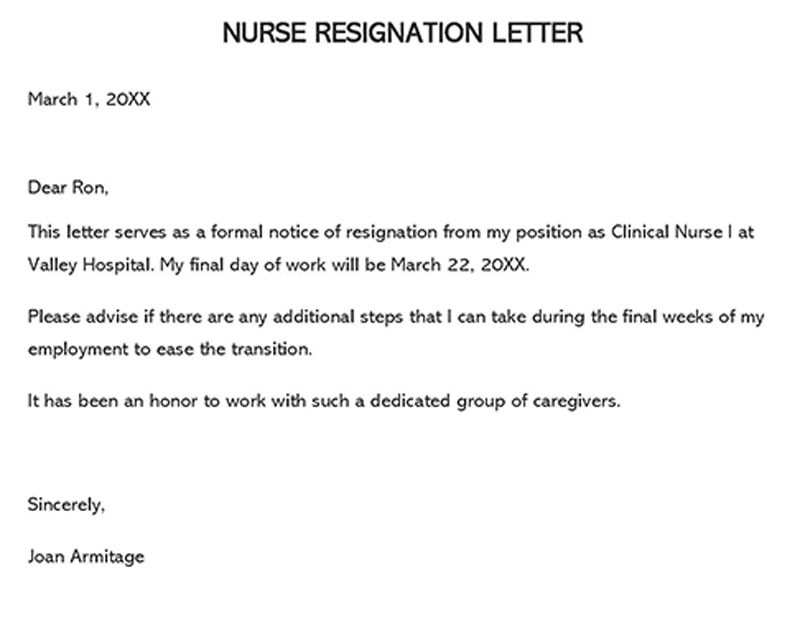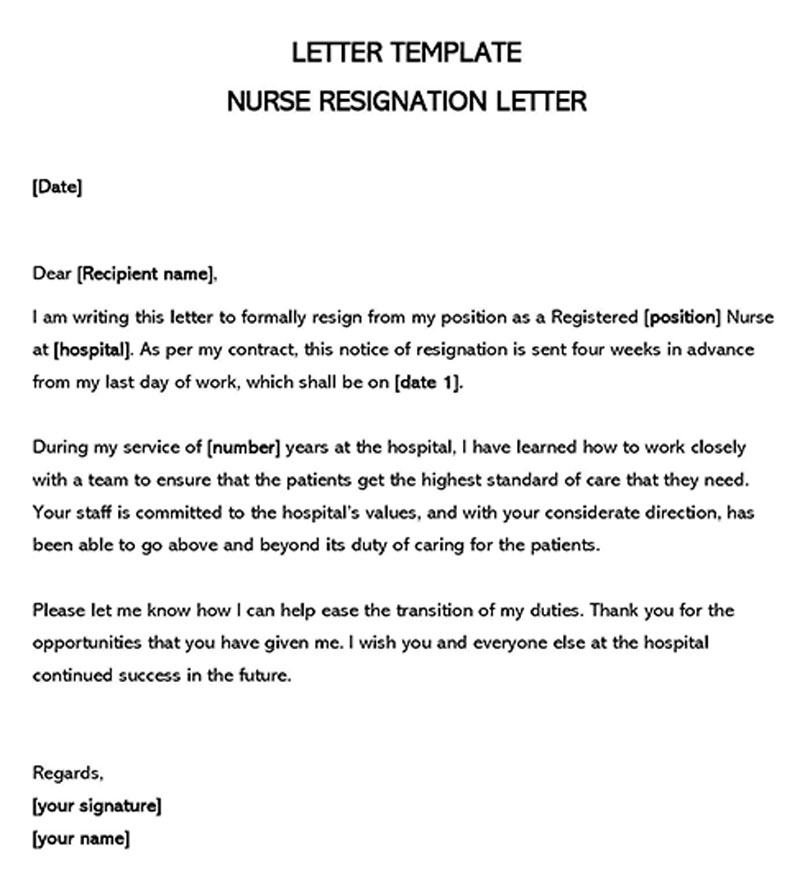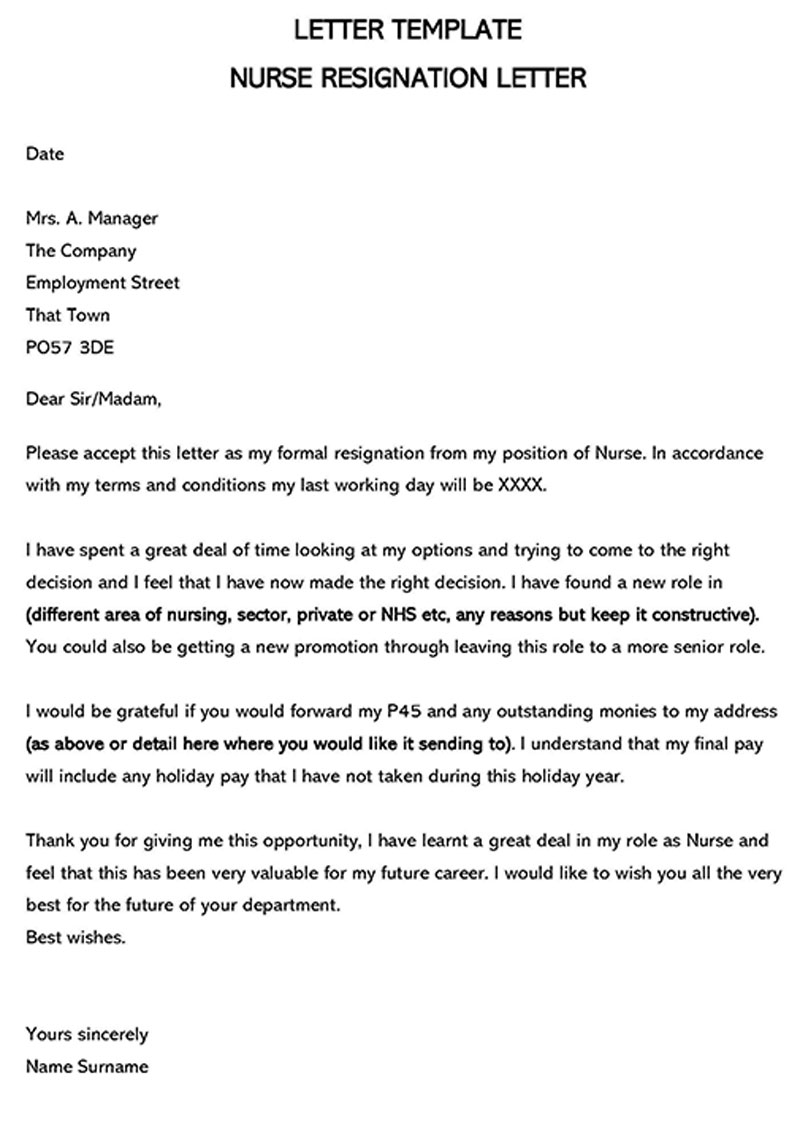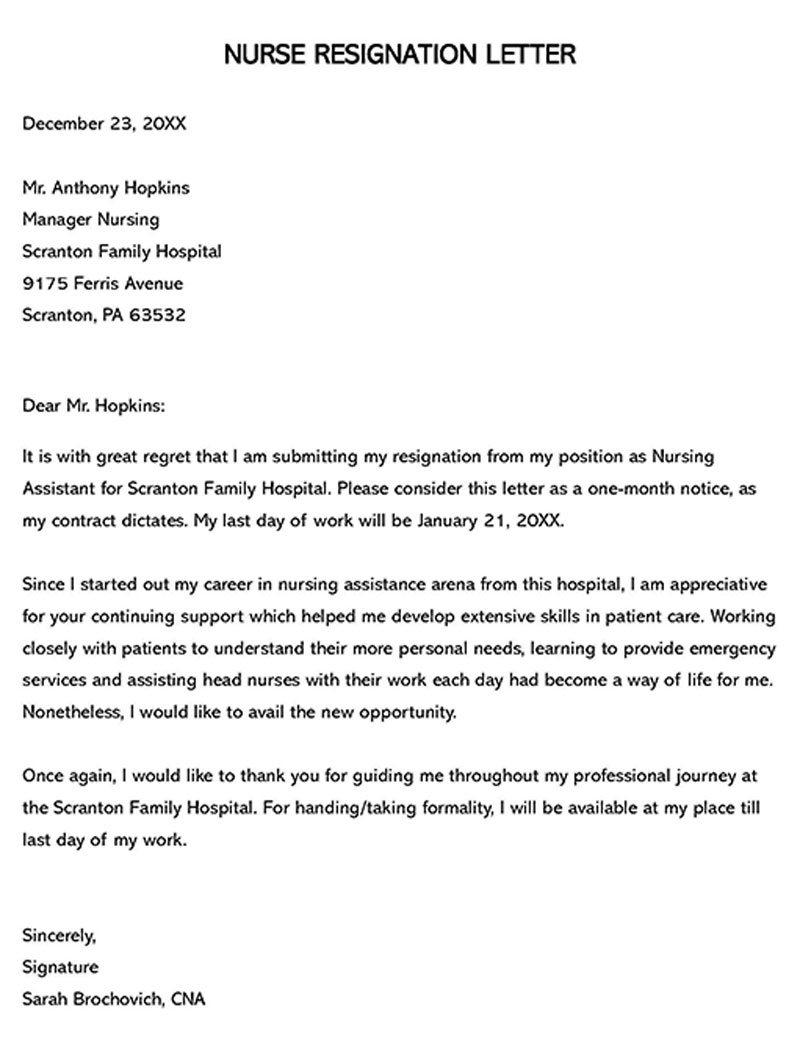 Pre-resigning Considerations
A well-executed resignation process goes beyond handing in a well-crafted nurse resignation letter.
Some of the things you have to consider before preparing your resignation letter are as follows:
Control your emotions
Sometimes you may be resigning due to differences or conflicts with management or colleagues. You, therefore, should control your emotions before deciding whether to proceed with resignation as your only option. In some cases, resignation may be a reactive response that can be solved with other alternatives. Nevertheless, you should resort to resignation if it is the rational thing to do.
Consult/talk with management/employer
It would help to discuss with your employer before sharing the information with other people. Then, request an in-person meeting with your manager or HR and politely disclose your decision. Also, let them know you will follow up the meeting with a nurse resignation letter.
Give notice and date of departure
Before sending the resignation letter, you should first decide how much notice you wish or are required to give before the official resignation from your position and, consequently, your last day of work. Ensure you give sufficient notice to allow your employer to find a replacement and give you enough time to train the nurse to ease the delegation of duties and responsibilities. The date of departure has to appear in the nurse's resignation letter.
Follow-up with a resignation letter
Once all the specifics of the resignation have been determined, you can now write your nurse resignation letter. Keep the letter respectful, and thank your employer for their support and guidance. Ensure that your nurse resignation letter is signed to declare that you attest to what you have mentioned in the letter.
Format of the Resignation Letter
A nurse resignation letter is an official document and should thus be formatted accordingly. The resignation should be organized in a business format like any formal letter.
The following components should appear in the letter:
Formal letterhead
A formal letterhead should be included in a nurse's resignation letter. A formal letterhead will outline your identification details and your employer details. In addition, ensure names and contact details of the sender and recipient are indicated as the date.
Salutation/introduction
A formal salutation should also appear in a nurse resignation letter. A formal salutation can be formatted as follows; "Dear [Mr/Mrs/Ms] [title] [last name]. An introductory paragraph follows the salutation. The first paragraph or introduction declares your intention to resign and indicates your departure date.
Body of the letter
The body of the letter should then follow the introduction. The body can be two to three paragraphs long. Each paragraph of the letter should discuss a specific aspect of the resignation. Also, each paragraph should be separated with a blank line to ensure the letter appears neat and presentable.
Conclusion
A concise conclusion should be supplied as the final section of the nurse resignation letter. First, a formal conclusion should include an appreciation message and well wishes in your absence. Then, a formal complimentary followed by your signature.
Steps to Write Nurse Resignation Letter
When writing a nurse resignation letter, it is crucial to ensure that all the necessary details regarding the resignation are addressed. This may often require adopting a sequence of steps that guide you in creating an all-inclusive letter.
Below is a procedure that can be employed when writing a nurse resignation letter.:
Intent to resign
A nurse resignation letter should start with a statement that declares your intention to resign. The statement sets the direction of the rest of the letter. Your intention to resign should be declared precisely and explicitly and not implied.
Date of resignation/Two weeks-notice
Once you have let your employer or manager know you intend to resign, notify them of the last date you intend to carry out your official duties. This date is referred to as the resignation date, not to be confused with when the letter was written. Try to ensure the date gives the employer at least a two-week notice.
Reason for leaving
Afterward, it would be best to give a reason for resigning. Again, this information should be mentioned in brief. You are not necessarily required to describe your reason for resigning. However, if you find it essential to mention the reason(s), you can do so at this point.
What you learned in this position
The letter should then discuss any professional or personal ethics you learned in the position. Ensure that the lessons you mention are favorable so that the nurse's resignation letter doesn't sound like you're criticizing the organization.
Positive aspects/outcomes from the position
Next, you should mention the positive aspects of working as a nurse. For example, you can discuss the organization's support system, employee-employer relationship, conducive working relationship, friendly staff, etc.
An offer to assist with the transition
It would help to offer your assistance with the transition. Assistance can be offered in diverse ways; some people choose to train their replacement, whereas others will offer to continue with certain obligations and complete pending tasks before departure.
Thanks and appreciation
To ensure you leave your employment without jeopardizing potential references from your employer, you should express your gratitude to the organization for allowing you to work in their organization.
Nurse Resignation Letter Template
Provided below is a nurse resignation letter template example outlining the crucial sections that should appear in your letter to communicate your intention to resign effectively.
[Your name]
[Street address]
[City, State, Zip Code]
[Email or Phone number]
Date]
[Recipient Name]
[Name of Organization]
[Organization Street address]
[City, State, Zip code]
Dear [Title] [Last name]
Kindly accept this letter as the official notice of resignation from my position as a nurse in the name of a medical facility/organization]. I intend to vacate my official capacity from [Last work date].
I've decided to resign due [reason for leaving]. However, I've learned to be [Mention skills and qualities you've learned as a nurse in the organization]. Also, I would like to mention that name of the organization] has been a fulfilling institution to work in. My colleagues and management have been a strong pillar for me throughout my tenure and have always embraced me since I first arrived. 
I want to offer my professional and personal assistance in any way necessary to facilitate the transition. I'll be available for the next two weeks to train the person selected to replace me. Again, accept my gratefulness for your continued support and guidance.
Best regards,
Signature] 
Nurse Resignation Letter Sample
Below is a nurse resignation letter example you can review to understand how to organize your nurse resignation letter.
Sandy Indila,
209 Phelm Street,
Norwich City, UT 1008
544 1083 739
January 28, 2022
Cindy Atkins
The Daylight Nursing Home
77 Pelican Avenue
Burnley County, UT 1008
Dear Dr Atkins,
This letter is meant to formally notify you that I will be resigning as a nurse at The Day Nursing Home, Utah. My last official workday will be February 12, 2022, fulfilling the required two weeks' notice.
I've accepted a more senior role at another organization, and I firmly believe this is an excellent opportunity to further polish my career. I've learned so much at The Daylight Nursing Home since I came here. I've gained invaluable experience working under the different doctors I was assigned to. Also, I learned to be more confident in my capabilities which has played a vital role in my hunger to achieve more in my career. 
The working environment at your institution has been nothing short of remarkable. The good employer-employee relationship is commendable. I've interacted with multiple nurses and patients through my position, which has played a significant role in my personal growth. Before my last day of work, I'd like to offer any assistance required during the transition. I intend to hand in inpatient reports to my successor.
Thank you for being a supportive figure and mentor.
Sincerely,
S.I
Tips to Appear Professional
A well-written nurse resignation letter is your chance to showcase your professionalism and politeness as you vacate your position from the medical facility.
Below are a few tips you can observe to ensure your resignation effectively communicates what you intend:
Keep it short and simple
An excellent nurse resignation letter should be a notice of resignation to management. This means any information given in the letter should be intentional and relevant to the notice. It would help if you do not go into details or vent about why you are resigning. Instead, let the management know you are resigning, the departure date, a few highlights, and an appreciation message.
Be respectful and kind
Always keep the letter respectful and kind. This means careful use of tone and wording. In addition, you should uphold a high level of professionalism regardless of why you are resigning. This can as well be achieved by using the appropriate titles.
Format like a business letter
A nurse resignation letter should consistently be formatted as a business letter. In addition, the letter should have an official format and tone regardless of the nature of your relationship with your manager or supervisor.
No grammatical and punctuation errors
When writing your resignation letter, write it before the day you want to send it to have enough time to create an error-free letter. Waiting until the last minute to write the letter can result in a document filled with grammatical, spelling, typos, and other errors. Therefore, always review the letter and make appropriate corrections.
Emailing Your Letter
You do not always get to send a physical nurse resignation letter, even though it is highly recommended. Sometimes you may have to send your notice of resignation via email, depending on company policy or circumstances.
The letter should be written in a traditional font and a font size of between 10-12 points. In addition, the letter should be attached to the email in PDF format to facilitate printing for record-keeping. Also, you should use a proper subject line that indicates the letter's purpose. This can be done by incorporating "resignation letter" in the subject line.
The letter should also have an appropriate salutation, body, and a professional closing should be included at the end. Also, provide your contact information after your name.
A nurse resignation letter is arguably the last positive addition to your file in company records. Hence, it would be best if you aimed to write it the best way possible. With the guide of this article, you are set up to craft a professional resignation that will leave an excellent lasting impression on your employer.

Resigning from your job in any profession is usually a scary step. However, it may be inevitable in some situations; therefore, if you have made the brave decision to resign as a nurse from your organization, well done! However, do not rush into writing the letter without clearly understanding what you should include and how you organize the letter.

Going through a few nurse resignation letter samples like the one provided above can help with this. Lastly, ensure to follow company policies and contractual terms when resigning.