As an employee, resigning from your current job position is often a tough decision, but it is inevitable at some point in life. It can be for any reason, either personal or professional, such as a change in priorities or due to job dissatisfaction. Irrespective of your reasons for wanting to terminate your employment with the given company, it is always essential that you give your employer as much notice as possible, typically two weeks' notice before your final day of employment. This will give them ample time to find a replacement and help coordinate the transition process within the organization.
However, sometimes circumstances may force you to resign immediately, in which case you should submit a professionally written short notice resignation letter to your employer. This letter should clearly state your intentions without asking your employer to question your commitment to your current job and your desire to maintain a positive relationship with your soon-to-be ex-employer. This article outlines the basics of writing a short notice resignation letter and the essential tips to consider when writing it to ensure you submit a letter that does not burn your professional bridges.
It is an official resignation letter that you address to your employer, informing them of your impending departure from the organization under short notice. This document is typically written when you suddenly have to leave your job, and you cannot give your employer the required standard two weeks' notice.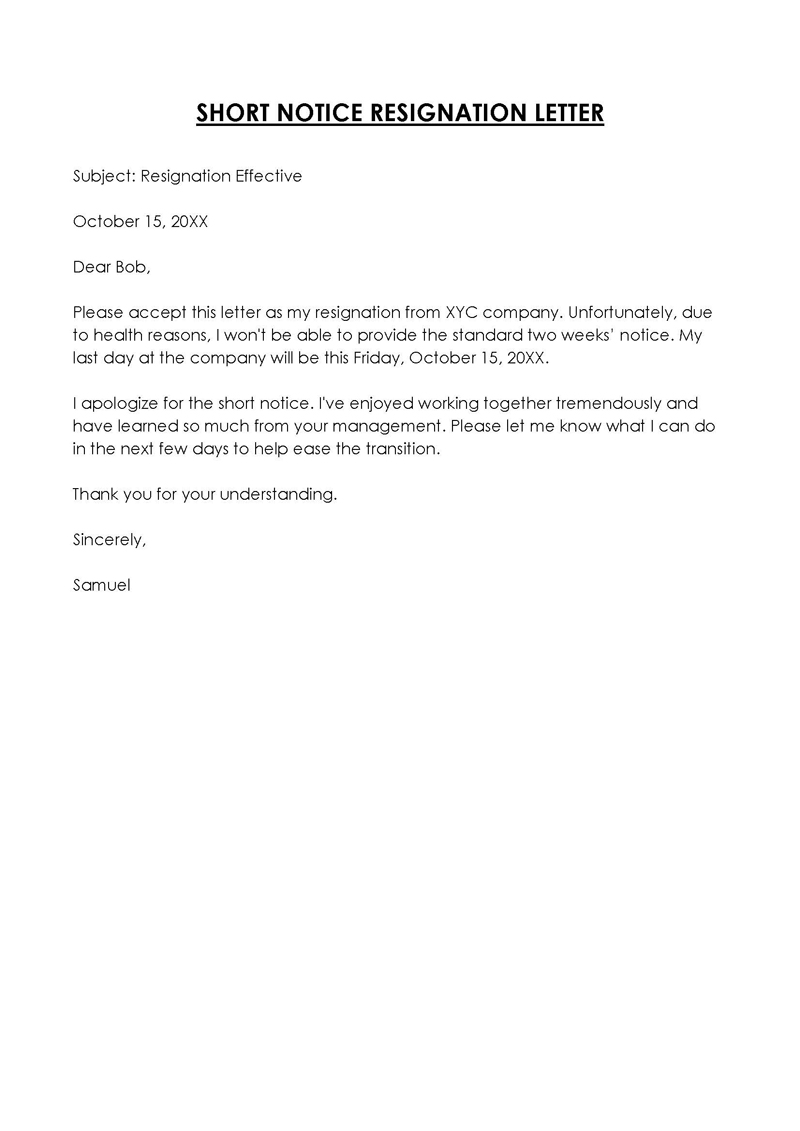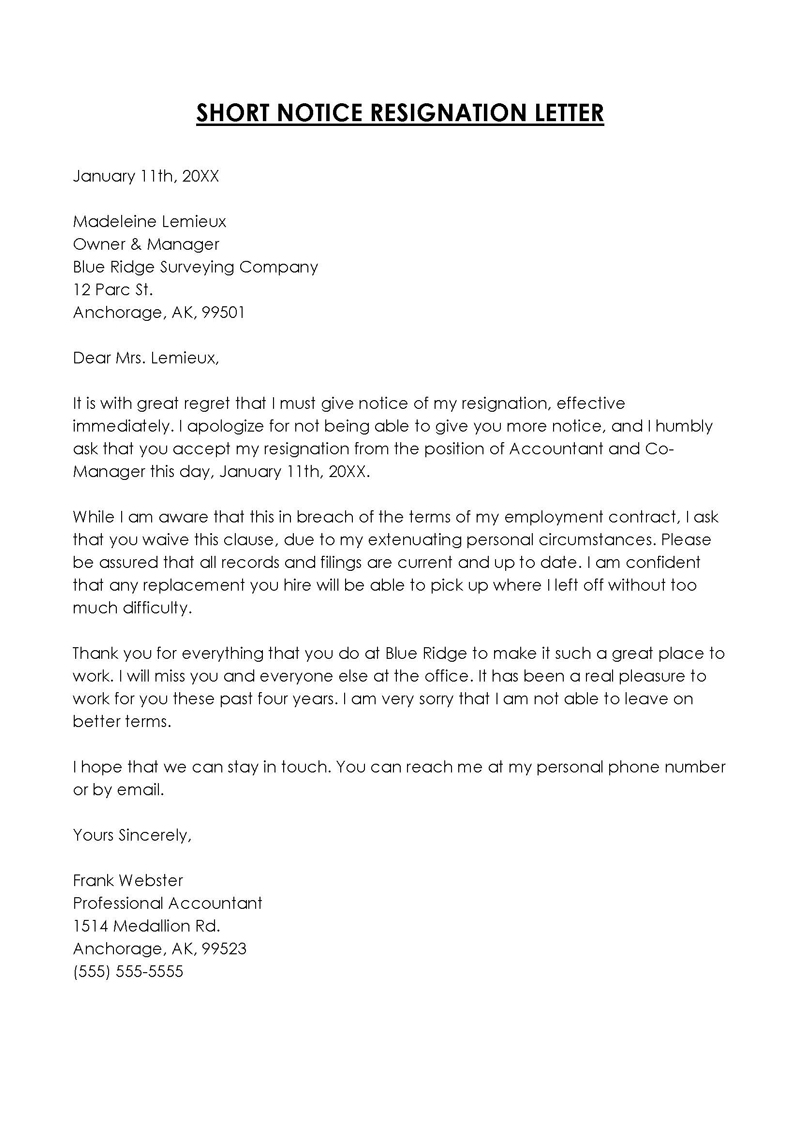 Before sending your employer a short notice resignation letter, you must consider the following essential pre-considerations:
Tell your employer first
Take time to evaluate your decision. Carefully consider whether or not leaving the organization is the best course of action to take. Ensure you have taken all of your circumstances into account and any possible consequences of resigning under short notice. Once you are 100% sure of your decision, meet with your employer and inform them of your intention to leave before telling anyone else in the organization. If a face-to-face conversation is not possible, call your employer promptly.
Give two weeks' notice (if possible)
It is best to give the required two weeks' notice, giving the employer ample time to find a replacement for your position and synchronize the transition process before your final day of employment. However, if this is not possible in your circumstances, it is best to ensure that you give as much advanced notice as possible.
Writing a Short Notice Resignation Letter
After considering the above resignation pre-considerations, you can begin drafting your short notice resignation letter. The following step-by-step writing guide will help you craft a well-thought-out resignation letter that keeps your professional reputation with the employer intact:
Use the required standard business letter format
You must format your letter using the required business letter format. This will ensure that you present yourself professionally, which will be helpful if you wish to remain in contact with the employer or need a positive employment reference letter from them in the future.
Start with a header
Begin your letter by providing your personal and contact information in the top left corner of the page. This includes your name and personal contact information, such as your mobile phone number or email address. Next, skip a single blank line, then provide the current date. Below the date, skip another blank line and provide the receiver/employer's identifying information and address. The receiver's information includes their name, title, company name, and address information.
For example:

Stephany Hunks,
123 Green Street,
New York, NY 12345

May 19, 20xx

Mr. Steve Charleston,
Human Resource Department Head,
Mycompany Inc.,
New York, NY 12345.
Introduction
After providing the header, include a professional salutation personalized to the reader of your resignation letter using their correct title and name. Consider using the standard complimentary business letter salutation "Dear" followed by the receiver's first and last name or last name only.
Then write a brief and concise introductory paragraph that immediately alerts the employer of your intention to resign from your current job position. You should also state the position you are resigning from and provide your final day of employment.
For example:

Dear Mr. Charleston,

I am writing to inform you of my resignation as Senior Accounting Clerk at Mycompany Inc., effective on Thursday, May 23, 2022.
Body paragraphs
In your resignation letter's body paragraphs, provide the details leading to your decision to resign on short notice, but don't overexplain yourself. In addition, write this section professionally without expressing any emotions.
Consider structuring this section as follows:
Provide your reason (s) for resigning
Providing a specific reason for resigning from a given position is not mandatory, but doing so can help to reinforce the perception of your professionalism and maturity. Provide a brief explanation of why you feel compelled to leave the job but be careful not to be too detailed. Some reasons that may prompt an employee to leave their job under short notice include personal emergencies, relocation, the need to change their working environment, pursue a new career, look for a new job with a better remuneration package, and untoward working conditions, etc.
For example:

I have decided to quit this job because I am interested in pursuing a new career in a different industry that will enable me to achieve my career accomplishment and fulfillment goals.
Explain your experience during this job
In this section of the short notice resignation letter, briefly describe your work experiences during your time with the given employer, highlight any exceptional achievements, training, and certifications you have obtained in your current job, and state how these experiences have prepared you for future challenges.
For example:

Since taking up my position with Mycompany Inc., I have learned a great deal about the operations of this organization and its internal processes. However, I find that the nature of my current position does not allow me to fully utilize my skills and training to their maximum potential, which is why I feel that it is time for me to move on.
Express gratitude
It is also essential that you express your gratitude to the employer for the opportunities they have accorded you during your employment with them. Mentioning any specific projects that you are grateful for being a part of and stating how your experience in these projects has bolstered your career is an excellent way to demonstrate your appreciation to the employer.
For example:

I am grateful to Mycompany Inc. for providing me with an opportunity to work for a corporation that has an excellent reputation within the industry. Working with such a dynamic team has been an exciting and rewarding experience. I am very grateful for all the opportunities presented to me during my tenure at this organization.
Offer your help (if they need it)
Offer to help your employer with the transition process or accommodate the employer in any possible way if they require your assistance. This is important as it demonstrates to the employer that you are a professional who is considerate enough to support them during their complicated period of readjustment. However, if your circumstances prevent you from helping with the transition process, you do not need to mention it in the short notice resignation letter.
For example:

If you need any additional information currently or require my assistance with the transition process, do not hesitate to reach out to me at 01236789560 or Stephaneyhunks@email.com.
Closing
You can conclude your short notice resignation letter by expressing your gratitude once again and thanking your employer for their understanding of your situation and their consideration. Finally, include a formal sign-off such as 'Sincerely" or "Regards," then sign the letter.
For example:

Once again, thank you for all the opportunities you have accorded me during my tenure as a Senior Accounting Clerk at Mycompany Inc. I wish the entire organization continued success in all its future endeavors.

Sincerely,

[signature]
Short Notice Resignation Letter
Here is a sample that you can use to include all essential information in your letter:
Sample
John Smith
123 Main Street
Utah, USA 12345
123.555.1234
jsmith@outlook.com
 May 20, 20xx
 Jeffery Anderson
Human Resource Department Head,
ABC Concrete
123 Main Street
Utah, USA 8945
janderson@email.com
Dear Mr. Anderson,
This letter serves to officially notify you of my decision to resign as Assistant Product Manager at ABC Concrete Company, effective on May 24, 20xx. I'd have provided you with a sufficient notice period of at least two weeks, but my current situation prevents me. I recently accepted another job position at a different company, and I will be relocating to another state by June 1, 20xx.
My time at ABC Concrete has been precious. I have learned so much about the concrete industry, and I hope that my contributions to the organization have helped you and the ABC team in general. I am proud of what I accomplished during my time here, and I'd like to thank you for your professionalism, continued guidance, and support. Please feel free to let me know if I can be of any assistance in the transition process.
I look forward to our continued relationship as I transition from ABC Concrete Company and take on the next step in my professional development. I remain committed to your organization, and I wish you and the company's employees continued success.
Sincerely,
[signature]
As with all other business communication, you must write your short notice resignation letter professionally and efficiently. The following valuable tips will enable you to write a letter that can be read in its entirety and leave a positive impression on the employer:
Keep it short and simple
Your resignation letter under short notice should be concise and simple such that it can be read and understood easily. Avoid being too wordy and include only the essential information. An excellent short notice resignation letter should not be more than three or four paragraphs long and no longer than a page in length.
Do not write an essay
While writing a short notice resignation letter, avoid delving deeply into every aspect of your reasons for resigning. Avoid writing an essay and only provide brief and straightforward explanations. Your goal is to remain professional and avoid burdening the employer with unnecessary information.
Proofread and edit
After you have written your short notice resignation letter, you must proofread and edit it. Identify any grammatical errors, spelling mistakes, and inconsistencies in the letter's tone and correct them before sending them to the employer. It is also best to consider asking a friend or family member to proofread it as well, such that they can help you point out any mistakes you may have missed.
A well-written short notice resignation letter formally states your intention to leave a given job and identifies your last day of employment with the organization. It also legally relieves you of any contractual obligations with the company, such as non-compete clauses or restrictive covenants that might prevent you from seeking work elsewhere.

The letter allows you to maintain a positive relationship with your employer, which may come in handy when you need to be rehired in the organization or as a positive employer reference letter for your future career pursuits. By consulting this detailed writing guide and taking into account the various tips provided herein, you'll be able to write an effective short notice resignation letter in no time and switch jobs without any reservations or regrets down the line.