For most small businesses that offer professional services, it is challenging to have a proper and consistent way of billing for their services. The best solution for such professionals is to prepare a service invoice.
Understanding what needs to be included in the service invoice is the first step of acquiring a proper template. With an invoice, you will be guaranteed proper accounting, an easier way of recording sales, and a smoother way of tracking the profits. In addition, since service-based businesses usually deal with regular payments, using a service invoice offers an effective way of billing clients.
A Service Invoice is a document created by service-based businesses for accounting and billing purposes. It will inform the client of what they owe for the services, provide details of the business transaction, have details of all the offered services, and highlight the deadline for the expected payment.
Such businesses usually prepare this service invoice to send to their clients to make a payment request once they have offered their services.
Service Invoice Templates
The fastest and easiest way of preparing a service invoice is by using a template. With a template, you can easily customize and format your service invoice uniquely. For example, the templates are given here can be easily formatted by adjusting the font, changing the background color, capitalizing the headings, fitting the business logo appropriately, and including or excluding different sections to improve the readability of the service invoice.
You can access free downloadable and easy-to-use service invoice templates today. With these templates, you will prepare and design your service invoices in unique ways.
The templates also offer you a chance to prepare your invoices faster for your many clients. They are of great help to you since they:
Saves time: As a business person, you may lack enough time to make an invoice due to many assignments and responsibilities. Obtaining these templates will save you time.
Fast payment: A template invoice will hasten your payment since it will be sent sooner thus payments will also be made soon.
Consistency: You can send invoices to multiple clients when there is an invoice template. This ensures your company is steady and can be relied upon by its customers.
So download now: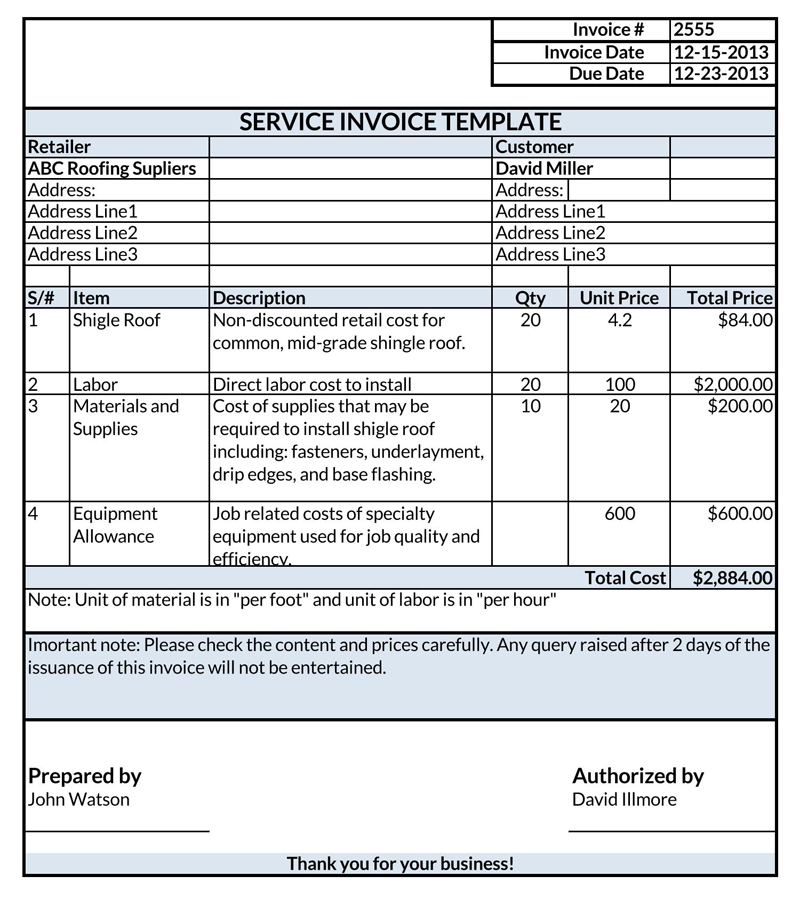 What are Service-based Businesses?
Service-based businesses are organizations or companies focused on providing professional services to clients and customers at a fee. These companies do not provide products or goods but only offer services. In most cases, such organizations usually offer their services based on the projects.
They can be business owners, freelancers, and even sole proprietors. Some examples of service-based businesses include writers, lawyers, photographers, business consultants, landscapers, and IT professionals.
Service Invoice Vs. Receipt
A service invoice is a document issued by the seller prior to the payment of services offered and it is also used to track the sale of services while a receipt is a document issued by the seller to the buyer after payment has been done and is used to show proof of payment.
Things to Consider Before Making
It would be best to keep in mind these factors before you start preparing a service invoice to request payment from your clients.
Here are some of the pre-considerations for completing a service invoice template:
Type of client you work with
If your clients are large and well-established companies, you will have to prepare a standard invoice that follows a particular format. The service invoice should be professional and detailed as that is what the clients will expect from you. However, for small-scale and startup businesses, you must focus on the professional and standard format. Such clients will not mind receiving different types of service invoices.
Type of work you do
Based on the type of services you offer; your service invoice should always reflect that. For example, a writer's service invoice cannot be similar to a photographer's. That is why you need to prepare a service invoice that focuses on your services by listing everything correctly and clearly.
Billing preferences
Whether you prefer to collect your payment after completing your project or by the hour, your service invoice should include that. That means you should have in mind your billing preferences before you start preparing a service invoice for your client. Ensure your billing preference is clear to the client to avoid confusion when preparing and sending them an invoice.
Client's preferences
The final pre-consideration you should have in mind is the client's preferences. If there are specific details that the client requires in the invoice, ensure that you put that into consideration. For instance, if the client requires a business address in the invoice, you should include this information in the invoice.
What to Include in a Service Invoice?
As a service-based professional, you need to use a service invoice template to prepare an appropriate invoice to request payment from your clients. A complete service invoice should contain the information mentioned below. This way, you are guaranteed that the client will understand the invoice and make the payment.
Add your business logo: It would help begin your invoice by creating a header to include your business logo. The logo is meant to identify your company and your business's services.
Business name: After the header, you should indicate your business or company's name. Like the business logo, the name is meant to recognize you and your services. Therefore, the name should be well written and correctly spelled to avoid confusion.
Include your contact details: You should then include your company's contact details. This will include the company's address, phone number, and email address. With these contact details, your clients can easily communicate with you.
Add the client's contact information: It is also essential to include your client's contact information. This includes the client's name and contact information. You may include their business address, phone number, and email address as their contact details. Ensure you confirm the client's details to avoid sending the wrong invoice.
Assign a unique invoice number: Every invoice should have a unique invoice number assigned to it. Ensure you always have an invoice number on each invoice. This way, you have a reference point for your client, making bookkeeping and accounting easier. An invoice number can be created using numbers, letters, or a mix of both numbers and letters.
Include the invoice date: Include the date when the invoice was prepared and submitted to the client. This is also meant for proper record keeping to ensure that you can keep track of all the service invoices you have prepared during a specific period. Instead of the invoice date, you can also write the billing period instead. This refers to the period you offered your services to your client.
Set the payment due date: You should also include the due date for the payment. Again, try and avoid giving a range. For example, payment is required within 21 days. Instead, write the exact payment due date. For example, the payment is required by 15th August 2017.
An itemized list of services: The service invoice should include an itemized list of services. You should provide details of the work done to make it transparent for the client. This can be done successfully by providing details of the services, the number of hours spent offering the services, the rate for each service, and the total charges per service. Ensure that the content is easy to read and understand by listing them in a table and separating them into columns.
Include applicable taxes: Depending on your business's location and set-up, you should also include the taxes applicable for the services offered. The taxes also depend on the state you are in since the sales taxes vary from state to state. As a service-based professional, you can refer to the Tax Foundation for guidance on applicable taxes.
Add the total amount due: You should also include the total amount due for the services offered at the end of the invoice. This amount should be written in bold and with a different font type to ensure the client can easily spot it. Ensure that the total amount due is correct to avoid any troubles with your clients.
Include your payment terms/method: The payment terms or methods should be included in the footer of your invoice. You should also highlight the payment terms, including details of the service transaction and the policies regarding late payment. This section should also include the expected late fee charges if the invoice is overdue.
The service invoice due date: The final information in the invoice is the service invoice due date, which needs to be exact and well-detailed. The language used to write the invoice due date should be precise and non-ambiguous. The information should also be boldly displayed to make it easier for the client to spot.
When preparing to send your service invoices to your clients, there are some tips that you should consider to make the billing process more accessible and more effective.
Here are some of the tips you need to consider about service invoices:
Send the invoice promptly
Ensure you prepare and send the invoice immediately after offering your services or completing a project. This will guarantee a smooth cash flow; since the sooner you send the invoice, the sooner you will receive your payment. Also, preparing an invoice as soon as you have completed your work helps you remember all the services you offered and reduces the chances of having an incomplete invoice.
Set shorter payment deadlines
Try setting shorter payment deadlines in your invoices by using quicker payment methods like online payments. With shorter deadlines, you are more likely to receive your payments faster and embark on other projects without delay. For example, use the 21-day deadline instead of the 30-day deadline to speed up the payment process for more prominent companies. For smaller companies, try and include a 3-day deadline to speed up the payment process.
Flexible payment methods
For faster payments from your clients, try and have various payment methods. The client will pay faster if the payment method is convenient and flexible. You can ask the client to tell you which payment method they prefer to include in the invoice. Also, focus on payment methods that suit your business style.
For instance, you can use online payments since they are flexible, faster, and easier to process. However, for clients who provide the same service on a frequent basis, you can make the payment process more manageable by setting up recurring payments.
Offer discounts
For those clients who make their payments on time, you can consider offering them small discounts. This should, however, not be a detrimental choice for your business. On the contrary, this will help encourage your clients to pay their bills on time, create goodwill among your clients, and ensure loyalty from them.
Follow up
Even after preparing and sending the invoice immediately, you need to follow up to take the payment. You can use specific automated software found online to track your invoice to confirm if you have sent it, if the client has received and opened it and if the payment has been made or the payment is late.
Frequently Asked Questions
What jobs use a service-based invoice?
Most service-based professionals tend to use the service invoice to bill their clients. The most common include doctors, hairstylists, lawyers, freelance accountants, therapists, writers, and handypersons.
When is the right time to send an invoice?
The right time for a professional to send an invoice to their client is usually when they agree upon it. The policies about sending an invoice are usually mentioned in the contract, and a professional should therefore adhere to that.
For example, most serviced-based professionals like handypersons and gardeners prefer being paid after completing their work. This means that the invoice should be sent immediately after the project. On the other hand, for professionals like doctors and lawyers, payment is required before; hence, the invoice should be sent before services are offered.
How long should it be until I get paid for the invoice?
As a service-based professional, you may have to wait for 24 hours or 30 to 90 days to receive payment after sending the invoice. It all depends on your agreement with the client before starting your work.