Check out our Christmas themed gift certificates below and we assure you that every voucher is an inspiration on its own. These 12 custom made voucher templates are easily editable and can be custom made to suit your needs. Each of these elegant certificate templates is 6 inches in width and 3.5 inches in height – Thus they can be printed handsomely, capturing the highest resolution possible. Simply edit them as per your imagination and hand them out as a perfect Christmas Gift.
Christmas Gift Certificate Templates (Word)
1.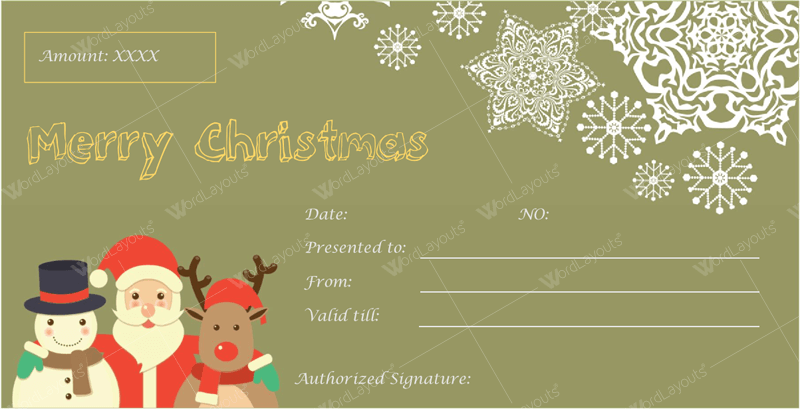 An elegant design that focuses on the "bonding" factor. This certificate can be a special one in case you are gifting it to a colleague or your neighbor.
2.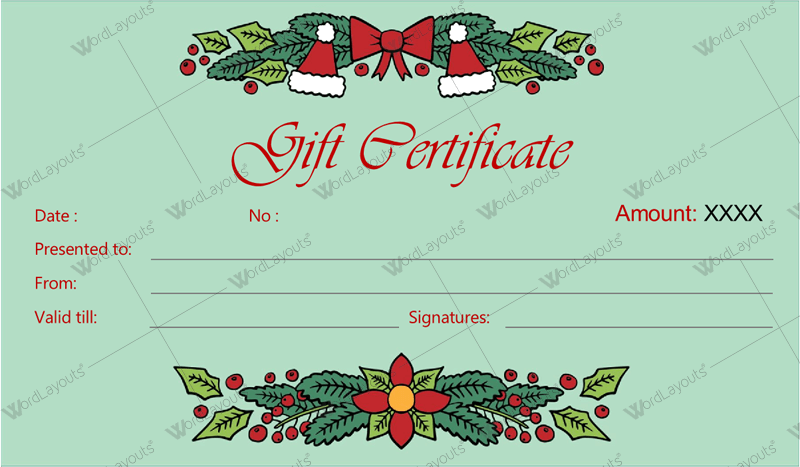 A traditional design that has been synonymous with the ages. This simple design never fails to amaze the recipient. Use this voucher more in case you are gifting on a professional term.
3.
A simple yet fun-filled design that signifies laughter and amusement. These gift certificates should especially go down well if you are handing it out to teens. The background snowflakes are also designed to come out splendidly when you print.
4.
This classy green voucher reminds one of the stickers that they used to pin their textbooks with. It's a plain but a straightforward voucher design with simple stencils. These can be best handed out for professional environments.
5.
This is my favorite one. The background is a bluish tinge mixed with a hint of violet and Voila! – You get a tidy voucher that is simply elegant and neat. Try writing with a white sketch marker and you can have a design pattern on your own.
6.
Having your own gingerbread man atop your voucher- Well that should say something. The vouchers are best given for people who are fun to be with. There's definitely bound to be someone in your group, right?
7.
This is a stylish and new age version of a gift voucher. The certificate resembles a chalkboard theme and the design speaks oodles about contemporary design. Gift this across when your partner has fashion on their minds.
8.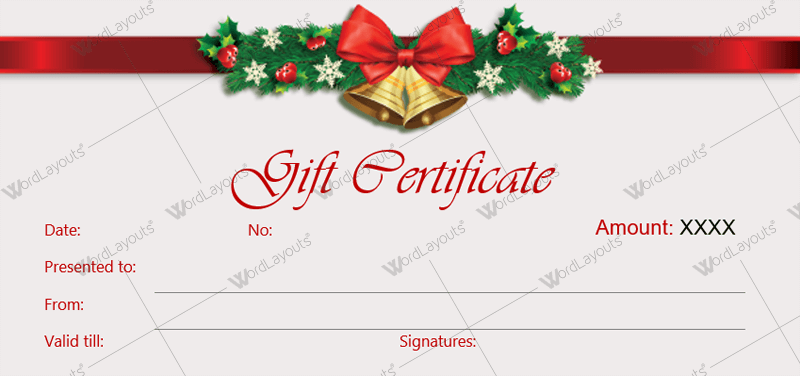 This evergreen design is a once more classy edition. Made to resemble a gift wrap, this voucher theme never ceases to amaze the onlooker.
9.
Gifting a voucher for someone who stays far off? Look no further than this theme, as the design spectacularly captures the travel mode and reunion Christmas offers.
10.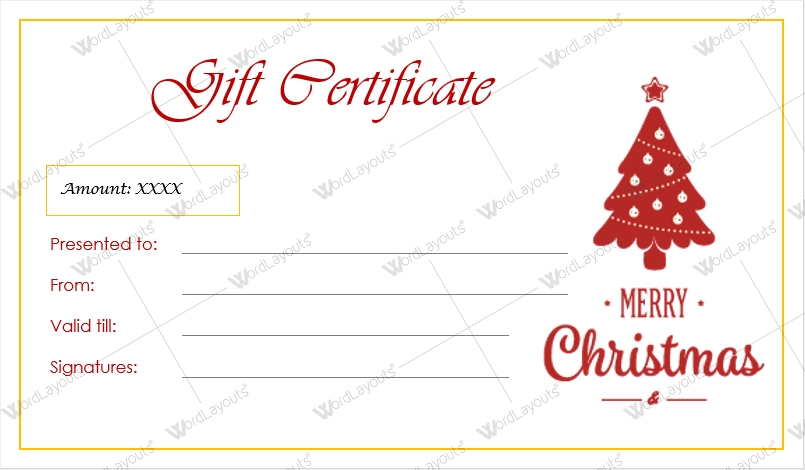 This retro-themed voucher may sure remind you of the billboards of the 1970's. The stylish red outlines on a white backdrop should make you nostalgic of a by-gone era where everything was simple.
11.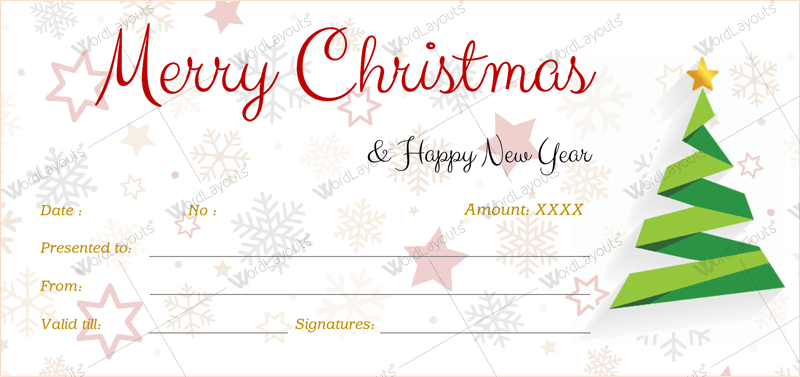 Gift this out best for colleagues and peers who do travel and for whom you would like to say a New Year wish in advance. The stars and the flakes and a smart green Christmas tree in the corner can be spectacular when printed out.
The best sound about Christmas is the sound of rustling wrapper paper. The best sound about Christmas is the sound of carols and the bells that chime from the speakers. More importantly, the best sound about Christmas is the sound of laughter and joys that we let out when we usher in the festive spirit.
Christmas & Gift Certificates (Best Match)
Christmas is the season to share elation and bliss. It is also a season to share delight and glee at every step with our near and dear ones. "What do you want for Christmas?" – This very question has the utmost power to stop everything in its track and makes one respond back with utter delight. Christmas gifts are a tradition, a custom for many folks and with Christmas right around the corner, we guess you are once again back in the predicament about the best gift to buy for your loved ones. Trust us – nothing can be more disheartening than getting a wrong gift this season. After all, it all boils down to that one single moment, where your loved ones unwrap the present.
Fast forward to the present and there exists an alternate way where you can save the blushes. – Christmas Gift Certificates. These vouchers are not something new and they have co-existed along with other gifts as far as we can remember. However, their worth is getting widely appreciated now, as they for one take out the biggest monotony of choosing the right gift for everyone. The format is made in a way that anyone can choose the gift of their own liking. – Thus they break the space and make the user, even more, happier in their own terms. A study has even correlated that gifting with such gift certificates, increases the level of contentment many folds. In many cases, gift certificates are wiser choices as you definitely do not want to be spoken behind till the next Christmas season, about how inappropriate your gift was in the first place.
If you have been thinking that gift certificates are just like coupons, think again. The services are diversified now and they can range anywhere from a dinner at your favorite restaurant to getting the free movie ticket of your beloved star. They can also be store vouchers or discount bargains at your preferred shop. The Christmas gift certificates are best when you are can easily customize Christmas themed templates.
Final Words
Christmas is a time for you to calm down and relax. It is also a time where you enjoy the bliss of the company you share. Gift them with our custom made Christmas Gift Certificates and watch them go cheerily over you. It is a season to share and a season to belong. Make it even more adorable and merrier with our gift certificates. Thanks for stopping and we wish you a Merry Christmas!