Finding the perfect Christmas gift for your loved ones can be challenging. A Christmas gift certificate that allows you to offer anything you want is the ultimate gift. Parents, children and employees can use gift certificates to celebrate the holidays. You can create this gift certificate using a Christmas gift certificate template. A Christmas gift certificate template gives you a fun and stylish design so you will not have to give your loved ones your hand drawn ones. Let's face it, drawing is not for everyone.
Gift Certificate Templates by GCT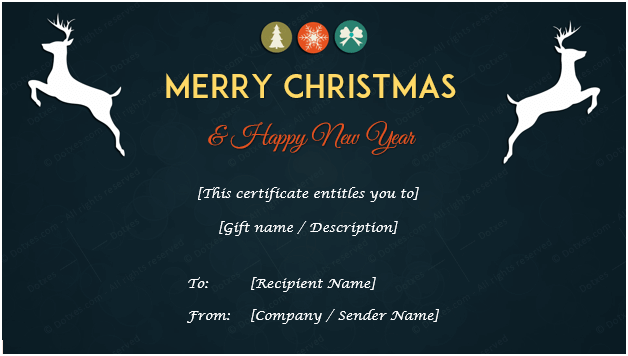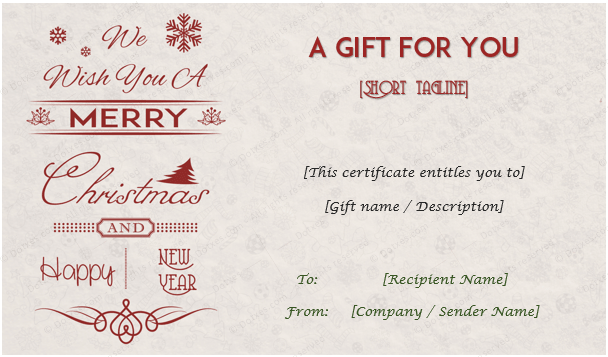 Templates by WordLayouts.com
How a Gift Certificate Template can Help?
Save your family the trouble of trying to figure out if that is a drawing of a Christmas tree or a snowman. By using a template, you can have a professional design with lines dedicated to telling what the gift certificate entitles the recipient to, the recipient's name, how long the gift is valid and who the gift is from.
You can type out all of this information or you can print out blank gift certificates and write in your details by hand. This is a reasonable gift for your kids, adults and your grandpa. Give your grandpa a certificate that says you will give him an hour of your time so he can tell you all his tall tales to someone. Show your spouse that you are willing to give one-foot rub once a week for three months.
If you are a child and need to give your parents a present, a Christmas gift certificate is the perfect gift. It will only cost you your time. You do not have to print it. Email it to them. Tell your mom that you will make up your bed every day or do the laundry for her once a month. Give your dad a gift certificate that says, "One hour of yard work." Your parents will appreciate your efforts and you will feel pride in giving them a present they will treasure forever.
If you run a business, a Christmas gift certificate template gives you the option of branding them for your company. You can give them to employees or customers. Employees can enjoy one free extra break given at any time. How about giving your star employee the best parking spot? There are many ways you can use a gift certificate to reward your staff at the company's Christmas party. As for customers, you can offer 10% off their next purchase or something free with the next purchase. The sky is the limit when it comes to creating your own Christmas gift certificate.
---