A Church Resignation Letter is a formal written document informing the recipient of the sender's desire to quit a position at a religious institution.
A church resignation letter is similar to a general resignation letter, except that it is written to a pastor or other church officials.
In the letter, you should thank the leader for the opportunity of serving in the religious organization. It's also essential to indicate why you've decided to leave the organization.
In your church resignation letter, you should include the following:
Reasons for quitting
Your last day of service
How you'll help in the transition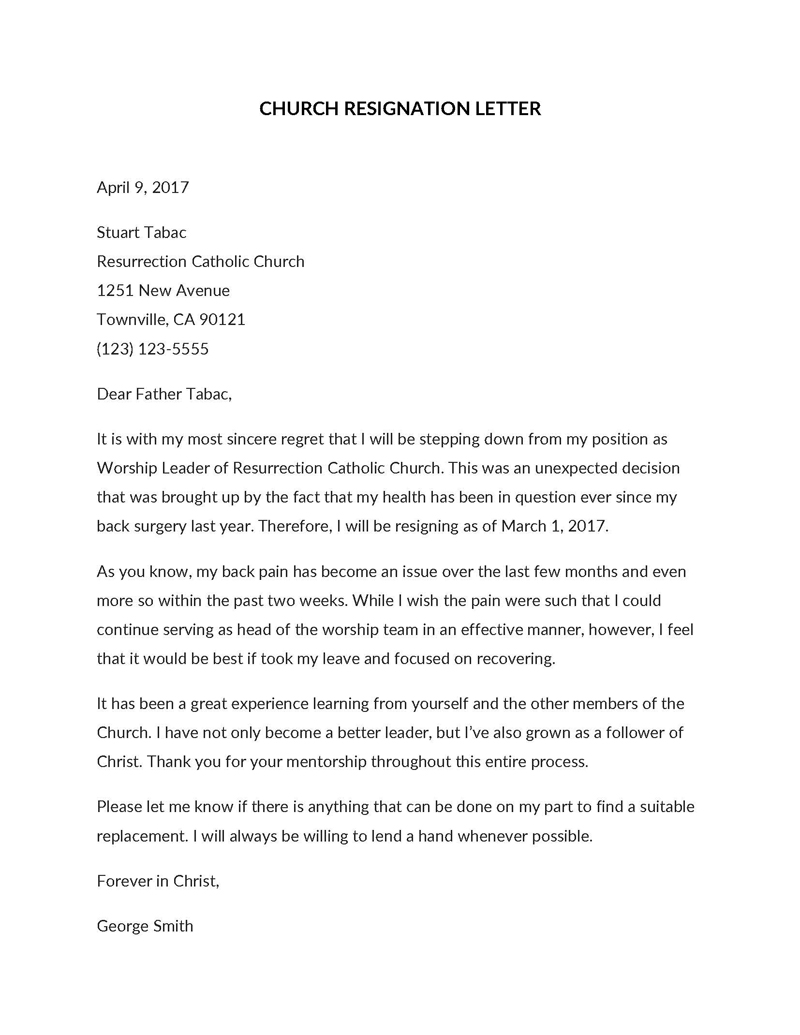 How to Resign from Your Church
Mentioned below are some steps that you can follow to resign from your church:
Meet the leader
When you decide to resign from your church position, you should first meet your pastor/ church leader and discuss the matter face to face. If not possible to schedule a meeting with your pastor, you can send an email to inform them about your decision.
Write a resignation letter
You may decide to bring the resignation letter as you meet your pastor, or you may send the letter after the meeting.
Return church items
Make sure your return all the things you were using to discharge your duties as a church leader. Some of the church belongings you may need to return, include church records, musical instruments, church uniform, keys, etc.
Keep a record of the resignation letter
After writing your church resignation letter, make several copies and retain one as a record. Ensure you hand over your resignation letter in advance to ensure the church programs are not disrupted.
How to Write a Church Resignation Letter
In this article, we will discuss the steps to writing a church resignation letter as well as some guidelines on what should be included in your church resignation letter.
Section 1: Header
The header covers the following information:
Date and addressee's details
Include the date on which you write the resignation letter. The correct details of the recipient should be included to avoid addressing the letter to the unintended individual. Write the official name of the person to whom the letter is addressed. Also, you may state the church leadership position that the recipient holds and the name of the church that you wish to resign from along with the correct physical address of the church.
Your details
Indicate your name, phone number, and address in the header section. Other church officials can use your contact number to reach you if there will be a need for that.
Salutation
Include the correct greeting for the person you're writing to before beginning the body of your letter. You might begin your letter with "Dear," followed by their religious rank.
Section 2: Introduction
The introduction paragraph sets the tone of the entire resignation letter. It would be best if you focused on the following when introducing the message of your letter:
Letter's intent
It is significant to include your intent for resigning from the position. Express the reason for your resignation clearly and concisely.
Mention your last day in your current position or church
You must state the exact date you wish to officially quit your position as a religious leader. If you will be relocating, it is important for you to state the last day that you will be able to attend the church service.
Section 3: Body
This section carries the details of the letter. It is deemed necessary to include the following details in your church resignation letter.
Provide details/reasons for your resignation
You need to describe the reason for your resignation in detail. This should be done respectably and positively since you don't want to leave on poor terms, which may lead to a bad recommendation. It is not strictly necessary to discuss the personal or emotional condition that led to your choice to leave. Still, depending on your circumstances, you may do so as long as the general tone of the letter stays positive. While informing the letter's recipient of your decision is essential, keep it as short and simple as possible. Write directly to assist them in grasping the purpose of your message. Avoid including unnecessary details.
Express your gratitude
Inform the recipient of the letter that you are grateful for the time you served in the church and for the support that the church has accorded you during your period of service. It's also a good idea to mention how your position in the church, or the church members or leaders, positively influenced your life.
Offer your help
State that you are willing to assist with the change in the church to ensure a smooth transition. This demonstrates that you still care about the church, despite your resignation.
Section 4: Conclusion
Your conclusion should restate your prior points while leaving the reader with an overall positive feeling. You may use phrases such as "Yours in the Lord", "Peace be with you", "May the good Lord bless His church", etc. to sign off the letter. Write your official name and the position that you want to resign from.
Church Resignation Letter Template
(Current date)
(Full Name)
(Church's name)
(Church's address)
(Phone number)
Dear (Name of the addressee),
It is with a heavy heart that I am resigning from (church name and position). My last day of work will be (resignation date).
My decision to resign has been prompted by my plans (state the reason for resignation). I know that you will find it difficult to accept my decision because of our strong relationship, but kindly allow me to move on to the next stage of my life.
I appreciate the opportunity to work with you and the mentorship you have provided. I feel the values I've acquired will be useful in shaping what I am planning to undertake in the next phase.
Thank you once more for the opportunity. I wish you well. Yours in the lord,
(Your signature)
(Your name)
(Your current leadership position in church)
Church Resignation Sample Letters
Following are some samples for your help:
Sample 1
26th August 2021,
Nathan James,
The Living Tabernacle Church,
17 Parklands Ave,
AZ 8003
Tel: 73333300015
Dear Pastor,
I am writing this letter as notice of my impending resignation from the position of Youth Patron of The Living Tabernacle Church. My last working date will be 18th September 2021.
My decision to resign has been prompted by my plans to pursue higher education in two months. I believe you did not expect this sudden resignation three years after I was appointed for the post, but kindly accept the news with a pure heart.
I truly appreciate the opportunity to serve in this church, and I acknowledge that it was one of my greatest pleasures. Also, I am grateful for the mentorship you offered throughout our working relationship.
I wish to assist the church in achieving a smooth transition after the appointment of the next youth patron, and I will always be available any time the church needs my assistance.
Yours in Christ,
Nathan James,
Youth patron
Sample 2
December 12, 20XX
Mike M. Smith
The Great Commission Church
34 Parklands Ave.
Phoenix, AZ 8003
(441) 675-6677
Dear Pastor John,
Please accept this letter as my official notice for my impeding resignation from The Great Commission Church. My last day of work will be December 24, 20XX.
My decision to quit has been motivated by my plans to pursue further education. I understand you'll find a hard time accepting my choice due to the deep relationship we have had for the last seven years, but please allow me to start my next phase in life. I believe it's time to practice my faith and follow my dreams.
I am thankful for the experience and mentorship I have received working under you. I believe the values I have learned will be instrumental in shaping my future career.
Again, thank you for the opportunity. I wish you all the best.
Yours in the lord,
Melisa Whales
Sample 3
Subject:
Dear Father Ronald,
I write this letter to inform you of my decision to resign as the chief choir minister with St Teresa's Catholic Church, effective one week from today. October 23, 20XX, will be my last day.
I have and a wonderful time coaching the church choir in the past eighteen years. As you know, my wife is terminally ill, and thus I have decided to resign from my position to attend to her. You have been of great encouragement for all this time, and I thank you for your prayers and support.
I will greatly miss leading the church choir, but I promise to offer my advice and support to this team when possible. My time at St Teresa's Catholic Church has been a moment of learning, transformation, and growth.
Again, thank you for your support, prayers, and encouragement. I promise to keep in touch, and I will regularly be visiting.
Peace Be with You,
Marcus Martins
Music Minister
This article discusses details of a church resignation letter, including the right procedure that should be used when crafting the resignation letter. If you are compelled to resign from any church position, this article will help you through the process of writing a professional church resignation letter.