Terminating an employee is usually very stressful for everyone involved. However, though not easy, involuntary employee turnover is inevitable. Therefore, handling the termination process is just as crucial as the hiring and on boarding processes. If you are considering terminating an employee, then it is essential to send a letter of termination.
What is a Termination Letter?
A termination letter is a formal letter confirming the details of the firing of an employee. It summarizes a list of the information that the employee being terminated will need to know and explains any benefits or compensation they shall receive after termination.
When To Use a Termination Letter
You should use a termination letter if or when:
You want to document the circumstances of the termination
It is your company's policy to do so
Your state legally requires it
Providing the employee with the necessary information to help them have a smooth transition.
Do I have to Provide a Termination Letter?
This depends on the state where your company does business. All states have rules on the termination of employees that you are well-advised to follow. However, in most states, no laws direct that you must issue a termination letter to your employees.
What to Include in a Termination Letter
Employee Information
When writing a termination letter include basic information such as:
Full name
Employee ID
Position/title
Company name
Name of the person handling the termination
Date of termination
Reason(S) For Employee Termination
There are various reasons why you could be terminating an employee. Some of the common reasons include:
Without Cause: this refers to employee termination as a result of company downsizing and more substantial market factors that are unrelated to individual employee performance.
With Cause: termination with Cause refers to the termination of an individual employee's based on their performance and behavior
End of Business Contract: Just like the name suggests, this type of termination is usually as a result of an end to a contract between two parties.
Return of Company Property
In case an employee is required to return any company property, you must include a list of all the things they are needed to return in the termination letter. These may consist of; cell phones, building pass, vehicles, etc.
Compensations And Benefits Going Forward
The next thing to include in a termination letter is explaining how the employee's compensation and benefits shall be effected upon the termination of their employment. Depending on what state your business is in, you may be required to pay out unused vacation time. You should also inform them of how their health care, life insurance, and retirement funds will be effected upon their termination.
Remind Them of Signed Agreements
In most cases, an employee will sign a non-disclosure agreement and other related documents during the onboarding phase. You should inform the employees of such contracts and attach a copy to go with the letter.
Include HR/Manager Contact Information
Include the contact details for the specific manager/HR representative before signing off, to make it easy for them to follow up on their benefits and any other information that they may need to be clarified.
Items to Exclude from a Termination Letter
Severance to waive legal claims:

Severance to waive legal claims may be seen as a sign of weakness by your employee. This may raise concerns as to whether they are wrongfully terminated or whether that is a way of the company avoiding legal issues. It is good to negotiate after the termination letter has been delivered without the potential for legal claims on the employee's mind.

Protected Characteristics:

Protected characteristic is typically anything that could be discriminated against. These include information such as health, sex, age, pregnancy, and disability. It would be best if you do not consider these factors when hiring; neither should you find them when firing.

Familiar Language:

Maintain professionalism at all times. Include only factual information and avoid phrases such as:

You'd probably prefer a less stressful job anyway
Consider this as a chance to spend more time with your child
Now is a great time to retire anyway
Look on the bright side.
Why you Should always use a Termination Letter
A termination letter plays a significant role in both the employer and the employee. The main reason for sending a termination letter is to avoid any problems that may arise after termination.
The terminated employee will have to use the termination letter to claim for unemployment insurance and any other federal state benefits. Without this letter, they may be denied any access to such benefits that can make a huge difference in their unemployed life.
The termination letter will also serve as part of your defense if the employee files a complaint against the reasons for termination. Without a termination letter, you may find yourself as an employer being liable for thousands, if not millions of dollars.
Other Issues Regarding the Termination Process
Terminating an employee is never an easy process. Even after providing a termination letter, there are other things you must always consider before deciding to let go of an employee.
Provide verbal or written notice to an employee about any unacceptable behavior so that the employee is aware of their mistakes and may not act surprised when you decide to let them go.
Include a witness when sitting down with the employee to go over the termination letter before letting them go.
It is recommended to talk to the employee's face to face when terminating them rather than terminating them via electronic means such as text, voice message or emails
Prepare a detailed statement on why you are terminating the employee and avoid going into details in an attempt to explain the firing.
Avoid any arguments as possible with the employee when discussing the termination letter.
Don't make the decision to terminate an employee by equating them to other employees.
Simple Termination Letter Template
[company name]
[address]
[City, State, Zip code]
[Date]
To
____ [Employee first and last name]
RE: Termination of Employment at ____ [company name]
The purpose of this letter is to inform you that your employment with ____ [company name] will end as of __ [date].
The termination is due to the following reason(s):
[Provide a list of the reason(s) for termination]
This decision is final.
You shall receive:
[Provide a list of the benefits and compensation they will receive]
Your health care benefits shall [Provide a detailed explanation of what will happen to their insurance policies upon the termination of employment]
Your retirement benefits will [Explain what will happen to their retirement benefits]
You are required to, therefore, return [List all company properties to be returned]
Remember that you signed an agreement to [list all the contracts the employee signed including NDAs]
If you have any questions with regards to your compensation, benefits, signed policies or returning of company property, please contact [Provide the name and contact of the representative, usually an HR]
Sincerely,
[Name of person handling the termination]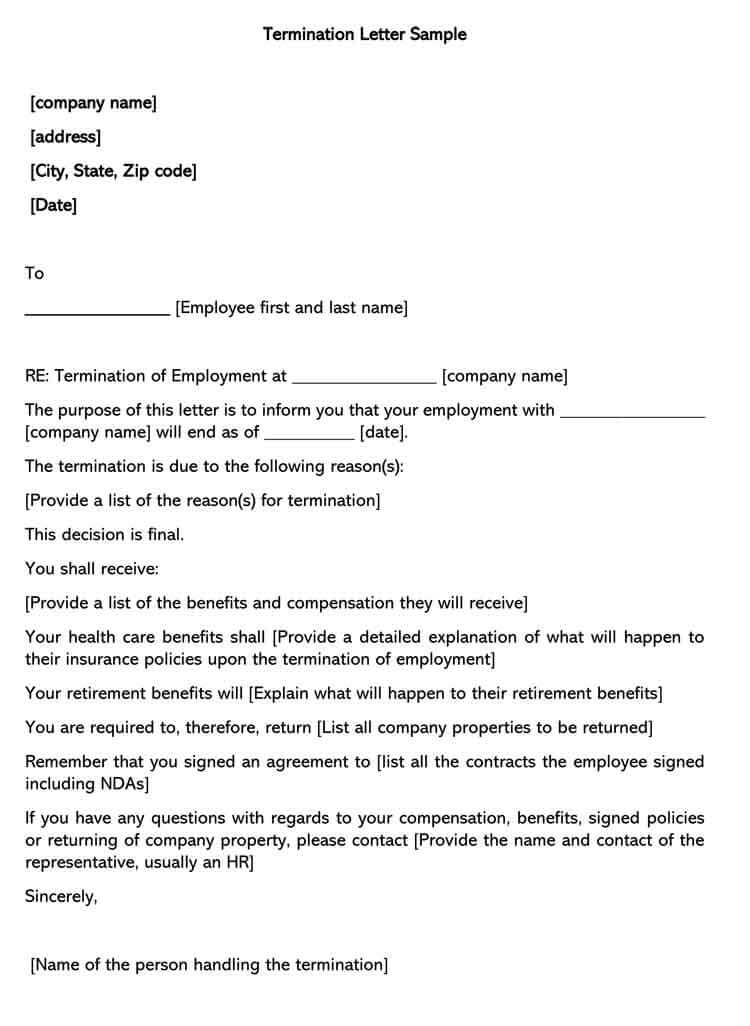 Termination Letter Sample (with Cause)
Example
June 14th, 2020
Dear Paul Tomlyne,
This letter is to inform you that your employment with Atlantia, Inc. will be terminated, effective as of June 30th, 2020.
The decision to terminate your employment at our company is based on the following reasons:
On January 20th, 2020, you were absent from work without approved leave. You were provided with a formal written warning at that time, explaining that your absence violated our company's attendance policy.
On April 24th, 2020, you had a second absence from work without any approval. You were issued with another written warning and were informed that a third warning would result in your dismissal.
On June 10th, 2020, you had a third absence without approved leave, resulting in your termination.
Your last paycheck will be credited to your account. Your healthcare and any other related benefits shall remain in effect for 90 days from your termination date of June 30th, 2020.
We request that you return your gate pass, keys, company laptop, and company vehicle by the end of the week.
For any questions regarding your remuneration and compensation benefits, kindly contact the HR manager, Marion Stinson, at 111-222-333 or [email protected]
Best Regards,
Titus Rowlence
Termination Letter Sample (without Cause)
June 14th, 2020
Dear Paul Tomlyne,
This letter is to inform you that your employment with Atlantia, Inc. will end as of June 30th, 2020.
Over the last few months, Atlanta Inc. has experienced a lack of work in our industry, resulting in financial difficulties. We have tried to explore several options to try and increase the demand for our services. Unfortunately, our efforts have been unsuccessful.
We have decided, therefore, that we must reduce our team by 30%. We regret to inform you that your department is a part of this downsizing, therefore, your job title shall henceforth be eliminated. This decision is final.
You shall receive your final paycheck, including payment for the remaining leave days after your last day with us. You shall also receive a $79,500 severance pay. Kindly sign and return the attached claim document to facilitate the process of your collection of this amount.
Your health benefits will remain in effect for 90 days after your termination.
You are requested to return your gate pass, keys, company laptop, and company vehicle on the last day of employment.
Remember that you signed a Non-Disclosure Agreement. Please review the attached copy.
Within the next week, our HR representative will contact you to set up a meeting to discuss details regarding your benefits. You shall also be placed with an outplacement firm service to facilitate you in your job search. For any questions concerning your compensation, benefits, or policies, kindly contact the HR manager, Marion Stinson, at 111-222-333 or [email protected]
Please accept our appreciation for your contribution during your employment with us at Atlanta Inc.
Best Regards,
Titus Rowlence