A loan rejection letter is a document that a credit provider issues to a loan applicant informing them of a rejection of the loan application. Every creditor has its rules and regulations that govern loans. If you apply for a loan and you do not meet these requirements, the lender will reject your application. The rejection letter outlines the reasons for rejection. Before applying for a loan, make sure you are familiar with the set guidelines.
Samples and Templates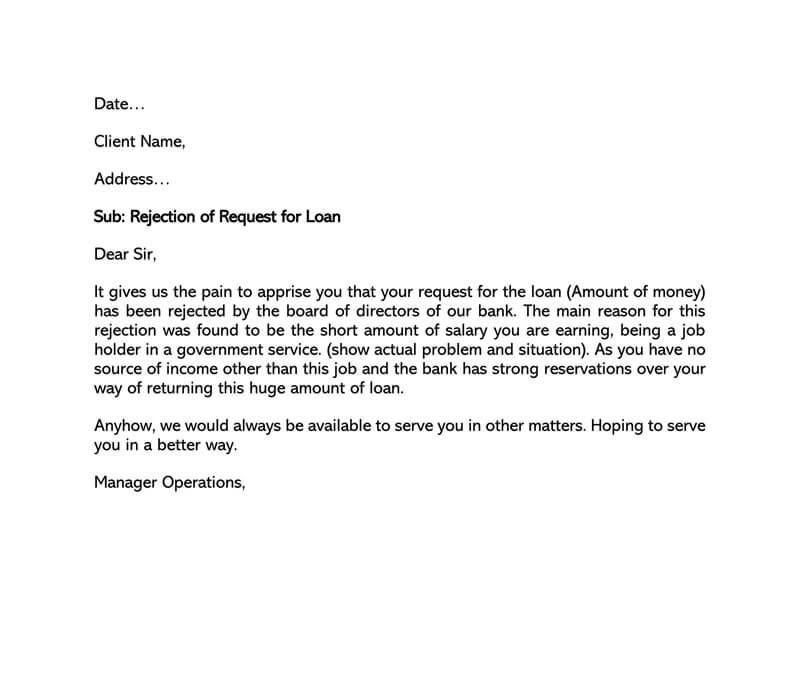 What to include in a loan rejection letter?
When writing the loan rejection letter, you must include reasons for declining the application. Additionally, you can advise the client on what to do to qualify for the loan. The lenders' and recipients' names and addresses must also feature in the letter. And finally, the letter must have the lender's official signature.
Several reasons might motivate a financial institution to reject your loan. They include:
Incomplete paperwork
As a credit provider appraises your loan application, they'll check to ensure that all the required paperwork is complete. Some documents that accompany a loan application includes: bank account statement, personal/business tax returns, financial statements, personal/business credit reports, etc. If any of the stated documents are missing, your loan application will be rejected.
Lack of collateral
Traditional lenders require a loan applicant to submit a guarantee for the loan. In cases where you have not provided any collateral or it's insufficient, your loan will be turned down. In this case, consider applying for an unsecured loan.
"Risky" investment
Lenders classify industries depending on the risk involved. If the credit provider views our investment to be risky, they might reject the loan since your probability of repaying the loan is uncertain. For example, a lender might find it challenging to fund a gambling business.
Low credit score
Most loan applications face rejection due to a low credit score. If a lender rejects your loan due to a low credit score, then you have the option to make efforts to repair your score or look for alternatives. On the same token, if you have not been in business for a long period and you have not built a sufficient credit history.
Insufficient income
When applying for a loan, you must make sure your income is sufficient to repay the loan. Lenders will not approve your loan if they discover your cant repay it. A solution to this problem could be borrowing a lower amount.
Loan rejection letter template
From
[Bank name]
[Address]

To
[Name]
[Address]
Re: Your loan application

Dear Sir,
This letter is in reference to your loan application dated [date]. After going through your application, we are sorry to inform you that your application was rejected due to [give reasons].
Thank you for banking with us. You can reapply the loan after meeting the set conditions.
Yours faithfully,
[Branch manager]
[Dated]
Types of loan rejection letters
Personal loan rejection letter
A personal loan rejection letter is a one receives if they had applied for a personal loan from a credit provider and they fail to secure the loan. The letter puts across reasons for declining the loan application. Personal loans are the best option to cater to emergencies. The appraisal process for these loans is more stringent. They offer more flexibility in how you can use the money. Poor credit score, inability to repay, and errors in the application are the main reasons for the rejection of personal loans.
Business loan rejection letter
A business loan rejection letter is a response to an individual that had applied for a business loan. It's a rejection of the loan application. Most lenders reject business loans because of limited collateral, lack of a solid business plan, excess debts, inadequate cash flow, poor credit score, and if the business is still young. The lender will specify why they have rejected the loan application.
Customer loan rejection letter
If one is a customer of a lending institution let's say a bank and they apply for a loan, if the lender declines the loan they'll issue a letter to the client rejecting the loan—the letter is referred to as the customer loan rejection letter. The lender must express their regrets for rejecting the loan to maintain customer relations. The letter must embrace a polite tone since you're addressing your customer.
Home/mortgage loan rejection letter
When you apply for a mortgage and your loan application is rejected, the financier will issue a mortgage loan rejection letter explaining why you did not qualify for the loan. Credit providers mainly reject mortgage loans due to insufficient income, poor documentation, small down payment, issues with the property, and poor credit history. Before applying for a home loan consider going through a checklist to know what is required of you.
A loan rejection letter from a bank
A loan rejection letter from a bank is a formal communication a bank sends to a loan applicant to inform them that they are not eligible for a loan. The letter might offer suggestions of what you can do to qualify for the loan. If you receive a loan rejection letter from your bank, you can revert to a personal loan since most personal loans are unsecured but attract a higher interest.