A Loan Application Letter is a correspondence a borrower writes and submits to a prospective lender as part of the loan application process.
The letter expresses the borrower's intent to ask for a loan, the requested loan amount, the intended use of the funds, an explanation of why the lender should consider the applicant's loan request, and a detailed description of how the applicant plans to repay their loan.
Certain situations in life call for an infusion of outside cash to grow a business, expand your current business, take advantage of the current market opportunity, or take care of pressing personal needs or emergencies. There are different lending options to choose from, and depending on which one you decide to pursue, you might spend more or less time and effort applying for a loan.
Generally, a loan application letter is required in the following two major financing situations:
When a borrower is requesting a loan from a conventional bank lender, and they want to demonstrate that their small business is growing and financially viable


When a borrower wishes to apply for a loan from the SBA (Small Business Administration), which recommends that applicants begin their loan proposals with a loan application letter or an executive summary.
There are situations where loan applicants do not necessarily need to write a loan application letter. These include situations where borrowers are requesting a term loan online from alternative lenders who often only require recent bank statements, where a borrower is seeking equipment financing, in which case the equipment itself serves as collateral, and in situations where one is requesting a business line of credit which mostly require recent financial statements or business bank statements.
Types of Loan Application Letters
Generally, two business financing situations require you to write either of these two types of loan application letters.
They include:
For a traditional bank term loan
The loan application letter for a traditional bank term loan is necessary to get business financing from your conventional bank lender. In most cases, conventional bank lenders prefer to loan money to businesses that appear to be growing and have the potential to turn into long-term customers.
Small business owners find it very challenging to acquire business funding from such institutions because they must prove to the lender that their business or start-up is a sound investment that will generate solid returns.
A loan application letter for a traditional bank term loan helps small business owners to appeal for business funding by demonstrating the business's financial viability, describing the purpose of the loan, and proving the applicant's ability to repay the loan on time and in full.
For an SBA loan
The US Small Business Administration (SBA) reduces risks to lenders by guaranteeing significant portions of loans issued to small business owners. This allows lenders to provide financing to small businesses that would otherwise have not qualified for business funding on other reasonable terms. When a small business owner applies for an SBA loan usually backed by the federal government, they must comply with the lender's requirements and the SBA rules.
In most cases, the borrower will be required to write a loan application letter for an SBA loan disclosing their financial details and that of their business partners, the business's finances and credit history, how much money the applicant has invested in the business, and the company's industry. In addition, the letter should also indicate whether the applicant and their management team have previous industry experience relevant to their current business.
Things to Mention in a Loan Application Letter
A loan application letter is an important document that may increase or break your chances of being considered for a loan. An effective loan application letter should only be one page long and contain six or fewer paragraphs.
The letter should highlight important information about your business's history and financial status, and it should be able to convince the financial lender to approve your loan application. And since banks use the loan application letter to prejudge borrowers and their creditworthiness, you must be keen on how you structure your loan application letter, what you include in it, and the tone you use throughout.
Here is a detailed guide on the essential components of a loan application letter and the appropriate way to format it:
Header and greeting
An effective loan application letter should include a header and greeting section. The letter's header will contain the applicant's identifying and contact information, the date, the receiver/lender/loan agent's identifying and contact information, and a formal greeting addressed to the receiver of the letter.
The details to outline in this section include your name, your business name, business address, business mobile phone number, the receiver/lender/loan agent's name, title, contact information, including their physical addresses, and a clear subject line stating the reason for the letter along with the specific amount of money you are requesting from the prospective lender.
After providing this vital information, you should include a formal and professional greeting addressed to the receiver of the loan application letter. To ensure that you address it to the right party, it is recommended that you find out to whom the application needs to be submitted before you begin writing the letter. However, if you cannot find the name of the loaning officer or agent, you can use a more generalized greeting such as Dear Loan officer, Manager, etc.
Business loan summary
Begin the loan application letter by briefly stating the letter's purpose and specifying the dollar amount you are asking from the prospective lender. This section should also briefly disclose your business information, the loan's intended use, and your creditworthiness. While writing this section, consider including only the vital details to prompt the reader to the body of the letter.
Basic details about your business
In your loan application letter's first body paragraph, provide the essential details about your business. The information to write in this section includes your company's legal name, the specific business structure (for example, sole proprietorship, partnership, limited liability company, etc.), a brief but detailed description of what your business specializes in, how long it has been operational, the total number of employees if any, and your annual revenue and profit.
Purpose of the loan
Use the second body paragraph of the loan application letter to describe the purpose of the loan and how you intend to use it. While writing this part, you must be as specific as possible, citing numbers to quantify your goals. However, avoid including any vague statements as this would create a sense of uncertainty, making the lender disqualify your loan application.
Keep in mind that a lender's priority when reviewing loan applications from various applicants is their likelihood to repay the loan along with the accumulated interest on time and in full. Their ultimate goal is to minimize their risk, and as such, you should carefully explain how the loan will help your business generate the extra revenue you will need to cover repayment plus the interest.
Proof of your ability to pay
Small business owners who want to qualify for a business loan must understand how to position themselves as viable and attractive investments for banks and other alternative lenders. One good technique for accomplishing this is using factual and verifiable evidence to show the business's ability to repay the loan.
Therefore, on the third body paragraph of the loan application letter, tell the loan agent/officer about your credit history and highlight key data from your financial statements that reflect your ability to repay the borrowed money and demonstrate that you will be a low-risk investment for the financial institution.
Information to highlight in this section includes; summaries from your recent balance or income statements that demonstrate your business is growing and financially healthy, schedules for repaying any other business debts you already owe (if applicable), and cash flow projections indicating the time you will be able to budget repayments for your loan's principal and the accrued interest.
In addition, if your business is currently profitable, be sure to include that information in the loan application letter, as this is usually considered enough proof of a borrower's ability to pay back their loan.
Concluding elements
An effective conclusion for a loan application letter should include a paragraph referring to your attached business financial statements, a few brief sentences prompting the reader to review the loan application materials, and expressing your anticipation of having a meeting with them, your signature and printed name and a list of enclosures.
Typically, the list of enclosures will include your financial statements, your business partner's financials, if any, including for SBA-backed loans, and any other documents necessary for processing the loan application.
Note: When drafting your loan application letter, you should always strive to provide the most accurate and truthful information.
For the lenders, lending is a risky investment, and they would want to scrutinize and verify the information provided on loan application materials before approving applicants' loan requests.
Remember that knowingly providing false information on a loan application, including falsifying documents, not reporting your current debts, exaggerated income, misrepresented purpose, undervaluing assets, inaccurate residency, among others, qualifies as lying and is considered a crime. This may be subject to penalty by law, or it could negatively impact your creditworthiness, making it almost impossible for you to get loans in the future.
Loan Application Letter Template
In addition to providing you with a comprehensive guide on writing a compelling loan application letter that could help you get the business financing you need, we have provided you with a template that you can download, customize accordingly, and print for your use. You can also use this template as a reference point when creating your own loan application letter.
[Applicant's Name]
[Applicant's Title]
[Business Name]
[Physical Address]
[City, State, Zip Code]
[Date]
[Loan Officer/Agent/Lender's Name]
[Official Title]
[Financial Institution's Name]
[Physical Address]
[City, State, Zipcode]
REF: Small Business Loan Request for [Dollar Amount]
To Mr/Mrs [Receiver's Surname],
I am writing this loan request  letter to ask for a small business loan amounting to [specify the loan amount you wish to borrow] for the purpose (s) of [provide a practical purpose for the loan, e.g., expanding the business, marketing your business to a target audience, recruiting new staff, etc.]
My business, [mention the company name and specify the business structure], became operational in the year[write the year] with [Mention the number of employees at the time of inception] and one location. Over the last 12 years, we have consistently grown, and we now have [Total number of branches] located in [Mention the various branch locations], and we currently have [write your current number of employees].
My business solely specializes in the [Mention the industry type, e.g., food-service, motor vehicle spare parts, building, and renovation industry, etc.]. We advertise on our official website, [provide your business's website link] and market our products/services on various social media channels such as [Mention the social media pages, e.g., Twitter, Instagram, Facebook, etc.]. So you can visit those sites to follow our business journey and success stories.
In the previous business financial year, our annual sales revenue amounted to [provide the factual figure in dollar amount], and the business generated a net profit of [write profit in dollar amount or percentages].  These figures prove that we have consistently maintained our cash flow for the past [write the number of years] and have managed to generate profits each year we have been operational.
To promote our continued growth, we have strategized a business expansion plan to reach our target market in remote areas. The loan we are requesting will help us meet our business expansion goals. In addition, we anticipate increasing our total revenue by [quantify in figures or percentages] within the first quarter of opening, which will contribute to our loan repayments.
We want to pursue this endeavor in (mention the anticipated project start dates], and we hope you consider financing our business expansion goals. I have also attached our business plan, the most recent financial statements, including our income statement, business balance sheet, and business credit reports, for your review.
I appreciate you for taking the time to review this loan application letter along with the enclosed financial documents. I look forward to hearing from you at your convenience.
Sincerely,
[Loan applicant's name]
[Loan applicant's signature]
[Loan applicant's business title].
[List the enclosures provided]
Related: Loan Application Rejection Letter (15+ Sample Letters)
Sample Letter
To,
John Wright
The Manager
Administration Department
XYZ Co. Ltd.
Sub: Application for Loan to purchase a New Bicycle.
Dear Mr. Wright,
I would like to request you if you could please grant me a loan of $800 as a personal loan as I need to purchase a New Bicycle. I am in need of a new Bicycle as my old one is broken beyond repair and this is the mode of transport to commute to work. I do not have that amount of money in hand at the moment, hence, I was hoping you could help me by lending me the money.
As you are aware that I have been with the company for the past 3 years and have proven to be a loyal and dedicated employee under your kind leadership, hence I believe you would consider me worthy of the loan.
As per the company's employee loan policy, you can suggest a repayment plan for me as per your discretion to be deducted from my salary.
Thanking you in advance and hoping to hear from you soon.
Kind regards,
Kate Brea
Customer Service Officer
Administration Team
Here are free customizable templates for you: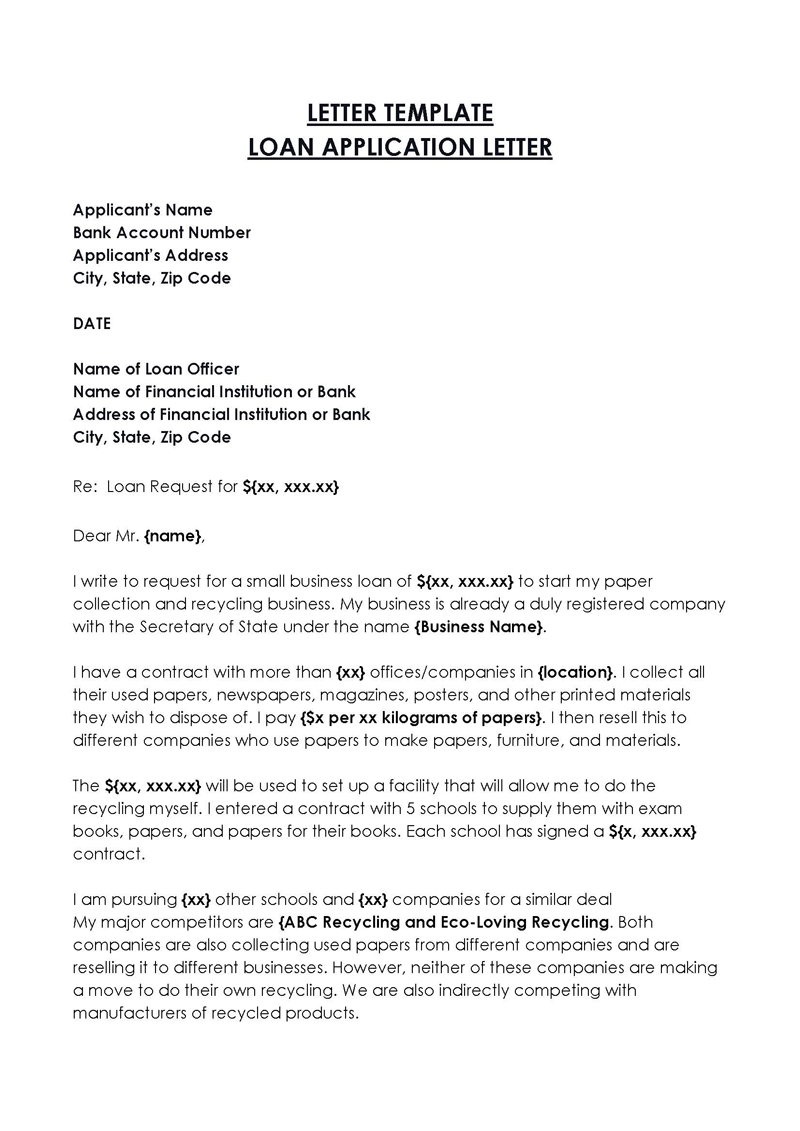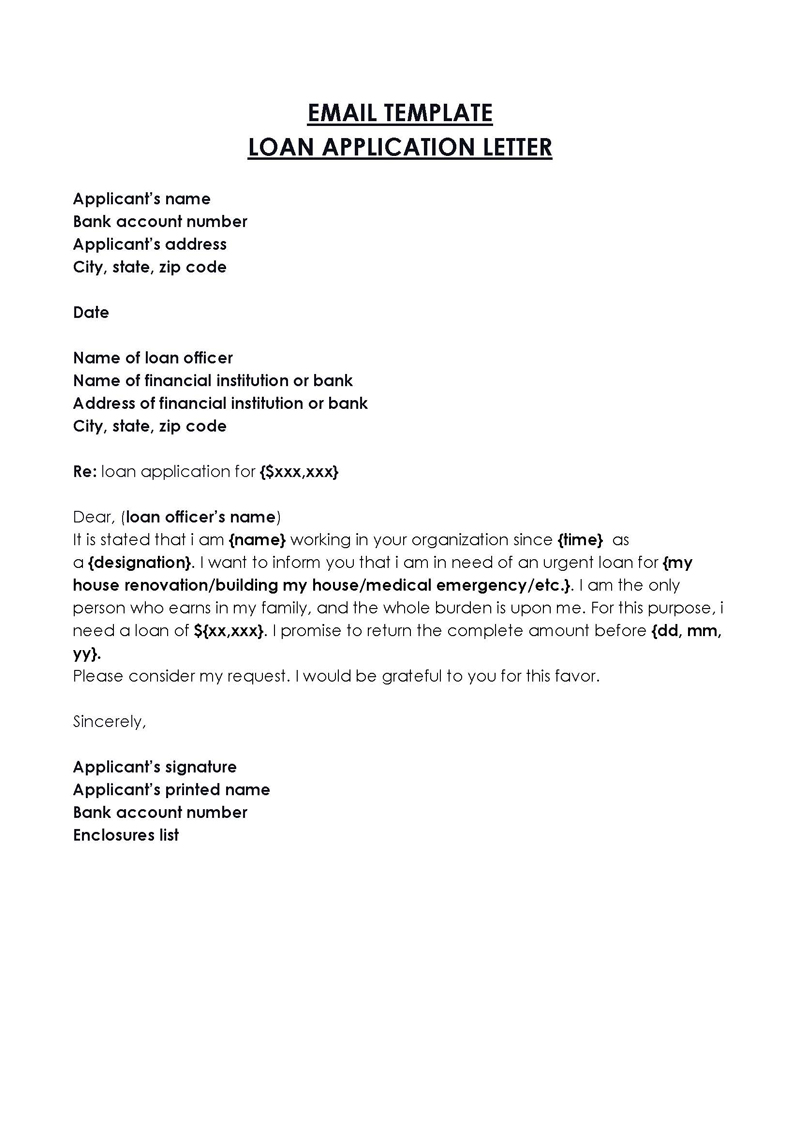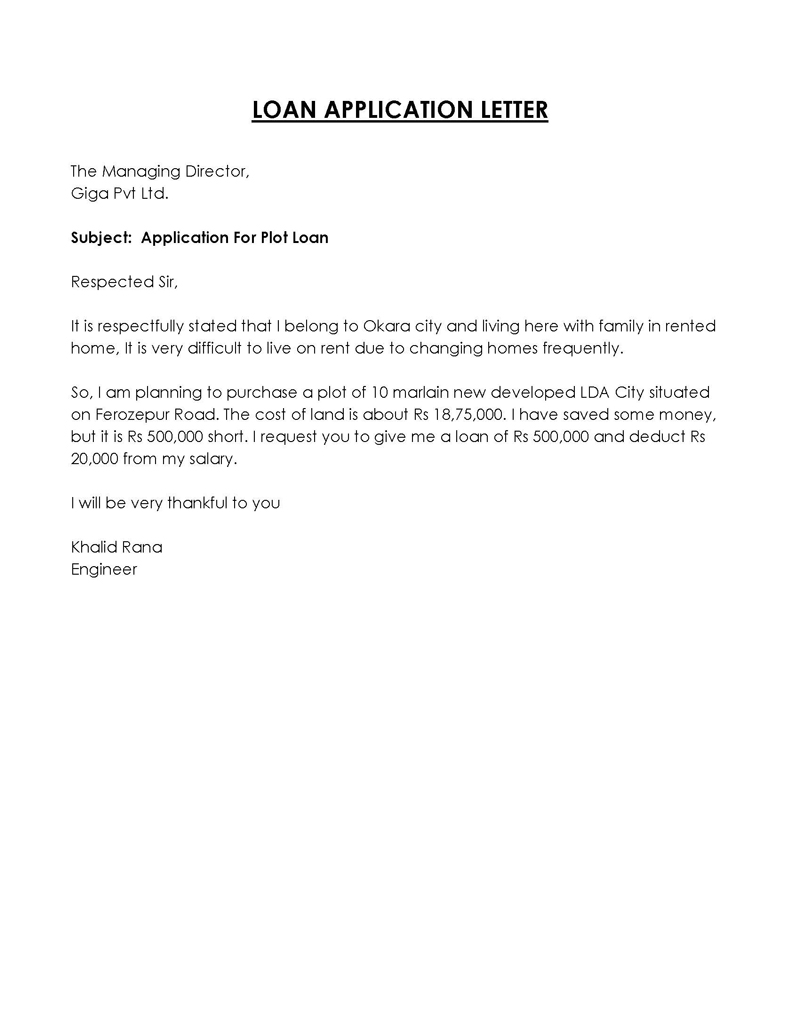 A loan application letter is an essential document that allows borrowers to express their intent to acquire business financing from a conventional lender or the SBA.

The letter allows a loan applicant to personally appeal to a prospective lender by highlighting the basic information about their business's history and financial status, providing a reasonable purpose for the loan, and highlighting a repayment schedule, helping convince the bank to view the borrower as a safe credit risk.

When writing a loan application letter, applicants need to be precise and concise as it makes a first impression on the prospective lender. The letter should include a header, a professional greeting, the business name and structure, basic details about the business, the purpose of the loan, and proof of the applicant's ability to repay the loan.