A power of attorney, abbreviated as a POA, is a term that is pretty common in the legal and healthcare sector. The document is used as a way for you to ensure that your personal and official decisions and obligations are designated to someone you trust. Senior citizens popularly utilize POA forms to assign an agent as a custodian or guardian of the estate, financial matters, or a decision-maker in healthcare emergencies. The party delegating legal authority or power is the principal, and the appointed party is termed an agent or attorney-in-fact. To provide further insight into a power of attorney, this article will discuss the different types of POA, the requirements of the POA form, and provide a guide on how to acquire a power of attorney form in New York.
A New York Power of Attorney is a legal form that allows you to transfer your legal authority to another party (individual or organization) who wish to act on your behalf if the assigning party (principal) be unable to exercise the specified legal authority due to reasons such as incapacitation or death.
The document is governed by the New York state laws and must satisfy the state requirements to be valid. Examples of duties assigned through a power of attorney form for New York include filing taxes, deposit/withdrawing bank deposits, managing or distributing the estate, and making healthcare decisions.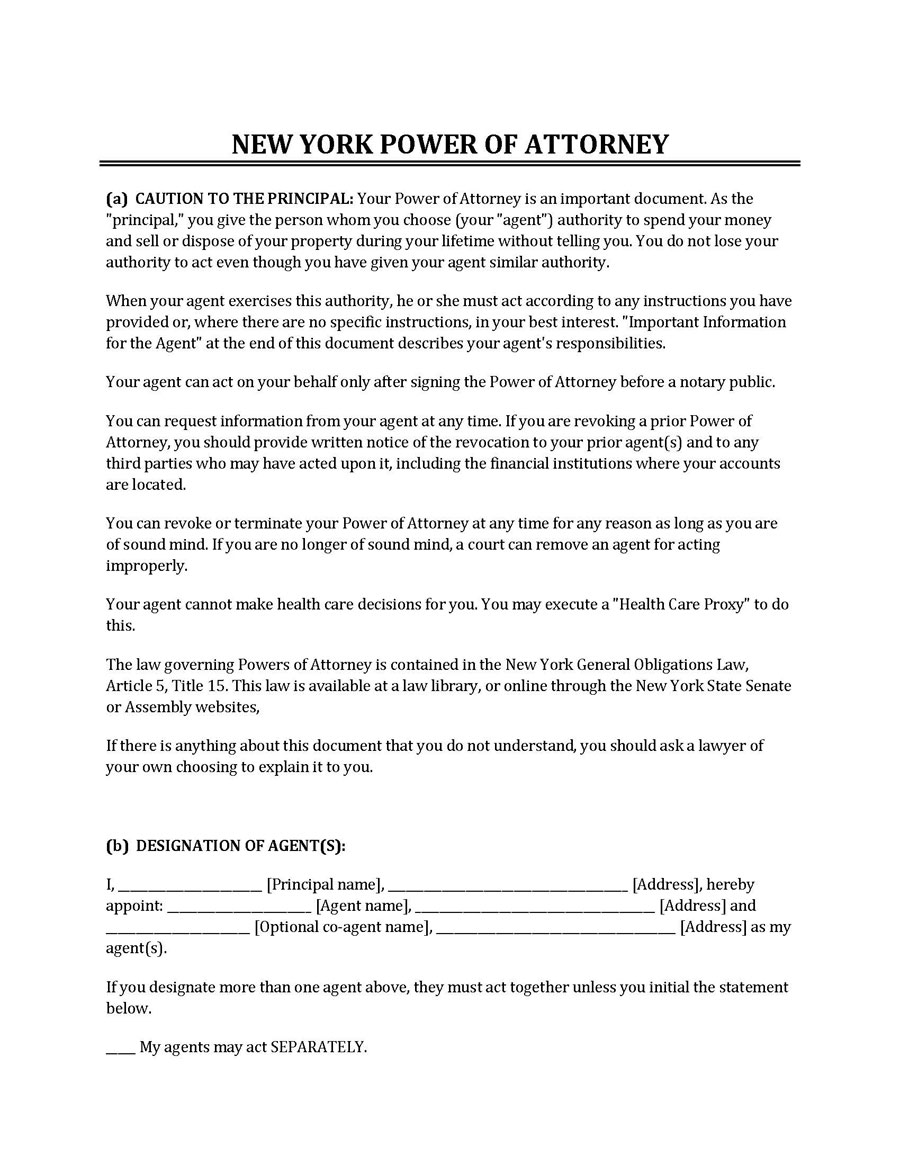 A power of attorney form in New York will vary depending on the duration, purpose, and extent of power to cater to principals' requirements in different situations. As a result, there are different types of New York power of attorney forms.
They include:
New York POA Requirements
For a POA form New York to be considered legally enforceable, it must satisfy specific state requirements. Firstly, the document must be signed and dated by the principal, agent(s), applicable witnesses, and notary public. Secondly, the principal should be of sound mind when filing the document. Finally, the New York power of attorney is a legal document and should use specific legalese required by the statutes. Principals can use the POA form provided by the state to ensure it satisfies this requirement.
Additionally, the New York power of attorney must be typed in front of no less than 12 pt. size. Signatories to the document are also allowed to appoint parties to sign the POA on their behalf; this is more so in a fiduciary capacity such as trust and trustees. In such cases, proof of authorization and proper identification must be provided. Principals should also note that a power of attorney form in New York is considered durable unless stated otherwise. If a non-durable is required, it must be specified in the document.
Essential Factors to Know About POA
A New York power of attorney form that sufficiently and effectively addresses the principal's needs ought to consider certain aspects.
These aspects have been discussed below:
Confirm your state's requirements
An influential New York power of attorney form is expected to comply with the state's requirements. The first step should thus be to identify all the mandated requirements. Most requirements are based on the document's signing, dating, acknowledgment, and statutory language.
Consider naming more than one agent
It is always considered wise to name at least two agents in a power of attorney – the primary agent and successor agent. This is because certain unprecedented events such as relocation, demise, or incapacitation can render the primary agent incapable of undertaking their assigned duties. In addition, having a successor agent ensures that the principal's interests are prioritized, and someone can step in when one agent is unavailable.
If the agent does not act in your best interest
There is a worry that the agent may not act in the principal's best interest when using a power of attorney. Therefore, it is reasonable to take precautions like appointing someone to monitor the agent's actions and request and verify documents of the agent's activities. However, even without the extra precautions, an attorney-in-fact has a fiduciary duty to act at the principal's best. Failure to do so may prompt the principal, their spouse, child, or parent to take legal action against the agent.
POA may not provide sufficient digital assets authority
It is important to note that a power of attorney for New York may not offer the legal framework required for an agent to access a principal's digital assets such as emails or passwords to email addresses and online accounts.
This provision must be explicitly declared in the form according to the Revised Uniform Fiduciary Access to Digital Assets Act (2016). This statute governs aspects such as what is defined as a "catalog of electronic communications" or "content of electronic communications." The latter includes details such as the subject and text of an email, while the former refers to the sender's details, time, and date.
New York POA's scope is limited without gift rider
New York has legally limited the scope of a power of attorney and, consequently, an agent's authority from gifting or transferring the principal's assets unless a gift rider accompanies the document. Accordingly, agents of a New York power of attorney form cannot gift or transfer assets valued at more than $500 per year.
However, the agent has the full legal authority to make gifts with a gift rider. Other limitations are that the agent cannot access funds in the principal's retirement accounts, modify an estate plan, and redirect life insurance, retirement funds, or annuities to another beneficiary without a gift rider.
Financial institutions may not honour the POA
For a POA form New York to be legally enforceable, it must be universally acceptable. Some entities, such as financial institutions, may fail to honor a POA, primarily when they cannot authenticate the document. They are legally liable if they grant access to unauthorized parties.
Therefore, they may require the principal to use their POA forms to avoid hindrances in the future. Therefore, it is advisable to use the statutory New York power of attorney as it is deemed universally acceptable, and financial institutions are lawfully required to accept it unless other causes of alarm can be ascertained.
POA may need to be re-executed after several years
It is advisable to re-execute a power of attorney from in New York after several years as some financial institutions may question the validity of a POA if it was executed a long time ago. This is because the circumstances that necessitated the POA in the past may not be applicable in the present day.
Alternatively, the principal can set up a revocable or irrevocable trust whereby the trustee can provide a trust document to accompany the POA whenever it is required. The POA does not have to be re-executed every several years in such a case.
How to Get Power of Attorney Form in New York?
The state of New York provides a statutory short form POA that complies with all the state's requirements. The form can be obtained from the state department site. Once the form has been obtained, the principal can appoint the agent(s). The form can then be completed by outlining the legal functions transferred to the agent(s).
If there are two agents, the document must declare if they are required to act together or separately. The signatories should then sign a New York power of attorney form, and each party should get a copy. Finally, all parties or entities affected by the POA should be informed of the document's existence.
Frequently Asked Questions
When is it appropriate to utilize a Durable or Springing power of attorney?
A durable and springing POA is often utilized when an individual wants to plan for a future where they become incapacitated or incapable of making sound decisions regarding their finances and health, for example, due to a tragic accident or Alzheimer's disease.
How can I tell if a power of attorney is a durable one?
In New York, a POA is deemed durable unless otherwise specified. However, if a POA is explicit, not implied, it must be titled Durable Power of Attorney, New York Statutory Short Form
What kinds of legal authority or powers can be granted with a POA?
A power of attorney form in New York can be utilized for many functions in estate planning, financial, and healthcare matters. Some of the standard functions transferred to an agent include the legal authority to buy/sell real estate, manage a property, file taxes, manage finances, make investment decisions, medical decisions, and gift or transfer property.
Can a POA grant an agent the legal authority to make medical decisions for the principal?
No. the document used to grant an agent to make healthcare decisions on behalf of a principal is referred to as a medical POA or Healthcare Proxy. The state of New York provides this form separately from a statutory POA under Article 29-C of the New York Public Health Law.
How do I select an attorney-in-fact or agent for a power of attorney?
Principals should appoint people they trust as their agents. This is because of the sensitivity of the matters designated using a power of attorney. Therefore, an agent can be a spouse, sibling, close friend or family member, or professional such as a lawyer.
Can I select more than one agent in a power of attorney?
Yes. There are no limitations to the number of agents a principal can appoint through a power of attorney form NY. The agents can operate independently or jointly. The responsibilities of each agent should be explicitly stated. Appointing multiple agents has the benefit of allowing oversight and thus guaranteeing that the primary agent prioritizes the principal's best interests.
What are the obligations of an agent to a principal?
An agent is expected to act in the principal's best interests. The agent is considered a fiduciary, meaning they owe the principal loyalty, honesty, and integrity. The agent should not be self-dealing – prioritizing their interests over the principal. The agent must also be accountable to the principal, which will often require an accurate record of all activities performed by the agent. 
Who monitors the actions of my agent?
Legally, the agent is accountable to the principal, and the principal is responsible for overseeing the agent. However, the principal can appoint a third party to oversee the agent if the principal is incapable of doing so themselves or passes on. If the principal passes on, their family whose interest aligns to that of the principal can hold the agent accountable should they misuse the powers awarded to them through a power of attorney form NY.
What can I do should my agent fail to follow my instructions?
If the agent abuses their power or is incompetent in fulfilling their duties, the principal holds the right to revoke the New York POA through revocation of POA form, which is filed with the County Clerk. This should be followed by requesting the agent to hand over all the copies of the original POA. The principal can also notify any institutions where the original POA was used that the document has been revoked.
Do I require a lawyer to prepare a power of attorney?
No. a principal can complete the New York statutory power of attorney form, sign it, and it would still be legally enforceable. However, they can consult an attorney to ensure if the specifics have been effectively captured.