When selling, buying, or registering a vehicle in Pennsylvania, you will need to complete a car Bill of Sale for PA. A bill of sale not only acts as a receipt, giving details of the sale, but it also acts as proof of liability should there be any issues or discrepancies with the vehicle. For example, if the new owner were to get a ticket, the seller can prove that they were not the owner of the vehicle at that time.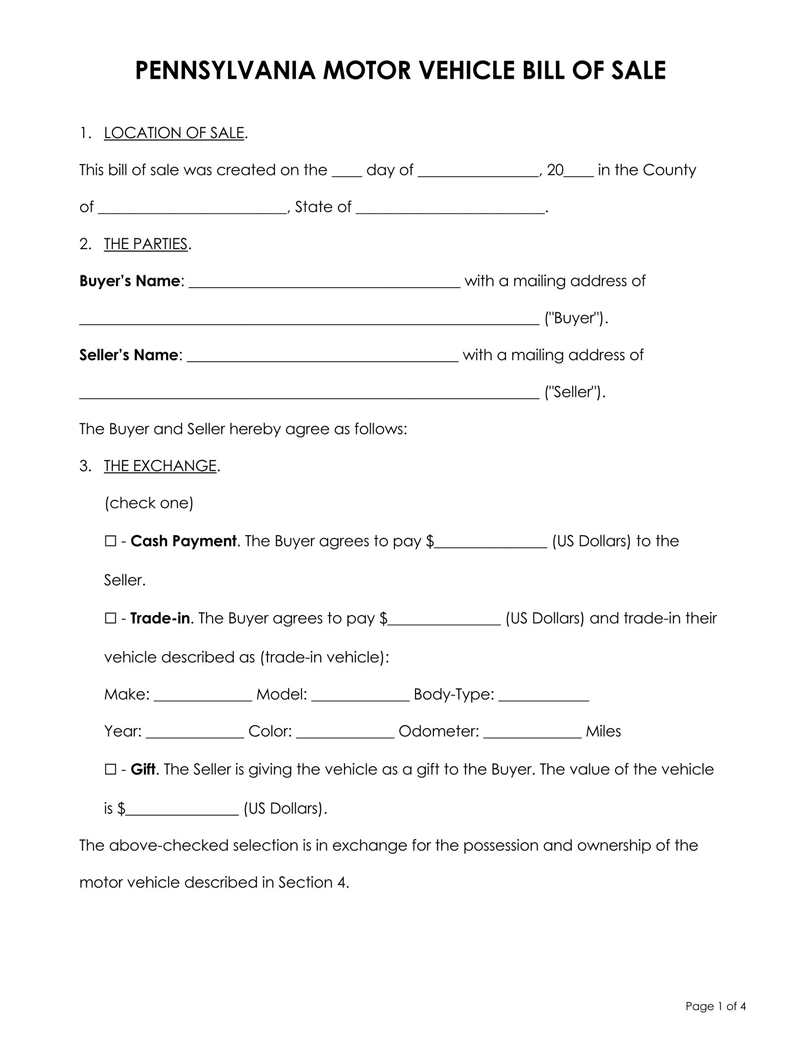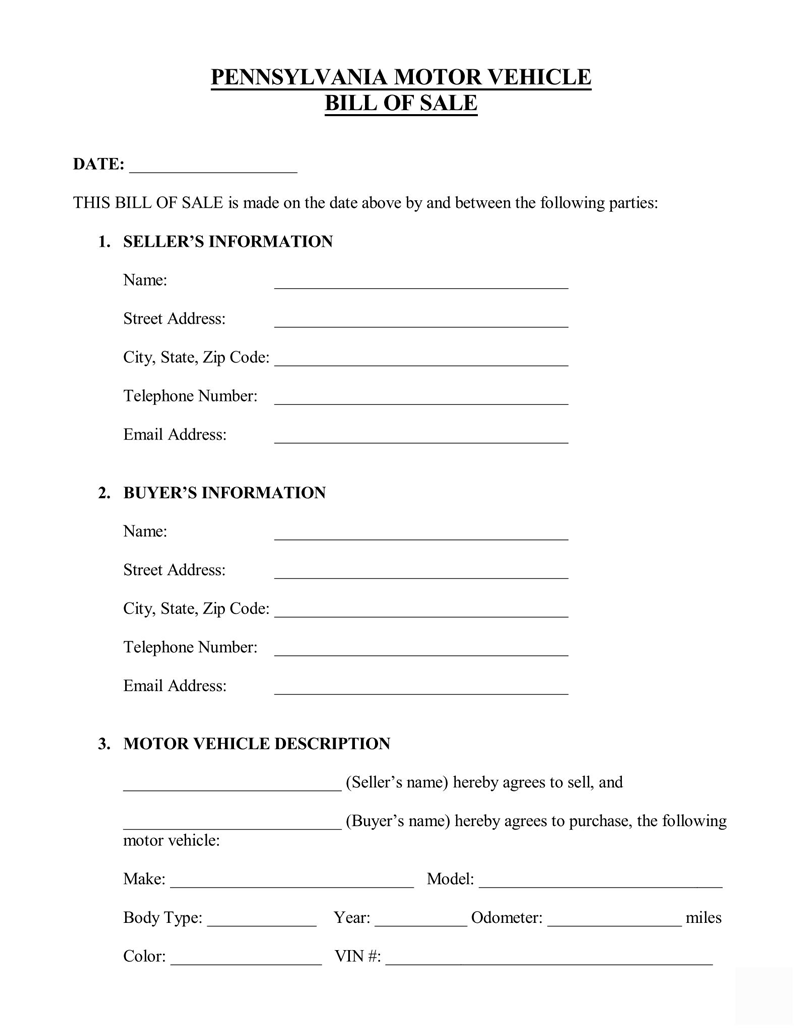 Other Documents
Aside from the car bill of sale for PA, you will need to have an Odometer Disclosure Statement, especially if there isn't room to add these details on the Certificate of Title for the vehicle. At this time, the state of Pennsylvania does not provide its own Odometer Disclosure Statement.
Creating a Car Bill of Sale for PA
The Pennsylvania Department for Motor Vehicles doesn't have its own bill of sale form, which means you will need to create one or use a template.
When creating a bill of sale for PA, you need to have the following required details:
Date of sale
The full legal names of both the buyer and seller
The full postal addresses of both the buyer and seller
Contact phone number and email address for both the buyer and the seller
Description of the vehicle being sold must include the make, model, color, year, body type, VIN, and odometer reading
The amount that the vehicle was sold for and how it was paid for (Trade-in, One-time transaction, or installments), and what method of payment was used (cash, money order, check, etc)
Provisions statement, normally the "as-is" paragraph
Signatures of both the buyer and the seller
While it isn't always necessary for the car bill of sale for PA to be notarized, doing so can add more weight to the document for legal purposes.
Registering a Vehicle in Pennsylvania
By law, to operate any motor vehicle on public roads in Pennsylvania, you are required to have the vehicle titled and registered with the Pennsylvania Department of Transportation. Registration can be for either 1 or 2 years. Owners have 30 days from the date of purchase in which to register their vehicles. This will need to be done in person at your local PennDOT office.
Vehicle renewals can be done using the PennDOT online renewal service.
Documents Required for Vehicle Registration
When you register your vehicle, you will need to provide the following documents:
A completed and signed car Bill of Sale for PA
A current and legal Driver's License
A current Odometer Disclosure Statement if there isn't enough room to list this on the back of the Certificate of Title
Vehicle Certificate of Title
If you are bringing an out-of-state vehicle into PA to register, you will also need to have Form MV-1, which you must get from PennDOT.
A VIN tracing (Form MV-41)
Funds to cover the correct Tax and Registration Fees
Proof of vehicle insurance with the Minimum Requirements:

Cover of $15,000 for injury or death for one individual
Cover of $30,000 for injury or death of over one individual
Cover of $5,000 for damage to property
In Pennsylvania, the statewide sales tax equates to 6% of the fair market value of the vehicle or the purchase price of the vehicle. In Alleghany County, it is 7%, and in the City of Pennsylvania, it is 8%.
Other Documentation That You May Need
The other documents are:
Vehicle Inspections: Used vehicles are required to have an inspection before registering. The inspection must be within a 10-day period of registering and can be carried out at one of the many Certified PA Inspection Stations.
Fair Market Verification: Vehicles that were purchased for under 80% of their fair market value will require Form MV-3, which can be issued by a PennDOT Agent. If the vehicle was a gift, you will be required to complete Form MV-13ST (Affidavit of Gift).