Historically, in majority of westernized societies, men were the ones who had careers, while women were the ones who stayed at home and looked after the children. However, over the last decade, this patriarchal pattern has seen a change. Women are now focusing their goals more on other pursuits, such as their career. There has also become increasing pressure on school leavers to gain a career rather than just a 'job', which has coincidentally led to a highly competitive job market. For one job, applicants are increasing, and interviews have become harder. And so, rejection is a natural consequence.
Naturally, it is the employer's responsibility to let the unsuccessful candidate know that they have not made it past the interview stage, however many they have attended, whether face to face or on the phone and aren't chosen for the position. It is not a pleasant task and can be difficult to choose the right person as most people these days have many qualifications, qualities, and impressive CVs. Yet it is a necessary requirement for the employer to send a rejection email for two reasons.
Firstly, it is courteous and kind. It is surprising how often you hear of people at different stages of seeking employment (applying online, sending their CV, speaking on the phone with an employer, attending a face-to-face interview, or even a second stage interview) and they don't hear anything back. This can make them lose interest in the job or respect for the employer, therefore affecting the company's reputation. But it can also unjustly affect the applicant's confidence, no matter how strong a candidate might be.
Secondly, it's helpful for the applicant to have feedback. People are unsuccessful for numerous reasons- the most common being lack of experience, qualifications, personality fit. If the applicant is aware of this, they can expand their skills, experience and reapply, or adjust their job search applying for roles more suited to them. Additionally, it is occasionally the case that the applicant is suitable but just unsuccessful for other reasons.
For example, the job might have been put on hold in which case the employer might ask to keep their details and CV on file for future positions. Or the applicant might want a higher salary, or the commute might be too much, in which case the employer could negotiate with the applicant on such matters, and if not, at least the applicant knows it's not their ability that stopped them. Sometimes, however, the applicant's performance in the interview is not up to scratch, so it is the employer's responsibility to let the applicant know their feedback no matter how negative. This overall means the employer is not waiting aimlessly and can continue applying for jobs, bringing that feedback to their next interview.
Free Post-interview Rejection Templates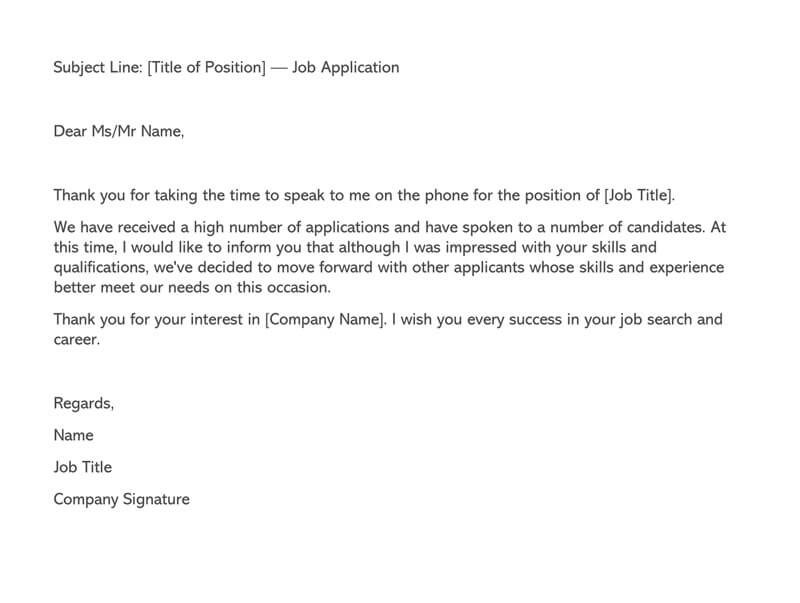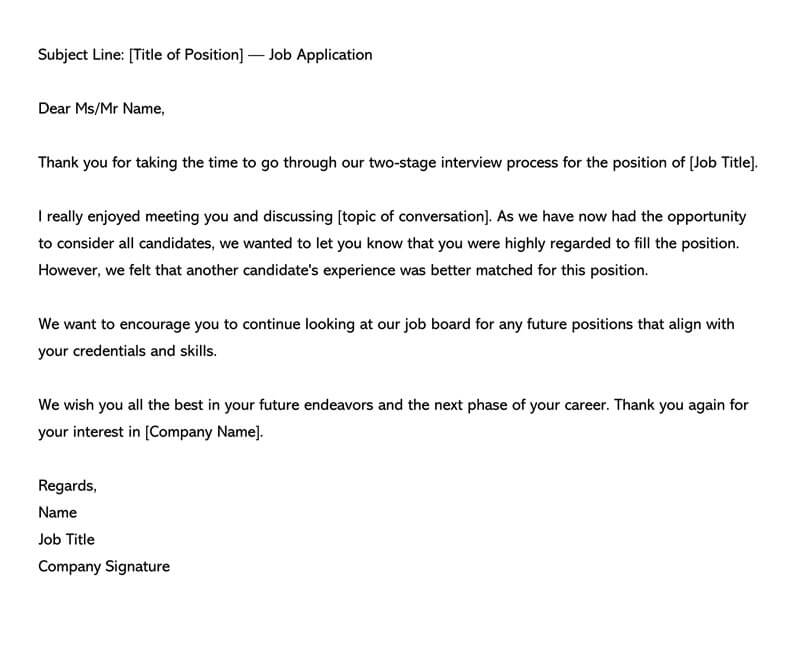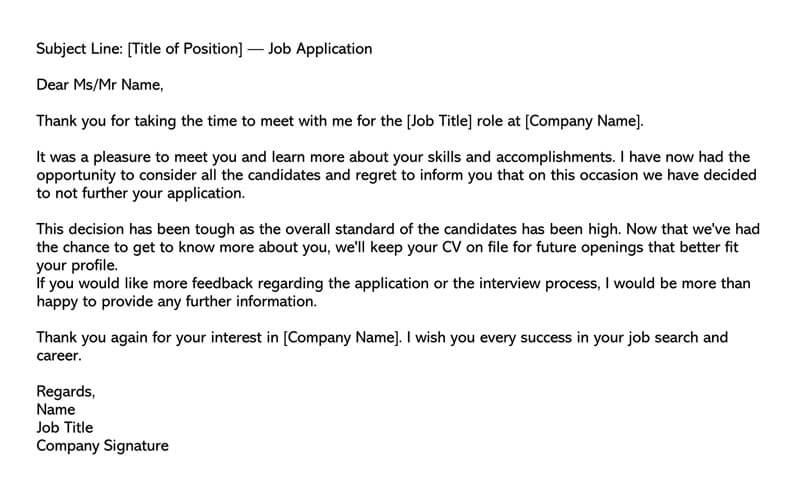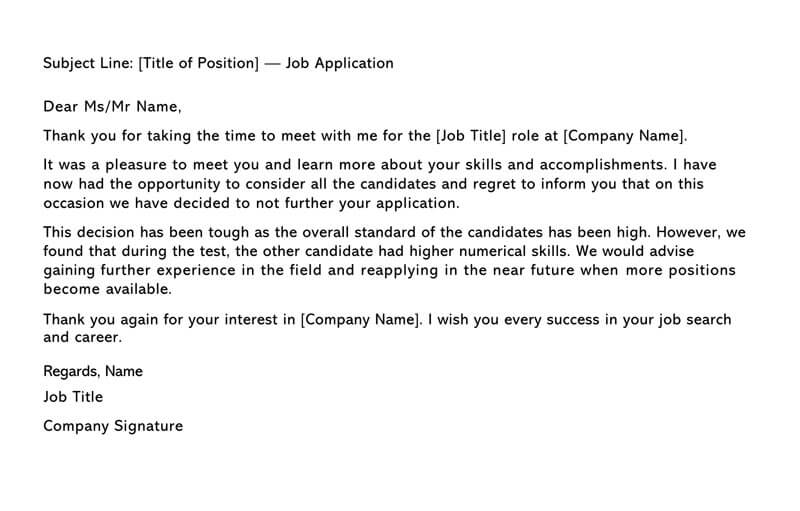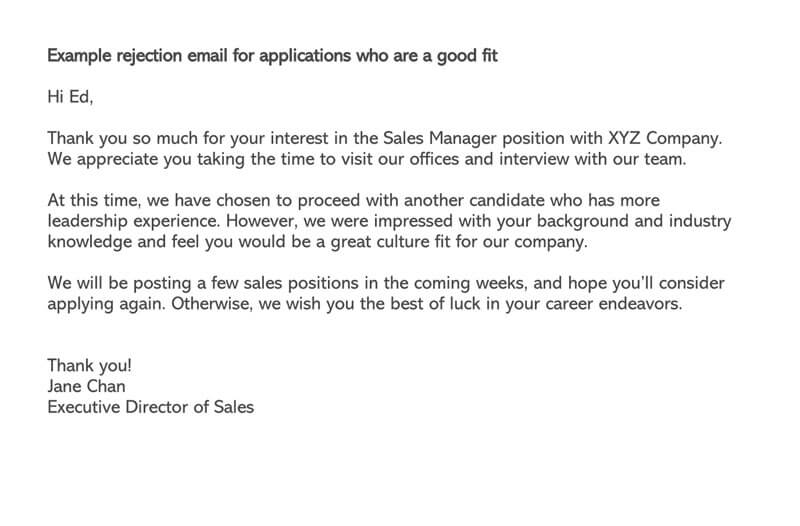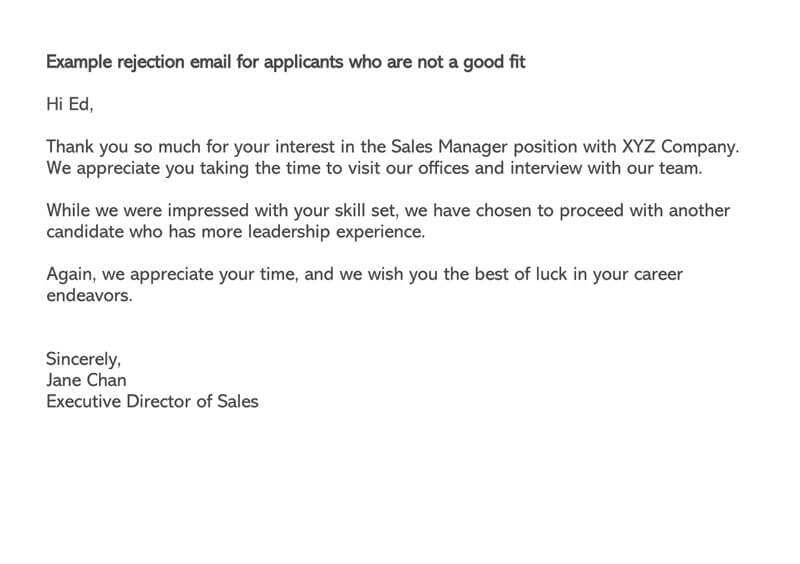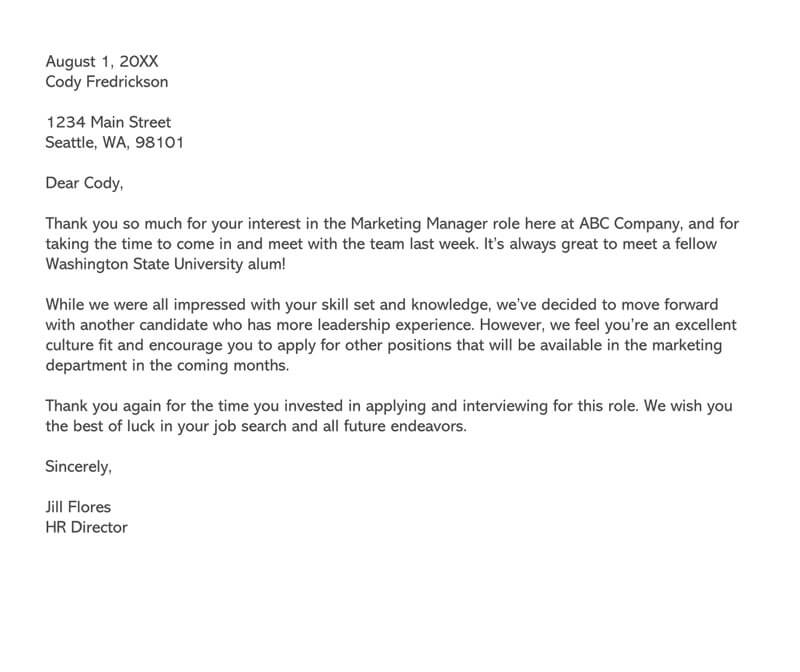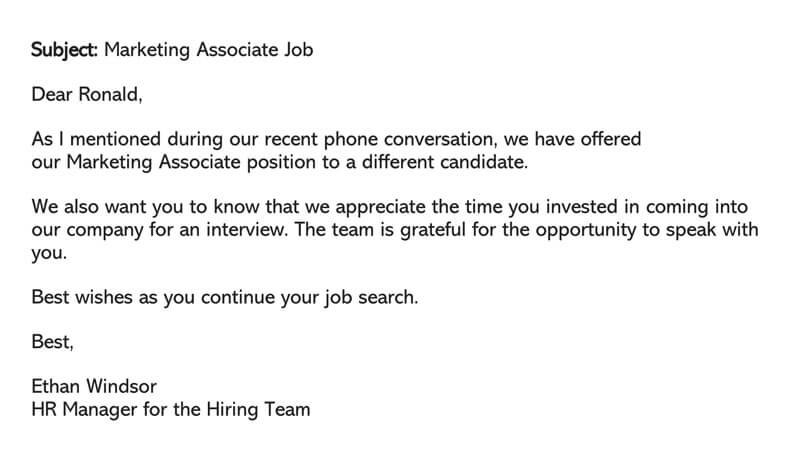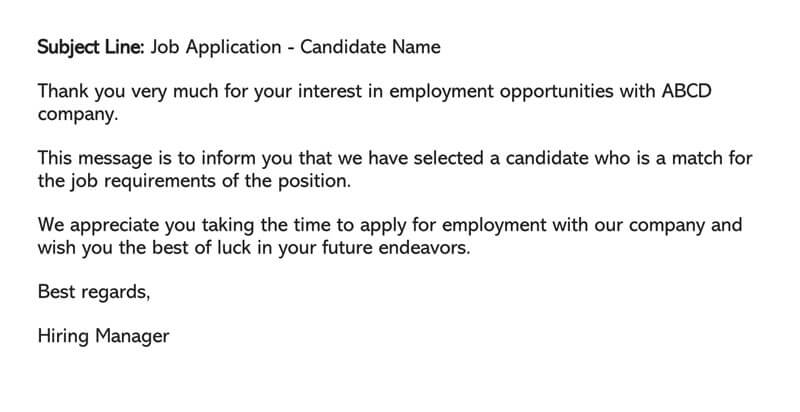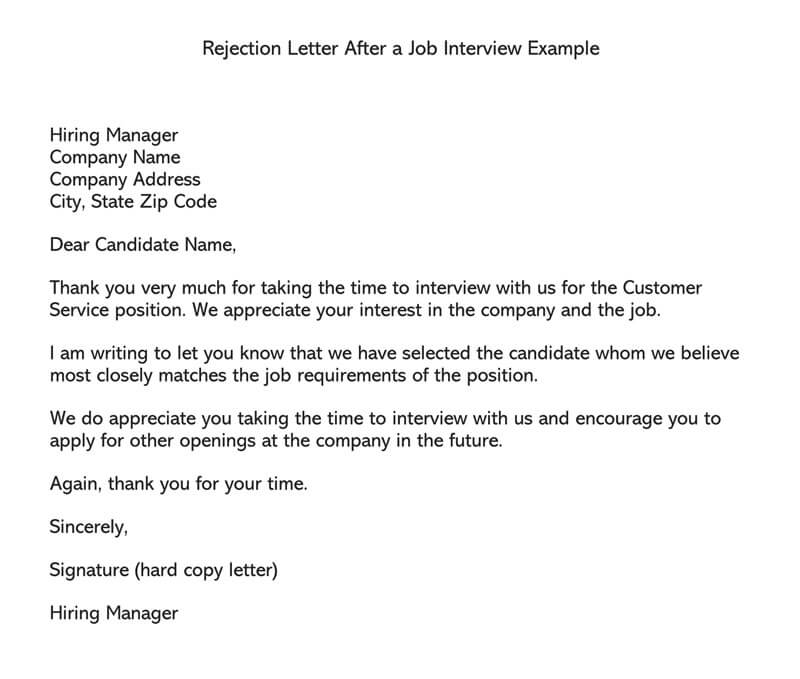 The Benefits of Sending a Rejection Email After an Interview
Sending a rejection email to rejected candidates beneficial to the business in a variety of ways:
Aids in maintaining a good relationship: When sending a rejection email to a candidate, it will provide a good relationship with the candidate in case their talents are required in a different position or if their talents might prove valuable in the future.
Helps in Improving the business's reputation: A business that has a good reputation is more likely to flourish. The reputation will bring more skilled and capable candidates for future job openings.
Shows professionalism: Sending rejection Emails that give clear reasons as to why the candidate was not chosen and thanking them for their time is much more professional as opposed to simply ignoring the other candidates when the job position is filled. This also shows that the business has a good HR department which is always desired among employees and those who seek to work for the business.
Keep the rejected candidates as customers: Having a good impression on the candidates is essential to keep them as loyal customers. How these candidates feel about the business after the interview will decide whether they want to support the business or cut off any relations to the business.
How to Write a Rejection Email
When writing a rejection Email, it should be concise, customized to the candidate and in formal language.
The Email must include four components:
Mention the name and position of applicant
Mentioning the name of the applicant will show that the Email was made specifically for the candidate, unlike an automated Email. Mentioning the position that the candidate was rejected for is essential as well.
For example:
"Dear Jack Robertson

We regret to inform you that you are not applicable for the job as an assistant manager"
Appreciation for trying
Thanking the candidate for taking the time to apply for the job and getting to the interview. This will aid in improving relations with the candidate and maintain rapport.
For example:
"Thank you for applying to our job openings" "We appreciate the time and effort you put into applying for our job opening"
Give feedback to the candidate
Mention why the candidate was rejected and mention the ways the candidate can improve themselves. Note that rejecting a candidate on bases of age, gender, nationality, marital status, disability, or religion can be considered discriminatory. Thus, sometimes it is legally safer for the business to not state why the candidate was rejected.
For example:
"For our position as lead writer, we require someone with at least a Master's degree in English"
or,
"A three-year experience in the field is what we are looking for in our employees"
Invite the candidate to apply again
Suggest for the candidate to improve their set of skills and apply again for the job position. Having a good collection of talents and candidates to fall back on will make the future hiring process faster and easier.
For example:
"Kindly consider applying again if you get a Master's degree as we would like to work with you" or "Please consider applying for our other job openings, such as a graphic designer. We think you would be perfect for that job"
Subject: (insert job position here)
Dear (insert candidate name here)
We at (insert business name here) would like to extend our appreciation to you for taking the time and effort to apply for the job and have an interview with us about our (insert job position here) position.
We have found the candidate that is the most fitting for this position. However, we would like to keep your contact information in our database in case another position opens up.
Please apply again if you find another job position that you think you're fit for within our business.
Best regards,
(Insert HR agent's name here)
Sample Rejection Emails after Interview
Following are professionally crafted rejection emails and letters for better understanding:
Dear Mr. Robert Jones, 
Thank you for your application for the Sales Manager position in our company and for meeting with us this afternoon. 
We have had a high number of applicants apply for this role and were please to shortlist to the interview stage. 
We felt you came across very positively in the interview, you answered the questions very well and you have a great deal of management experience.
Unfortunately, you have been unsuccessful at this stage as we have a requirement for more specific experience in our industry and would need someone with more sales experience. 
We enjoyed meeting with you and wish you the best of luck in your future endeavors.
Kind Regards, 
Margaret Smith
CEO of Smith Enterprises
More Templates
Below are customizable templates that can be downloaded for free and can be used as per need:
Quick Tips for Writing Rejection Letter
Following are a few quick tips to make the rejection letter look more professional:
Address the applicant formally including titles e.g. 'Dear Mr. Robert Jones' or if they have another professional title e.g. 'Dear Dr. Robert Jones'.
Mention at least two positives about their applicant e.g. 'you listed some great qualifications on your CV' or 'you had been in your current role for a number of years' (showing their loyalty.)If they attended an interview you can mention their performance e.g. 'you came across as a good cultural fit' or 'you answered the questions very well.
Say you enjoyed meeting with them and wish them luck in the future.
Ensure you proofread your letter/ email and get a company lawyer to check over it.
A Rejection Email is important in keeping relations with the candidates, helps with future job hiring and maintains a good employer reputation. The Email needs to be brief, formal, and made especially for each candidate while giving feedback to the candidate for the cause of rejection and showing appreciation for their time.