While the profession of social media manager has been up and coming, there are still quite a few misconceptions about what this job entails. A social media manager is responsible for managing social media networks and developing social strategies to promote organizations through tweets, posts, photos, shorts, and stories. Within this position, you may do everything from setting up accounts on Facebook and LinkedIn to creating "buy now" buttons for your products on Pinterest. Most, not all, companies currently have an online presence. This has increased the demand for social media managers. Consequently, this has also resulted in stiff competition among applicants.
The impact of social media on brand growth, awareness, and customer reachability cannot be overstated. For this reason, companies will be looking for a highly competent social media manager, and a cover letter is your opening to demonstrate this. This article will discuss creating a solid cover letter to help you secure your next job as a social media manager.
What is a Social Media Manager Cover Letter?
A cover letter points out your interest in a specific job opening, explains that you have the skills required to begin working as a social media manager, and helps to emphasize the value you will bring to any organization. The letter is meant to supplement your resume. By telling a story through your resume and using one well-written cover letter, your future employer will be able to understand your suitability for this position.
A social media manager's cover letter is ordinarily sent to secure an interview or get shortlisted for further vetting. It is meant to market you using relevant experience and examples, highlighting your skills and combining this information to a persuasive pitch to the prospective employer. Each cover letter should reflect the specific job position and brand/company you apply to.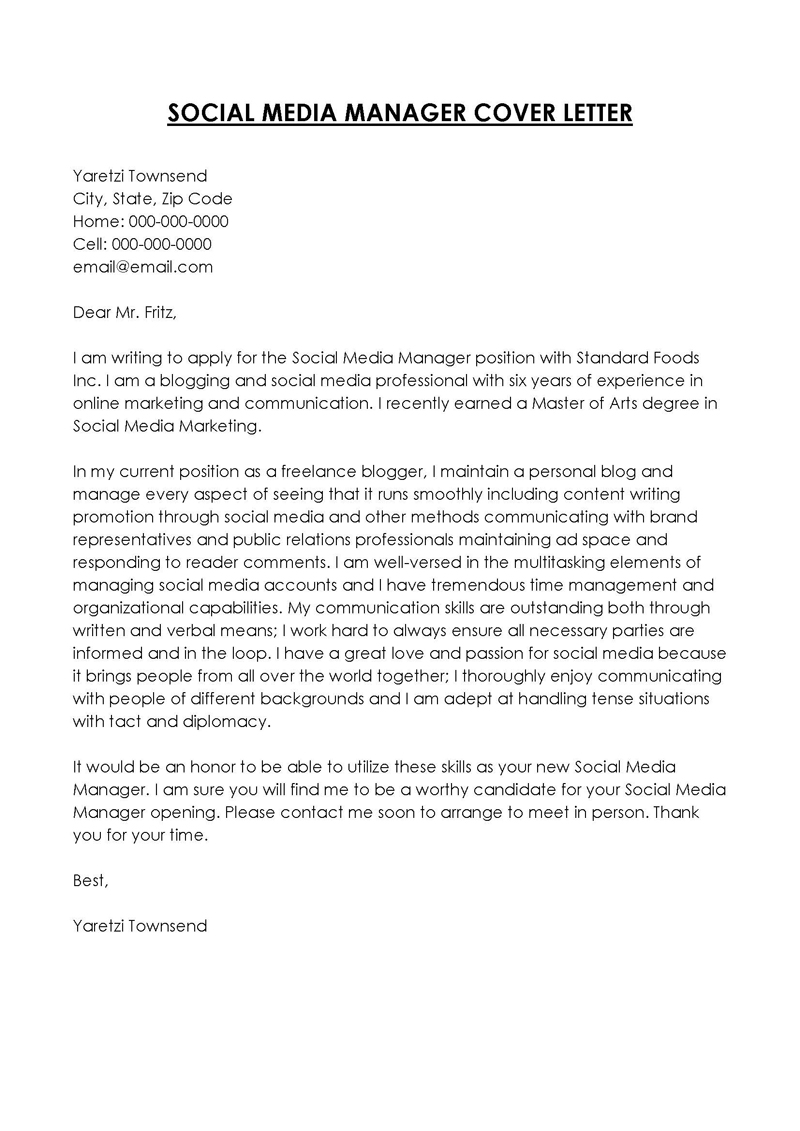 Writing a Social Media Manager Cover Letter
To write a social media manager cover letter, you need to take the time to understand your industry and target job market. This will help guide you with what information to include in your cover letter. A strong cover letter should reflect what you bring to the table (in terms of experience, training, and qualifications) and how you can benefit your employer as a social media manager.
You can follow the procedure below to craft a convincing cover letter:
Use the keywords
Interviewers will be looking for specific keywords. As a result, prospective employers will often scan your social media manager's cover letter using APS (applicant tracking systems). Therefore, you should highlight the keywords used in the job posting and social media manager qualifications. You can identify these keywords by scanning the words "required" or "desired' in the job posting. In addition, make sure that the words you use to describe yourself are correctly spelled and correctly used in a category of your industry. The keywords commonly used are social, media, content, leads, SEO, marketing, engagement, communication, data, analytics, outreach, etc.
Choose the right salutation
You will need to select an appropriate title for the recipient you are addressing. You can use different styles such as Dear Mr./Ms., Dr./Mr. [employer's name] or any occupational title such as a doctor, professor, etc., followed by their name. A formal and polite salutation can set precedence for how the recruiter interacts with your letter.
Other alternatives include:
Dear [Human resource manager or Hiring manager or Recruiting committee chairperson]
To whom it may concern
Dear [Company name] recruiter
To the [Department name], e.g., [sales Team]
However, avoid using generic salutations as they seem impersonal and lack interest in the position. Think of it this manner, if you were the recruiter would you hire a social media manager who cannot find their potential employer's name while social media research is part of the job description?
Captivating introduction
Your introduction is crucial to your letter. It is the very first thing that your reader will see and determine whether to continue reading or not. It is also a suitable way of displaying your personality, convincing your reader that you are the right candidate for the job position, and ingratiate yourself to them. A good introduction will hook your reader, making them want to learn more about what you have to offer as a social media manager. Also, keep it brief; a few sentences are enough to write an intriguing introduction to your social media manager's cover letter.
Place your qualification
Your cover letter is the appropriate place to sell yourself as a social media manager. So, include your qualifications upfront. Your qualification in this position does not only include your academic qualifications but also your professional experience. Prioritize your qualifications based on relevance to the social media position.
Highlight your social media skills
A social media manager is proficient in using relevant technologies, platforms, and tools to share information to as broad a scope of an audience as possible. Additionally, a social media manager must be able to identify trends, pinpoint influencers, and keep up with the latest tools to stay ahead of the competition. Therefore, you should highlight your skills in this regard.
Examples of skills a social media manager can list in their cover letter include:
Knowledgeable in major social media platforms – Facebook, Instagram, Twitter, Pinterest, LinkedIn, Snapchat, TikTok
Google Analytics
Social media management software – Zoho, Hootsuite, Buffer, Loomly
Graphic design
Conversant with prominent content management systems such as WordPress, Shopify, Wix, Squarespace, etc.
Video creation and editing
Excellent communication skills
General computer skills
Office suite – MS, Google Drive
Sales and marketing software skills – Google AdWords, Marketo
Organizational skills
Time management
Social etc.
Ensure to balance technical and soft skills to illustrate a complete employee.
Quantify your achievements
You can include your professional or personal achievements in your cover letter. Achievements are a good metric for determining how you can be a significant asset to the organization other than operating Facebook, Instagram, Twitter, or LinkedIn. It would be best if you quantified your achievements using actual figures. Numbers are the primary performance indicators in your cover letter for the social media manager's position. So, use these numbers to illustrate your potential and how you can directly benefit your employer or become an asset to their company. Always provide concrete evidence to support what you write. You can either show actual numbers, percentages, or results for a particular project. Also, make sure that the achievements outlined in your cover letter are relevant and not inflated.
Talk about projects the company is involved in
A social media manager needs to be online constantly and implement a successful strategy for any relevant platforms that may apply. Therefore, you can bring up any projects the company is currently undertaking or have previously done. Then, discuss how you can be a part of implementing the ongoing projects and share individualistic ideas you'd contribute towards these projects. This demonstrates good problem-solving skills, initiative, and self-motivation.
Final call to action
It is imperative to close your letter with a call to action. A good closing statement can help you stand out from the competition. In addition, you can motivate the hiring manager by asking them if they would like to talk further and getting an opportunity to learn more about you. Make sure that you end the social media manager's cover letter on a positive note, showing interest in the company, job role, and what you offer. Also, let the recipient know that you are available for an interview or intend to follow up on your application. Also, encourage them to reach out if necessary.
Social Media Manager Cover Letter
Here is an example of social media manager cover letter you can use to write an appropriate cover letter for the position you are applying for:
Sample
Melissa Applica
123 Main Street
Springfield, Massachusetts 02659
555-555-5555
May 2, 20xx
 Harrison Mings
HR Manager
Secret Angels Hospital
972 Norwood Street
Springfield, Massachusetts 02659
Dear Mr. Harrison,
My name is Melissa Applica, and I live in Springfield, Massachusetts. I'm writing to articulate my interest in the position of Social Media Manager at Secret Angels Hospital, which is available as listed on Dice.com. I have been a Social Media Manager at BILK International for the past two years. I am confident that my previous success as a social media manager and my strong communication and collaboration skills make me an ideal candidate for the position.
I have furthermore worked as an assistant manager at Olive Cosmetics Ltd, where I managed three social media accounts under strict timelines. As a result, I can develop snappy and engaging content for my clients and plan out a marketing strategy. Additionally, I have a Bachelor's degree in communication from the University of Texas at Austin; I received my degree in 2011 with an emphasis on public relations and a minor in digital media marketing.
I've also been a part-time instructor at MSD Computer Learning Center, where I teach technical courses such as social media management systems (Hootsuite) and Google Adwords. I'm proficient in Google Analytics and have made it my primary tool for analyzing social media engagements in my capacity as a social media manager. In addition, I'm very social and can make in-person engagements with clients if needed.
My most recent professional achievement was when I managed the growth of a social media page following for BILK corporation from 5000 followers to over 20,000 followers on Facebook in 3 months. In addition, I also managed the growth of my own Wix portfolio, reaching 30K page views daily.
My goal as a social media manager is to grow the campaigns' reach by analyzing the performance of each segment of the audience and adjusting methods accordingly. Additionally, I desire to become more familiar with Secret Angels Hospital's marketing plans and understand how I can incorporate my ideas to achieve company goals, especially with the new C49 Health insurance plan you have recently introduced to your clientele.
I am confident that my passion for digital marketing and involvement in a range of exciting projects can be an asset to your company. I'd love to have the chance to speak with you at length. Thank you for being so considerate.
Sincerely,
Melissa Applica
Cover Letter Writing Tips
Below are tips to help you improve the quality of your cover letter for a social media manager position:
Show that you've researched the company before applying
You should include specific details such as challenges relating to the specific company you're applying for. This shows that you're genuinely interested in the position, the company, and its people and not just want to do the job for the money.
Keep it simple and specific
Your social media manager's cover letter should be brief, to the point, and relevant to the job position you are applying for. Avoid vague and general statements. Instead, make it personal and tell the hiring manager what you can offer. You must follow a precise, logical sequence of information so that the reader can easily find the relevant details regarding your qualifications, experience, skills, and achievements in a logical order.
Proofread
Use good grammar, punctuation, and spelling. Avoid typos and grammatical errors. Also, format your cover letter according to company guidelines for resumes/CVs. Remember the cover letter is a professional document and should be treated as such. Otherwise, it can cost you the job if filled with errors and unclear sentences. You can request a third party to review the letter before submitting it.
A well-written and impressive cover letter can help open doors for you and procure job interviews; on the other hand, if your cover letter is poorly written, it will leave a negative impression on anyone who reads it.
A good cover letter should reflect what you offer as a social media manager and include relevant details about your experience and qualifications.
Mentioning specific details about the company you're applying for in your cover letter shows that you are genuinely interested in the position, the company, and its work; this helps increase your chances of getting a job interview.
Remember, your social media manager cover letter should be tailored to the specific job position you are applying for. It should not be a general template you can use on any job application.
It would be best to make the cover letter brief and direct, typically no longer than a page or two.
Treat your cover letter as a formal document because it is.