A temporary appointment letter is a document that offers a person employment status within an organization for a limited period of time. It is however not an employment contract but simply a means of informing the concerned party of their duties under certain terms and conditions. It also leaves the employer with the mandate to terminate this employment at any time that they deem fit even without prior notice. As such, it is important when you are looking to bring in some employees or outside help on a temporary basis.
There is nothing better than being in charge of your own business, property or even enterprise. This gives you the ability to run things as per your specifications. However, everything has a downside, and heavy is the head that wears the crown. There are times when you might need to bring in some employees or outside help on a temporary basis. For this task, you need a Temporary Appointment Letter. This is a document that offers a person employment status within an organization for a limited period of time. It also leaves the employer with the mandate to terminate this employment at any time that they deem fit even without prior notice.
A Temporary Appointment Letter is as just as binding as an employment contract. Thus, if not done right may leave your enterprise open to litigation or lawsuits from disgruntled employees. This is where Temporary Appointment Letter Templates come in handy. They provide you with a collection of Temporary Appointment Letter Samples that will guide you on how to properly deliver the message and ensure that each person gets the right message from the beginning while having all your bases covered.
Temporary Appointment Letter Templates
How A Temporary Appointment Letters Work
But, how exactly do these Temporary Appointment Letters work? A work contract stipulates duties and responsibilities while at the same time specifying a certain duration of employment during which you cannot be terminated from employment without repercussions. However, the temporary appointment letter offers no such job security. This means that you are employed, and have a specific set of duties but the employer still reserves the right to terminate your status as an employee at any time without any consequence to them or their organization. He is also not obligated to give you prior notice or discuss the matter with you at length and give valid reasons.
Appointment Letter For Employee Contract
Suitable for those scenarios when you need to outsource some contract employees to perform specific tasks that are limited to a certain setting
Temporary Appointment Letter for Staff
Best suited for employing replacement staff for open vacancies that may require immediate filling. These are low or mid-level positions that it may take time to find a permanent employee or which can be temporarily filled by new staff while they are being vetted for permanent employ.
Temporary Non-Faculty Employee Appointment Letter
Best fit for the educational environment when a department seeks to outsource help with duties within the faculty. The employee does not become a fully-fledged member of the faculty and as such does not get the perks of such a position, just the salary, and responsibilities.
Temporary Appointment Letter for Teacher Sample
This is a temporary appointment letter sample for the employment of a teaching staff member in a certain capacity and it stated all the terms and conditions of their current employment status.
Temporary Appointment Letter Format
This template finds the best use when it comes to re-delegation of duties within the company. An employee can be sick or on leave or indisposed for an unknown period. This letter serves best to appoint another employee within the company that as the skills to carry out their duties and fill their gap while temporarily leaving their position which they will return to once the absent employee can resume their duties.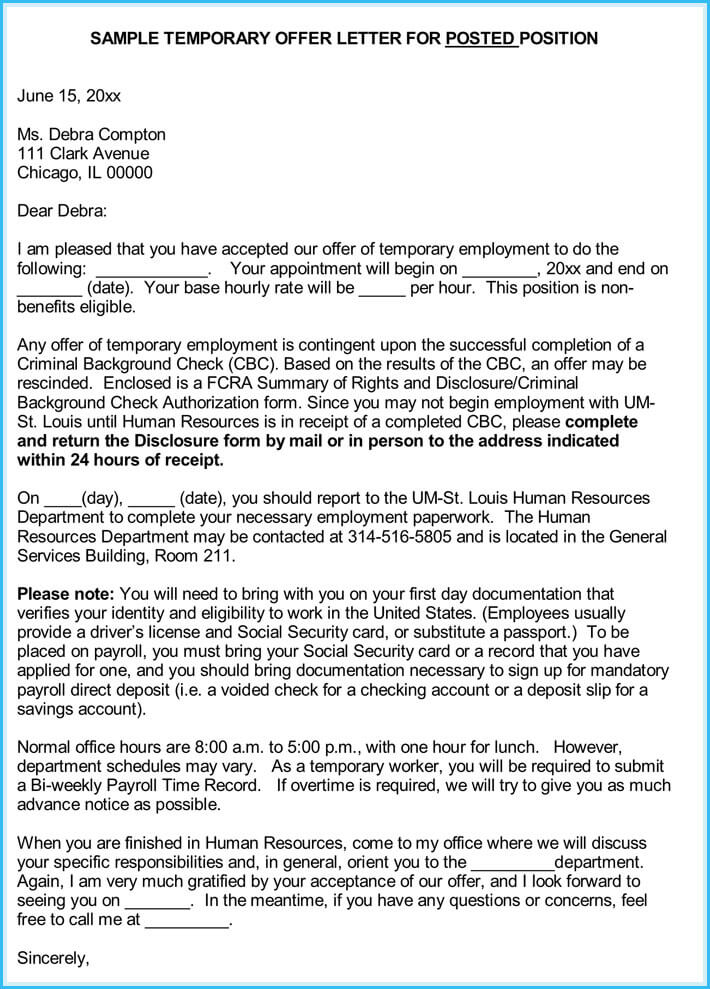 Designer Temporary Appointment Letter Sample
Temporary Appointment Letter to a Part Time Employee
Temporary Appointment Letter Example
If you are looking to send out some temporary appointment letters, then our collection of Temporary Appointment Letter Samples and Temporary Appointment Letter Templates should prove invaluable in your quest. We hope that you find them helpful and come back for more.
How to Format Temporary Appointment Letter?
A good temporary employment letter should contain all the following:
1.Name of employee
To ensure that it goes to the right person and that the qualified personnel gets the job.
2. Rank
States the position that they will be filling on a temporary basis.
3.Date of employment
Defines the date on which their status as a temporary employee begins.
4.Salary
Clearly, outlines the salary that they will be receiving during their employment. This helps prevent haggling after the position has been accepted by the employee.
5. Employment Period
States the period that the person is expected to fill the previously stated position for. This is a courtesy that allows them to prepare for the termination of their status.
6. Duties and Responsibilities
States the roles that they employee is expected to fill within the organization so that they only accept the position if they feel like they can adequately fulfill the expected requirements.
7.Other necessary terms and conditions of employment
States extra terms and conditions, responsibilities or conditions that the employee is expected to fulfill while acting in the position that they are about to accept. Extra duties can be detailed here.
8.Date of termination
States a date during which the employee can expect their employment to end. This is, however, amendable to change at the discretion of the employer.
9.Details of employer
Details of the employer allows for easy contacting and correspondence between employer and temporary employee.
The best way to ensure that you capture all of these elements in detail is to opt for one of our freely available Temporary Appointment Letter Templates that will offer you the necessary guidelines ensuring that you come up with the best possible temporary appointment letter.
Dos and Don'ts (of Temporary Appointment Letter)
Accuracy and precision are paramount in the drafting of appointment letters to mitigate any confusion and prevent the emergence of any legal actions against you as an employer. Here are some of the things to watch out for when writing a temporary appointment letter.
Make the appointment letter simple and to the point so that no information is lost or mistranslated once the potential employee reads it.
Ensure that the temporary' stipulation of the employment is clearly brought out in every element of the letter
Use a readable font face and proper formatting to make the letter legible to all and sundry
Avoid the use of vague terms, poor sentence structure or jargon that may be hard for the potential employee to understand as this is bound to lead to some problems later on.