Some privileges are wholly or partly reserved for the students. These include travel discounts, holiday offerings, jobs, events/conferences/seminars, and exemption from certain taxes or penalties. To qualify for these privileges, one has to prove that he indeed is a student. That requires the drafting of the Verification Letter For Student Status.
As you may have guessed from the title, this letter simply endeavors to prove that one is indeed a student and should hence be accorded the privileges he is presently seeking. Before proceeding to draft the letter, you have to know all that pertains to it.
Sample Letters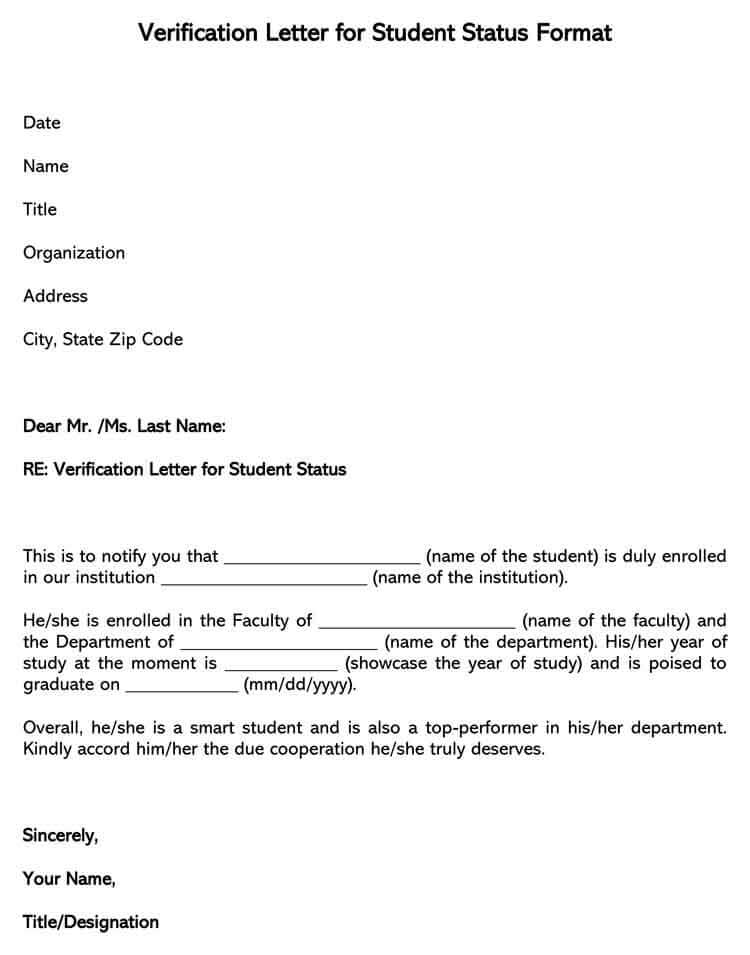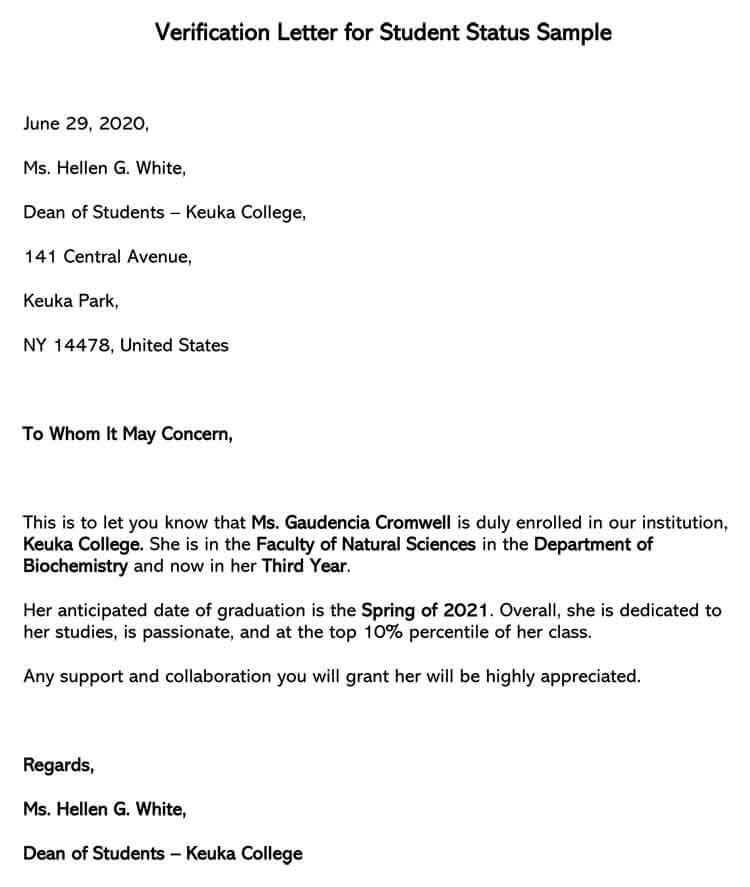 Purpose of the Verification Letter for Student Status
This Letter Typically Serves These Two Main Purposes:
Vouch for your Student Status
For one, it vouches for your student status. In this regard, it explains the institution you presently attend, the course you pursue, your year of study, and the anticipated date of graduation. It is these details that are subsequently to be used to confer to you the privilege you are seeking.
Explain your Qualification for the associated Privileges
It goes ahead to explain why you ought to be considered for the privilege you are applying to. For instance, it may state that you should be allowed to attend the study abroad program because it is part of the coursework, and so on. The immigration authorities will rely on it extensively to make their decisions.
How to Verify Your Student Status
There are many ways and means through which you may verify your student status in lieu of drafting this letter. These could be:
Student ID: You may issue the asking authority your student ID. It comprises your profile picture, official name, dates of enrolment, the institution you are presently enrolled in, the faculty, and the departments of study, among others.
Letter of Acceptance: Alternatively, your letter of acceptance also comes in. This letter showcases every detail contained in the student ID apart from your profile picture. Thus, you have to supplement it with other official documents like birth certificates and passports.
Latest Academic Transcripts:Your most recent academic transcripts may also be used to showcase your student status. The transcripts have every bit of your detail save for the unique identifiers like the date of birth. Similarly, you have to supplement it with other vital documents.
A typical verification letter for student status incorporates the following vital pieces of information:
Name and Address of the Student: It starts by revealing the name and the address of the student whose status is being vouched for. Though not a must, these two should also be accompanied by the registration number of the student to uniquely identify him from the others.
Name and Address of the Institution: The name of the institution to which the student is attached comes in next. This letter has to specify exactly which institution the student is presently based.
Year and Course of Study: This letter goes ahead to identify the year of study that the student is present in and the course of study he is presently pursuing.
Anticipated Date of Graduation: When is the study set to graduate from this institution? This information is important as it sheds some light on the anticipated duration of the validity of the letter.
Signature and Date: The letter has to be signed and dated by the relevant institutional official. This could be the registrar of the faculty, the dean of students, or the relevant head of department.
Verification Letter for Student Status Format
Let us now give you a format to follow in drafting this verification letter for the student status:
Date
Name
Title
Organization
Address
City, State Zip Code
Dear Mr. /Ms. Last Name:
RE: Verification Letter for Student Status
This is to notify you that _________ (name of the student) is duly enrolled in our institution __________ (name of the institution).
He/she is enrolled in the Faculty of _________ (name of the faculty) and the Department of _________ (name of the department). His/her year of study at the moment is _ (showcase the year of study) and is poised to graduate on _ (mm/dd/yyyy).
Overall, he/she is a smart student and is also a top-performer in his/her department. Kindly accord him/her the due cooperation he/she truly deserves.
Sincerely,
Your Name,
Title/Designation
Verification Letter for Student Status Sample
June 29, 2020,
Ms. Hellen G. White,
Dean of Students – Keuka College,
141 Central Avenue,
Keuka Park,
NY 14478, United States
To Whom It May Concern,
This is to let you know that Ms. Gaudencia Cromwell is duly enrolled in our institution, Keuka College. She is in the Faculty of Natural Sciences in the Department of Biochemistry and now in her Third Year.
Her anticipated date of graduation is the Spring of 2021. Overall, she is dedicated to her studies, is passionate, and at the top 10% percentile of her class.
Any support and collaboration you will grant her will be highly appreciated.
Regards,
Ms. Hellen G. White,
Dean of Students – Keuka College
Frequently Asked Questions (FAQs)
Let us take a look now at some of the questions that are consistently asked and which are also close to this topic:
What Is Proof Of Being A Student?
It simply is a way of showing that you are indeed attached to the institution you claim to be and that you presently take some courses. The letter also indicates when you shall cease being a student at that institution.
Must This Verification Letter For Student Status Be Notarized?
NO, it must not! It only needs to be drafted on the school letterhead, stamped, signed, and dated to give it the official character it needs to be accepted across the board.
How Do You Prove You Are A Full-Time Student?
Simply approach the administrator of the institution to which you are attached and ask them to draft a letter to that effect. Alternatively, give them asking authorities your original student identification.
Given the significance of this letter, you can never gamble with it or take it lightly. Instead, you have to see to it that you fulfill every bit of the letter by seeking the necessary intervention measures. Have we not truly labored to explain all that you may want to know about it? Go ahead now and draft it in the best way possible!