From time to time, you will usually have to prove that you indeed are what you claim to be. For instance, you may have to prove your employment, college or university attendance, salary history, degrees, and qualifications, or marital status. This happens for different reasons.
For instance, you may have to prove them when applying for a job, attempting to rent an apartment, or seeking a bank loan. You have to draft and send out a verification letter to the relevant authorities to be able to achieve this end. Knowing how to do both is hence strongly encouraged. We guide you through the steps here below.
Sample Letters
By using the sample letters provided below as your guide, you can save time and effort in crafting verification letters from scratch. Whether you need to verify employment, income, residency, or any other information, these sample letters provide a foundation that ensures your letters are well-structured, reliable, and comply with standard formatting conventions.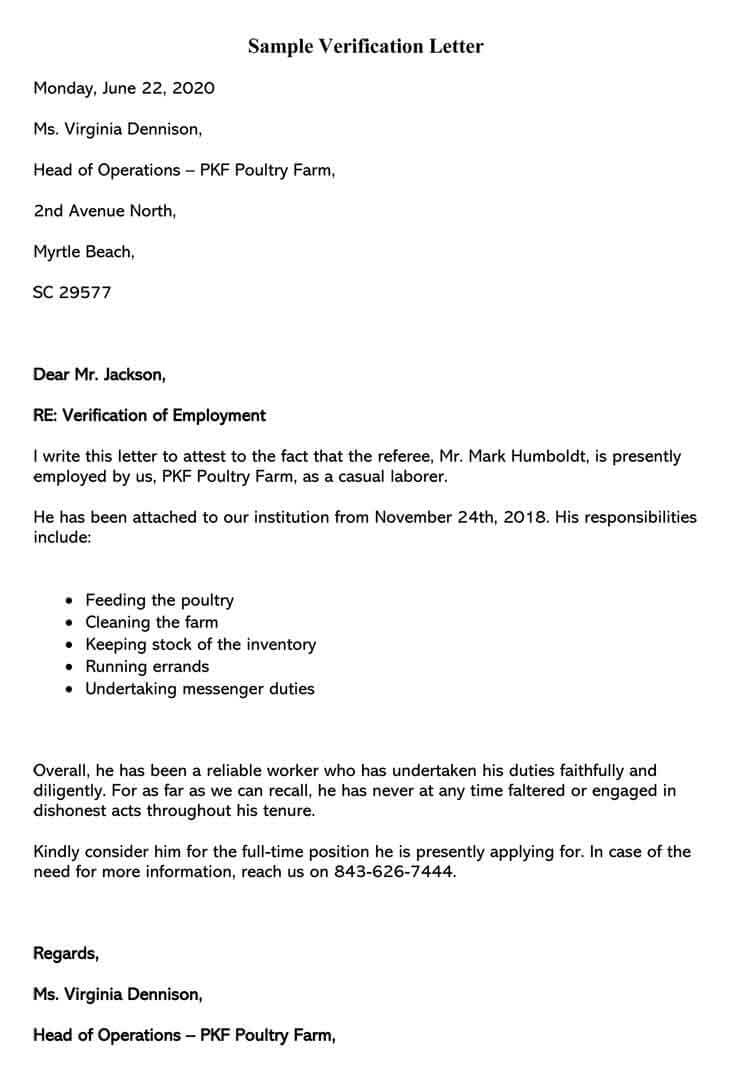 In this first part, we shall look into the factors to bear in mind while drafting this letter:
Brief and Straightforward
As you draft a letter of this kind, be brief and straightforward. Avoid beating about the bush by sticking only to the exact pieces of information requested for or required. That will see to it that you stick to the topic of discussion as faithfully as can probably be the case.
Format the Information Well
You should format the necessary pieces of information well. For example, write the full name of a course as it would appear on a certificate rather than in the form of an abbreviation. By way of illustration, write "Undergraduate Bachelor of Science in Cognitive Science" rather than simply "Degree in Cognitive Science."
Incorporate every necessary detail
It is important that you incorporate every detail that is asked for. This can only happen if you take the time to mine the data and vouch for the accuracy of the required details. In the course of doing that, take your time also to confer with the applicant on the kinds of details he might be on the lookout for.
Address the Reader Directly
While writing the letter, address the reader directly. Use a tone and person that speaks to the reader and the applicant. Use 'you' words extensively throughout the letter. Then again, you have to be formal and polite to prevent any confusion and insinuations that may imply rudeness.
Provide further Information if need be
It may not always be that you will furnish every bit of information necessary for the job. Thus, you should always be on standby and willing to provide further information if need be. To make this possible, leave your phone contacts and other ways via which you may be reached easily later.
Proof-read and Verify
Before you call it a day, you should proof-read and verify the letter to see to it that it is devoid of any grammatical or semantic issues. Use the spell checkers to tackle the chore. Only be sure to send a letter that is completely free of any problems, if at all you want it to be accepted and deemed credible.
Sign and Date the Letter
Needless to point out, you should also sign and date the letter to grant it the official character it needs to be deemed credible. Though not mandatory, you may also stamp it using the official company seal. It is the date that you supply that shall act as a reference for future correspondences and follow-ups.
Verification Letter Format
Your typical verification letter assumes the following format:
Format of Verification Letter
Date
Your Name
Your Address
Your City, State Zip Code
Your Phone Number
Your Email
Dear Mr. /Ms. Last Name:
Re: Format of Verification Letter
We do verify that __________ (official name of the person concerned) is a bona fide _ (employee, student, member, or associate) of our company ________ (name of establishment).
He/she has been part of us from ___ (mm/dd/yyyy) and served in the capacity of _____ (identify the capacity).
We vouch for his/her focus, industry, diligence, and overall commitment to duty. Subsequently, we unreservedly ask you to consider him/her for whichever position he is presently eyeing.
Should you feel we have not exhausted anything, feel free to seek for more information via the following hotline XXX-XXX-XXXX.
We are always on standby to receive and act on any inquiries.
Sincerely,
Signature of Applicant
Printed Name of Applicant
List of Enclosures: (in case you have enclosed any supporting documents/affidavits, list them at the footnote here).
Sample Verification Letter
We now leave you with a sample verification letter for your perusal and inspiration:
Monday, June 22, 2020
Ms. Virginia Dennison,
Head of Operations – PKF Poultry Farm,
2nd Avenue North,
Myrtle Beach,
SC 29577
Dear Mr. Jackson,
RE: Verification of Employment
I write this letter to attest to the fact that the referee, Mr. Mark Humboldt, is presently employed by us, PKF Poultry Farm, as a casual laborer.
He has been attached to our institution from November 24th, 2018. His responsibilities include:
• Feeding the poultry
• Cleaning the farm
• Keeping stock of the inventory
• Running errands
• Undertaking messenger duties
Overall, he has been a reliable worker who has undertaken his duties faithfully and diligently. For as far as we can recall, he has never at any time faltered or engaged in dishonest acts throughout his tenure.
Kindly consider him for the full-time position he is presently applying for. In case of the need for more information, reach us on 843-626-7444.
Regards,
Ms. Virginia Dennison,
Head of Operations – PKF Poultry Farm,
Our look into the subject matter of how to write and format a verification letter comes to an end there. Though it may appear straightforward and simple, the processes involved are not really that straight. You have to pay some keen eye of attention to be able to do it right.
Reading our steps above and following through with the samples indicated is a sure way to do this right. Why not take your time to read through a second or probably a third time? Best of luck as you set out for the job as well! Remember to share the insight as far as wide as possible.