Company Profiles are documents that entail a detailed description of the entirety of a business by summarizing the goals, missions, and objectives clearly to appeal to the audience.
Company profiles vary in length depending on the list of the projects and the purpose of the document.
Furthermore, company profiles are also used to inform businesses' general public, websites, and social media platforms. The essence of creating a company profile is to emphasize the growth and strength of the business. A solid company profile can improve public perception and be used to appeal to prospective employees and clients. With the stiff competition in different industries and niches, people (employees, investors, and clients) are looking for companies that match their ideals; therefore, company profiles reveal your objectives and appeal to like-minded individuals.
As a business owner getting the right company profile to promote your business can be somewhat difficult, especially if you are just starting. Different intricate elements are embedded in creating a stand-out company profile that will speak about your essence and resonate with the target audience. Many business owners find it hard trying to capture the entirety of their ideals in clearly laid out sentences that anyone will understand. Without a solid company profile, it will be a huge task for people to understand what you do and what you stand for as a business.
Therefore, this article will explore company profile templates and how you can resonate more with your audience. But, more importantly, this article will provide relevant insight for a business owner to easily create any professional company profile that emphasizes the growth and strength of a company.
Company Profile Templates
A company profile template is an already-made profile that can be customized to match the needs of your business. There are different types of company profile templates that business owners can fill in their information where it is requested.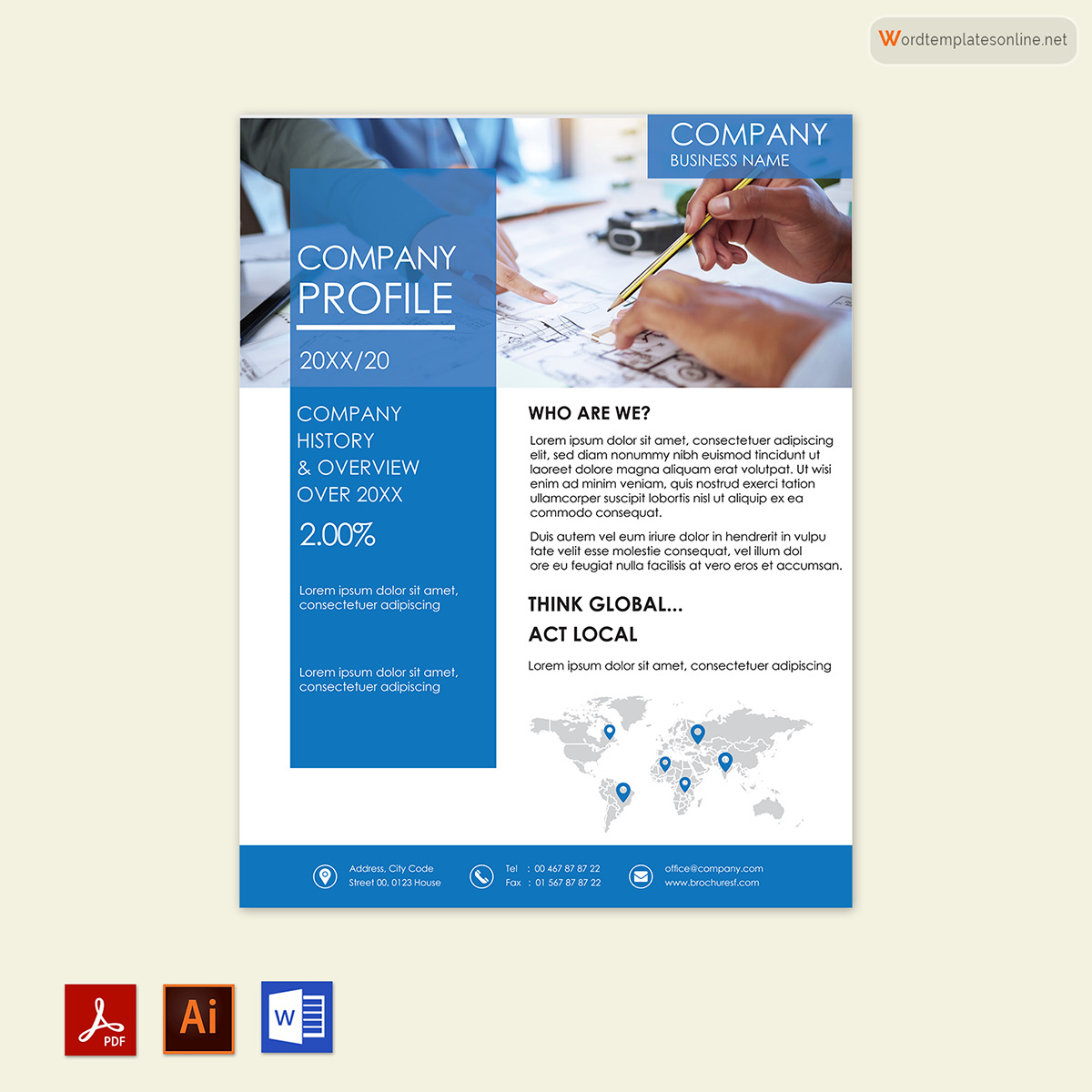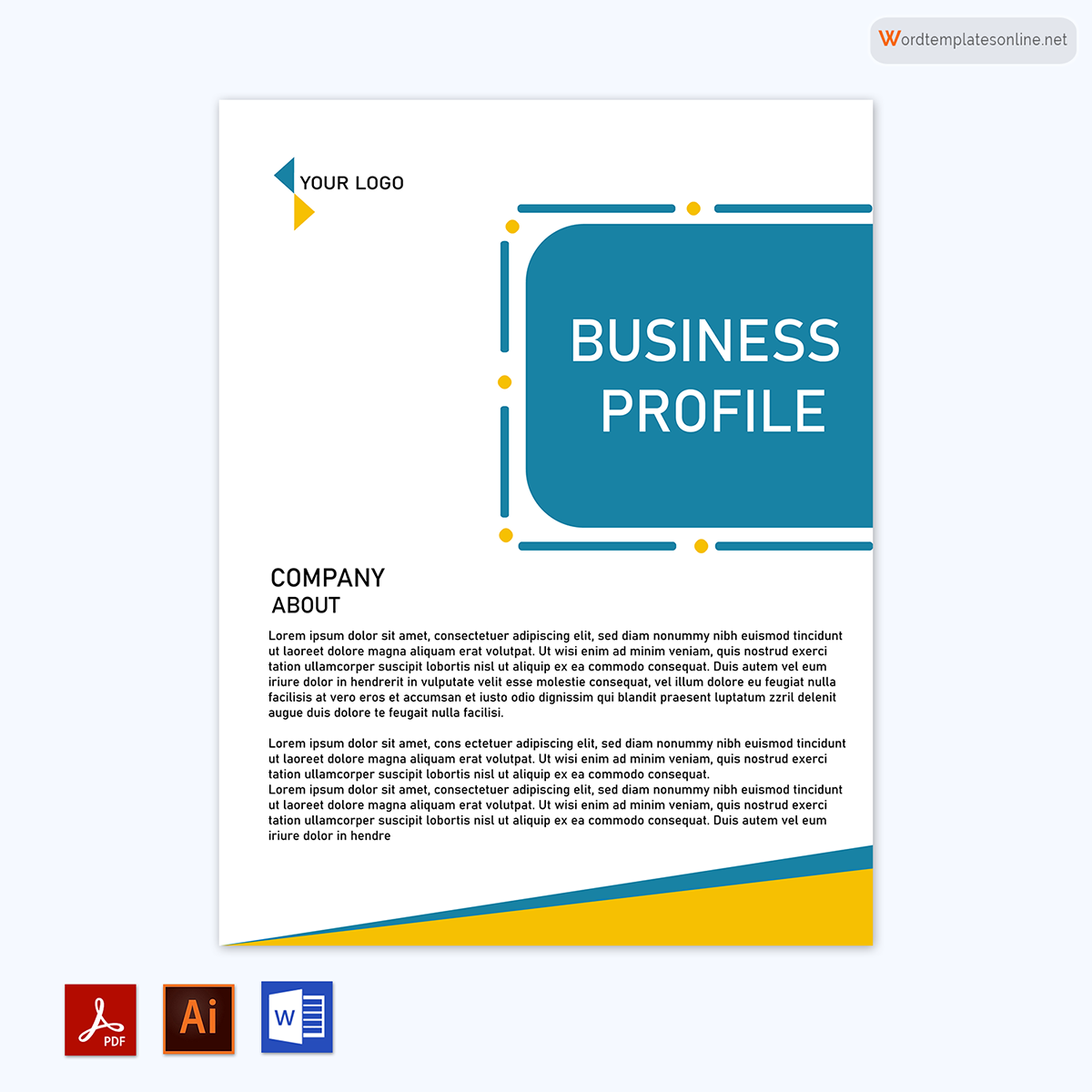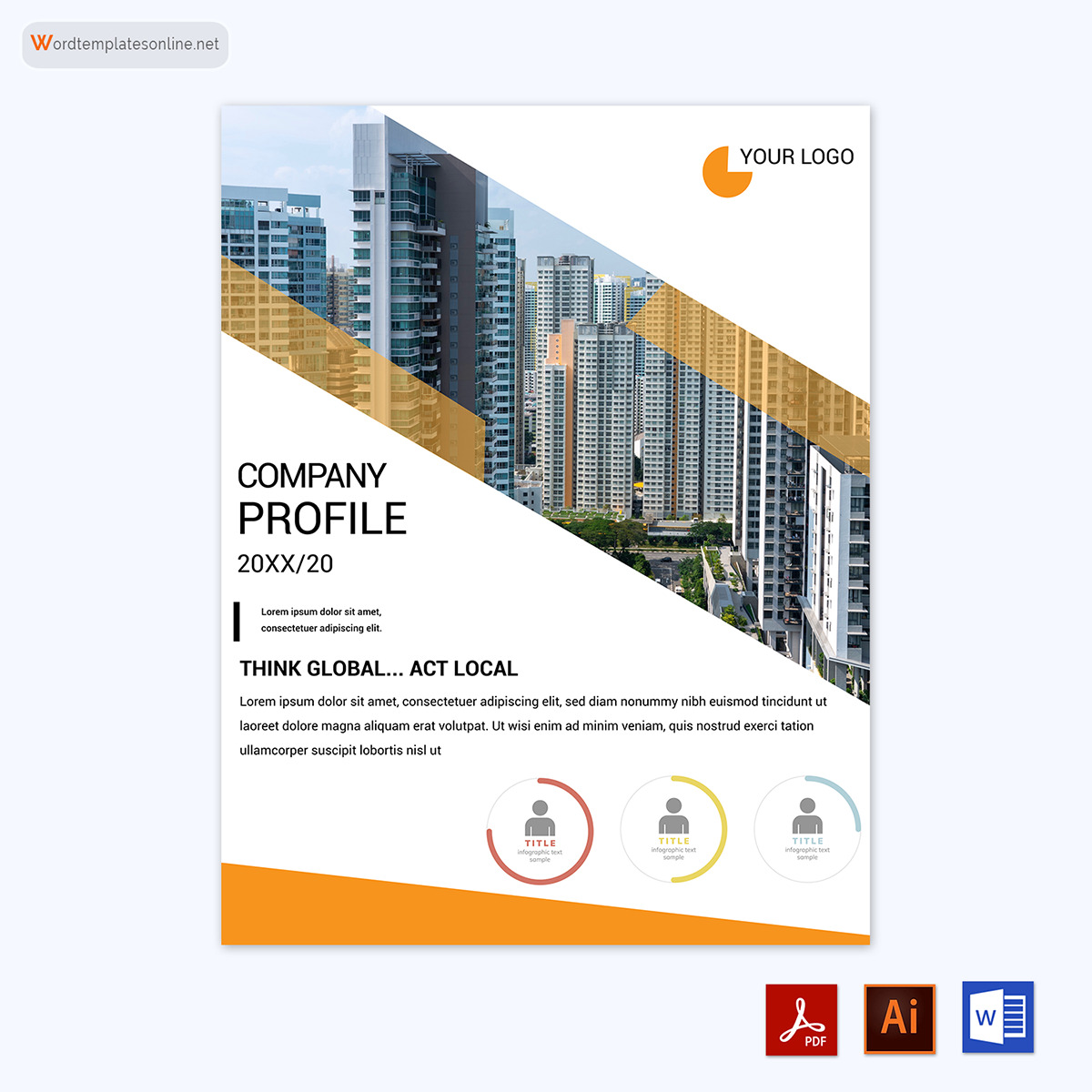 How to Write a Company Profile
Company profiles are essential documents that can determine your company image; therefore, every single detail has to be perfect. Make sure that you add the relevant information to draw the attention of your target audience.
Follow the following results to get the desired result:
Identify profile's purpose
As a business owner, you need to know why you are creating a company profile. Are you looking to solicit funding? Do you want to introduce a new product? Your company profile will need to match the objectives you are looking to achieve.
For example:
If you are looking to introduce a new product to the market. It will be best to show the product's value and solve the issues that others cannot solve. This purpose will allow you to add the relevant information about your company values, the advantages of using the new product, and the track record of results.
Select a style and format
A key component in company profiles is the structure, the way you organize the ideas is important in appealing to the target audience. Many companies use subheadings to segment the ideas, and this formatting method is also suitable to keep the reader engaged. Depending on the company, you can also decide to use slideshows so that the target audience can have a feel of your works. This kind of style will be good for IT and digital marketing companies.
For example:
If you are a digital marketing company looking to run ads for a famous company, it would be best to present a slideshow of your past projects and how they impacted the company that gave you the contract.
You might be pleasantly surprised that some investors might recognize the ads you show based on their popularity. This is because companies leverage their achievements, financial records, and other information to get the nod from investors and clients.
It is important to add the necessary company details to allow people to resonate appropriately with your company. In addition, these details are necessary for the target audience to attribute the products and services to a brand.
Necessary company details include:
Company name
The company name should be the first thing anyone should see on company profiles; your audience must link the achievements, pictures, and other elements contained in the document to a name. It would help if you made the company name bold so it could stick with the audience.
It is also important that the established date of the company be included in the company profile. People often attribute the level of expertise to the number of years you have been in a particular industry. However, startups can include the years of experience of their team members since the company will be relatively new.
Contact information
If you have more than one location, it would be necessary to include them in the company profile. Plus, you need to give a proper and detailed address for people who would like to visit the physical location.
Phone and fax numbers are also important in company profiles; you should ensure that prospective investors, clients, and stakeholders can easily contact you.
A fully functional website URL needs to be provided so that people will explore more about your business on company profiles. Not many people will be entirely sold from seeing company profiles alone; therefore, the provision of the website URL can further reassure them of the quality spoken about in the document
A large percentage of people check their emails before looking at any other app or even getting out of bed. Therefore, adding your email address to the company profile is a plus. Besides adding the email address, you need to respond to the emails as they come in promptly.
Include the company basics
The following items should be included in the company basics:
List of products and services
The list of products and services that your company offers should be included in the company profile. If you introduce a new product, it would be great to show the products you have previously introduced to the market.
Company's background history
No one will be interested in a company that is not growing; therefore, company profiles should comprise the company's history, expansion, and growth. This will indicate to the target audience that the company is headed in the right direction. Investors will not invest in a company that has not seen any growth over the past years.
Public relations
They are a key aspect of company profiles. How have you been able to manage your image? Have you been able to navigate through any crisis in the past? As much as it is great not to have any crisis, issues might arise, and how you handle them tells a lot about your company. Therefore, people want to be able to see that you can persevere no matter the situation.
Advertising
How have you been able to use advertising for your company? For digital companies, this part is essential in showing investors and clients that they can handle projects of different magnitude.
Industry information
Company profiles should carry relevant information about their industry.
For example:
An e-commerce brand should give information that people need to know when they are shopping. This will help people to resonate more with your brand.
Safety, health and environmental policies
Who would have thought COVID would have hit the world this much? As a result of the pandemic, there has been strict adherence to health and safety standards. Therefore, with the evolution of the world, company profiles should contain safety, health, and environmental policies that will ensure the effective work/life balance of employees and everyone associated with the business.
Core team details
Company profiles need to carry the core team details and how you have achieved great things together. In addition, let people see the team you are working with and their experience levels in handling projects.
If you look at some websites, the companies will have a section dedicated to the clients they have worked with or are currently working with. This indicated the kind of quality the company possesses. Imagine looking for a company to run your advertisements for you, and on their websites, you see the list of their clients, like Coca-Cola, Reebok, Jameson, and other top brands. This will definitely influence your decision to give the company the contract.
Creating a buyer persona that will entail telling an appealing story to win clients through company profiles is part of standing out among the other companies. Companies should be able to tell unique stories that relate to their brands and elicit their prospective clients' desired reactions.
Outline your mission statement
What does your company represent? From your mission statement, which must be included in your company profile, people should tell what you stand for and what beliefs and values you uphold no matter the situation.
Companies will stamp their resistance against racism in their mission statement and try to ensure an equal environment for anyone who works or wants to partner with them. Therefore, company profiles should have mission statements that are clear, concise, and easy to understand.
An example of a mission statement can be:
" To create a secure peer-to-peer virtual market for the sale of NFTs."
Write the company history in chronological order
Company profiles have to follow a chronological order to sustain anyone reading them to get more information about you. Some people will not be sold by only reading the company profiles. Therefore, you need to follow a particular order that shows your progress in business so that they can be pleasantly intrigued. Imagine looking for investors for your art gallery; you cannot jump back and forth, moving from different timelines. You need to show the growth of the gallery and the shows you have hosted, so they can properly measure success.
Company profiles need to showcase the best times of the company; therefore, highlights include the awards, achievements, and other notable areas you need to tell people so that they can see how credible you are.
These are as follows:
Awards and recognitions
One of the highlights you should add in company profiles should be awards and recognitions. This shows the value and level of authority that you have achieved in your industry. It will be exciting for investors to see something that will make you more credible.
Certifications
They are also an intricate part of company profiles. It has been said that certifications influence the kind of jobs and contracts people get. Therefore, this addition will bolster your credibility and prestige as a business owner.
For example:
It will be best to showcase the GCP and other developer certifications as a software company.
Special programs and projects
Programs and projects that will interest the target audience should also be part of the company profiles. It will tell how progressive you are in your business module.
Social proofs
They are another way of improving the way your business looks on company profiles. The essence of company profiles is to entice investors, stakeholders, and clients. Hence, social proofs are a way of letting another person say how great your company is. You can add testimonials of clients and show a happy client after using your product. You want the readers of the company profiles to relish in the same excitement the clients feel when talking about your product or service.
If there is anywhere in the news or media that you have been recognized for outstanding work, whether traditional or social media, it would be advisable to add it to your company profiles.
Optional items to include
Depending on what you are looking to achieve with your company profiles, you can add the following items:
Annual sales
Annual sales are great for company profiles if you look to solicit investors and show what you have done in the past year.
Financial targets
Financial targets show the direction the company is heading. It can also show the strategies you intend in getting these numbers that you have stated to the invested.
For example:
For a Tech company, it is best to add the financial targets that will show investors the possibilities they can achieve if they support your company. Then, it would be best if you shared actionable plans that can achieve these financial targets in your company profile.
Demographics
It entails the description of the people in your company. The company profiles you present to investors should contain your employees' strengths and the statistics of diversity. If you are trying to reach a global audience with your brand, you need to show that your employees are diverse in culture, sex, nationality, and other areas. You need to include the partners that are currently on board with your company in your profile. It will show that you are trustworthy and entice the right people.
For example:
Imagine a tech startup having Microsoft as one of its partners, investors seeing that their company profiles will definitely interest them.
Adding quality photographs that capture the essence of your company and what you have done in the past.
For example:
Companies can add Corporate Social Responsibility pictures to show that they are concerned about society.
Include a contact information
As many people will patronize your business using social media and applications, others will prefer coming to the physical location. Therefore, hyperlinking the contact information on your website will be a great option. Therefore, company profiles need to have contact information after the target audience has been thrilled with the content that has been highlighted so far.
Most people will not take action unless you tell them to. You have to resist the urge to sign off the company profile with the contact information; a call to action initiates a conversation with the reader. The end goal of a company profile is not to read about your company, but you want people to patronize whatever business you are into. Therefore, you can simply add "Get in touch" or "See more information," a prompt that makes people take a particular action.
Tips for Writing a Professional Company Profile
As a business owner, even if you know what to add to a company profile, you still need to understand a few important things in achieving the goals you want your company profiles to do.
Here are some tips:
Keep a consistent format throughout
You need to maintain a distinct but consistent flow throughout the company profile. Changing the style while the reader is flowing can hamper the understanding of your business. Hence, this can affect your image.
Proofread
Always read through the entire company profile; you can hire an editor who can properly correct the mistakes, whether punctuation, sentence structure, or spelling. You want to show people that you are professional.
Use subheadings
This allows readers to find the profile more intriguing; having breaks representing different ideas in the company profile will aid understanding. Subheadings ensure that your readers are not bored with one long text.
Include the logo
Let people attribute the words to a logo. This logo captures your business and registers in the mind of the readers. There are nowhere people will see the swish that Nike will not come to mind. In the same vein, let people attribute you to your logo.
Consider design elements
Think about exciting themes that you can use to design the company profile from the colors, font types, and sizes, among other elements. Ensure that the design is appealing to you and get the opinion of another party.
Describe how your services will help
Understand the pain points of your target audience and address them in your company profile. For example, if you are introducing a new product, you have to show the target audience that what you have can alleviate their issues and is much better than what they used before.
Avoid using long texts
A client satisfaction survey can help you avoid long texts since you know their pain points; you can easily address them in short texts. You need to make things clear; simply say that if your company seeks to provide a better internet alternative. There is no need to ramble around the preamble. If you need to state facts and present figures to break up the texts, then do that. You do not want to bore the investors; keep them intrigued with straight-to-the-point texts.
Company profiles are instrumental in how the public perceives your company. Therefore, adherence to these tips and strategies for a solid company profile can stand out regardless of the others available. More importantly, it can be the deciding factor that ensures you get the right funding and prospective clients to bolster your revenue.