A credit report dispute letter is used to remove an invalid collection from a person's credit history that was paid, falsely listed, or of the debt is more than seven years old. Errors on credit reports are a regular occurrence; therefore, knowing how to dispute them is very important; if you find anything in your credit report that doesn't belong there, here is what to do:
Step 1: Get Your Credit Report
For you to dispute any errors on your credit report, you must first obtain the report. This report will provide you with an extensive record of your credit history and information as:
Bio Data
Your name and any alias you may have used in the past
Current and former address
Date of Birth
Social security number
Phone numbers
Credit Accounts
The credit limit or amount
Account balance
Account payment history
Current and historical credit accounts
Account opening and closing
The creditor's name
Public Records
Bankruptcies
Foreclosures
Civil Suits and Judgement
Liens
How Can I Get a Copy of My Credit Reports?
You are eligible for a free credit report every 12months from the three major consumer reporting companies: Equifax, Experian, and TransUnion.
You can request a report at once from all three bureaus, or you can decide to order one report at a time. By monitoring your reports separately, you can do a thorough analysis of your report to ascertain that it is free of any errors.
You can still request another report after receiving your annual free report; however, you may be required to pay a small fee of utmost $12.5 for the report.
You can also obtain your credit report from Specialty Consumer Reporting Companies. You are eligible for a free report if:
You are a victim of fraud
You are a beneficiary of public welfare assistance
Your state regulations provide for a free credit report
You have requested a credit report from a nationwide credit reporting company after getting a fraud alert.
Step 2: Identify any Credit Report Errors
Go through your credit report periodically and check for any errors or inconsistencies in the report. Some of the errors to look for in a credit report include:
Identity Errors
Errors made to your identity information. These include the wrong name, phone number, and address
Mixed files: Accounts belonging to another person with the same or similar name as yours
Incorrect accounts as a result of identity theft
Inaccurate reporting of account status
Same debt listed more than once
Incorrect date of last payment, date and year opened, or first delinquency
Closed accounts reported as open
You have been registered as the owner of an account when you are just an authorized user
Data Management Errors
Accounts that appear several times with different creditors listed
Reinsertion of incorrect information after it was created
Balance Errors
Accounts with an incorrect credit limit
Accounts with an incorrect current balance
How Can an Error on My Credit Report Affect Me?
It is necessary to always check for errors on your credit report. This is because your credit report contains all kinds of information about you; therefore, even a single error on your report can cause significant damage to your credit score.
Credit companies usually provide the information on your credit reports to various individuals, including; employers, employment agencies, insurance companies, utility companies, and many other groups that would want to use that information to verify your identity or assess your credit score.
For example, if a utility company reviews your credit report and finds a lower credit score, they may decide to offer less favorable terms to you as a customer. Credit reports are also used to determine whether you can get a loan and also determine the terms of that loan, including the interest rate.
Step 3: Gather Documents to Dispute Errors
After going through your credit report and you find an error, the next thing is to gather any documents that shall help in your credit report dispute. These may include; credit card statements, emails, letters, or bank statements. Having evidence to back up your claim helps speed up the process.
Step 4: Send the Credit Report Dispute Letter
Once you've identified an error in your report, you should immediately write a dispute letter to the credit reporting company. In the letter, explain what you think is wrong, why and include copies of documents to support your dispute. You can download our template to use as a guide when writing the letter.
Your dispute letter must include:
Your name, address and telephone number
Report reference number
Clear identification of the errors
An explanation on why you are disputing the information
A request to have the error corrected
An attached copy of the portion of your credit report that contains the disputed Item
Services to Send the Letter Through
Equifax
Online: equifax.com/personal/credit-report-services/credit-dispute/
Mail the dispute form with your letter to:
Equifax Information Service LLC
P.O Box 740256
Atlanta, GA 30348
By Phone: (866) 349-5191
TransUnion
Online: dispute.transunion.com
By Mail: Download the dispute form
Mail the dispute form with your letter to:
TransUnion LLC
Consumer Dispute Center
P.O Box 2000
Chester, PA 19016
By Phone: (800) 916-8800
Experian
Online: experian.com/disputes/main.html
By Mail: Download the dispute form
Mail the dispute form with your letter to:
Experian
P.O Box 4500
Allen, TX 75013
By Phone: (888) 397-3742
Step 5: Review the results of the dispute
The timeline for resolving disputes varies depending on the type and nature of the dispute. However, most bureaus usually have disputes resolved within 30 days from the day they receive the letter. They will conduct an investigation, and after completing it, they have up to five days to send you the results.
If the Credit Bureau Agrees:
If they agree with your dispute after conducting their investigations, they shall provide you with the results in writing and attach a copy of your credit report. You can also request the bureau to send a notice of the corrections made to your credit report to anyone who received it within the past six months.
If the Credit Bureau Disagrees:
The bureau may disagree with your dispute if; your claim is considered frivolous, or the information included in your report is inaccurate. In this case, the bureau shall send you a notice within five days after conducting their investigation.
What can I do if I disagree with the Results of a Credit Report Dispute?
If you happen to dispute the outcome of an investigation conducted by the credit reporting bureau, you can request them to include a brief statement of the dispute in your file and included it or summarized it in future credit reports.
Sample Credit Dispute Letter Template
[Your Name]
[Reference number]
[Address]
[Telephone]
[Date]
[Address of Credit Reporting Company]
[Choose one]
TransUnion LLC
Consumer Dispute Center
P.O Box 2000
Chester, PA 19016
Experian
P.O Box 4500
Allen, TX 75013
Equifax Information Services, LLC
P.O Box 740256
Atlanta, GA 30374
Dear ___________ [Name of Credit reporting company]
I am writing to dispute the following information that appears on my ______ [TransUnion, Experian or Equifax] consumer report:
[Use only disputes that apply in your situation]
• Account Number or other information to identify your account [Insert the account/reference number or any other information that will help identify your account. This is important especially if you have had multiple accounts with the same company]
• Source of Dispute Information: [Insert the name of the company/bank that provided the information to the credit reporting company]
• Type of Disputed Information: [e.g., Public records information, inquiry, etc.]
• Dates associated with the Item(s) being disputed: [ insert the date as it appears on your credit report]
• Explanation of the Item (s) being disputed: [insert the details on why you believe the information is inaccurate]
You can use one of the choices provided below it fits, or add your description]
 My credit report shows that I owed money to the bank that I have already repaid. [Provide a description of when you paid the money, the total loan amount, and the installments if applicable. Attach a copy of any proof available at your disposal]
 I don't recognize the accounts in question
 My report includes accounts with a different name than mine
 My current account status is not correct. The credit report shows that I am delinquent, but I have made my payments on time
 I am a victim of identity theft and don't recognize one or more of the accounts on my report. [ include any evidence to support your claim]
Attach the copy of your credit report and highlight or circle the disputed parts
Thank you for your assistance
Sincerely,
____ [Your name]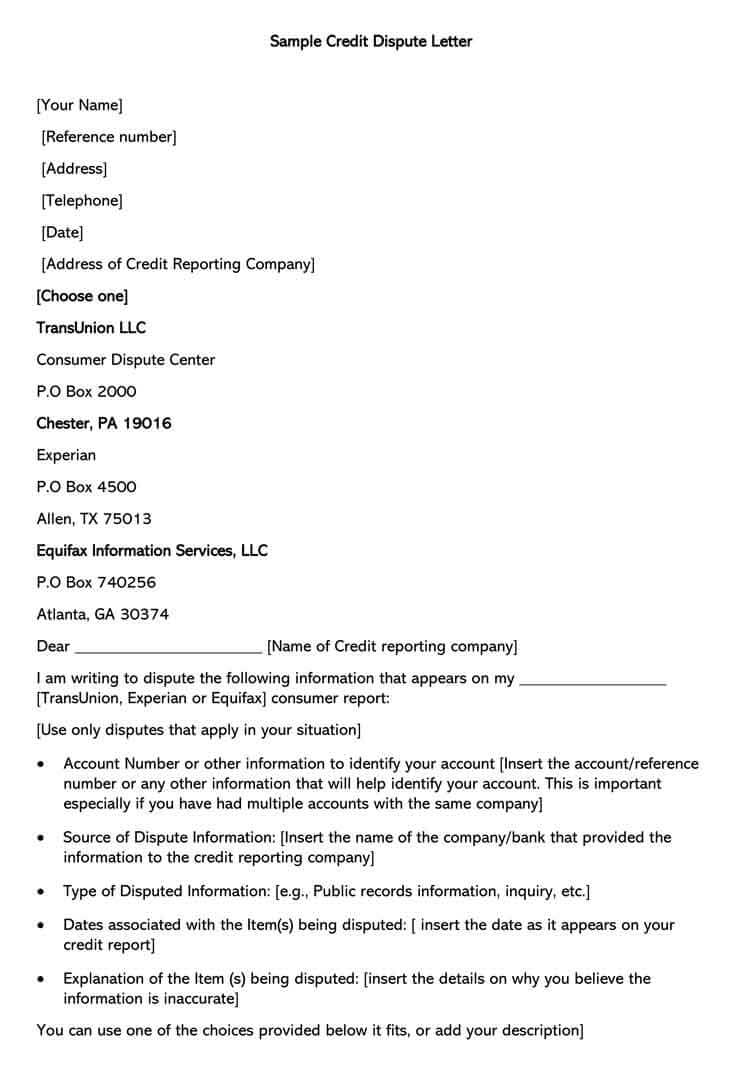 Frequently Asked Questions
Who May Request My Credit Report?
Consumer reporting companies must follow legal restrictions. However, the Fair Credit Reporting Act (FCRA) permits them to send your credit card report to:
• Debt buyers and Collectors
• Insurance companies
• Lenders, including those that offer; Personal, Payday, Credit Cards, Home, Title, Student, and Auto loans.
• Landlords, Property Managers, and residential real estate management companies
• Banks, payment processors, credit unions, and retail stores that accept personal checks
• Communications and utility companies
• Gaming casinos that offer credit to their consumers and accept personal checks
• Companies that sell products and services to lower-income consumers.
The information provided can be used for:
• Determining eligibility for government benefits or licenses
• A credit transaction, such as offering credit, reviewing an account, or collecting on an account
• Employment purposes: some employers will require that you provide a written credit report when applying for a promotion, reassignment, or retention of your current position.