Writing a cover letter is challenging, especially when you are applying for an entry-level job. However, by writing a convincing cover letter, you can prove that despite not having practical experience, you're passionate about working in the organization and have the education and required qualifications for the job that make you a suitable candidate for this job. 
Here's a step-by-step guide that can help you to write a perfect entry-level cover letter for your job.
What is an Entry-Level Cover Letter?
An entry-level cover letter is an official document that makes you prominent among other candidates by focusing on your skills, education level, and other qualifications that make you fit for the job. It is also known as a letter of application. This cover letter for an entry-level job is meant to highlight your passion for the job and focus on how you can succeed even with minimum work experience.
For instance, if you are applying for a job position in accounting and engineering then your cover letter and resume will be the first interaction the hiring manager has with you before an interview is set up.
The cover letter should not only just explain your educational background but also demonstrate that you have all the basic skills for the job position you are applying for. While writing a good entry-level cover letter, don't try to add any irrelevant job experiences and accomplishments as they will not do any favor for you.
Importance of a Cover Letter
For an entry-level job candidate, having a cover letter is beneficial to you in the following ways:
A cover letter will help the hiring manager to contact you for an interview. It's an important tool to grab the attention of the reader and prove yourself as a strong candidate for the organization.
A cover letter is also meant to elaborate on your communication and writing skills. This means that you need to tell a story as you write your cover letter to compel the recruiter to consider you among other job candidates. Again, this will help create a positive first impression on the hiring manager.
Crafting a compelling cover letter is crucial when applying for entry-level positions, and our templates are designed to help you make a great first impression. By using these templates, you can save time and effort while ensuring your cover letter follows a professional format. With features such as customizable sections, clear headings, and a concise layout, our templates simplify the process of creating a standout cover letter.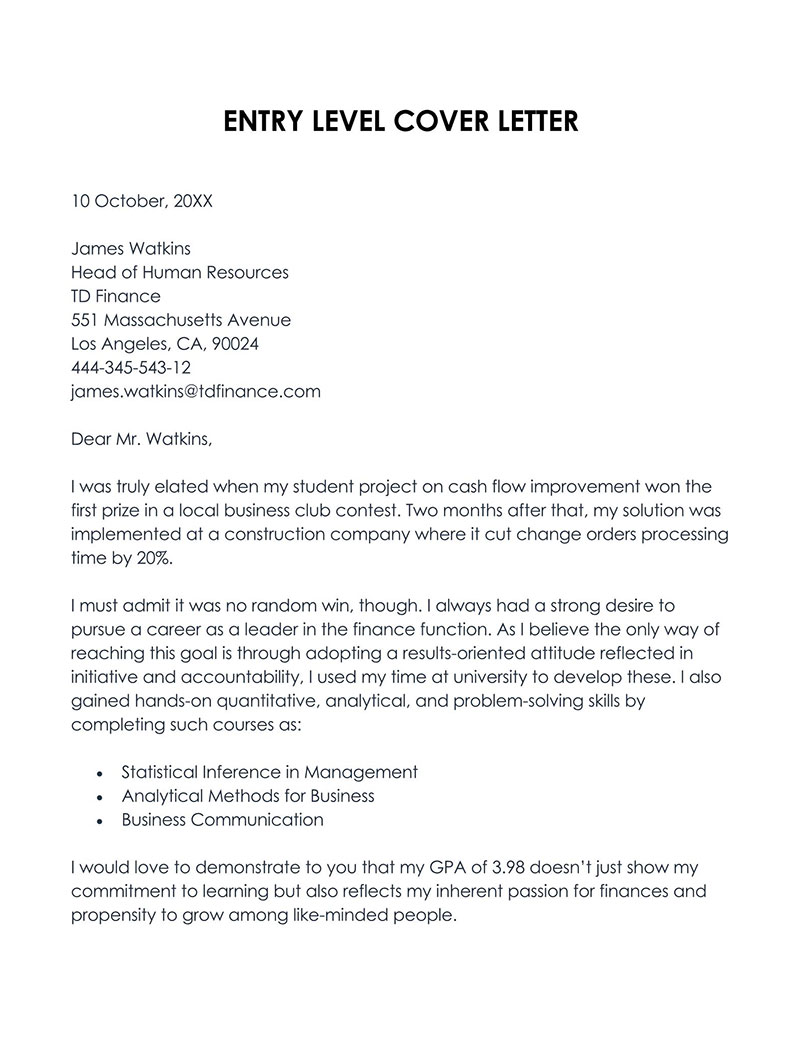 Following pre-considerations will ensure you have all the required information and can prepare a compelling entry-level cover letter.
Do your research
Before writing a good entry-level cover letter, research about the company and the job position you are applying for. For example, you can start by searching for the job descriptions to understand what the employer is looking for in a job applicant.
Get inside information
The other factor is to get the inside information to understand what hiring managers require from job candidates interested in a particular entry-level position. Finally, you can contact alumni volunteers who will guide you in shaping your cover letter to suit the work field you are interested in.
Match your qualifications to the job
Make a list of your qualifications and ensure that you match them with the job requirements by highlighting the qualities, skills, experience, and education level that the job position requires. The highlighted characteristics will prove you as a suitable candidate and help you succeed in the job.
A cover letter presents you as a professional individual who can adhere to rules in an official setting. In addition, writing a cover letter will present you to the hiring manager as a person who has all the required basic office etiquette.
Finally, a cover letter is meant to present you as the best fit for the position you are applying for. Therefore, you will need to include all the reasons that make you a qualified applicant for the job.
How to Structure an Entry-Level Cover Letter?
When it comes to formatting a cover letter, you have to check a few essential factors, such as font size and font style, page margins, paragraph spacing, line spacing, and the file type. Make sure to send the document in either PDF format if you're sending it over an email or attach it as a hard copy with your resume. If your letter is sent as .jpg or .png, then the reader won't be able to open and view your document.
Here's step by step information to format a proper entry-level cover letter:
Contact information
The first part of your cover letter is the contact information of the sender and the recipient or hiring manager. This information should be written on the top left margin of your cover letter.
The details required here are your official name, address, phone number, and email. After that, there should be a space before writing the date and one space before adding the recipient's details. The recipient's details include their official name, title, company's name, and address.
Salutation
The next part of the cover letter is the salutations or greetings. The salutations must be official and should respectfully address the recipient. Avoid using the phrases "Dear Sir or Madam" and "To Whom It May Concern" in your letter.
Also, ensure that you indicate the title "Dear Mr. / Mrs. / Ms. (Last Name)" appropriately. Making a mistake regarding the title might cause the job recruiter to discard your letter. If you are unsure about the recipient's title based on their last name, write "Dear (Full Name) or Dear Hiring Manager."
After writing the salutations, ensure to include a comma before proceeding to the letter's opening paragraph.
Opening paragraph
Since hiring managers are most likely to go through several cover letters, you need to make your entry-level cover letter unique so that you can get prominent among other applicants. Therefore, your opening paragraph should be compelling enough for a job recruiter to be interested in reading your whole letter.
Avoid starting with your name and informing the job recruiter that you are applying for a job. Instead, write a powerful opening paragraph that describes your personality and tell them what you want and how you will do it.
Body paragraph
The body paragraphs of your letter should have a structure that addresses how and why you want the job. It would help to connect the company's job description and how you can successfully achieve its goals. This will help present you to the hiring manager as a qualified candidate for the job.
You can also include your projects, volunteer programs, classes, extra-curricular activities, and internships that relate to the job in the body paragraphs.
Conclusion
Ensure you remain professional even when writing your closing or conclusion. Your cover letter is meant to introduce you and your skills but not help you beg for a job. That is why you should avoid being too talkative and flattering in your conclusion. Focus on suggesting an interview or meeting and then thanking the recipient of the letter for their time.
Signature
After the closing paragraph, the last thing is to add your signature to the entry-level cover letter. This ensures that your letter is formal and maintains its official look. You should include a closing phrase like "Sincerely," then your signature, and your name.
Note: Your letter should have between 250 to 400 words as that is a standard one page for official documents. This way, it is not too short or too long. Also, since this cover letter is an official letter, ensure you type your letter, use serif fonts, have 1" margins on all four sides, and single space your letter.
How to Write an Entry-Level Cover Letter?
The most challenging area of the whole process is about writing a cover letter but our in-depth guide will show you the best way to create a neat and elegant entry level cover letter:
Introduce yourself
It would be best to start by clearly stating who you are, the job position you want, and how you learned about that particular job position. This section of the entry-level cover letter should be brief but powerful enough to create a positive impression on the recipient. Giving details about the job position and the company makes you look competent to the job recruiter.
In this section of the entry-level job cover letter, you can also mention any connection you might have with the company or organization. It can either be an intern at the organization or alumni from your university.
For example:

"My name is Ezekiel Gibberish, and I am applying for the publisher position at QWZ Company. I learned about the opportunity from an alumnus of Howard University, where I studied, who is currently working at this company."
Express your interest
After writing a powerful introduction, the next step is to express your interest in the job position you are applying for. You can include why the job is perfect for you and what makes you a qualified candidate in a brief manner in the cover letter. Express your interest in the last part of your introduction before discussing your education achievements in the next paragraph.
For example:

"I am passionate about graphics and designing, which makes me highly interested in this job position. My creativity and diligence make me the perfect candidate for the job. Also, your company offers the best internship programs and courses that will help me further to polish my passion in publishing."
Emphasize your education
The first body paragraph should include information and other relevant details about your education. Since you do not have much experience, you need to highlight your education. Avoid listing where you went to school and the diploma or bachelor's degree you graduated with.
Try to capture the recipient of your letter by describing the whole experience you got while getting your education. For example, in the entry-level cover letter, you can focus on the challenges, the lessons learned, the opportunities, and how everything shaped you and your career choice.
Ensure you use examples relevant to the job you are applying for. For example, you can focus on problems you solved, the projects you handled, and even the research you made using the knowledge you got from school. You can also highlight the skills and knowledge you gathered and how they benefited you in your career choice so far.
For example:

"I recently graduated from Howard University with a bachelor's degree in graphic design. I pride myself on creativity and originality, which makes me a great publisher alongside my knowledge from school. I have created posters and adverts for my university as I studied and handled community projects which required my creativity. In addition, I led the Mosaic group from Howard University to reinterpret the classic workpieces of Johnson David. I believe that through all this, my educational experience has helped to shape me into a publisher who will benefit your company."
Describe your specific knowledge and relevant skills
Apart from your education, you should also mention any specific knowledge and skills that you may have that are relevant to the job position. You can find out what the job description entails to match your skills to what the hiring manager is looking for in the candidates. Ensure you showcase your knowledge and skills using specific examples in the cover letter.
For example:

"QWZ Company is a respectable company, and it would be an honor to work here. I realize that you are looking for a well-educated publisher with proper communication skills, teamwork-oriented, and change-driven. I've been able to develop my communication and oral skills during the time when I was leading my team to develop some creative pieces back at the university. Also, I focused on building team work and ensuring people work together to achieve an intended goal successfully. I believe that I can also work with my colleagues and clients to create beautiful final designs which will be appreciated by both the company and the client."
Quantify your accomplishments
You should also include your accomplishments and try to quantify them in your letter. Since you have little to no experience, quantifying your accomplishments will help to increase your chances of getting employed. Use numbers in terms of years you spent achieving your accomplishment or even what you have helped you do.
For example:

"Throughout my 4 years in the university, I have been able to reduce the cost of advertising by 12%. Together with my team, we handled publishing for the university and helped them, and the students reduced the cost associated with publishing adverts and posters."
Highlight your best qualities
Focus on mentioning all the good qualities you have that would attract a manager to hire you. Whether it is a good timekeeper or a team player, highlight how you have these qualities and how they will benefit the company. Ensure you also use real-life examples to describe yourself when writing this cover letter section for an entry-level position.
For example:

"I believe that my money-saving capabilities, diligence, and time-keeping would be beneficial to the company. I intend to learn more from the company while I help it grow its funds, especially in the advertising and publishing department. My creativity and originality, as shown in the attached documents, make me a good fit for the job."
Why they're perfect for you
Apart from informing the job recruiter how you will be a good fit for the company, it would help to mention how the job is perfect for you. This is where you need to include why you wish to work for that particular company or organization. It would be best to explain how the company is the ideal working place for you in your entry-level cover letter.
For example:

"Apart from your internship programs for publishers and other interns interested in graphic design, I believe that QWZ Company is the perfect fit for me. It is a renowned establishment and working here will offer me a chance to learn more about the industry and experience career growth."
End your letter with a call to action/follow up
After writing all the information mentioned above, you should end your cover letter with a call to action. This information should be included at the end of the final body paragraph. You can request an interview or follow-up from the hiring manager. Also, do not forget to thank the recipient for their time and consideration in analyzing your letter.
For example:

"I am looking forward to meeting with you in an interview for further discussion regarding the publisher position here at QWZ Company. Thank you for your time and consideration."
Include a signature line
The final thing in your entry-level cover letter is your signature line. Add a salutation, i.e., Sincerely, and use a Professionally formatted signature line. After the signature, your name needs to be indicated just right below it.
For example:

Sincerely,

(Signature)
Ezekiel Gibberish
Note: If you have any enclosed documents as part of your application process, include a statement to inform the job recruiter.
Entry-Level Cover Letter Template
This is an entry-level cover letter template that you can use as a guide to write an entry-level cover letter.
[Your name]
[Your full address]
[Your phone number]
[Your email address]

(Date)

[Recipient's name]
[Recipient's title]
[Company's name]
[Company's address]
Dear (Hiring Manager),
 My name is (your name) and I am writing to (introduce yourself and include how you learnt about the job you are applying for). You can also name the job position and the company's name. Highlight your passion and interest in getting the job you are applying for (you can include reasons that make you interested in the job).
 I am recent (highlight your education level and any educational achievements like other related classes or short courses you may have taken that will be beneficial if you get the job). You should also list all your training and courses as you relate them to the job position. 
You can also include any other relevant specific knowledge and skills. I am passionate about (mention any volunteering works that you were involved in that relate to the job position). The experience I collected over (quantify your accomplishments in terms of years or all the skills you acquired).
 I believe I am (highlight your best qualities) and being in the company will mean that I (explain and give reasons as to why you are a good fit for the company). Also, with the internship program you are offering, I believe that (explain why they are perfect for you). I am looking forward to (end your letter with a call to action/follow up). Thank you very much for your time, I truly appreciate it.
Sincerely,
(Your signature)
(Your name)
Entry-Level Cover Letter Example
Here is an sample of an entry-level cover letter.
Richard Smithson
769, Anywhere Street
333-000-5656
smithsonrichar@gmail.com

19th January, 2022
Angela Maggie
Hiring Manager
XYZ Company
301, Everywhere Avenue
Dear Ms. Maggie,

As I went through the different successful companies' websites, I came across the job posting you had on your XYZ Company website. That is why I am applying for the entry-level clerk job here at XYZ Company. I have always been passionate about administrative tasks and duties that supported the daily running of a business. That is why this clerk job position intrigues me and I would be pleased to work at XYZ Company.
 I have just recently graduated from Upwards University with a Bachelor's degree in Public Administration. With this knowledge and all the skills learnt at the university, I believe that I am a suitable candidate for the job. I have also been able to take a few short courses in political science and business management. With this clerk position demanding organized filing, accounts checking and record keeping, my training and courses taken will absolutely guide me.
For six months now, I have been volunteering at the animal shelter where I kept records of stray and adopted animals. I was tasked with record keeping and account balancing which I completed and in a timely manner. The experience and skills I gathered over this period will play a huge role in me succeeding as a clerk at your company. 
 I believe that I make the most suitable candidate for the job. I can rally teams to work together and guide them in completing tasks just as it will be required of me in a management position like a clerk. I strongly believe that my computer skills and record keeping skills will revolutionize how the company stores its records which will be beneficial to you. Also, your internship program will definitely help to grow my career ambitions.
With me as part of the XYZ Company, I believe that the experience will be beneficial to both the company and I. I am looking forward to meeting with you for further discussion as I interview for the clerk job position. Thank you very much for your time and patience.
 Sincerely,
(Your signature)
Richard Smithson
Email Examples
Email example 01
Re: Application for Graduate Management Trainee
It is with much joy and thrill that I hereby tender my application for the position of Graduate Management Trainee with your organization. Though I have never held any job before, I still feel equally capable of taking on this wonderful challenge.
I do hold a bachelor's degree in Business Management from the prestigious XXX College. Moreover, I am also passionate about matters management, as is evidenced by my membership in the many clubs and societies that have business character and orientation.
Take time and peruse through my resume to get to know about these clubs and the skills they inculcated on me. Considering that I am out of work at the moment, I will be free to start attending to the chores immediately I am called upon to do so.
Feel free to seek additional clarification from me with regards to any issue. I do not want to miss this opportunity, really.
Sincerely,
Your Signature
Your Name
Email example 02
Re: Application for a Market Research Assistant
Dear Hiring Manager,
I have noted that you want a passionate and zealous professional to fill the position of Market Research Assistant, which is currently vacant in your organization. Well, I do submit my applications for the same with great zeal and enthusiasm.
I am a fresh graduate of Marketing. To add to that, I aspire to establish a long career in this field. A chance to work with your organization will thus get me started well and propel to higher echelons of success and accomplishments.
Though I will be in it primarily to get money for my upkeep, my stint at your company will also accord me the opportunity to grow and exploit my full potential. This is perfectly in line with your requirement that the ideal candidate is willing to 'grow' with your company.
I do possess tons of skills and experiences which make me suited for the role. Among these are competitiveness, go-getter attitude, and awesome interpersonal communication skills. Please get to me via XXX-XXX-XXXX for any clarifications or to schedule a meeting.
Sincerely,
Your Name
Do's and Don'ts
The following list shows important information that you should follow and the information that you need to avoid while writing your cover letter.
Do's
As you write your cover letter, always ensure you do the following:
Start with a bang: Make sure to open your cover letter with a strong introduction. Most hiring managers tend to focus on the contact information and the introduction part of the letter. Therefore, make sure you grab their attention from the beginning by introducing your accomplishments, expressing your enthusiasm about the job, and providing background about yourself.
Show you belong together: You will need to convince the hiring manager that you are the best and the most qualified candidate for the job by showing how you and the company will benefit from each other. Indicate how you are perfect for them by highlighting what you will bring to the company. You can also indicate how the company will benefit you, especially in career growth.
Proofread and check the length: The vital thing that you also need to do is to proofread your letter after you have written it. You need to check for any spelling and grammar mistakes as you confirm that you have the correct length of the letter. You will leave a positive and professional impression on the hiring manager with a well-written cover letter.
Don'ts
As you write your letter, avoid the following mistakes:
Don't send a generic cover letter: As much as it is beneficial to use a template when writing an entry-level cover letter, avoid writing a generic one. Instead, try to be personal in the letter by writing a compelling story that portrays you as a confident candidate.
Don't use too much jargon or complicated language: Ensure you keep your letter brief and straightforward. Using too much jargon or complex language will move your letter to the rejected pile as the hiring manager has many more cover letters to read. This makes your letter natural and easy to read.
Don't be too modest: Even though you lack experience, as you apply for that entry-level job, ensure you properly present your best qualities, skills, knowledge, and education level. Always be humble as you write your letter but avoid diminishing your worth. Highlight your accomplishments and any other experiences you may have but in a way that does not sound as if you are bragging.
Frequently Asked Question
Do entry-level jobs require cover letters?
As you apply for entry-level jobs, remember that they require cover letters. An entry-level cover letter will help to highlight your potential and present attributes and qualities that make you a qualified candidate.
What do you write in a cover letter if you have no experience?
As you write an entry-level cover letter, work experience is the least of what you will discuss since you have minimal to no experience. That is why you should mention any of your soft skills achieved through volunteer work, educational projects, and hobbies. You can also mention your passion for the job position you are applying for.
How do you start an entry-level cover letter?
Start an entry-level cover letter with a strong introduction meant to leave a positive impression. Focus first on introducing yourself, then mention the interest you have in that entry-level job and how you learned about the job position.