Part of a great marketing strategy is to introduce your business to various potential clients or customers. Your business may be one of the best in your state- offering great products and services at a competitive price, but if your potential clients and customers don't know about it, it won't be easy for your business to sail through. Sending introduction letters to your clients will help them understand your business's nature and possibly increase conversion.
However, it is not only enough to craft an introduction letter- just like any other business correspondence- and send it via email as convenient as it may seem. You have to know how to use the right tone, polish the letter and convince the clients in a professional tone. Introducing yourself in an email is not necessarily how you may introduce yourself in a phone conversation. With emails, you have to think about the picture you are creating for your business critically.
This article will guide you on how to introduce yourself via email to new clients professionally. We will also be sharing some tips and tricks that you can use to help you increase conversions and paint your business in a more-clear light. Additionally, we will be providing you with free samples and letter templates that you can use to help you craft a great introduction letter, one that will capture the recipient's attention and increase their chances of working with you.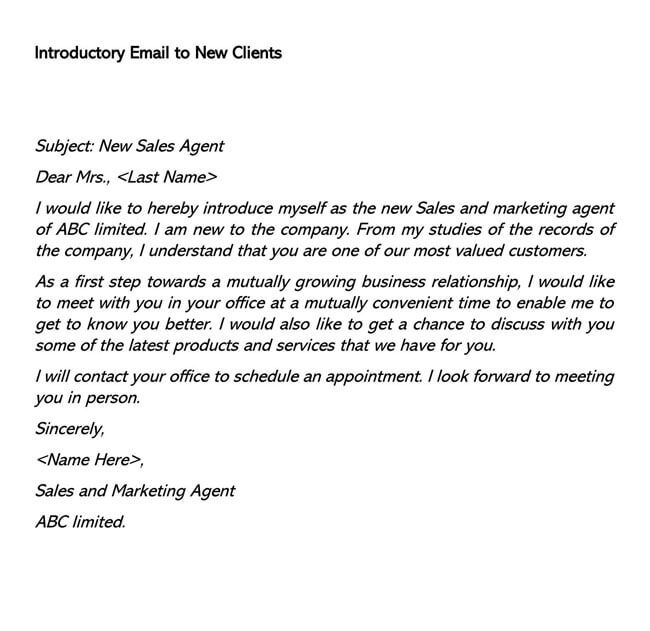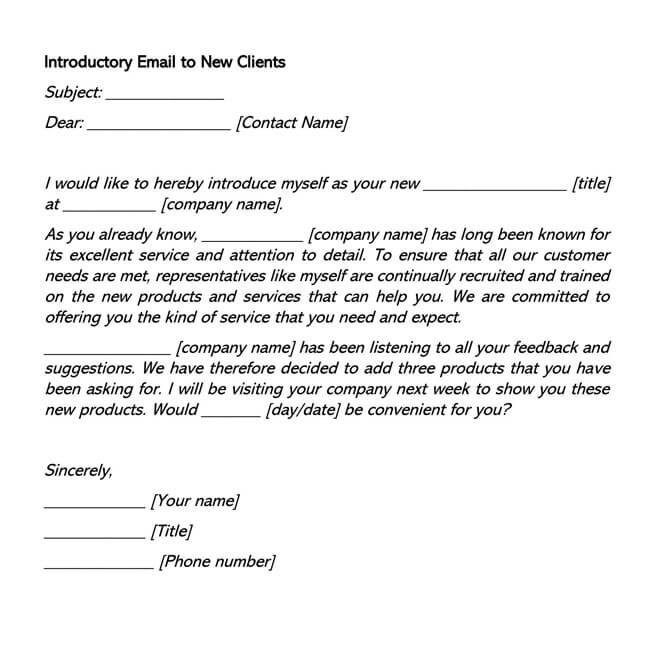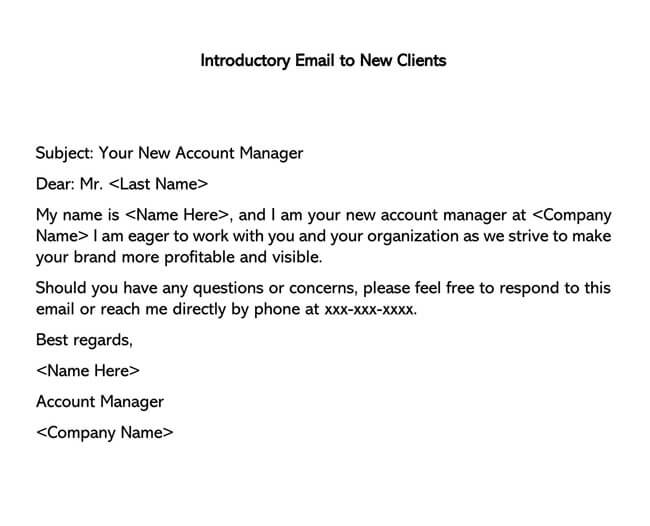 What is an Introductory Email
Email is one of the commonly used forms of communication in the business world. Introductory emails can be defined as messages sent to initiate communication with a professional contact. Introductory emails are sent when one is looking to introduce themselves to someone else or their products and/or services that their company is offering to existing and potential customers.
Introductory emails can be used in a number of ways, including:
Introducing yourself to a new client
Introducing new employees to existing customers
Contacting a potential client
Following up after meeting with a potential client at an event
Following up on a referral from your mutual connection
Writing an Introductory Email
When it comes to writing introductory emails to new clients, you want to make sure that you write them in a proper manner since you are writing the letter to people you do not know personally. The tone and format of writing should be accurate, and you should incorporate all the key elements to make your letter stand out.
A well-crafted introductory email should be composed of five major parts:
Subject line
The subject line is very important when writing an introductory email to clients. Clients are very busy people, and they may be receiving hundreds of business correspondences each day. To make your email stand out and capture their attention, you should include a great subject line. One that will help them understand what the email is all about. The subject line should be a clear and accurate representation of what is contained in the email.
Greeting
Greet the recipient personally and warmly. Do not use generic phrases; tailor the letter to help avoid it being marked as spam. It is recommended that you properly address the recipient of the letter by their name if they are getting one-to-one correspondence.
Body
In the email body, tell the recipient who you are, where you are from and why you are contacting them. Your introduction and body should be brief and direct to the point. Make sure to include your company and your position in it to help the client clearly understand who you are and why you are writing.
Closing
After explaining why you are writing the letter, make sure to communicate your appreciation for the recipient for taking the time to read your email. Thanking them will ensure that your email ends on a positive note and solidify a welcoming feeling for the client. When closing the letter, it is also helpful to reinforce that you are happy to have made the connection and that the client can contact you any time should they have any questions or concerns.
Signature
Your sign-off, just like the greeting, should maintain some level of professionalism that matches the content of your email. You may consider using "Sincerely," "best regard," or "yours faithfully." Other information that you may want to include when concluding your email include; your name, phone number, and your company's name.
Here are the samples of the introduction emails to new clients;
Sample email 01
Subject: Your New Account Manager
Dear: Mr. Kelvin
My name is Brian king, and I am your new account manager at New Hampshire Solutions. I'm eager to work with you and your organization as we strive to make your brand more profitable and visible.
Should you have any questions or concerns, please feel free to respond to this email or reach me directly by phone at 276-826 7272 67.
Best regards,
Brian king
Account Manager
New Hampshire Solutions
Sample email 02
Subject: New Sales Agent
Dear Mrs. Pauline
I would like to hereby introduce myself as the new Sales and marketing agent of ABC limited. I am new to the company. From my studies of the records of the company, I understand that you are one of our most valued customers.
As a first step towards a mutually growing business relationship, I would like to meet with you in your office at a mutually convenient time to enable me to get to know you better. I would also like to get a chance to discuss with you some of the latest products and services that we have for you.
I will contact your office to schedule an appointment. I look forward to meeting you in person.
Sincerely,
Michael Stephens,
Sales and Marketing Agent
ABC limited.
Email Template
Subject: __
Dear: _____ [Contact Name]
I would like to hereby introduce myself as your new _____ [title] at [company name].
As you already know, _ [company name] has long been known for its excellent service and attention to detail. To ensure that all our customer needs are met, representatives like myself are continually recruited and trained on the new products and services that can help you. We are committed to offering you the kind of service that you need and expect.
___ [company name] has been listening to all your feedback and suggestions. We have therefore decided to add three products that you have been asking for. I will be visiting your company next week to show you these new products. Would _ [day/date] be convenient for you?
Sincerely,
[Your name]
[Title]
[Phone number]
Introductory letters are important business correspondences that set forth the tone of your relationship with the clients. As such, it is important that you use all the tips and tricks that come your way to help you create a great rapport with the clients and onset a great working relationship with them.
Here are a few tips and tricks that you can use to help your introductory letter stand out:
Make it brief
When writing the letter, it is important to assume that the letter recipient is busy and does not have a ton of spare time. You want to ensure that your letter is as brief and direct to the point as it can be. About 300-500 words would be the best number of words for the letter. Keep the letter short, sweet, and direct to the point.
Formal tone
An introductory letter to a new client is official business correspondence and, as such, should be written in a formal tone. When writing, remember that you are acting on behalf of your business- use a formal tone- not too formal though to come off as being too serious. You want to welcome the client in a formal yet friendly tone.
Avoid typos
After writing the email, it is important that you go through it several times to make sure that it is free of any grammar mistakes that could be costly to your business. Sending an email full of typos may create a bad picture for your organization, and the client may feel that you are not serious enough to even compose a great introductory email. Make sure that you paint the right picture for your business by making sure the email is free of any typos.
Address by name
When writing the email, it is important that you address the client by their name to make them feel valued and appreciated.
Is it okay to write the introduction email in an informal manner?
This depends on your relationship with the client. However, it is not recommended that you write an introduction email in an informal manner since it is an official business correspondence.
What is the impact of a good introduction email?
A good introduction email can help one gain a new client and get more referrals for their business. A good introduction email helps create a rapport with the client and sets the tone for your relationship with them.
How long should the introductory email to a new client be?
A great introductory email should not be long and should have about 300-500 words.
Writing an introductory email to a client when you lack a relationship with them can be difficult and stressful, especially if it is your first time doing so. First impressions are very important, and a well-crafted introductory email for your new clients can help you set the tone for all further communications. We hope that this introductory email to new clients article has provided you with all the information you need to craft a great introductory email to your clients.