A packing checklist is a document with an itemized list of items that need to be packed and are required to be carried or sent by the owner/the sender. A packing checklist helps a person to ensure that everything needed is well packed, and nothing is forgotten. A packing checklist is a useful document in varied situations like businesses, vacations, field trips, holidays, among others.
Stay organized during your next trip with our free checklist templates. Available in both Word and Excel formats, these templates provide a comprehensive list of essential items for any occasion. From clothing and toiletries to travel documents and electronics, our professionally designed checklists ensure that you don't forget anything important.
Why is Packing Checklist important?
A packing checklist serves many functions that include:
A packing checklist serves as a safeguard to prevent shipping the wrong goods either internationally or domestic level. It is important to know that an export packing checklist is more detailed than a domestic one; this is to ensure that no mistake is made.
A packing list is used by the custom's broker to help clear the cargo for entry into a foreign country. For such a case, the packing list should exactly match the commercial invoice itemized list and details for each and every packed product.
A packing checklist is also used by the U.S. and other customs officials in different foreign countries to verify goods. It is also used for electronic export information.
A packing list is also used to support goods in transit between one party and another. It can be accompanied by a certificate of inspection.
It is also used by the transit company to issue a bill of lading, used to acknowledge the receipt of shipment goods/cargo. This is important for protecting the goods in case of anything during transit.
The packing checklist is used by the sender to confirm that everything ordered has been packed and filled correctly. For international transit, the list is attached on the outside of the package, while for domestic, the list is enclosed in the package.
The packing checklist is used by the receiver to confirm that everything ordered has been packed, shipped, and received correctly. The receiver can also use this list as evidence to support payment.
For travel and vacations, the packing checklist is used to make sure that everything required for the vacation is packed.
Common items to look for in your traveling packing list
A general travel packing checklist consists of common items required for traveling and can help you know what you are missing or what you need to pack. A general travel packing checklist consists of items listed in different categories. The common items include:
1. Traveling documents
These are the documents required for traveling or those required during the vacation/stay. They include passport, passport copies, tickets, ticket copies, insurance cards, driving license, list of medication and prescription, and a student card.
2. Financial items
These are the financial document and items that you may require, or you have to have them. They include foreign currency, credit and debit cards, emergency money, and a money belt.
3. Travel aid items
These are the things that will help you travel. They include suitcases/backpacks, maps, and directions, itineraries, travel guides, language guides, travel pillow, sleeping mask, earplugs, luggage tags, snacks, drinks, pen, among others.
4. Appliances
They include phone, phone charger, camera, and its accessories, laptop, iPad, tablet together with their chargers, travel adapter and converter, flash disk, travel iron, and the earphones.
5. Clothes
They include socks, underwear, nightwear, shirts, trousers, dresses, skirts, shoes, slippers, jackets, ties, belts, hats, and gloves.
6. Toiletries
They include deodorants, toothbrushes, toothpaste, dental floss, towels, shampoo, conditioner, soap, tissues, toilet roll, nail care, makeup, makeup remover, feminine hygiene, skin products, hair products, comb, and brush.
7. Heath items
They include medications, first aid kit, pain killers, ORS, insect repellent, mosquito net, condoms, birth controls, vaccines, vitamins, and disinfectants.
8. General activity items
These are general items that are not included in the specific categories. They include swimsuit, big towel, sunscreen, sunglasses, daypack, umbrella, books, and magazines.
Customizable Packing List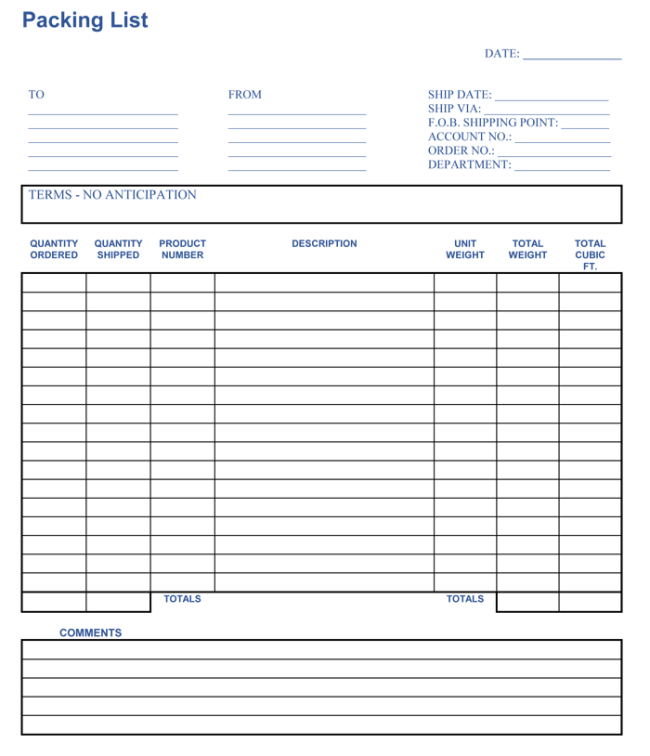 ---
Packing Checklist Template
---
Packing List Format
---
Packing Checklist Template 02
---
Traveling Packing List Template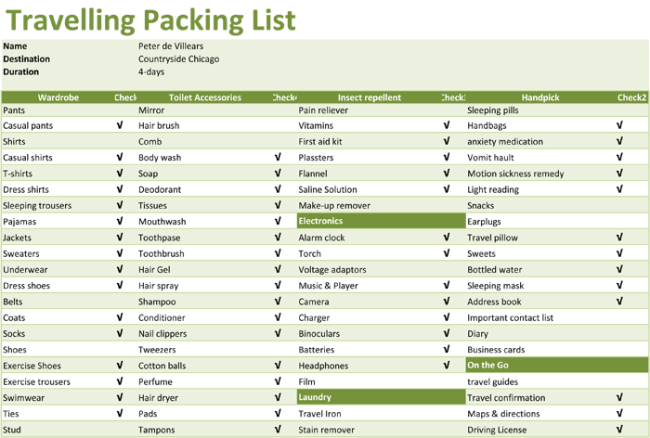 Tips for creating a Packing Checklist
1. Know what to list first and last
Creating an ideal packing checklist requires understanding what comes before the other and how the list flows. It is important to have a list where items are listed as they are used or placed; this ensures that no item is left out when creating the packing checklist. For instance, you should not list clothes, snacks, and electronic appliances when mixed up, and an ideal checklist should have these items listed separately.
2. The number of document copies or items you should pack
A good packing list should have a space left next to each item to indicate the number of document copies or the number of items to be packed. For instance, the number of passport copies required.
3. The number of packing bags
For cases where your travel involves a number of travel bags, a good packing list should assign numbers to the bags with different numbers. This helps in deciding what should be packed in specific bags. This helps in luggage management as well as easy item tracing.
4. Item package bag number
This is the number assigned to the traveling bag where the specific item is packed. When creating a good packing checklist, you should leave a space next to each item to indicate the specific bag where the item will be packed. This helps in the easy tracing of an item instead of checking one bag after another.