It is a formal letter written by a guardian, caregiver, or medical practitioner to the parents of a minor requesting permission for his or her medical treatment. A permission letter for medical treatment is mainly sought by doctors when a child (minor) needs surgery or any other specialized treatment. The doctor may request the guardian/caretaker of the child to seek the consent of the child's parents before the child is allowed to receive the required medical treatment.
The letter simply informs the parents that their child is in need of medical treatment and the possible risks and side effects associated with the required treatment. Then, it requests the parents to give permission for their child to undergo the necessary medical treatment. Without the parent's consent, the child may not be allowed to undergo any medical treatment.
This article will help you craft a permission letter for a minor's medical treatment. We'll also provide you with samples and free templates that you can download and use to come up with an effective letter when seeking medical consent from the child's parents.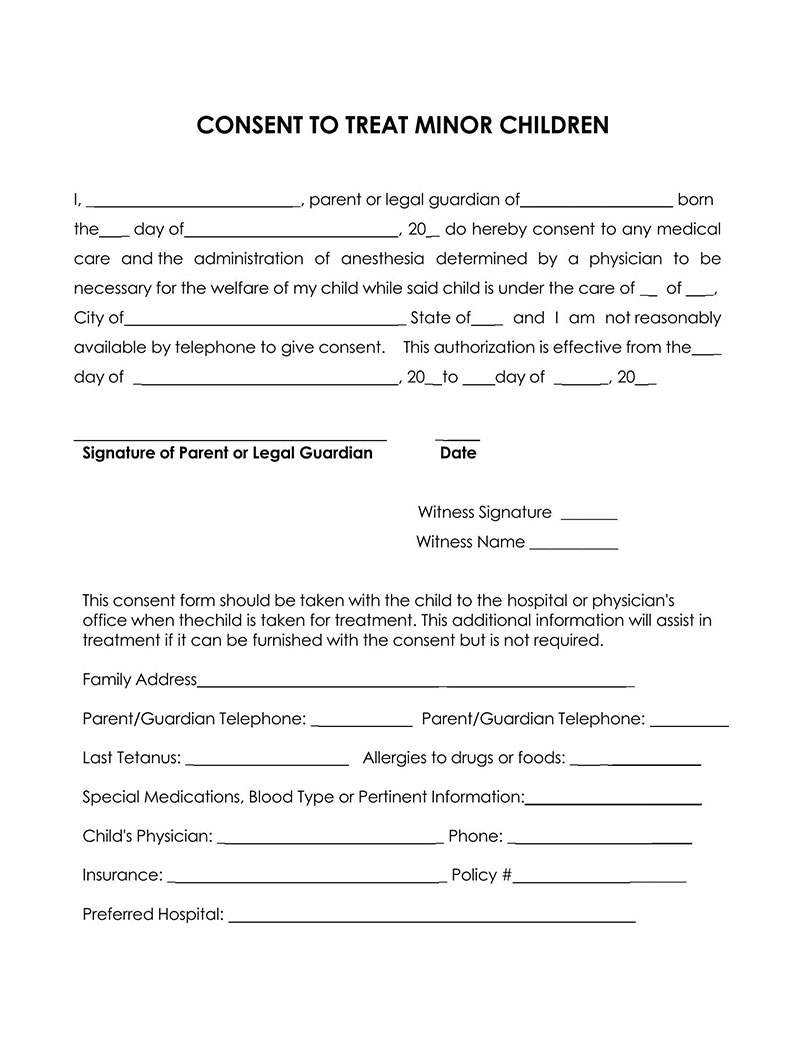 Writing a Permission Letter for Medical Treatment
To avoid miscommunication and ensure that the child's parents give their permission for the child to undergo medical treatment, it is imperative that you write a clear and detailed permission letter. The letter should provide the parents with all the information they need in order to make their decision about whether to consent to their child's medical treatment or not. The letter should also ensure that the child's parents understand the risks and side effects of the treatment.
The following is a detailed breakdown of how to properly craft the letter:
Write the subject line
The first thing that you will want to do is write a clear and descriptive subject line that accurately depicts your intention for writing the letter. For instance, if you seek the parent's consent to perform minor surgery on the child, you can write the following as your subject line: "Requesting Medical Consent for Minor Surgery."
Add a greeting
The next step when writing the letter is to add a greeting. The greeting should be formal and polite. In most cases, the greeting will be "Dear Mr. and Mrs. (Parent's Surname) when addressing both parents. You can also use a more general greeting such as "Dear Parent(s)" to accommodate both parents in case you do not know the names of the child's parents.
Introduce yourself and your relationship with the child
Next,include details of your relationship with the child. This can be relevant when writing a letter to the child's parents whom you do not know personally. You can add in the permission letter that you are the child's guardian or caretaker or any other relationship that will help establish your credibility.
Include details of the child needing medical treatment
Include in the letter the details of why you are seeking permission for the child's medical treatment. Describe in detail what condition the child is suffering from and how the treatment will improve the health and well-being of the child.
State the purpose of the letter
State clearly in the permission letter why you need the parent's consent to take the child to receive medical treatment. If the child has a condition that requires urgent medical attention, then make sure to enlist the urgency of the situation.
Provide details of the medical treatment
Provide details about the medical treatment that you need permission for. This can be in terms of a surgical procedure, an operation, or any other medical treatment the child needs, as it is essential that the parents know the exact medical treatment that you are seeking the consent for. Make sure to mention the hospital/doctor that will be administering the treatment and when the treatment is scheduled for.
State your requirements
Next, state what is required from the parents in terms of providing an authorization letter or any other document that will help you prove to the doctor/hospital that you are authorized to make decisions on behalf of the child. Make sure to state whether an authorization letter is needed, whether you need a contact number of the parents in case there are any questions at the hospital, and any other requirements that you may have.
Provide your contact information
Next, provide your contact information, including your name, address, phone number, and any other details that may be essential to the parents. This is vital as the parents can have additional questions about the treatment of their child.
Sign off
Lastly,sign off the permission letter by reiterating the purpose of the letter and providing your signature and date. Before sending the letter, make sure to go through it several times and ensure that you have covered all the areas that are relevant.
Given below are the template and sample letters that you can use to write your permission letter for medical treatment:
Template
Your Name
Your Address
Your City, State Zip Code
Your Phone Number
Date
Name
Title
Organization
Address

Respected Mr. /Ms. Last Name:
Subject: Permission Letter from Parents for Medical
I ________________ [name of guardian], am in the custody of your ______________ [son/daughter]__________________ [actual name of the son or daughter]. He/she is currently suffering from__________________ [name of sickness] for which I have to take him/her to ________________ [name of the institution where you have to take the child to].
As per the prevailing laws, I have to seek and obtain express permission from the bonafide parents of the child. That is why I ask you to draft a letter to that effect.Include my name, the official name of your child, and address it to the doctor in charge. Also, state clearly that at present, I am the real custodian of the child in question. Use the address above to send the letter to. While at it, kindly send me a courtesy copy to peruse and keep for record purposes.
Kindly move with haste as the sickness might intensify if not mitigated in time.
Respectfully,
Signature
Sample 01
Subject: Permission Letter for Medical Treatment
Dear Mr. and Mrs. Smith,
I am writing this letter to request your consent for your child John Smith to undergo a surgical procedure at ABC Hospital on the date of 27th February 20xx. I am currently the caretaker of John Smith, and I have received a letter from the surgeon at ABC Hospital stating that John has a large growth on his right leg and will have to undertake a minor surgical procedure to remove this growth in order to improve the health of John. Also, I am writing you this letter to seek your permission for John to undergo this surgery.
My reason for writing this permission request letter is because of the urgency of the situation. The growth on John's leg poses a great risk, and if left untreated, the risk is high that John will suffer from infections or gangrene. This can lead to John's death, and thus, it is imperative that the procedure is done as soon as possible.
As per the requirements of ABC Hospital, I am required to obtain an authorization letter from you in order to perform this surgery. I also require a contact number of yours so I can reach out to you in case there are any questions at the hospital.
I hope you will agree to grant permission for John to undergo surgery at ABC Hospital and that we can schedule the surgery for Friday, 27th February 20xx.
Your prompt response will be greatly appreciated.
Yours sincerely,
Jake Paul
Sample 02
Subject: Requesting Medical Consent for Minor Surgery
Dear Parents,
My name is John Thomas, and I am a caretaker of your 8-year-old daughter Bates. Bates has been suffering from a broken leg for the past few hours. The doctor has advised that Bates must go through surgery to set her broken leg, and in light of this, I am requesting your consent for this minor surgery to take place.
I am aware that you might be facing a difficult decision in terms of making a choice between opting for physical therapy or major surgery, but as Bates' caretaker, I would like to inform you that:
Minor surgery is common and highly recommended for broken legs.
The surgery has a high success rate, and Bates will be fully recovered after the surgery.
Bates will be able to participate in all physical activities soon after the surgery is performed.
In light of these facts, I honestly hope that you will agree that urgent surgery is much preferable compared to a few weeks of physical therapy. Therefore, I hope that you will consider my request and grant me permission to take Bates for this surgery.
I'd further appreciate it if you could provide me with your contact number so that I can get any additional information that I may need. I look forward to hearing from you and thank you for your understanding.
Sincerely,
John Thomas
+1 566-9397-8397
Sample 03
Subject: Your Name – Permission Letter from Parents for Medical

Dear Mr. /Ms. Last Name:
Your child_____________ (name of child) is currently sick. I do not know what exactly ailing ________ (him/her) is. However, I cannot just take him/her to the healthcare facility that way. Laws are governing the treatment of children who are in the custody of others.
As per the law, you the bonafide parent has to draft a letter that grants me express permission to proceed with the treatment. Address the letter generally by stating "To Whom It May Concern" as I have not yet settled on a specific healthcare facility or medical practitioner to handle the treatment.
Kindly observe a state of urgency. I am on my way to the nearest facility as I draft this particular letter. In case of any adverse issues, kindly draw the same to my attention via XXX-XXX-XXXX.
I would also appreciate it if you can come over to visit us and note his/her progress in the hospital.
I am anticipating an urgent response from you,
Sincerely Yours,
Your name
Getting a child's parents consent for medical treatment is vital if you want to ensure that he or she receives safe and effective treatment. The parents should be aware of all the medical risks involved in medical treatment, and they should also be aware that their child will be participating in the medical treatment if they give consent.

The consent letter should be worded in a simple and straightforward manner so that the parents do not have any difficulty giving their approval. The permission letter for medical treatment should also include information about the child, details about the type of treatment required, whether a consent form is required, the date and time of the surgery, and other relevant information.