Whether you are trying to seek permission for sick leave, to visit your family, or to start a project, a permission letter is used to convince the authoritative party to grant you permission. It is very important to write an official permission letter for the higher management so you can easily explain the purpose of requesting and the how this permission will bring a positive impact in your life.
Drafting a Permission Letter is very important especially when you are planning for the construction of your house, as it demands finance, time, and energy to complete the project successfully. Another vital element is to stick to the protocol required for appropriate authorities to get consent to whatever you are trying to seek permission for.
This article will serve as a guideline on how to write a convincing permission letter for construction. It'll also provide a template and sample letter that you can use to send your permission letter to the authorities.
What is a Permission Letter for Construction?
A permission letter, in general, is written to a superior authority that has the power and ability to grant the request contained in the letter. The purpose of this letter is to inform the reader about why you need permission and convince them to grant you permission so you can start your project.
A permission letter for construction is usually addressed to the government and any other body with jurisdictional authority over construction. With this letter, you can briefly explain about the timeline of your project and the location where you are going to work during this period. The letter is necessary because you must obtain the essential permits for construction, and this can only be granted by formally notifying the concerned authorities.
Essential Components of a Permission Letter
Here's a complete information that you can use to write a convincing permission letter for the authorities.
They include:
Introduce the recipient party
As you begin your letter, include the information of other party for whom you are writing the letter by indicating the recipient's name. The authority that will grant the permission for your construction project should be stated. The recipient may be a land Development and Estate Management Directorate or a corporate entity, so mention their appropriate designation in your permission letter.
State your information
Another important element is to add your contact information by including the name, street address, city, state, and zip code with single-spaced lines. This information will provide the recipient with an understanding so they can easily follow you in the future.
Reason for writing the letter
This is where you have to write the purpose of writing the letter as it is the primary content, and avoiding it makes your letter void and redundant.
You should adequately explain that you are writing the letter to get permission to start a construction project on the house in a particular location. This is the crucial information that the recipient should be aware of because it hints at where what, and how you intend to undergo the construction.
Area or place of construction
As an extension of stating that you are seeking permission to construct a house, you should include the exact area and location of the construction project in the letter. This may also help if you are writing the letter to the wrong jurisdictional authority so you can be referred to the right one.
Details of the issue at hand
A permission letter for construction should include the details of the construction project. If you intend to begin the construction project earlier than planned, you should also explain the need for a fast-tracked construction in the letter's content. Summarily, you should state the root cause of why early house construction is needed.
Explain the situation
Dedicate a part of the letter to make the situation known to the recipient because you intend to carry out an early construction project of a house; you should describe your current situation in the letter. For example, there may be financial, social, or personal issues that may necessitate the prompt construction of the house.
Describe your requirements
As a continuation of the body of the letter, you should further elucidate the requirements that the house to be constructed will adhere to. Make it known that you intend to stick to whatever rules, policies, and requirements construction projects are usually bound by.
A final call
In the last section of letter,include the suggestion for how they can notify you about their response and close your letter with a complimentary closing.
Say thank you
Lastly, make sure to close the letter reasonably by saying thanks and expressing gratitude in advance for the anticipated response from the recipient.
Given below are the permission letter for construction's template and samples that you can use to write your own letter:
Template
[Date]
[Mention the designation of the recipient]
[Mention name of the recipient]
[Subject of the letter] – Letter of Permission for House Construction.
[Opening salutation] Dear madam/sir,
I am [mention your name]. I live in [mention where you live], and I have been living there for the past [state the duration].
I am writing this letter to request from you the permission needed to construct [state the complete details of the construction] at [mention the intended location]. I may also have to start the construction earlier than planned [explain the issues and your current situation].
I assure you that all the construction projects will be carried out appropriately according to [state the applicable rules and guidelines].
I am looking forward to a favourable response from you. Thank you.
Yours sincerely,
[Signature]
[Name]
Sample 01
June 16, 20xx
The Director of the State Construction Board,
Mrs. Hill Johnson,
Subject line: Letter of Permission for House Construction
Dear Mrs. Hill Johnson,
I am Adam John. I live in 9, westward road, Chicago, and I have been living there for the past 10 years. I am writing this letter to request you the permission needed to construct a new wing to my current building and expand it beyond its current size.
The building is located at the same address stated at the beginning of this letter, and its current size and capacity are beginning to seem inconducive. Furthermore, it may also be necessary to start the construction earlier than planned because my family will need extra space before the end of the year due to the expected arrival of the birth of my new child.
I can assure you that the construction project will be carried out appropriately and according to the stipulated guidelines outlined by the government and other relevant bodies. Also, the new construction will be equipped within the boundaries of my compound and will not extend into the road or infringe on my neighbour's property.
I am looking forward to a favourable response from you. Thank you.
Yours sincerely,
Adam John
A.J
Sample 02
July 16, 20xx
The Director of the XYZ Building,
Mrs. Hill Johnson,
Subject line: Letter of Permission for House Construction
Dear Landlord,
I am a resident of your apartment building, and I have been living here happily for the past five years. I am writing this letter to ask for your permission to perform some construction in the courtyard of our building. Several other residents and I have gathered funds for this project, and all we need to proceed is your permission.
Several residents have voiced the opinion that the courtyard could be improved in several ways. We want to add a patio to accommodate more seating and a pavilion. We would also like to construct a basketball court. I have already contacted a contractor who can do this with the budget we currently have. The residents all agree that improving the courtyard would make the apartment building more fun and social place to live. Having a safe outdoor space will make a big difference to the residents—especially those with children.
 Thank you for your time, and I look forward to hearing your response at your earliest convenience.
 Sincerely,
(Name)
Sample 03
March 16, 20xx
The Members of City Council
City Name, State
Dear Sir,
I have been teaching at Elementary School for over ten years now, and I as well as many other teachers, are concerned by the state of our school's cafeteria. Other parts of the school have been remodelled over time, but the cafeteria is showing signs of aging, and it is in great need of repair. Mealtime is very important for our students, as it gives them time to recharge and socialize with their friends. Our students need a clean, functional place to eat their lunch.
Currently, the cafeteria area has several leaks in the roof. The flooring materials are very worn, and some of the tables and chairs are broken. The kitchen area is also very outdated, and the appliances used for cooking students' lunches are unreliable due to old age. We are not able to fix these things, as they are old and new parts are no longer being manufactured.
I humbly request permission for our school to construct a new cafeteria wing for our students. The superintendent of our school district has already met with a local construction company. They have already visited our cafeteria, and they have agreed that it should be updated to comply with modern safety codes. They have given us a reasonable bid, and, with our current funds, we will be able to fund the construction of a new cafeteria wing.
All we need to move forward with this important project is your approval to construct.
Thank you for your time,
Sincerely,
Signature
Here is a collection of templates that you can easily download and use from our site: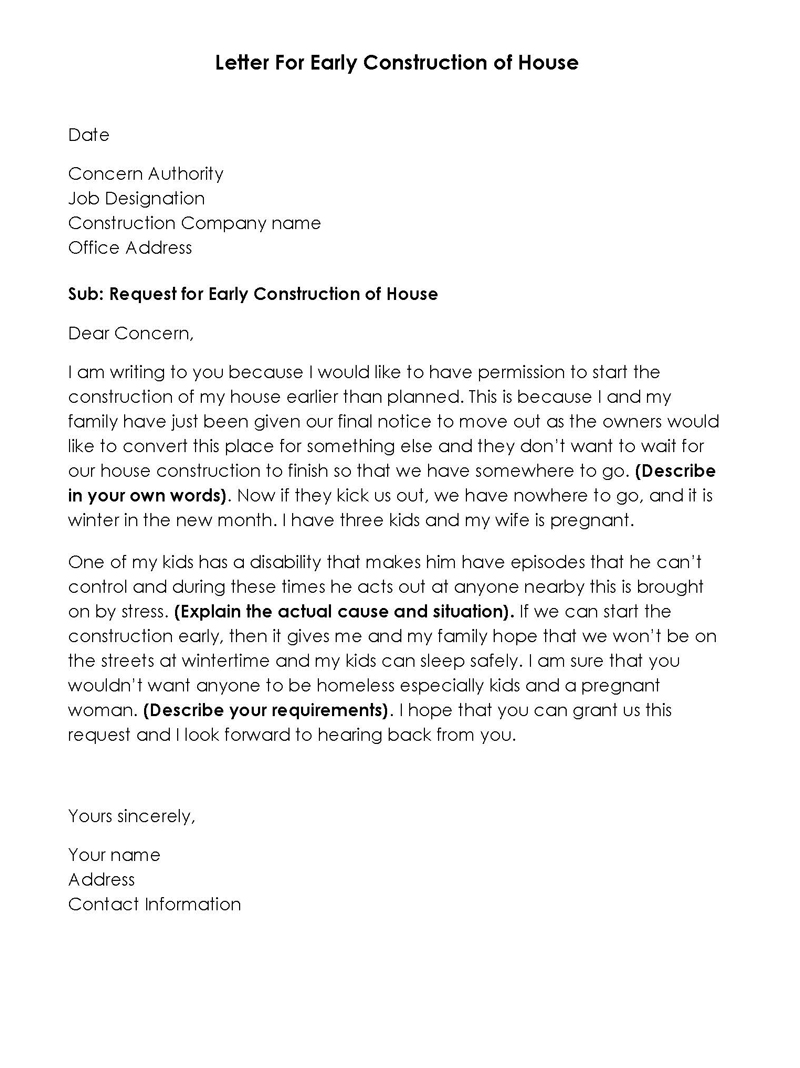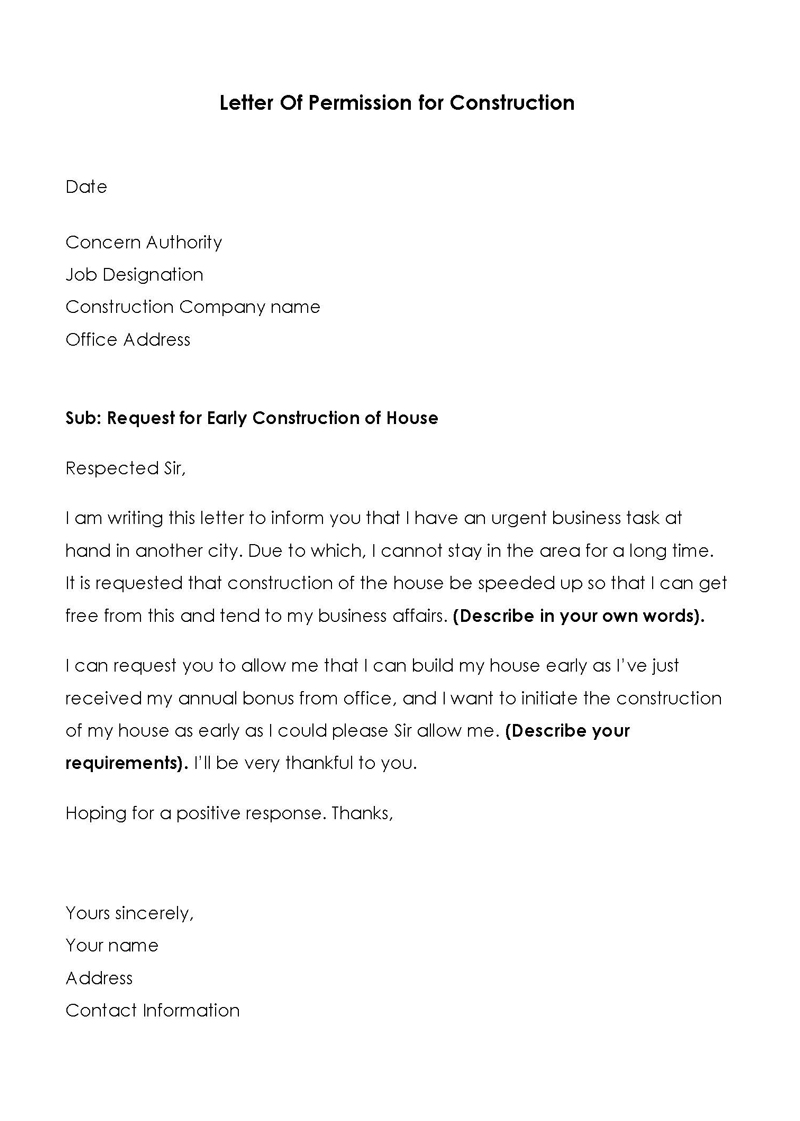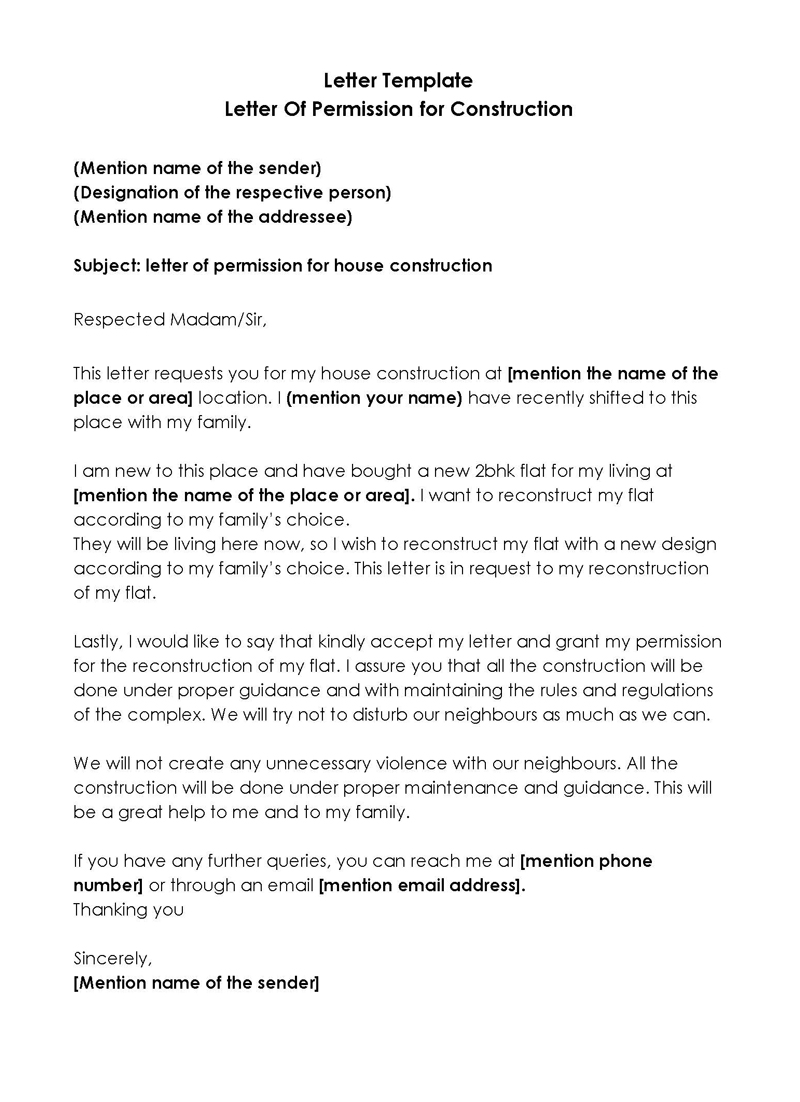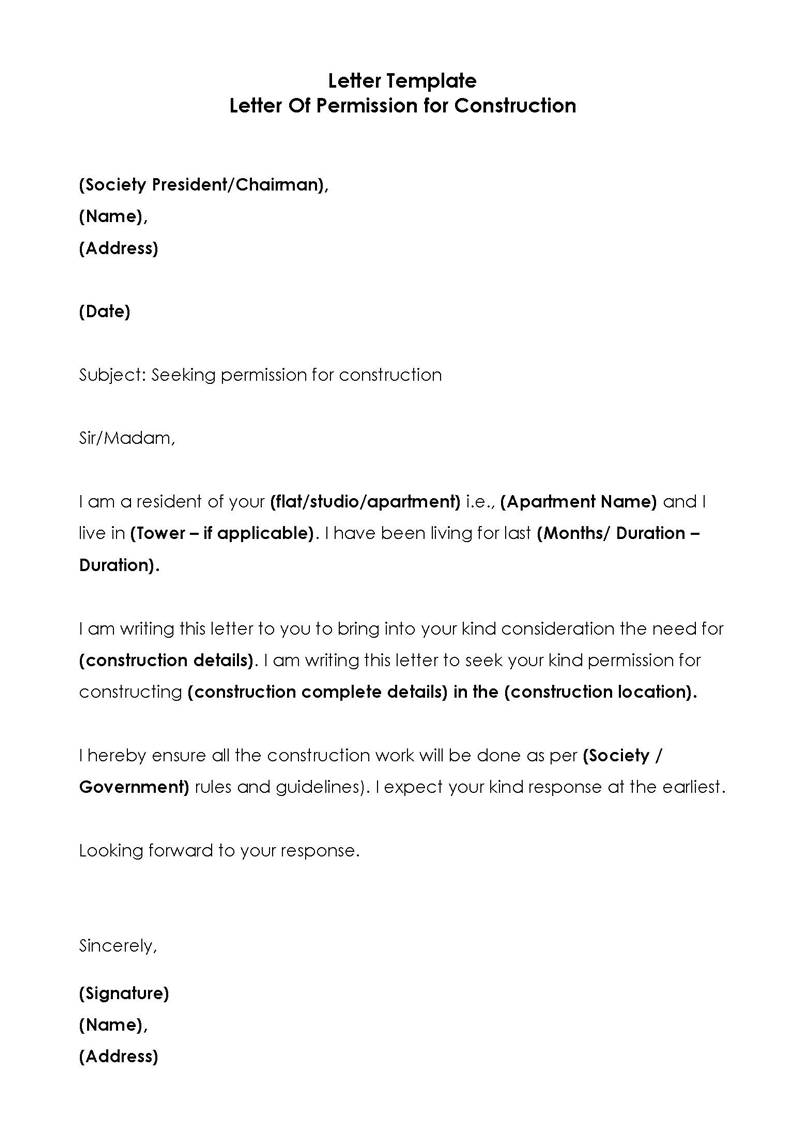 Here are a few tips that you can consider while writing your letter:
Follow business letter format
It is advisable to adopt the business letter format to give it an official tone and make it simple so the reader can easily understand the purpose of writing the letter.
A well-formatted business letter contains all important sections such as Date, Sender contact information, Recipients' contact, information, opening salutation, body, closing salutation, and lastly, the signature of the sender.
Proofread and edit
To ensure that your letter is void of any mistakes and grammatical errors, you should proofread your letter and edit it where necessary. You can also ask someone else to check for spelling mistakes and punctuation errors separately. This will make it easier effortless to spot and correct the issues timely.
Keep it positive
Since you are trying to get permission for a construction project from the recipient, it is better to write your letter positively and keep it free form any form of negativity. Explain the purpose of your letter with a positive tone, and don't try to include any negative comments as it would make a very bad impression on the reader. Try to behave professionally and address the recipient appropriately.
Be gracious and respectful
As in any letter, you should be respectful throughout the letter seeking permission for the construction. Use words that are not aggressive or confrontational. Your letter should be gracious and polite, and in conclusion, you should say thanks and add the necessary closing salutations.
It is important to remember that your letter should be formal, polite, and straight to the point to qualify as a good letter.Ensure that you provide accurate information in your letter and avoid missing out on the most critical points. Also, be sure that you are not trying to seek permission for a construction project that is not permitted or illegal. You must adhere to the tips and guidelines provided in this article to help you effectively and efficiently write a letter of permission for construction.