It is a request letter written to seek permission to leave school earlier than the specified departing time. The letter indicates the reason that prompts you to leave school early and is filed with official records once submitted.
A letter requesting permission to leave school early is a way of communicating your intention to miss certain classes or lectures for justified reasons. The letter is important since most schools have strict rules concerning absenteeism, on the basis of missing classes without reasonable cause. Schools are generally responsible for your presence inside them during official hours, therefore; informing the school officials about your absence for a specific period of time is a good way of exempting them from legal liability in unforeseen situations.
This letter can be written by any student who wants to leave school before the stipulated hours are over temporarily. The letter can be written for multiple reasons, such as illness or the death of a loved one. While most schools will not reject the request to leave school early, it is still your responsibility to present a proper and formal letter.
This article will look into the circumstances that can necessitate a letter requesting permission to leave school early and how to write a persuasive letter in such a case.
Free Examples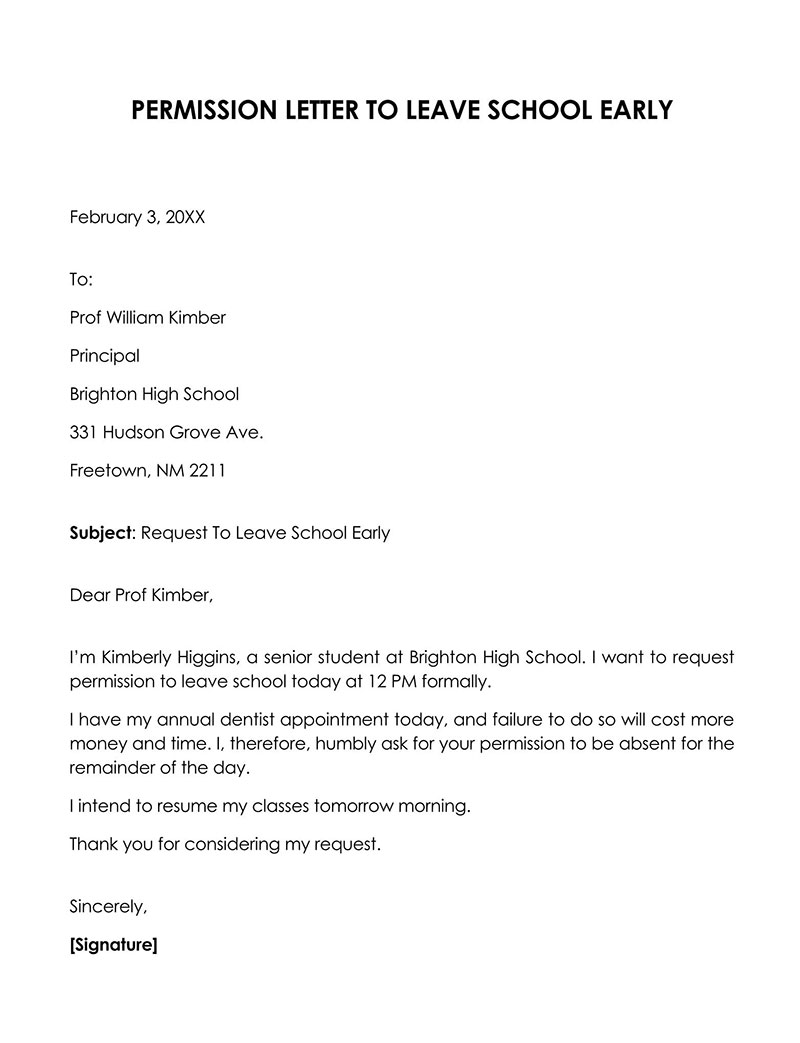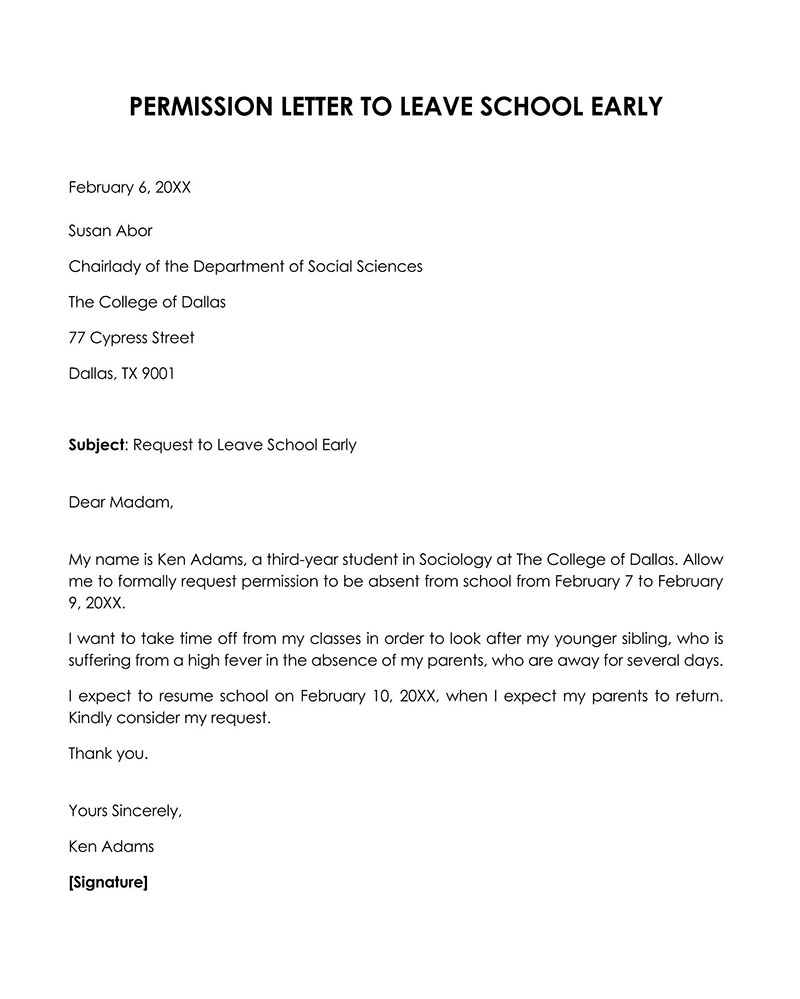 Reasons to Write Permission Letter to Leave School Early
There are diverse reasons you may need a permission letter for an early leave from school. While the list of reasons cannot be exhausted as every situation is unique, below are the common reasons why students seek it:
You are feeling sick
Medical discomforts are among the top reasons you can seek permission to leave school early. Therefore, should you develop stomach issues, headache, or any other illness during school hours, you can write a letter to the administration or relevant authority to request to go home and get the necessary care.
You have an appointment with a doctor
The importance of attending a doctor's appointment cannot be underestimated by school authorities. Students can thus hand in a permission letter in order to leave school early and attend their doctor's appointments. If the appointment is expected to last longer than a couple of hours or affect your concentration afterwards, you may consider handing in the letter the day before the appointment. Note that you will often have to present a doctor's report when you return.
A family member is sick or hospitalized
Another situation that may prompt you to seek permission to leave early from school is when you have to respond to a family member's medical emergency. This will usually be in cases where the sick person is a close relative, such as a sibling or parent.
You are mentally disturbed
You can request to leave school early whenever you feel you're mentally in a bad place. Most schools will not object to mental health-related requests. However, always be prepared for the school's offers to assist but remember that you are not obligated to accept the offer.
For sports practice
If you take part in a certain sport, you can use it to your advantage and request for absence to carry out your activities as part of a team. You can request to leave early in order to undertake practice or rehearsal for an upcoming competition.
You have to attend a family event
Do you want to attend a family function that is important to you? This can be enough to get you permission to leave school early. However, keep in mind that the school will weigh the significance of the event. Events such as wakes, burials, and memorials are often prioritized.
Other possible reasons
The reasons mentioned above are just a few of the numerous reasons you may want to consider writing a letter requesting permission to leave school early. Other reasons include send-offs, reunions with family members, emergencies such as robbery at home, etc.
How to Write Letter Asking Permission to Leave School Early
Once you have come across a situation rendering you to take early leave from school justifiably. you can proceed to write a permission letter to leave school early. The objective of the letter should be to persuade the person responsible for approving leave in the school to grant you their permission.
In order to ensure this is achieved, below is a guide that outlines the writing procedure that increases your chances of getting approval:
Write the header
You should start your letter with a header. The header starts with the date, followed by the recipient's name and the school's official address. Note that the letter seeking permission to leave school early can be addressed to a person/teacher/lecturer or office (office of principal). The header should always be aligned to the left.
Write the subject line
Below the header, you should provide a concise subject line that declares the topic of the letter. The subject should be simple and only a few words long. For example, a widely acceptable subject line for this permission letter can be "Request To Leave School Early."
Add a salutation
A salutation follows the subject line. The salutation should reflect the accorded respect of the recipient. You can format the salutation as "Dear [title]" or "Dear sir/madam."
Briefly introduce yourself as a student
After the salutation, you should provide an introductory paragraph to let the recipient know who you are. Chances are they don't know you as they handle a lot of students. In brief, mention your name and class.
State the purpose of the letter
Once the recipient has become acquainted with you, let them know the purpose of the letter –seeking permission to leave school early. This information can be given in the first paragraph as well. State the purpose in one or two sentences and avoid including irrelevant information.
Give reason(s) for your early leave
Next, outline your reason(s) for wanting to leave school early. Aim to give this information as directly as possible. Over-explaining may come off as a deceitful attempt to manipulate the recipient to approve your request. However, you can mention supporting facts such as appointment date, hospital name, etc, in case you have a doctor's appointment to attend.
Specify the return date, if needed
In the third paragraph, indicate the date you expect to return to school. The duration of leave will vary from one situation to another. Therefore, ensure to request for a duration long enough to meet your obligations or situation. For example, some leaves can be a few hours long or a week long.
Express your gratitude
After stating your request, you can express your gratitude to the recipient for reviewing your letter and considering your request. A message of appreciation can boost your chances of approval.
Sign off
Lastly, you should sign off the letter for permission to leave school early. You can sign off by providing a complimentary close, followed by your name and your signature in that order.
Two sample letters are given below. You can follow them for writing your own permission letter to leave school early for a doctor's appointment and to care for a family member.
Sample 01
Below is a sample letter of a student requesting permission to leave school early in order to attend a doctor's appointment:
February 3, 20xx
To:
Prof William Kimber
Principal
Brighton High School
331 Hudson Grove Ave.
Freetown, NM 2211
Subject: Request To Leave School Early
Dear Prof Kimber,
I'm Kimberly Higgins, a senior student at Brighton High School. I want to request permission to leave school today at 12 PM formally.
I have my annual dentist appointment today, and failure to do so will cost more money and time. I, therefore, humbly ask for your permission to be absent for the remainder of the day.
I intend to resume my classes tomorrow morning.
Thank you for considering my request.
Sincerely,
Kimberly Higgins
[Signature]
Sample 02
The sample below shows how a letter requesting permission to leave school early and look after a sick family member can be written.
February 6, 20xx
Susan Abor
Chairlady of the Department of Social Sciences
The College of Dallas
77 Cypress Street
Dallas, TX 9001
Subject: Request to Leave School Early
Dear Madam,
My name is Ken Adams, a third-year student in Sociology at The College of Dallas. Allow me to formally request permission to be absent from school from February 7 to February 9, 2022.
I want to take time off from my classes in order to look after my younger sibling, who is suffering from a high fever in the absence of my parents, who are away for several days.
I expect to resume school on February 10, 2022, when I expect my parents to return. Kindly consider my request.
Thank you.
Yours Sincerely,
Ken Adams
[Signature]  
Template 01
Respected Mr. /Ms. Last Name:
Re: Permission to Leave School Early Letter
I am duly enrolled in the department of _______________ (name of department) at your institution _____________ (name the institution). At present, I am in year ________________ (year of study).
Now, I do have a chronic illness ______________ (name of the illness) which I have to attend to. As part of its treatment and mitigation, I have to visit the doctor at _____________ (specify the time) which is around _____________ (specify the duration) hours before the end of the school session.
I hence ask you to consider my case in a positive light. Enclosed in this envelope are certified copies of my doctor's reports which I hope shall serve to build my case.
For any urgent matters, reach me on XXX-XXX-XXXX.
Respectfully,
Signature (hard copy letter)
FirstName LastName
Template 02
Subject: Your Name – Permission to Leave School Early Letter
Dear Mr. /Ms. Last Name:
As you know, I am a student in your institution ____________ (specify it). My registration number is _________ (specify the number) while my department is _______________ (specify the department).
I am unable to attend all classes through to the end in this coming semester. The main reason underlying this unfortunate fact is that I have __________________ (nature of the problem) which I have to attend to everyday from _____________ (specify the time) onwards.
This being the case, I now ask you to kindly consider exempting me from all classes that transpire at that time.
Could it be that you still want to speak to me verbally? Reach me on XXX-XXX-XXXX.
Sincerely,
Your name
The following tips can help our readers write a permission letter that they can use to take an early leave from school:
Be honest
As much as possible, always try to request permission to leave school early for genuine reasons. Sometimes schools may decide to follow up, and should they find out you were being dishonest, this may ruin your chances of being given permission in the future. This can be more disheartening if the reason at that time is genuine.
Be concise
A letter to seek permission to leave school early does not have to be too detailed or long. A short clear-cut letter will usually work effectively.
Give important details
Regardless of the reason that necessitates your temporary absenteeism, always give any essential information that can help the recipient decide whether to approve the request. Indicating the date of absenteeism and return date are good examples of important details in a letter.
Write a formal letter
Always address the letter formally and use a formal tone regardless of how close you are with the recipient. Remember that the letter will often go to your file as an official document.
Do not use complicated words
Avoid using unsophisticated words and phrases when requesting permission to leave school early through a letter. It is imperative to make sure that the recipient can understand what you want and why you want it. The use of complicated language will often reduce your chances of getting permission.
Proofread the letter
Always aim to present an error-free permission letter. Once you've written the final draft, go through it and correct any spelling and grammatical errors. Also, check the format and ensure you used the correct margins and spacing.
It is important to ensure you communicate with the school's authority whenever you intend to be away from school during official hours. A permission letter to leave school early is the formal way to notify your teacher or management. While schools will rarely deny you permission, aspects such as timing come into consideration.

Always try to be absent at a time when there are no exams or official school functions. Once given permission, opt to catch up with other students when you return, for example, writing notes for classes you have missed. Also, try to avoid asking for permission to be absent too often, as this reduces your chances of getting approval as time goes by.