Throughout your professional career and personal life, there may be opportunities to write a letter of reference or recommendation for former students, professional associates, team members, clients, business vendors, or friends. In this article, we have provided well-crafted sample reference letters that can help you in understanding the format of reference letters, but first, let us comprehend the use of reference letters.
Written by someone familiar with past performance and character, a Letter of Reference formally indicates another's knowledge, skills, and abilities.
They may be used for academic or professional prospects such as internships, scholarships, and volunteer, educational, or employment opportunities. Your written letter is a perfect opportunity to share personal or professional experiences you've shared with the person requesting the letter. In your letter, you'll highlight firsthand awareness of the person's knowledge, skills, and abilities that make them stand out from their competition.
As a successful networking strategy, giving support to others who request letters of reference will pay off when you eventually need a letter of your own. As you tailor our reference letter template to your specific needs, here are a few simple tips that allow you to share your experiences with the individual requesting the letter.
Reference letters explain what qualifies them for the opportunity for which they're applying and detail why the reader should select a particular candidate. Letters may be requested by the organization that is considering the individual for employment or acceptance at an institution, or the job seeker or applicant may offer them.
Whether requested by an organization or an applicant, your reference letter may help open doors of possibility as you paint a picture of the other person's work ethic, achievements, and professional or personal character. As you describe how this person performs, your reference letter gives the reader a vision into why they should select this candidate over others. Based on your personal knowledge, you may describe their abilities to perform the position's duties for which they are applying.
Following are some free downloadable reference letter templates for you: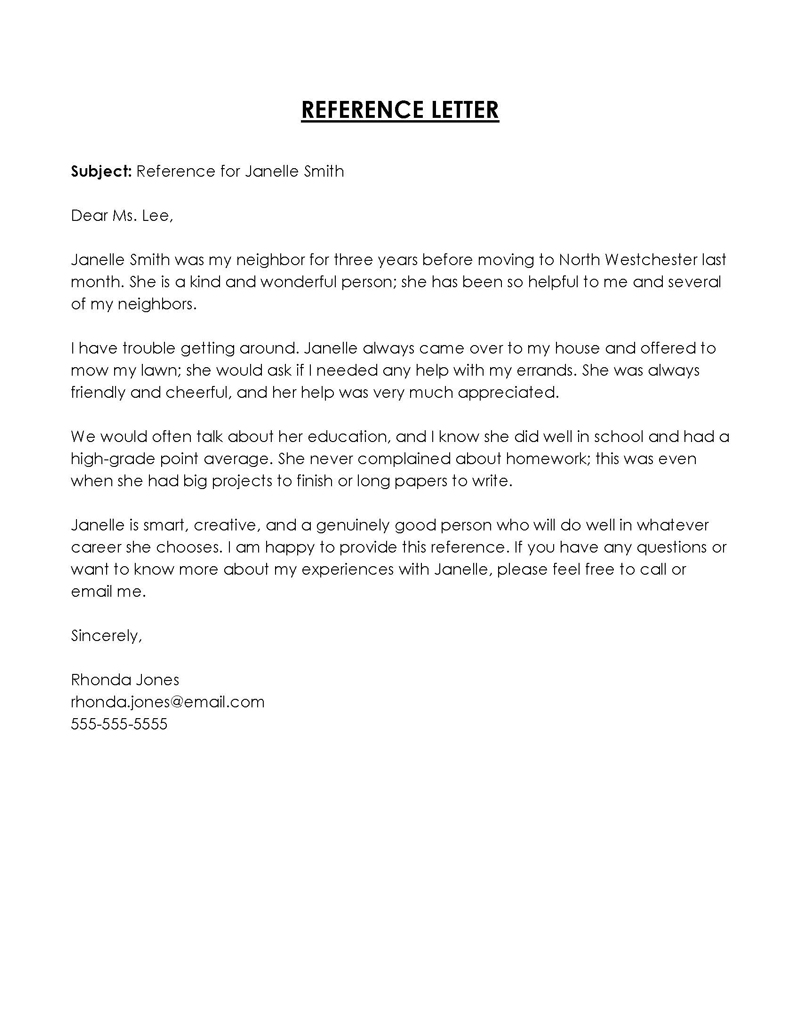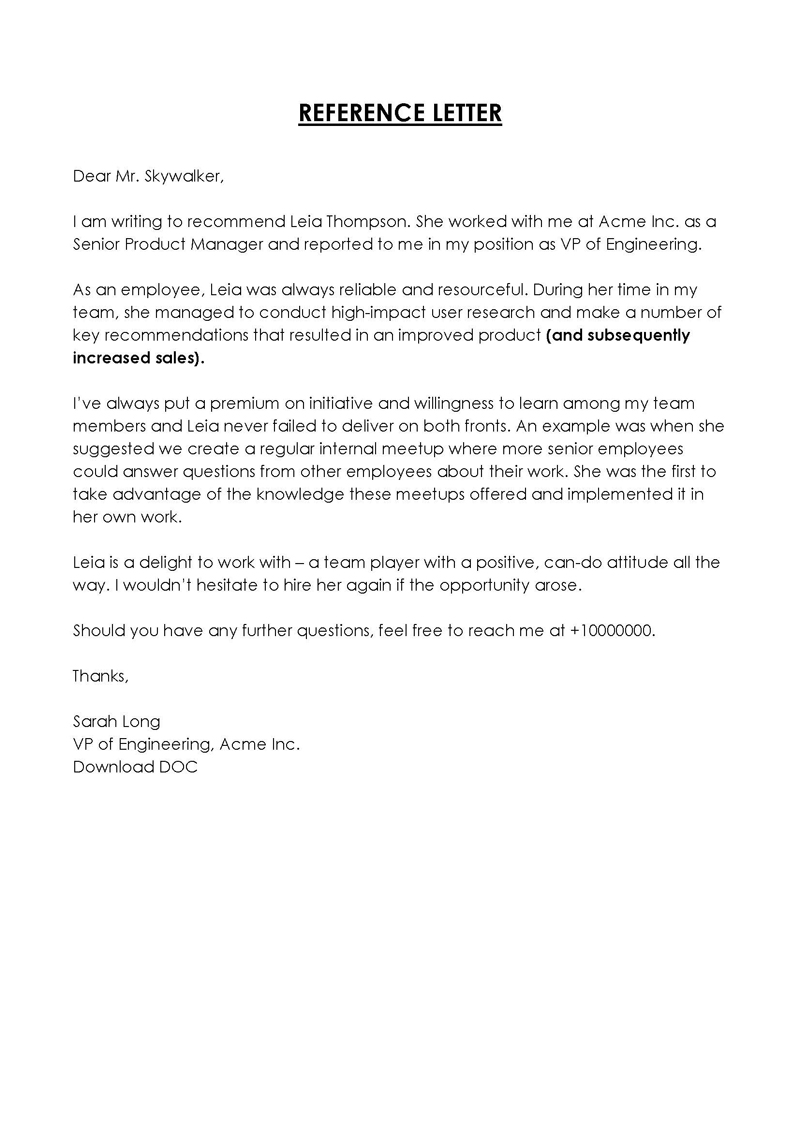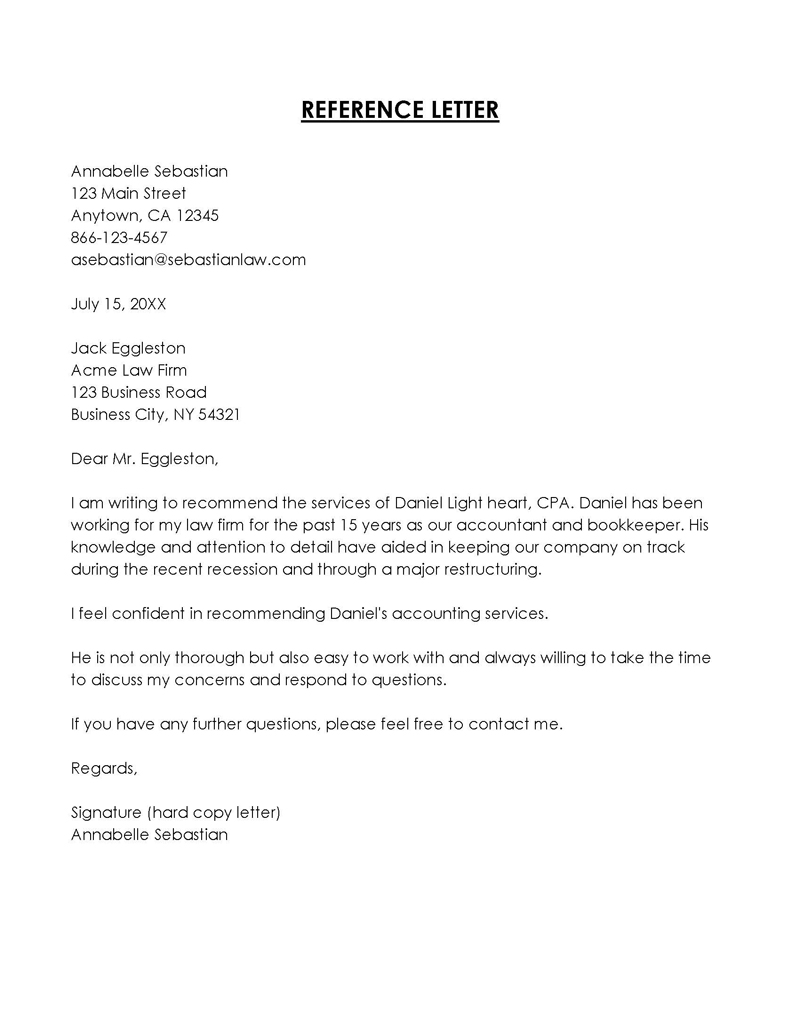 Reference Letter vs Recommendation Letter
There are slight differences between reference letters and recommendation letters. While a reference letter may speak in general to the capabilities of the person, a letter of recommendation is a positive endorsement based on your knowledge of their past performance and character.
Following are some differences listed:
Purpose
A letter of reference generally speaks to a person's character and work ethic. As you elaborate on your knowledge of the person, you are attesting to aspects of their capability to perform based on what you've witnessed in the past.
A letter of recommendation is tailored to a specific opportunity and places emphasis on the targeted knowledge, skills, abilities, or attributes that will make this candidate successful in this particular opportunity.
When to use it
During times when seeking a new opportunity for education, employment, or business, a letter or reference may be requested so potential employers, clients, universities, etc. gain a deeper understanding of a person who wants to join their team. The candidate should have details on timelines for when they need their letter to be submitted for consideration.
Someone may ask you for a more thorough letter or recommendation. Pursuing a career in the military can seem overwhelming for prospective candidates who wish to attend a prestigious service academy. The required letters of recommendation for such a highly competitive venture can be met with a bit of know-how by speaking to the personal connection and context of the relationship as well as details on why this person is a great fit.
Consider the following:
"As a veteran myself, I know officers must possess outstanding capabilities in leadership, academics, and physical fitness. As Student Council President, with a 4.3 G.P.A. and All American in 2 sports, I observed Tommy break school records over the past four years at Excelsior High School. I am confident his expertise in these critical areas will help him with the required speed, agility, and strength it takes to excel in combative and leadership."
Who writes it?
Ideally, those asked to write a letter of reference or recommendation will know the candidate well enough to speak to the best traits that relate to the opportunity sought. Some examples are former employers or professors.
If asked to write a reference letter, it will be helpful to learn new and relevant information that may be helpful to depict the capabilities and character of the candidate accurately. It will also be helpful to rely on past performance as a great predictor of future success. Former supervisors should speak to both hard and soft skills such as technical proficiency and customer service skills.
When invited to write a recommendation, more specific details should demonstrate the depth of knowledge in terms of the skills and qualifications of the candidate. As an example, recent college graduates seeking careers in criminal justice may ask a former professor to describe how they successfully defended a client in a mock murder trial. Again, be sure to balance subject matter expertise with people skills like timeliness and attention to detail.
How to Request Information for a Reference Letter
Regardless of how long you've known the person who asked you to write the letter, it's wise to request a copy of the job announcement or other details of the opportunity they are seeking. In addition, request a copy of the candidate's most recent resume or CV that is already tailored to the opportunity they are pursuing. Even the best memories fail over time and it's possible there are new achievements or accolades you are unaware of.
Writing your letter is much easier when you are fully aware of the most updated information about the candidate and the opportunity they seek. As you learn these details, it is also important to confirm the deadline by which the letter must be received, to whom it shall be addressed, where the letter should be sent, and in what format the letter should be submitted.
How to Format a Reference Letter
As with any professional correspondence, there are certain rules that should be followed when writing a sample letter of reference or recommendation.
Here are some key areas of focus:
Length
Reference letters should be no more than one page. Be succinct in your descriptions while expressing your full endorsement. Invite the opportunity for the candidate to share more upon interview. Don't be so verbose that it sounds like fluff or flattery.
Format
A letter of recommendation should use a typical business letter format to include enough "white space." This means ensuring the paper is not packed with words but is pleasing to the eye. 1″ margins on all sides allow a nice flow that isn't difficult to read. Be sure your letter is easy to read and fits on one page. 10-12 font is acceptable, and the font should align with professional fonts such as Times New Roman, Arial, or Calibri instead of artistic fonts that don't always convert well. For this purpose, it's recommended to always convert the letter to a PDF format to avoid glitches when importing the letter.
How to Write a Reference Letter
As you write your letter, pay attention to the layout and key topic areas to cover. Your endorsement of a person's skill may be lost by a sloppy letter that lacks specifics.
Following are the key topic areas you need to cover:
Header
The header includes the following information:
Your personal information: Typically, the header of the letter should contain your personal contact information. Be sure to include the best and preferred methods of contact like name, email, and phone.
Date: It's important to provide the context in terms of the current date when writing your letter. This helps assure the recipient the letter is timely and relevant to the skills being sought currently, not ten years ago.
Hiring manager's contact information: Be sure to provide your preferred methods of contact so the recipient can reach you if they have questions or need more information about the candidate.
Subject line: Provision of a clear, concise subject line that details the prospective employee's name, the position sought, and the purpose of your letter. A sample may look like this: Letter of Reference for Clark Kent as Future Editor of Epoch Times
Salutation: A critical piece of the letter is to use the name of the hiring manager. A salutation of "To Whom It May Concern" or "Dear Hiring Manager" is a reflection that the candidate didn't research the opportunity beforehand. Always do begin your letter with "Dear Mr./Ms. Last Name" after learning the appropriate name from the candidate.
Introduction
In the first paragraph, it is important to introduce yourself professionally and describe the context in which you know the person requesting the reference. Specifically, share what your relationship was, detail how long you've known the person, and elaborate on why you are qualified to write this letter.
For example:
You may say something like "Ten years ago I met Clark Kent on the campus of XYZ University. Before Clark began his career in journalism, he was my star pupil in English literature" or "For twenty years, Clark lived on the farm next to ours and I watched him grow into the man of character each time he used his superpowers to help in countless neighborhood crises." As you add the name of the organization and the opportunity to which this person is applying, your assessment of why this person is qualified to serve in such a role could make or break their chances for success.
Body
The body of the letter should speak to the details on why this person is qualified and what they may bring to the table in this new role. Specifically describe detailed examples of the qualifications that you've personally observed, both hard and soft skills.
For example:
In addition to talking about technical capabilities, you want to focus on interpersonal traits.
Here are some personal and character traits or "soft" skills you may want to highlight as you describe qualities that align with the endeavor being sought: Positive attitude, team player, strong leader, ambitious, resilient, motivated to achieve, patient, persistent, flexible, honest, ethical, diligent, disciplined, loyal, and conscientious.
For example:
Knowing Barbara for nearly 10 years, I've watched her demonstrate a keen understanding of leadership, excellence, and innovation. She's unmatched in her empathy for others in the field of critical care nursing. Many times, patients commented on how they felt Barbara treated her as part of her family. Whether assisting new parents with the challenges of intensive care needs of their newborn or transitioning families into the heartbreaking end of life realities, Barbara is the best nurse I've ever seen in my 30 years as a physician.
Closing
Close the letter with a power statement of endorsement that emphasizes your belief in this person. Personalize it in a way that says, "There is nobody I can endorse more enthusiastically than Clark Kent and I am certain he will make a fabulous addition to your team." And be sure to share your contact information so the point of contact may reach you for further details.
Signatures and names
Sign the letter with the closing of your choice (i.e.., sincerely, respectfully, etc.) then handwrite your signature and type your name. In the case of email letters, you can create a signature block that includes your best contact information.
Email Letters
In the case of an email letter, the format will be similar but shorter. Describe your reason for the email and the context of how you know the person in the first paragraph. In the second paragraph, provide specific examples of your familiarity with both hard and soft skills that make this person a great candidate. Close with your best contact information that can be shared in your closing or signature block.
Following are some email sample reference letters for you to understand the format well:
Types of Reference Letter (with Examples)
There are several types of letters of reference or recommendation. While not exhaustive, we will focus on some of the key kinds.
Some sample reference letters of different types are given below:
Character/personal reference letters
This type of letter is less formal and can be written by anyone who knows the candidate personally (other than family members). Often these types of letters are for those who may not have a lot of work experience or for opportunities that do not consist of paid employment.
Starting with an explanation of the context of the relationship, the letter will discuss relevant traits for this new role. Speaking to character traits rather than professionalism, this type of reference will aim at the relative soft skills instead of necessary hard skills.
For example:
The letter may highlight core values like integrity, moral courage, or financial accountability while talking about church involvement, community service, or volunteer activities. As the letter describes these traits, those on the receiving side of the letter can project how these traits align with their organization.
Sample Reference Letter
Perry White
123 The Kryptonite Way
Metropolis, US 12345
555-555-5555
perrywhite@tdp.com
21 September 2021
Lex Luther
The Epoch Times
456 Freedom Place
Metropolis, US 12345
Dear Mr. Luther,
Clark Kent lived next door to me for more than 10 years. He and I met when Clark saved my son, Timmy, by pulling him out of our family well. I've watched him grow over the years into a man of character, strength, and uncompromising moral fiber.
While Clark is the most morally sound individual I know, he's also shown himself to be quite the writer in helping develop my personal blog for our homemade ice cream shop, Kryptonite Kreme. Clark is always around when someone is in need, and he mysteriously appears with his strong arms and compassionate heart exactly when other people need his help.
In terms of character traits I want in an employee, there is nobody better than Clark. A level-headed leader like Clark is hard to find and I am sure he will selflessly serve as the Editor of The Epoch Times to the fullest of his capabilities.
For these reasons, I recommend Clark as a man I believe will be a tremendously valuable asset to any organization blessed to have him.
If you have any questions about what a tremendous asset Clark will be to your team, please feel free to contact me at 555-555-5555.
Sincerely,
Perry White,
Editor in Chief, The Daily Planet
555-555-5555
perrywhite@tdp.com
Following are some sample reference letters that can be customized as per needs: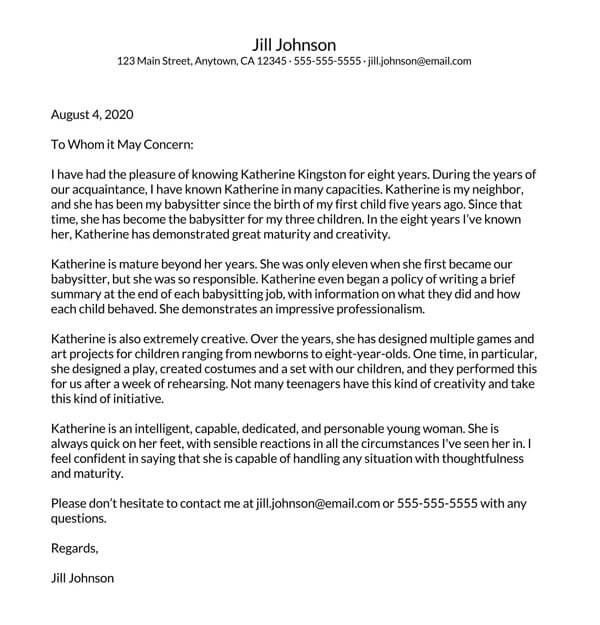 Job reference letters
Writing this type of letter is usually done by someone who has firsthand knowledge of an employee's capacity for work. Former supervisors can speak to the knowledge, skills, and abilities of a job seeker. Additionally, these letters can draw attention to honors and awards, obstacles overcome, and results achieved.
Sample Reference Letter
Dear Mr. Luther,
I am pleased to recommend Clark Kent as an ideal candidate in your search for the newest reporter. Clark served as my first and finest reporter for The Daily Planet.
During his time as my employee, Clark demonstrated a keen balance of hard and soft skills. Teachable as well as a teacher, he was the perfect mix of servant leadership and eager follower. Clark was innovative and constantly thinking outside the box to help the team surpass our quarterly goals by upwards of 50% and never miss our printing deadlines. The Daily Planet won 16 team awards while Clark was with us, and he was recognized with countless individual achievements that I am sure he will enthusiastically detail upon interview.
As one who emphasizes unity and team cohesion, I can think of many examples where Clark led in these areas. Once we were behind on our ad sales and Clark rallied the team by creating a series of stories that invited local businesses to promote. Because of Clark's genius, we not only flew past our sales goals, but we also opened the doors for community cohesion and fostering trust with brand recognition.
Clark was my first super employee, keen to rescue us when there was a crisis on hand. His sense of justice is unmatched, and he saved the day on more than one occasion.
Please feel free to contact me at 555-555-5555 if you have any questions about Clark's past performance.
Thanks,
Perry White,
Editor in Chief, The Daily Planet
Following are professionally crafted sample reference letters for jobs and business purposes:
Academic reference letters
Written by someone who knows the potential of a former student, this type of reference mentions academic achievements, educational endeavors, and potential pathways to success. As you share about a former student, think of how personal character traits like perseverance, resilience, time management, and other traits may accentuate the student's chances for future success.
Sample Reference Letter
Dear Mr. Luther,
I am pleased to recommend Clark Kent as a future student at XYZ University. Clark was my only "A" student in AP English and served as editor of the student newspaper The Krypton Times.
Clark has a thirst for knowledge and eagerly anticipates new opportunities to learn. He created a team of tutors for underprivileged students in our inner cities and led the Academic Olympics for our state. While the team was awarded first place and the gold medal, the judges awarded Clark with special recognition as "a servant leader who demonstrated a team super spirit far beyond his years."
There are countless instances where Clark showed his focus for lifelong learning. What impressed me the most is how he said he's wanted to attend XYZ University since he was a young boy. Clark inspires other students to achieve their collegiate dreams while ensuring he stays on track toward his own.
Clark was one of my super students and I am confident he will bring the same level of pride and joy to XYZ University.
Please feel free to contact me at 555-555-5555 if you have any questions about Clark's past performance as my star student.
Thanks,
Perry White,
AP English/Principal, Metropolis High
More editable sample reference letters are given below:
Lease reference letters
When considering potential tenants, landlords and property managers often seek reference letters from former property managers or landlords who can discuss the tenant's timeliness of rent payment, interaction with other tenants, care and treatment of property, and return of damage deposit, etc.
Sample Reference Letter
Dear Mr. Luther,
It is my privilege to recommend Clark Kent as a future resident in Krypton Kottages. He's been a tenant of mine for 5 years and I have the highest praise for the way he lived in our properties.
Clark consistently paid his rent on time, respected all property rules, and left the property immaculate when he moved out. In fact, his was the first deposit that was fully refunded when he moved out. I am quite certain his sense of personal responsibility will carry over to his move into your property.
Clark served on our neighborhood watch, volunteered to play Santa at our neighborhood Christmas party, and consistently helped neighbors when they were moving in and out. I've had over 1,000 tenants in my history as a property manager and I can think of none better than Clark Kent. Surely, you will find him to be a great addition to your neighborhood of rental properties.
Please feel free to contact me at 555-555-5555 if you have any questions about Clark's stellar rental history.
Thanks,
Perry White,
Krypton Acres Apartments
Tips for Writing an Effective Reference Letter
Follow the tips mentioned below for writing an effecting reference letter:
Be positive
Accentuating a candidate's strengths and staying away from the weaknesses is your goal in this type of letter. Before making a commitment to write such a letter, it is critical to assess whether you are the right person for the task.
If you do not know the person very well, it's okay to decline their invitation to write a letter. When you have concerns about your ability to stay positive or avoid drawing attention to negative aspects of the candidate, it is perfectly acceptable to say "no." Provide a neutral response with a recommendation of another option.
For example:
"Unfortunately, I don't think I am the best person to help you with a letter like this. Have you considered asking Professor Smith?"
Proofread your letter
The best letters of reference or recommendation can be ruined by sloppy writing. Be sure to check for spelling, grammatical, and other errors. Reading your letter backward tricks your brain and forces it to focus more intently than if you read it like you normally would. Better yet, have someone else proofread it for you.
Follow a business letter format
It's acceptable to presume a basic business letter format unless otherwise instructed by the one who asked for the letter. If a template or form is required, this should be shared with you before you submit the letter for consideration.
Include examples
Providing details about past performance is helpful for indicating how the candidate may work for the future employer. Be specific and stay focused on how this person worked for you in the past or performed in personal capacities that directly relate to the new endeavor.
Be concise
As important it is to provide details about specific experiences you know of the person's abilities, short and sweet is the best way to write a reference letter. Ideally, one page is plenty of space to say what needs to be said and leave room for the candidate to elaborate upon the interview.
Avoid private details
While important to highlight specific qualities about character and performance, it's important to keep the letter professional. As mentioned before, focus on the strengths instead of any known challenges of the person you are writing about. There is no need to detail any personal struggles or weaknesses in this type of letter. To understand this better, you may see the sample reference letters provided above.
Be flexible
Discover innovative ways to create content about the person you are referencing. As in resume writing, think in terms of unique challenges or obstacles they overcame, actions they took, and results they achieved. If you need help remembering specifics, it's appropriate to ask for details. Outside of the standard resume, the person asking for your reference should be able to provide you specific bullets that pertain to the job they held with you and how they will excel in the job for which they are applying.
Be honest
Before agreeing to write this type of letter for someone, it's critical to consider whether you are the best fit. If you are concerned about your level of awareness of this person's capabilities and/or don't know if you can honestly speak in a positive fashion about their strengths, it's perfectly acceptable to indicate that you may not be the right person to write this letter. It's always better to break that news to the candidate upfront than to reveal that with a potential employer.
Give context to your examples
Instead of merely saying "Clark is fast," consider writing that "Clark is a man of steel who is faster than a speeding bullet, more powerful than a locomotive, and able to leap tall buildings in a single bound."
Be targeted
Before agreeing to write your letter, make sure you are confident that you know enough to speak about the capacity in which you know this person and what they may bring to the table. If you don't remember much, check to see if you have any records from the person's past that may help refresh your memory. You can ask the person to provide some specific details of achievements they made during your time together. You can also check with your human resources department, other leaders at your organization, or those who may help you recall details about the candidate's performance and personal character.
Frequently Asked Questions
Who can write a reference letter?
Reference letters can be written from the contextual relationship of anyone who knows a job seeker or student well and can speak to their personal and professional strengths and abilities. Consider the following relationship possibilities depending on the type of letter of reference needed:
• Supervisor
• Coworker
• Professor
• Religious leader
• Mentor
• Coach
• Business partner
• Client
• Neighbor
• Friend
*Most recommend avoiding familial references as they are less likely to be viewed as impartial.
How long should a reference letter be?
The length of your reference letter is almost as important as the details contained within. As you consider what you observed in the candidate's abilities, take time to thoroughly provide the details that demonstrate your knowledge of the person and why you think they make a great fit for this new role. Be sure to provide more than one or two specific examples that will fit in three to four paragraphs and stay within the one-page guideline.
As you can see, writing a letter of reference is a great way to support the future success of someone you've known either personally or professionally. Following our simple tips will get you on track to writing your letter and opening the doors of opportunity.