An email to reschedule an interview can be written depending on circumstances that hinder an individual from attending an already scheduled interview. Some factors such as sickness, family emergency, car troubles, or bad weather are considered misfortunes that can necessitate a reschedule. Rescheduling an interview shows courtesy and gives an individual an opportunity to get the job position as it displays an attribute of good communication. A reschedule should be done early enough to avoid inconveniencing the interviewing team.
Free Templates and Examples
Here are free downloadable templates that can be customized: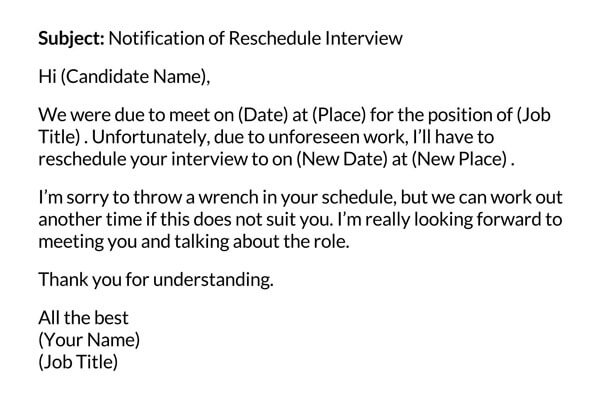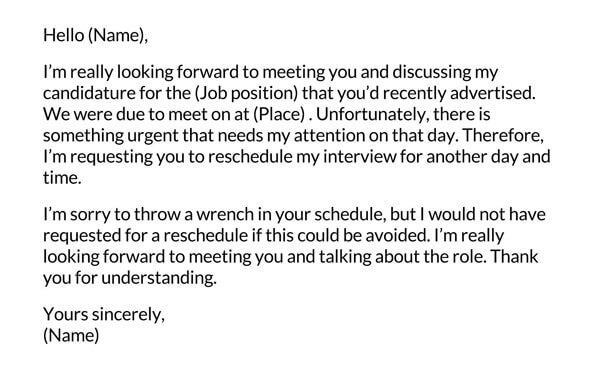 Sample Email to Reschedule Interview
Following are professionally crafted emails for rescheduling an interview:
Sample 01
Subject: Request to Reschedule the Interview
Dear (name)
I hope this email finds you, I am glad for the opportunity you offered me to attend an interview with you, however, I regrettably have to request a reschedule. Unfortunately, I fell ill and have been hospitalized due to a (heart attack). I have been receiving treatment and will be discharged on the (date), which hinders my availability to attend the scheduled interview.
I apologize for any inconveniences this reschedule has cost you and humbly request that you consider rescheduling the interview as I will be available anytime from (date). Thank you for your consideration and look forward to your response.
Yours truly,
Interview's name
Sample 02
Subject: Notification of Reschedule Interview
Hi (Candidate Name),
We were due to meet on (Date) at (Place) for the position of (Job Title). Unfortunately, due to unforeseen work, I'll have to reschedule your interview to on (New Date) at (New Place).
I'm sorry to throw a wrench in your schedule, but we can work out another time if this does not suit you. I'm really looking forward to meeting you and talking about the role.
Thank you for understanding.
All the best
(Your Name)
(Job Title)
Sample 03
Hello (Name),
I'm really looking forward to meeting you and discussing my candidature for the (Job position) that you'd recently advertised. We were due to meet at (Place). Unfortunately, there is something urgent that needs my attention on that day. Therefore, I'm requesting you to reschedule my interview for another day and time.
I'm sorry to throw a wrench in your schedule, but I would not have requested a reschedule if this could be avoided. I'm really looking forward to meeting you and talking about the role. Thank you for understanding.
Yours sincerely,
(Name)
Reasons for Rescheduling an Interview
A reschedule should be supported by valid reasons, which will create a sense of urgency for the interviewer to consider setting up a new date. Some of the reasons why rescheduling needs to be done are as follows:
Medical emergency
An Illness interferes with one's mental and physical ability to do anything unless one first seeks treatment. In the event where an interviewee is too sick to attend an interview, then they can communicate to the interviewer through an email to reschedule the interview.
Some emergency cases that may prevent an interviewee from making it to an interview include heart attack, server pain, breathing difficulties, collapse, choking, stroke, etc.
Family emergency
Family emergencies can be critical and highly affects a person's mental concentration because they are constantly worried, making one unfit to attend an interview. In such a situation, one is expected to write an email to an interviewer requesting them to reschedule the interview, to allow the interviewee to attend to family emergencies first, and get back to the interview with a stable mind.
Some examples of family emergencies include the illness of a child or parent, accidents, or incidences such as fire breakout.
Vehicle troubles
Interviewees are highly likely to get late to an interview in the event where they are having vehicle problems, hence notifying the interviewer to reschedule the interview is courteous to avoid wasting the interviewer's time. An interviewer can be in a position to understand the situation and set up a different time for the interview. Other options of transport should be put into consideration before requesting a reschedule.
Change in work schedule
If the person seeking new employment still has a job, and a sudden change in the work schedule happened, they should write an email requesting the interviewer to reschedule the interview. The potential employer will appreciate that the interviewee always gives priority to their job and have effective communication skills. A suggestion of a better time that suits the applicant's schedule can be suggested to the interviewer for consideration.
Due to alternate options
If an interviewee has identified a better job option that he/she feels is more competitive, it is polite to inform the interviewer of the reason why you are rescheduling the interview. The interviewer may be kind enough to let you give priority to another interview that seems more prominent, and still allow you to have an interview with them at a later time in case one wants to diversify their options.
Steps for rescheduling an Interview
Professionalisms is an aspect that should be put into prior consideration after deciding that an interview needs to be rescheduled. Hence, showing respect and professionalism creates a better chance for their request for reschedule to be considered.
Here are some ways which show professionalism:
Contact early
It is considered courteous to respect people's time by canceling meetings or rescheduling interviews earlier due to unavoidable circumstances such as sickness. Direct communication through emails or phone to the hiring manager is crucial as it helps in the reduction of inconveniences to both parties. It also helps the hiring manager give the applicant another chance for an interview, which is appropriate and matches their conditions.
Show eagerness
The interviewer should demonstrate an eagerness to still want to attend an interview but could not due to emergencies or other unavoidable reasons, hence necessitating the need to reschedule. It helps the manager gain confidence that the request to reschedule the appointment has not been made for a light reason but that there was no option.
Give the reason quickly
The Interviewer should write the reschedule email as brief as possible, without giving too much detail as to why the rescheduling request is made. It saves the time of the interviewer, which persuades them to set up a new time for the interview.
Suggest an alternate time
If one emails to request for an interview to be rescheduled they should also mention when they are available for an interview, and also suggest a wide range of time frames. This information is vital as it helps the hiring manager to be able to match the available slots with the appropriate time frames provided.
Apologize for having to Reschedule
It is courteous to show remorse by apologizing for rescheduling an interview to show that one cares about the inconvenience it might cost the interviewer. It gives the hiring manager the trust that the reschedule was not done without any specific reason.
Thank you again for the opportunity
As one looks forward to getting another opportunity to attend an interview after having to reschedule, one should show gratitude for the interviewer's patience and tolerance. for example, one can write: " I am sorry for the inconvenience I might have cost you by having to cancel the original meeting, I will highly appreciate an opportunity to have the interview another time, and thank you for your consideration."
Follow up
One should follow up their interview reschedule request by always checking in with the interviewer to get a new date to conduct the interview. The employer sees the determination of the applicant and hence would set up a new day or time for their interview. Follow-up can be done by writing an email or calling the interviewer if a direct number has been provided.
Sending a request to reschedule an interview can be done via email to the hiring manager to inform them of the reason as to why one could not make to attend the scheduled interview.
There are essential steps that should be followed consistently while writing a reschedule email, and they include:
The reschedule email is sent to the hiring manager and should entail supporting documents such as a medical report to prove that the reschedule was actually due to an emergency.
The reschedule email should begin with greetings to promote a positive attitude and show personalization.
The email should mention that one needs to reschedule the interview as the subheading takes the interviewer direct to the point.
An apparent reason why one is not able to attend the scheduled interview should be provided clearly in the email. The description should be brief and not too detailed as it might lead to confusion; hence the hiring manager may be unable to determine the specific reason for the request to reschedule the appointment.
The email should contain an apology for the inconvenience caused. This acts as a courtesy and gives the applicant a chance to get another opportunity to receive a rescheduled date for their interview.
The interviewee should suggest other optional dates that they could be available for the interview after rescheduling the original interview
A salutation at the end of the email should be added as it shows professionalism which is an aspect highly applied in the employment sector. It shows respect and regard to the hiring manager. For example "your consideration is highly appreciated"
The interviewee's full details, which include name and contact, should be added for easier identification and communication at the end of the email.
Rescheduling an appointment is an important aspect that can be applied by anyone who looks forward to having a change in either date or time for an interview. It can be due to a challenging situation such as sickness or even a family misfortune. These incidences require a keen involvement and thus necessitating the request for a reschedule of an appointment. Such gestures show that the individual values the interview and hence gives the hiring manager trust that they possess practical communication skills, which are required in every organization. An excellent professional format that is brief and clear should be used while writing the request to reschedule an interview.