Some employers usually request candidates applying for an open position to provide them with salary history, while others require that the candidate presents as part of the interview process when they are in contention for the job. Technically speaking,
A salary history is a document of your previous earnings provided to a potential employer.
The salary history normally includes all the companies the candidate has worked in previously, the job titles and their corresponding salaries and benefits package.
It is important to note that salary history is not the same as the salary requirement, and they both serve different purposes. While a salary history provides a record of a candidate's previous earnings, a salary requirement shows the pay a job candidate expects from their potential employer.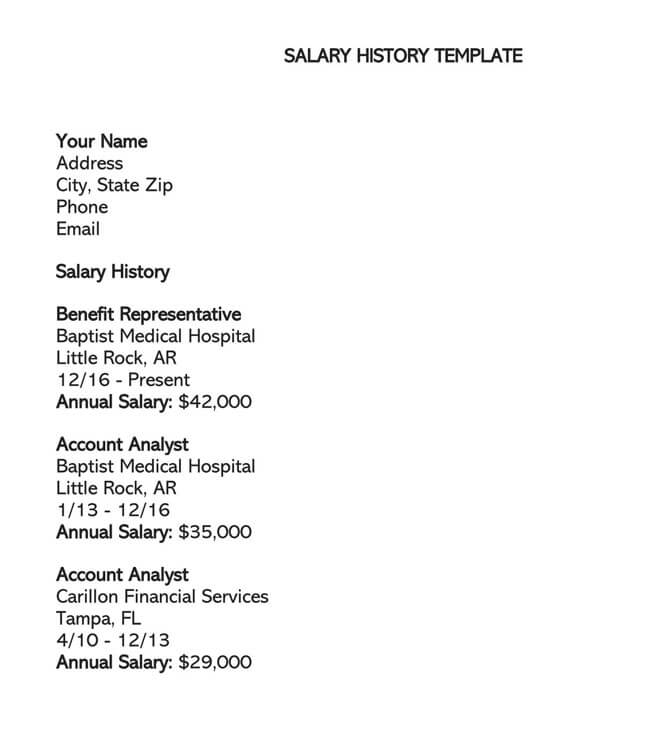 Asking Salary History- Legal or Not?
Most states have passed legislation barring employers from setting conditions or demands to job applicants to submit their salary history. Legislations in such states believe that furnishing the employer with salary history perpetuates wage inequality as most women have historically been underpaid compared to men who hold similar positions. They also believe that most hiring managers use the knowledge they obtain from the applicant's salary history to exclude them from their candidate pool, not because they have not qualified for the job but because they are either "too expensive" or their previous salary is too low.
Most organizations also use salary history information to calculate new employee compensation- a process that can easily perpetuate pay disparity between men and women. To properly address this inequality, most states and municipalities have enacted bans on requesting job applicants to provide their salary history, although laws vary in terms of applicability, terms and scope.
The American Association of University Women– AAUW reports that 15 states and territories have enacted restrictions in place to curtail inquiries by all employers regarding the salary history of all job applicants. These states include:
Alabama, California, Connecticut, Colorado, Delaware, Illinois, Maine, Hawaii, Massachusetts, New York, New Jersey, Oregon, Puerto Rico, Vermont, Washington.
Other states that have set provisions regarding salary history request by employers for candidates applying for jobs with state agencies include:
Michigan, North Carolina, Pennsylvania, and Virginia
Additionally, the cities New York, Kansas City, San Francisco, Toledo and Philadelphia, together with other counties such as St. Louis, New York, Chicago, Atlanta, Louisville, Pittsburgh, New Orleans, Salt Lake City, and Atlanta, have all enacted regulations in place curtailing the practice of asking about the salary history by most employers.
Why Do Employers Request Salary History
When a potential employer requests you to share with them your salary history, it is likely for the same reason they may ask for your salary expectations.
Some of the reasons why they may require your salary history include:
To determine your market value: the employer can use your salary information, specifically your most recent salary, to gauge your level of experience and the value that you'll bring to their organization as an employee.
To ensure that your salary expectations are aligned with their budget: If your salary from your most recent position is significantly higher than what the employer is prepared to offer, this may be an indication that you may be overqualified for the position.
To ensure that they are offering you a fair salary for the position, the employer may use your salary history to gauge if the salary they offer for the position is competitive enough. For instance, if most of the candidates applying for the role were being paid significantly higher according to their salary history than what they are offering, they may consider increasing their salary or adjust the job description to target employees who fall in that salary range.
Things to Know About Salary History
Here are a few things one must know about the salary history:
List of information in it
Salary history includes all the companies that a candidate has worked for, their respective job titles and their corresponding salary. When preparing your salary history, make sure to:
List your job title, the organization's name, and the salary you earned in reverse chronological order, starting with your most current or most recent job.
List your gross annual income, i.e., the salary amount prior to taxes being withheld, including any other compensations or bonuses over the base pay you have received.
List any other additional salary or benefits. If you earned compensation or any benefits such as regular bonuses or commissions, it is important that you state such information in the salary history as well.
Ways to share your salary history
There are three commonly adopted ways in which you might choose to share your salary history information. However, the method you choose to go with will depend on how much information you are looking to share, how much detail has been requested by the potential employer and what part of the employment process you are requested to provide the information.
Here are the three ways you may choose to share your salary information:
Use general terms
Rather than providing the exact salary amount, you may opt to use a general number.
For instance, instead of saying you were earning $67900, you may decide to use a general term and state that your salary is in the mid-sixties.
Use of range
For instance, if you were employed in an organization for a longer period of time and throughout that period, your salary was increased gradually, you may decide to provide a range or mention your starting and current salary for the given position. Other than providing the employer with your salary information, this will also help them see that you were indeed working hard to be given a raise.
For example: "I started working as an account manager at ABC limited, and my starting salary was at $76200 over the years my salary was increased gradually, and my current salary is now at $98300.
Provide the exact number
The last option is to provide an exact number or round up your salary to the closest whole number.
For instance, if you are earning $76880, you may decide to round it up to $77000.
Considerable Pros & Cons of Providing Salary History
Providing your potential employer with your salary history can both hinder and benefit you, depending on why they are asking for it in the first place:
Providing your salary information can work for you and significantly increase your chances of being selected for the role, especially if your previous earnings are in line with the organizations budget or if the hiring managers are going through piles of applications, in which case they may decide to use the salary history to help them filter out potential candidates, i.e., those who fall under their budget range.
Providing your salary information to your potential employer can also work against you when the employer realizes that you are willing to work for a lower salary. This is because they may view you as being underqualified for the position, thereby choosing another candidate who has a salary range that is in line with their budget. Providing your salary history can also influence the potential employer's perception of your value to their organization and corner you for a low salary for the given position.
Salary History for Different Jobs
Here are the salary history samples for different types of jobs :
Sales and marketing director
Kevin White
Ring Road View 763
762 NY, New York,
761-7517-8618
example@emil.com
Sales and Marketing Executive
Confidential Salary History
Sales and Marketing Executive
Start Date 13th Jan 2002- To date
Annual Salary: I started my role at $67,000 and my current salary is $87,000
Sales and Marketing Representative
Lacewoods Inc.
Start date: Jan 1996- Last date Dec 2001
Benefits representative
Peter Johns
1223 Valley Arcade
Nairobi, Kenya
254-681-917-917
example@gmail.com
Salary History
Benefits Representative
Centurion Medical Clinic,
862 River Road,
1/1/2012- present
Annual Salary: $89500
Account Analyst- Specialist
Centurion Medical Clinic,
1/1/2008- 12/12/2012
Annual Salary: $75000
Accounts Specialist
9/9/2006- 26/12/2007
Nairobi Children's Hospital,
Park Road, Nairobi
Annual Salary: $22,000
Technical writer
Kevin Mc Gregor
126 Rail Road
P.O Box 858-00200
Nairobi, Kenya
872-8626-87286
Title: Sr. Technical Writer
Starting: $89000
Current: $99000
Plus, benefits and stock options
ABC Company
862 Ring Road Drive
Mombasa, Kenya
Title: Technical Writer/Editor
Starting: $62000
Ending: $67000
Plus, benefits and annual bonuses
Executive assistant
James Michaels
614 Spring Road,
NY, 752, New York
8278-86286-87682
example@gmail.com
Salary History
Executive Assistant (2002-2003)
Single-day Galleries
3 Spring Road Suite #752
New York, NY 8622
Starting Salary: $98,000 Inclusive of annual benefits
Current salary: 102,000 With full benefits package
Executive Assistant (2004-2006)
XZY Industries
862 Ring Road Park
Beverly Hills: CA 87628
Starting Salary: $88,000
Ending Salary: $89,000 with full benefits package
Salary History Template
Your Name
Address
City, State, Zip
Tel:
Email
Salary History
Sales Associate
The Start Newspaper
NY, 762, New York
Beginning Salary: $45,000
Ending Salary: $49000
Marketing Assistant
Standard Newspaper
NY, 962, New York
Beginning Salary: $35,000
Ending Salary: $39,000
Do employers verify salary history?
In most cases, yes! Some employers may decide to verify your salary information by contacting your previous employers. Therefore, it is important not to lie about your salary history as the employer may decide to verify the information before considering you for the position.
Should I always share previous salaries with employers?
It is not recommended to share your salary information with your potential employers as such information may influence their perception of your value to their organization and corner you for a low salary for the given position.
Before providing your potential employer with your salary history it is important that you review your state laws on what type of information you are required to share with your employer. While other states have no regulations on what employers may request from their employees' others have strict regulations to help prevent the employer from perpetuating wage inequality among women and other marginalized persons. It is important to also note that providing your employer with your salary history does not necessarily mean that the salary included therein will be your salary at your next job, nor does it limit you from negotiating a higher salary amount.