A scheduled appointment is an agreed time between two parties for a prearranged meeting. When such parties commit to such time, it is important to ensure that efforts are put in place meet up with such an appointments. However as in everything in life, there are some situations that puts events outside our control and in such situations, a reschedule appointment letter may be required. Depending on the type of appointment, a formal rescheduling may need to be written by the person who is trying to cancel the appointment.
Request for Reschedule Appointment Letter
A request to reschedule an appointment is usually written by or on behalf of a party who had already agreed or was requested to meet with the other party with a view to request that the scheduled appointment be rescheduled as a result of a change in a previously assumed condition. These types of letters are meant to be formal and may or may not mention the specific reason for the request. Sometimes, it involves moving the time to an earlier date and more commonly to a latter date.
Why they are needed
Such letters are very important to enable tracking of information and documentation. Requesting for a reschedule can be embarrassing but in most situations when it cannot be helped. It could be as a result of the sudden illness of a loved one, appointment in a child's school, urgent travel, traffic, accident on the way, forgot or any other unforeseen circumstances. It can be used to reschedule a job interview, dental, school, medical and business meeting.
Sample Reschedule Appointment Letter Template
Dear (Insert Name of Recipient here),
Due to unforeseen circumstances, I would not be able to attend the meeting tomorrow. Kindly reschedule the appointment to (Insert date here). I am really sorry for the inconvenience it may cause you. Let me know if the new date and time are suitable for your schedule. I am open to suggestions as well.
Thank you so much for the patience and understanding.
Regards,
(Insert your name here)
Sample Letter of Request to Reschedule Appointment
This particular sample is quite generic, which provides a template for anyone to use in a situation where they need to cancel an appointment and reschedule it for a future date.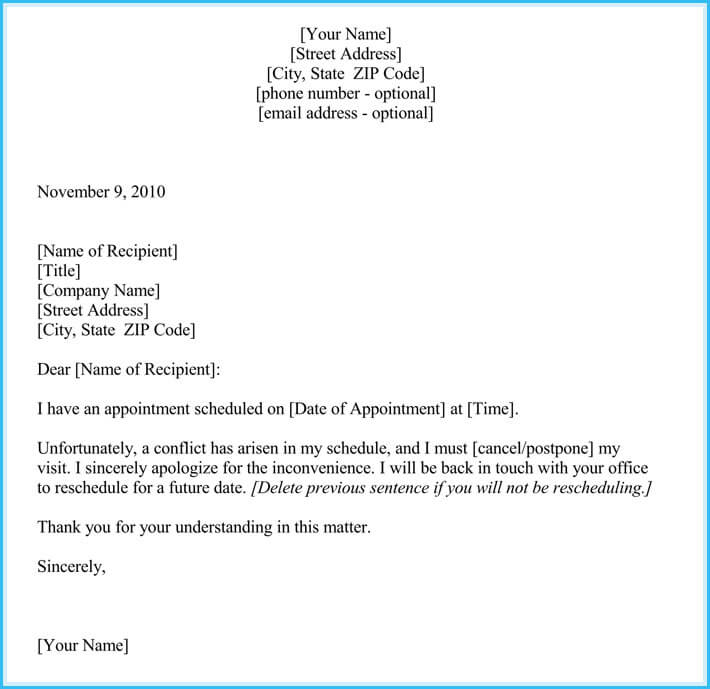 Sample of Reschedule Doctor Appointment Letter
This particular sample as the name suggests giving information on the appointment of a person with a doctor. It includes all the significant details for the appointment and also mentions briefly the fact, that in case of a surgery the doctor would be called in and thus there would be a need to reschedule the appointment. It also mentions the file, which is important to bring and in case of not being able to provide them the appointment can be rescheduled.
Reschedule Medical Appointment letter Format
This particular sample is basically a format, which can assist in understanding the requirements, which are necessary for an appointment.
Sample of Reschedule Dental Appointment Letter
This particular sample as the name suggests representing a sample letter, which highlights the facts related to rescheduling or missing a dental appointment. It says that in order to reschedule the appointment the person should call at least 24 hours in advance of the appointment. It also mentions what happens if a person is late for an appointment or misses it altogether.
Reschedule Interview Appointment letter Format
This particular sample letter provides a format for an interview appointment. Usually, it is wise to follow a sample or a format when writing down a formal letter to an organization for the purpose of an interview, especially if there are chances that one cannot make it at the said date and time.
Reschedule Missed Appointment Letter Example
This particular sample letter highlights what happens if a parent missed a child's appointment with a physician for the first time. It also mentions the action for the missed appointment for the second and third time and the possibility of rescheduling of the appointment after it is missed.
Sample Follow-Up Letter to Reschedule Appointment
This particular sample highlights the facts when a patient does not return or miss an appointment for a follow-up care. It provides details on different scenarios. Following the samples is always a good idea as a person would be able to understand as in what to include in a particular letter.
Writing Tips  for Rescheduling Appointment Letter
A letter requesting for a cancellation and rescheduling is not a love letter and is expected to be simple, straight to the point and formal. There are various formats one can use when writing such appointment letters but there are some basic parts that are expected when such letters are received. It should have:
Address of the writer
The date the request was made
The name of the person writing the letter
Salutation
Subject
Reference to the previous appointment
Request for a new date and/or time
Reason for cancellation
Reaffirm respect for the person's time
Close the request
Signature
Download our samples
Rescheduled letters are very easy to write as long as some thoughts are put into it. If however, you require some samples for the different situations you can find yourself, you can explore our website to see some of our prepared samples which you can download for free.
What not to include in the letter
While there are no hard and fast rule as to what to include in a request for a reschedule, there are some bad practices that may put you in a bad light that should be avoided. As much as possible, the letter should be written before the appointed time so that the other person can plan for other events and not wait in vain.
Such letters should also not beat about the bush or try to manipulate the receiver, it should not portray arrogance or disrespect for the other person's feelings or time and most importantly must not be deceitful.
Conclusion
When requesting for a rescheduling of an appointment, it is important to weigh the consequences of such an action and should be used sparingly, when it is absolutely necessary because some cancellations no matter how genuine they are can never rescheduled.